5 Books Making News This Week: Moths, Memoir, and Thousand-Mile Walks
Julia Fierro, Roxane Gay, Robert Finch, and More
A Sag Harbor tradition continues as the community gathers for a marathon reading of Moby-Dick, a classic grounded in the whaling days of the village. The reading kicks off Friday at sponsor Canio's Books with actor Harris Yulin, founder Canio Pavone, and novelists Alan Furst and Ursula Hegi reading from the first chapter, "Loomings," in which we come to know the narrator Ishmael. The conclusion Sunday evening is back at Canio's (with an after-party and a silent auction or such items as original artwork by Jules Feiffer—Pas de Deux with Whale—and a voyage aboard the Marlinspike). In between, readings by poets, writers and editors, plus teams composed of staffers from the Sag Harbor Express, Dan's Papers and the Press News Group, broadcasters from 89.5 WPKN, members of Racial Justice East End, and poet Julie Sheehan and others from the MFA in Writing Program at Stony Brook Southampton.
The Bailey's Prize goes to Naomi Alderman's The Power, and she responds, "I wanted to say that the women's movement has made my life possible. Women's writing has changed my life. Writers in the feminist tradition have shown me wider ambition and purpose and possibility for my life, and what I wanted to do with this book was to be part of that amazing conversation about what women can do and achieve and be. And I think we are only just beginning." Alderman's first novel, Disobedience, won the 2006 Orange Award for New Writers. Literary force of nature Roxane Gay's memoir Hunger is out at last, Julia Fierro's second novel was inspired by a gypsy moth invasion during her teen years on Long Island, Robert Finch has walked some 1,000 miles over four decades on Cape Cod, Don Lee's new novel is about an alt-country singer-songwriter whose musical hero is Townes Van Zandt, and, in case you missed it, Zachary Mason 's new sci-fi novel draws upon his skills as a computational linguistics and artificial intelligence expert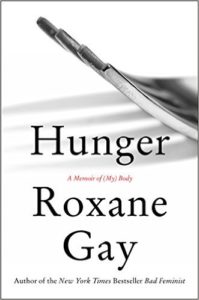 Roxane Gay, Hunger
The raw memoir cultural critic and fiction writer Roxane Gay has had in the works for several years is launched. "I actually sold Hunger in April of 2014, just before Bad Feminist came out, but I didn't seriously start writing it until August of 2016," Gay tells Vice's Sarah Rose Etter. "From a structural standpoint, Maggie Nelson's The Argonauts was a big influence. It was an undertaking to write this book. I just knew this was the book I wanted to write the least, so it was the book I probably should write the most."
"The critical beauty of Hunger is that Gay is so much smarter than everyone who has judged her based on her appearance, which she manages to convey without airs or ever actually stating this as fact," writes Rebecca Carroll.
(Los Angeles Times) "Her candor and self-awareness are necessary and reliable guides for the poignantly afflicted journey from a happy, pretty girl in a loving family to 'a thing, flesh and girl bones' used, broken and discarded by a teenage boy and his friends. And then, the three-decade aftermath. 'Those boys treated me like nothing so I became nothing.' And yet there is not a single moment throughout the book when this statement rings irrefutably true, which is to say Gay's mighty strength of character, sapient insights, deep and abiding love from and for her family ('We're always tied together with our eyes and our lips and our blood and our bloody hearts') are, to my mind the very opposite of nothingness."
Karen R. Long (Newsday) writes:
Memoir—a view through the narrow aperture of self—can be as forgettable as the flotsam of Instagram, but Hunger has the power to disturb and linger. Consider Chapter 59, a quick dissection of the ways chairs in classrooms and theatres and restaurants become instruments to punish the unruly, fat body—Gay's body. In 11 taut paragraphs, she delivers a master class on chairs with arms that raise full belts of bruises, and bouts of public humiliation.
"Hunger is not an easy book to read," concludes Colette Bancroft (Tampa Bay Times). "Gay tells us it was excruciatingly difficult to write. But her ferocious, unstinting intelligence addresses this topic in a way rarely seen. What she gains, she tells us at the end, is a measure of catharsis. What we gain is seeing not a fat person, but a person."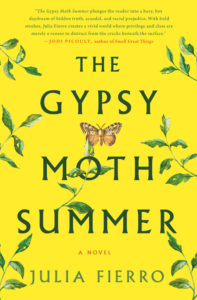 Julia Fierro, The Gypsy Moth Summer
Fierro's second novel was inspired by an event during her high school years on Long Island. "I went through a summer when I was a teenager where there was a gypsy moth plague and it was just awful," Fierro tells Newsday's Michele Filgate. "They were all over you; it was really crazy and this surreal atmosphere. For years, I wanted to write about the gypsy moths . . . I wanted the readers to feel trapped in that gypsy moth plague. I think the symbolic meaning or metaphorical meaning of writing comes later."
Irina Grechko (Nylon) writes, "Fierro's storytelling masterfully unravels the complexities of generational gaps by presenting perspectives from an array of characters..a gripping narrative that touches on important issues."
Laura Spence-Ash (Ploughshares) writes, "Time and setting drive the plot, and Fierro's language soars when she describes the island. Through her descriptions, we can see this lush place in full bloom in early summer and be reminded, perhaps, of that open-ended feeling of summer and possibility. Detailed descriptions of this place show us how important the setting is to the story, as we feel as though we, too, are there: 'The flowerbeds, lily and iris and overgrown hydrangea in Easter-egg colors, reached into the perimeter of downy fern, and beyond it lay the woods, so it seemed as if there was no beginning or end to the greenery.'"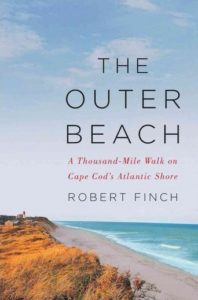 Robert Finch, The Outer Beach
Finch has strolled Cape Cod's Outer Beach for four decades, walking some 1,000 miles in all times of year and in all sorts of weather. His accumulated memories bring comparisons to Thoreau.
Steve Donoghue (Christian Science Monitor) is laudatory: "He's our best, most perceptive Cape Cod writer in a line extending back through Wyman Richardson, author of The House on Nauset Marsh, to Henry Beston, author of The Outermost House, reaching all the way to Henry David Thoreau, whose 1865 Cape Cod is the grandfather of all books like Finch's The Outer Beach."
A starred Kirkus Review appreciates Finch's "vivid and graceful reflections on water and wind, shifting sands, and the inevitability of change."
"Finch is an amiable, if somewhat garrulous, companion as he takes readers on a journey from the island of Monomoy in the south to the wild dune country of the Provincelands in the north," writes Fen Montaigne (New York Times Book Review). "He is a keen and passionate observer, and he knows his natural history—birds, dune grasses, marine mammals. He offers, for example, an affecting description of a herring gull grotesquely hobbled by a fishing lure and his successful efforts to free the creature. And his portrayal of the life he encounters is often vivid, as when the small birds—sandpipers, plovers, sanderlings—that make their living in the intertidal zone are seen 'probing in the mud with an energetic stitching motion, embroidering the hem of the tide.'"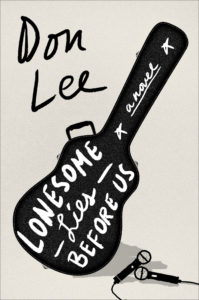 Don Lee, Lonesome Lies Before Us
Lee sets his new novel about a middle-aged alt-country singer-songwriter facing a spiritual crisis in the fictional Rosarita Bay—location for his previous novel Wrack and Ruin. "The town's based on Half Moon Bay, which has defied development for decades, but I'm afraid that's been changing," he tells Interview's Jeff Vasishta. "The luxury resort and golf course in the novel… is based on the Ritz-Carlton that opened in Half Moon Bay after years of civic resistance. So I think you're right: my characters and I are getting priced out, and we might have to move soon." Lee worked with singer-songwriter Will Johnson on the music and lyrics. (There's a video of Johnson singing the title track at Paste.)
"Lee's novel isn't simply a romance," writes Mark Athitakis (Washington Post). "Nor is it even really a novel about music, though he's plainly immersed himself in country-rock and the music industry, going so far as to solicit a working musician, Will Johnson of Centromatic, to help craft some of Yadin's lyrics. (Smart move. As anyone who's read Jonathan Franzen's Freedom knows, even good novelists tend to be wince-inducing lyricists.) What Lee has written is a subtle novel about how people on the edge of a financial cliff are forced to sacrifice their ambitions."
Jim Higgins (Milwaukee Journal-Sentinel) notes, "Yadin Park, the memorable front man of Lee's novel, is a middle-aged alt-country singer-songwriter with his modest musical career receding in the rear-view mirror. He ekes out a living post-bankruptcy installing carpet, his future complicated by intermittent flareups of Ménière's disease, which is destroying his hearing. Yet this beleaguered fellow, in the eventful days depicted by Lee in this novel, is humbly approaching greatness of soul."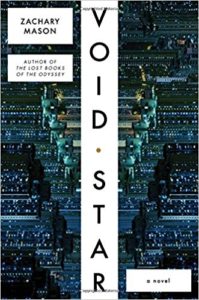 Zachary Mason, Void Star
Mason, who has spent two decades working in computational linguistics in Silicon Valley, is an Artifical Intelligence expert with a gift for sci fi.  His latest novel captures critical attention for its inventive approach to AI if not its conventional plotting.
Michael Berry (Berkeleyside) calls Mason's new novel a "mind-bending near-future saga," adding, "Void Star follows three disparate characters as they navigate a future world altered by climate change, social inequality, longevity extension, digital brain implants and the machinations of incredibly powerful artificial intelligences."
Charley Locke (Wired) recommends Void Star for summer reading:
Zachary Mason imagines a near-future where AI is embedded not only in our interactions, but in our brains. Mason's AIs think in glyphs, or waves of data, and only people with cranial implants can understand them. His book follows three such individuals as they are pursued by a mysterious AI, a 150-year-old billionaire, and memory-ghosts. The plot may leave you scratching your head, but the scenes set in a San Francisco overrun with technology—commuters getting dressed in drone cars, tech magnates commissioning homes that'll last a millennium, ambitious young men faking autism to get promoted at tech companies—feel eerily spot-on.
Jonathan McAloon (Financial Times) calls Mason's new novel "highly ambitious: an epic tale of future alternative realities that straddles the genre line between high-tier science fiction and formally inventive literary fiction." He favors the book's technological inventiveness over its sci-fi action plot:
The concept of enhanced memory allows Mason and his creations innovative ways around narrative recollection: Irina can scroll through her thoughts in immaculately preserved detail. She "indulgently, lets her months in Singapore rise up in her memory," or, "lets the days . . . play over her in sequence".
She can share memories with other people, and subsequently "remembers" things that have happened to others. Some characters are made of memory. Some characters are memories. And because of this there is at times a hallucinatory quality to the book, which shifts cleverly between dreams, simulations and digital hinterlands between life and death.
---