5 Books Making News This Week: Food, Family, and Fairy Tale Horror
Amy Thielen, Sherman Alexie, and Victor LaValle
The International Dublin Literary Award goes to Angolan writer José Eduardo Agualusa's A General Theory of Oblivion, a novel the author says is about "xenophobia and fear of the Other." Agualusa and translator Daniel Hahn split the 100,000-pound prize money 75/25. Agualusa said in accepting the award in Dublin:
I was also pleased to learn that among this year's shortlist there were two African writers: Chinelo Okparanta and Mia Couto. Mia is more than a friend to me. For many years, he's been my big brother. He phoned me a few days ago, from Maputo, in Mozambique: "Hey," he said, "apparently I lost the Dublin prize."
"I'm really sorry, they told me that my book won," I replied, breaking the rule that I was supposed to keep the news secret till today.
Then Mia laughed. I heard the laugh of my best friend, my big brother, like an explosion of light: "In that case I didn't lose. We won!"
Yes, we both won. So from this place I send my greetings to my Mozambican brother Mia Couto; I send my greetings to my Nigerian sister Chinelo Okparanta. I send my greetings to all African writers, those who came before me and shaped me and made me a writer, and those who journey with me today, in this common project of rethinking our continent and making it known to the rest of the world—with all the pains and tragedies that afflict us, yes, but also with all our great joy, creativity, hope and love.
Northern California Book Awards will be presented tonight, with a lifetime achievement award going to poet, writer and cultural theorist Judy Grahn. (List of finalists here.) Summer workshop season continues. Poets gather at the Community of Writers in Squaw Valley, California, to study with Francisco Aragon, Forrest Gander, Robert Hass, Brenda Hillman, Sharon Olds, and Gregory Pardlo. Adrienne Brodeur's Aspen Words includes public conversations with writers Jericho Brown, Ben Fountain, Jane Hamilton, Chinelo Okparanta, Saïd Sayrafiezadeh, Dani Shapiro, Hannah Tinti, and Jess Walter. The New School Summer Writers Colony wraps up three weeks of study  featuring Ted Conover, Lydia Davis, and Brenda Shaughnessey as faculty.
Sherman Alexie shapes his memoir around his complicated mother, Victor LaValle's new novel borrows a title from Kenzaburo Oe, Naomi Klein writes her latest at "Internet speed," Brian Merchant drafts the history of the iPhone, and tales from Amy Thielen, a chef who "thrives on the intensity, carnality and artistry required of cooks in fine dining."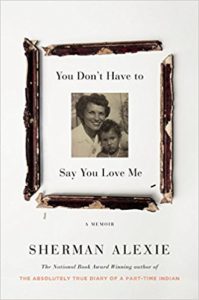 Sherman Alexie, You Don't Have to Say You Love Me
Alexie shapes his memoir around memories of his complicated mother, interweaving their story, her final days and his mourning, with poetry. "Before this memoir, I had always seen my father as the primary influencer of my literary life, Alexie tells Mary Ann Gwinn (Seattle Times). "He and I spent a lot more time talking than my mother. I'm realizing now that my father gave me storytelling tools, but it was my mother that was so raw and so vulnerable and so emotional. She gave me the ability to reach deep inside myself. My father gave me the toolbox, but my mother gave me the soul."
"You Don't Have to Say You Love Me is a marvel of emotional transparency, a story told with the fewest possible filters by a writer grieving the loss of a complicated mother," writes Beth Kephart (Chicago Tribune). "Alexie, a poet, short story writer, novelist, frequent award-winner, self-admitted applause lover, and urban Native American who grew up on the Spokane Indian Reservation, presents in these pages a woman who quit drinking to save her family, but who nonetheless gave more to others than she seemed to give her children."
Laura Miller (Slate) concludes:
At times Alexie describes doubting that she loved him or that he loved her. He is unabashedly sentimental, but Lillian doesn't make it easy for him. The tension between her ornery reserve and his penchant for wearing his heart on his sleeve gives this memoir an unusual piquancy. Like all grieving children, Sherman worries that he didn't do enough for Lillian, and like fewer of them, he resents her for not doing more for him. Fiercely protective, incomprehensibly strong, terrifyingly vulnerable, and, all too often, rejecting, she was, in his life, much like the rez itself—a place he could barely stand to live in, but would never dream of leaving behind.
 "A child of poverty, racism and addiction, Alexie nonetheless sees that his parents left him a legacy," concludes Jim Higgins (Milwaukee Journal Sentinel). "In 'Tyrannosaurus Rez,' he concludes ' . . . they left me a trust fund // Of words, words, and words / That exist in me / Like dinosaurs live in birds.'"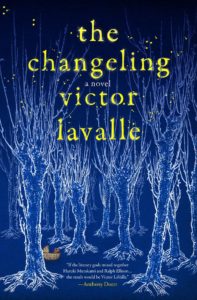 Victor LaValle, The Changeling
LaValle's new book takes its title from a novel by Nobel laureate Kenzaburo Oe, who first inspired him to write horror, he tells The Atlantic's Joe Fassler. "Oe's short story 'Prize Stock' showed me a way to write beautifully about horrific things, and do so with a real politicized understanding that still manages to avoid being didactic. This is a story, after all, about racism, about tribalism: Oe is unflinching in his willingness to show how the villagers—not just the adults, but the kids too—assume their superiority over this black man. Presume his inferiority."
Jennifer Senior (New York Times) writes, "One of the reasons to read Victor LaValle's novels is the simple sentence-by-sentence pleasure of them—they offer hundreds of baby dopamine hits, tiny baths for the prose snob's reward system. His imagination is unusually visual. His sensibility is so deadpan that it borders on a kind of derangement. And he has a real flair for the strategically placed f-bomb, which, in my view, is an underrated skill. They detonate when you least expect them, in sentences as otherwise lovely as a tulip."
"The Changeling borrows from the fairy tale and horror genres," notes Sarah Begley (Time), "turning New York City into a landscape of fanciful and all-too-real dangers: witches, trolls and racist cops suspicious of black men like Apollo. Old-fashioned fables are a handy framing device for this modern tale . . . The combination of Grimm-ish allusion and social commentary might seem pat in the hands of less capable authors, but LaValle executes the trick with style."
Amal El-Mohtar (NPR) wraps it up:
By turns enchanting, infuriating, horrifying, and heartbreaking, The Changeling is never less than completely engaging. It plays with memory, fairy tale, and the stories we tell each other about ourselves; it walks around the walls we build of our stories—whether out of family memorabilia or photos on Facebook—and probes them for holes. It's a book that makes me want to seek people out to talk about it, to share together our own stories of reading it.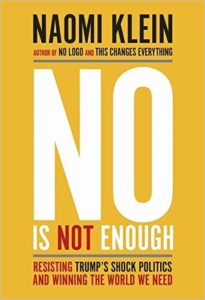 Naomi Klein, No Is Not Enough
Klein's new book, written within months, arrives in time for her to plunge into the post-inauguration conversation with blazing opinions.   
"Naomi Klein's new book . . . is a bit of a told-you-so," writes Carlos Lozada (Washington Post). "And here's the thing: She really did tell us. Klein's past writings—No Logo (1999), on the rise of corporate super-brands; The Shock Doctrine (2007), on how governments and industries exploit natural and manufactured crises to impose pro-corporate policies; and This Changes Everything (2014), on the battle between business interests and the environment—form a trilogy of left-wing, anti-globalist manifestos. Unlike those works, her latest offering did not take long to research and write . . . That's because, in her view, all the forces she has been chronicling for two decades come together in the ascent of one Donald J. Trump."
"I hope that Klein's book is read by more than just her (mostly) leftwing fan base," writes Gillian Tett (Financial Times). "For whatever you think about her economic arguments, she makes a powerful and an important point: that you cannot understand Trump without looking at how he reflects bigger cultural and social dynamics. And what is perhaps refreshing about No Is Not Enough is that Klein tries to move beyond mere outrage and hand-wringing to offer a practical manifesto for opposition."
Hari Kunzru (The Guardian) notes that Klein has written her new book, "a warning of the enormous toxic potential of the Donald Trump presidency and a call to oppose it" at "Internet speed."  He adds, "Klein wants her readers to move from refusal to resistance, from a passive stance of opposition to engagement in a program of action. If the convulsions of the last year have taught us anything, it's that we can't wait for the dust to settle and clarity to emerge. Turbulence is, at least for the foreseeable future, our new condition, and we must learn to function within it. We have to teach ourselves to stand upright on a moving deck."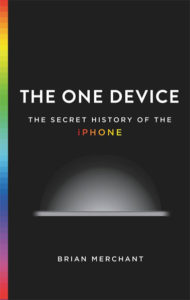 Brian Merchant, The One Device: The Secret History of the iPhone
Merchant, an editor at Motherboard, goes into the decade of development behind what Steve Jobs called "the one device," including visits to Apple's Longhua plant in China, the "sprawling factory compound, all grey dormitories and weather-beaten warehouses, [which] blends seamlessly into the outskirts of the Shenzhen megalopolis," the vast complex where iPhones are made.  ("It's printed on the back of every iPhone: 'Designed by Apple in California Assembled in China,' Merchant writes.)
"Merchant does the important work of excavating and compiling large numbers of details and anecdotes about the development of the iPhone, many of them previously unrecorded," writes Lev Grossman (New York Times Book Review). "It's important because along with being splash-, water- and dust-resistant, the iPhone is resistant to history." Grossman has quibbles ("Merchant's ghastly time-traveling habit," for one). "But when he gets back to the actual iPhone's creation, Merchant tells a far richer story than I—having covered Apple for years as a journalist—have seen before."
Gizmodo breaks it down into five things you might not know from The Secret History of the iPhone, like it "was almost just an iPod with a 'steampunk dial.'"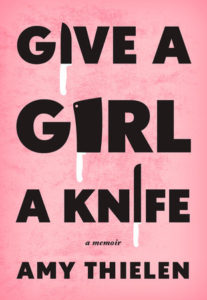 Amy Thielen, Give a Girl a Knife
Thielen, a former chef in high-end Manhattan restaurants, delves into the Midwestern roots of her culinary gifts.
Rolling Stone calls her new book "one of the best coming-of-age food memoirs you'll ever pick up."
"Give a Girl a Knife tracks her migration between her non-electric home outside of Two Inlets, Minn., where she and her artist husband, Aaron, grow tomato varietals in the summer, and her stints as a line cook in some of Manhattan's most acclaimed kitchens (Danube, db, 66, Cru)," writes Leah Mirakhor (Los Angeles Times). "Drawn to idiosyncratic crossroads—'between rural and urban, high-flung and low-down, garbage juice and black truffle juice'—Thielen thrives on the intensity, carnality, and artistry required of cooks in fine dining."
Carey Polis (Bon Appetit) writes, "Give a Girl a Knife proves the midwest has all the drama of a big NYC restaurant."
---