5 Books Making News This Week: Diaries and "DeLillo for Millennials"
David Sedaris, Catherine Lacey, Arundhati Roy, and More
Karan Mahajan (The Association of Small Bombs) wins the $10,000 Young Lions Award; other finalists are Clare Beams (We Show What We Have Learned), Brit Bennett, (The Mothers), Nicole Dennis-Benn (Here Comes the Sun) and Kaitlyn Greenidge (We Love You Charlie Freeman). PEN's Pinter Prize goes to poet Michael Longley. Poet Don Paterson, a judge, notes,
For decades now his effortlessly lyric and fluent poetry has been wholly suffused with the qualities of humanity, humility and compassion, never shying away from the moral complexity that comes from seeing both sides of an argument. Longley is a war poet and a love poet, a nature poet and a poet of the arts, a poet of social and cultural history. Whether writing as a celebrant, critic, memoirist or elegist, he has precisely the "unswerving gaze" Pinter called for, one often fixed on figures in the margins and shadows—whose lives are often left untroubled by literary description, but who, Longley insistently reminds us, have their own heroism, tragedy and nobility, and whose stories reveal the "real truth of our lives."
More buzz for Arundhati Roy's first novel in 20 years, Catherine Lacey's second novel is "DeLillo for millenials," David Sedaris's diaries are "mesmerizing, like watching spinning chickens," Michael Chabon and Ayelet Waldman offer an anthology of essays by writers assessing the on-the-ground experience of Israel's 50-year occupation of the West Bank, and "inferior Fitzgerald" is still Fitzgerald.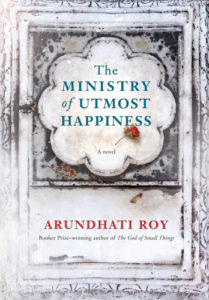 Arundhati Roy, The Ministry of Utmost Happiness

The first novel in 20 years from the Man Booker award winner continues to draw buzz.

Ron Charles (Washington Post) is enthusiastic:

Truly, this is a remarkable creation, a story both intimate and international, swelling with comedy and outrage, a tale that cradles the world's most fragile people even while it assaults the Subcontinent's most brutal villains. It will not convert Roy's political enemies, but it will surely blast past them. Here are sentences that feel athletic enough to sprint on for pages, feinting in different directions at once, dropping disparate allusions, tossing off witty asides, refracting competing ironies. This is writing that swirls so hypnotically that it doesn't feel like words on paper so much as ink in water. Every paragraph dares you to keep up, forcing you finally to stop asking questions, to stop grasping for chronology and just trust her.

Sarah Begley (Time) agrees: "Arriving as it does at a time of geopolitical uncertainty, Roy's novel will be the unmissable literary read of the summer. With its insights into human nature, its memorable characters and its luscious prose, The Ministry of Utmost Happiness is well worth the 20-year wait."

Heller McAlpin (San Francisco Chronicle) concludes, "Like its transsexual heroine and coterie of sympathetic protagonists, The Ministry of Utmost Happiness is augmented by its

ambiguity, its heart, its complexity, its ambition and its willingness to respond to a brutal world with hope and humanity. Roy's second novel reminds us what fiction can do."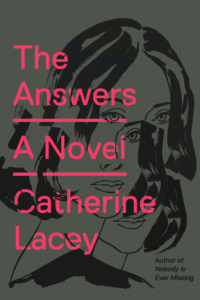 Catherine Lacey, The Answers
The second novel by one of Granta's Best Young American Novelists revolves around a narrator who answers a Craiglist ad and becomes part of a famous actor's "Girlfriend Experiment."
Megan O'Grady (Vogue) calls The Answers "a darkly funny, tartly feminist look at the tender state of our bodies and souls in the Information Age" and "DeLillo for millennials."
Dwight Garner (New York Times) is impressed:
In her new novel, [Lacey] sweeps you up in the formidable current of her thought, and then she drops you down the rabbit hole. She's the real thing, and in The Answers she takes full command of her powers.
Joshua James Amberson (Los Angeles Review of Books) muses:
For Lacey's remarkable skill to be fully embraced, we may need a new genre to categorize her work under. Lacey's books are not really novels, in a similar way that Woolf's The Waves, Marilynne Robinson's Housekeeping, or Rachel Cusk's recent Outline are arguably not really novels. Her books are too plot driven to be called experimental, and while they're on the edge of being classified as any kind of hybrid genre, I'd be more confident recommending her work to a fan of genre-bending work than someone looking for a good novel. Still, no matter how you categorize them, it seems inevitable that her books will find a larger audience. Her sentences are like reading an iconic prose style before it's become iconic. Her work's divisiveness, if anything, will only build her cult appeal.
David Sedaris, Theft by Finding
Forty years of diary keeping give Sedaris grist for his comic essays. The first volume of his diaries, covering the years 1977-2002, is weirdly fascinating for critics.
David Upchurch (Boston Globe) notes that Sedaris has "parlayed his diary entries into comic essays that play hyperbolically with his family history, his sexual and workplace mishaps, his attempts to learn French, his smoking/drinking/drug habits, his lovingly bickering relationship with his longtime partner, Hugh Hamrick, and more. Theft by Finding reveals that the essays are artful expansions of surprisingly minimal diary notations."
"It could be dull, but instead it's mesmerizing, like watching spinning chickens," writes Annalisa Quinn (NPR). "Since many of the things he describes happen in his stories, reading Theft by Finding feels like watching a favorite play from behind the scenes, in the company of a friend who can identify what is absurd and heartbreaking and human about every person on stage."
Patton Oswalt (New York Times Book Review) concludes:
Through all 25 years of Theft by Finding—of soap opera addictions and spider feeding, family kookiness (Sedaris notes the day Charles Addams dies; it feels like the passing of a baton) and language lessons—Sedaris's developing voice is the lifeline that pulls him through the murk. In the last year of the diaries, with Sedaris a now-established best-selling author and world traveler, the prickly Southern wit is still intact and sparkling: "Jan. 28, 2002, Florence. Florence often smells like toast."
Kingdom of Olives and Ash, ed. Michael Chabon and Ayelet Waldman
To mark the 50th anniversary of the end of the Six Day War and its aftermath, Waldman and Chabon invited writers to travel to the region and offer on-the-ground testimonies of the human consequences of the occupation of the West Bank. Waldman's own visit to the region led to "a clear, visceral understanding of just what occupation meant, of how it operated, and of the decades of Israeli strategic planning that had gone into creating the massive, often brutal, always dehumanizing military bureaucracy that oversees and controls it," she and Chabon write in the introduction.
Gal Beckerman (New York Times Book Review) notes, "because they are impressionistic and repetitive—staring out the window of a moving car at walls and checkpoints and then more walls and checkpoints—the essays do convey something of the state of the occupation at half-century. The accumulation of similar details, deeply etched marks of subjugation, don't inspire shock and alarm so much as a sense of gray permanence, like watching concrete hardening. In one piece, the Qalandiya checkpoint is described as 'an everlasting airport' and in another the occupation itself is defined as 'depriving you of the ability to control time.' Palestinian reality presents itself here as a line you're standing in that does not move but also seems to get longer in both directions."
A starred Kirkus Review notes that the writers' responses to their visits are "moving, heartbreaking, and infuriating, testifying to the chilling cruelty of Israel's policy toward Palestinians."
And in a starred Booklist review, Donna Seaman writes, "Their dramatic testimonies are radiant with telling details, vital portraits, and explosive facts. Geraldine Brooks tells the crushing story of two young Palestinian cousins. Dave Eggers meets courageous artists in Gaza, a dehumanizing 'open-air prison.' Assaf Gavron tells harrowing tales of Palestinian soccer players; Porochista Khakpour meets rappers. The soul-crushing bureaucracy of the occupation is exposed in Raja Shehadeh's narrative about a Palestinian taxi driver and in Chabon's tale of a businessman. This sensitive, galvanizing, and landmark gathering brings the occupation into sharp focus as a tragedy of fear and tyranny, a monumental failure of compassion and justice, a horrific obstacle to world peace."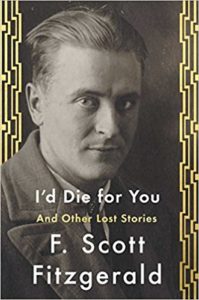 F. Scott Fitzgerald, I'd Die for You

A collection of 18 stories from one of the masters of the form, written for magazines but unpublished during his lifetime. "

He thought some of the stories in I'd Die for You were excellent, and was deeply disappointed, for personal more than financial reasons, to have them rejected by editors wanting him to write about jazz and fizz, or beautiful, cold girls and handsome, yearning boys," writes Anne Margaret Daniel, the book's editor.

James McGrath Morris (Dallas Morning News) notes, "Part of the charm of this anthology is that the stories appear without the censorship to which they might have been subjected to in his time. The tales assembled here . . . are about divorce and despair, teenagers struggling during the Great Depression, war, sex and New York City's vitality and poverty."

"Rejected by slick magazine publishers for its suicidal conclusion, 'I'd Die for You' reaches deep into Fitzgerald's own experience when he attempted to take his own life in a place he and Zelda haunted in Asheville, N.C., while she sought treatment for her mental illness," writes Dave Page (Minneapolis Star-Tribune).

Blake Bailey (New York Times Book Review) is generous: "And finally, inferior Fitzgerald is still Fitzgerald, and his best readers will find much to enjoy in this gorgeously produced book. Even the weaker pieces are sustained by flourishes of prose style—'a pink glow of summer evening' on the surface of a mountain lake, a motif of changing light that's nicely sustained in the title story until the author seems to lose steam and tend wanly to plot mechanics per se. His energy failed him, but his talent abided."
---