5 Books Making News This Week: Comedies, Christianity, and Criticism
Fiona Maazel, Frances FitzGerald, Mary Gaitskill, and More
Literary honors are coming fast and furious, with Pulitzer Prizes announced yesterday, Guggenheim fellowships on Friday. Plus these:
– The PEN/Faulkner Fiction Award goes to Imbolo Mbue for her first novel, Behold the Dreamers.
– 19 American Academy of Arts and Letters Literature Award winners include Lee Clay Johnson, whose Nitro Mountain wins the Sue Kaufman award for first novel, Dana Spiotta for a mid-career writer, Joan Acocella for work that "merits recognition for the quality of  its prose style.
– C.E. Morgan's The Sport of Kings makes the Baileys Women's Prize for Fiction shortlist.
– Minnesota Book Awards go to Peter Geye (Winterland, fiction), Sun Yung Shin, (Unbearable Splendor, poetry), and Kao Kalia Yang, (The Song Poet, memoir), among others.
Fiona Maazel's new novel invokes comparisons to Philip K. Dick and Pynchon, a South Indian novelist's first English translation is compared to The House of Mirth, Mary Gaitskill gathers her essays/reviews, with a hat-tip to Chekhov, Pulitzer Prize winner Frances Fitzgerald takes on the Evangelical movement, Ariel Levy's award-winning New Yorker essay becomes a gripping memoir.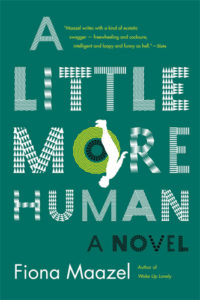 Fiona Maazel, A Little More Human
Maazel, one of this year's nine Guggenheim fellows in fiction announced last week, wows critics.
"Imagine a situation comedy written by Phillip K. Dick or a telenovela penned by Thomas Pynchon," writes Jim Ruland (Los Angeles Times). "Imagine a situation comedy written by Phillip K. Dick or a telenovela penned by Thomas Pynchon."
Kevin Nguyen (GQ) writes, "In her third novel, A Little More Human, Fiona Maazel collapses a whirlwind of genres into a tragicomic tromp through memory and mind. The central irony here is obvious: Phil can read minds, but he's terrible at understanding people or predicting what they'll do. (This can be at times funny and other times a little maddening as Phil bumbles his way through the novel.)"
"Fiona Maazel's prose is delightfully quirky, insanely amusing and impossible to put down," concludes Chelsea Hassler (Newsweek). "Once again, she knocks it out of the park with a tale that pulls no punches and looks the borders of genre square in the eyes before tearing it all down."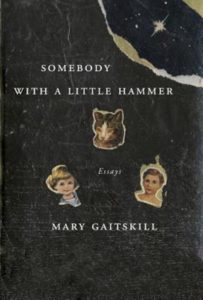 Mary Gaitskill, Somebody with a Little Hammer
Turning from fiction to nonfiction for the first time, Gaitskill takes her title from Chekhov's short story "Gooseberries"—"At the door of every contented, happy man somebody should stand with a little hammer, constantly tapping, to remind him that unhappy people exist." The line resonates through these personal, literary, and cultural essays.
The best of these essays, writes Sariah Dorbin (Los Angeles Review of Books), work "as a clanging, double-bell-alarm-clock wake-up call for those of us who have ceased to notice or question or understand our own experiences, who have, indeed, failed to recognize what we are doing to ourselves by wandering through life in a self-imposed fog. Gaitskill leads by example, stalking her various incarnations over a lifetime and cracking herself open—then inviting us to peek inside. In doing so, she positions herself as the book's protagonist: as somebody with a little hammer, conking her numb self on the head. But she doesn't stop at simply rousing herself from complacency; in piece after piece, she hammers away at her rigid beliefs, sentimental attachments, and conveniently faulty memory."
Gaitskill's new book prompts Dwight Garner (New York Times) to suggest Gaitskill comment on politics more often, based on the diary she kept during the 2008 presidential election for the French newspaper Libération:
"When I saw Sarah Palin speak at the Republican National Convention," she writes, "the hair on the back of my neck stood up." She's looking, she realizes, at a sadist.
"By 'sadist' I don't mean a costume-wearing fetishist, and if I did I wouldn't be as appalled," she writes. "I mean something more basic, a person whose driving motive in life is to dominate, control and inflict pain."
The starred Publishers' Weekly review concludes, "The surprising, nimble prose alone is a delight, and the pages burst with insight and a candid, unflinching self-assessment sure to thrill Gaitskill's existing fans and win her new ones."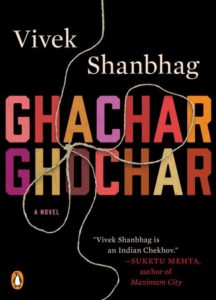 Vivek Shanbhag, Ghachar Ghochar, tr. Srinath Perur
This is the first English translation of South Indian novelist Shanbhag's work. "The seed of the story was sown 25 years ago, when I first began working as an engineer," Shanbhag tells News India's Sujeet Rajan. "At that time, I worked with a few salespeople, and I vividly remember visiting a salesman's house where every member of the family was involved in his job. They even knew the codes assigned to hundreds of products he was selling. This may have been the seed, but it takes a lot for a seed to grow into a tree and bear fruit."
"This spiny, scary story of moral decline, crisply plotted and no thicker than my thumb, has been heralded as the finest Indian novel in a decade, notable for a book in bhasha, one of India's vernacular languages," notes Parul Sehgal (New York Times Book Review). "The Great Indian Novel has almost always referred to a particular kind of book: big, baggy, polyphonic and, crucially, written in English—Midnight's Children, say, or The God of Small Things. Admirers of this austere little tale, who include Suketu Mehta and Katherine Boo, have compared Shanbhag to Chekhov. Folded into the compressed, densely psychological portrait of this family is a whole universe: a parable of rising India, an indictment of domestic violence, a taxonomy of ants and a sly commentary on translation itself."
Maureen Corrigan (NPR) writes, "Within the tight confines of a hundred pages or so, Shanbhag presents as densely layered a social vision of Bangalore as Edith Wharton did of New York in The House of Mirth. Shanbhag's Bangalore is packed with anonymous laborers, and the leisure classes and teachers and other "brain workers" who are sandwiched in the middle."
The New Yorker calls Ghachar Ghochar "both a classic tale of wealth and moral ruin and a parable about capitalism and Indian society."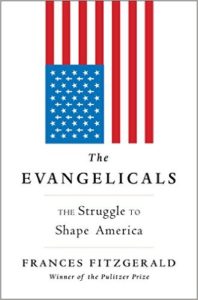 Frances FitzGerald, The Evangelicals
FitzGerald, who won a Pulitzer and a National Book Award for Fire in the Lake, about the war in Vietnam, looks at the evangelical movement, beginning with the Puritans and continuing through the 2016 election. "I wrote about the birth of the Moral Majority," FitzGerald told Kirkus Reviews, "and then I quit and went back to it, and quit again to write other books. Finally, I thought, well, this really is very important to our history, and I'd better report it and know it. So I started from the beginning and built my story chapter by chapter."
Douglas Brinkley (Boston Globe) calls The Evangelicals "an epic history of white American evangelical Protestantism from Plymouth Rock to Trump Tower."
FitzGerald "makes one astounding error of taxonomy," points out Gary Wills (New York Review of Books). "She doesn't include black churches in a study of evangelicals. She "omits the history of African American churches" because "their religious traditions are not the same as those of white evangelicals." Who are these white evangelicals she is talking about? Some white evangelicals were abolitionists while others were defending slavery. It is hard to deny that many if not most black churches are evangelical in style. They have preachers credentialed by enthusiastic congregations, outcries during the sermon ('Tell it!'), proclamatory music, and cyclic intensities."
Alan Wolfe (New York Times Book Review) is enthusiastic. "It is, simply put, a page turner: FitzGerald is a great writer capable of keeping a sprawling narrative on point, even as it descends into discussions of Keswickian holiness, pretribulationist rapture and theonomic governance. (Don't ask.) Anyone curious about the state of conservative American Protestantism will have a trusted guide in this Bancroft and Pulitzer Prize winner who has previously written about Vietnam, Ronald Reagan's Strategic Defense Initiative and American textbook controversies. In addition, FitzGerald clearly took her time; she reports on a visit to an important religious site as early as September 1987. We have long needed a fair-minded overview of this vitally important religious sensibility, and FitzGerald has now provided it."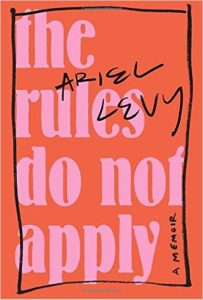 Ariel Levy, The Rules Do Not Apply
A National Magazine Award winning essay—"Thanksgiving in Mongolia," first published in The New Yorker—was the seed for Levy's memoir, which chronicles the loss of her son, after a miscarriage at 19 weeks, and then her spouse, and her home.
Leslie Jamison (New York Times Book Review) writes, "what I admire about the strongest passages of this book, is Levy's refusal to evade emotion. She risks the full tilt of feeling. 'Grief is a world you walk through skinned, unshelled,' she writes, and she gives us the song of that vulnerable land. She renders overwhelming sorrow with precise brush strokes and eerie constellations of details: a cellphone photo, a Snickers bar, the smoggy Mongolian sky."
This is "an essayist's memoir, not a novelist's," points out Marthine Satris (San Francisco Chronicle). "When Levy applies her practiced, detached observation to her life, she turns it in her hands like a jeweler examining a gem. About her affair, she is unflinchingly direct: 'Every time, it was transcendent. But then I started not wanting to leave after I put my clothes on. And then I was destroyed.' The most agonizingly beautiful language of the book is reserved for Levy's too-early birth, when her eye for detail is at its most hawk-like. Back in New York, bereft of her unborn son, she writes, 'I saw him under my closed eyelids like an imprint from the sun.'"
"This book is so stark and succinct it can be read in one afternoon, and Levy's honesty is blistering," writes Emily Witt (The Guardian). "The first publication of the account of her miscarriage shredded through the middlebrow nicety of the New Yorker house style like a tornado through a cornfield."
---