5 Audiobook Essay Collections Ideally Suited to Your Quarantine Walks
James Tate Hill Recommends Melissa Faliveno, Alice Wong, and More
As a verb, one definition of essay is to try. As horrible as 2020 was, let's pretend it means to try again.
Audiobooks of self-contained pieces between twenty and sixty minutes seem perfectly suited for walks, commutes, and household chores. Essays might also be perfect for attention spans ravaged by the pandemic, quarantine, remote schooling, and the last four years of non-stop breaking news.
For those who had trouble reading in 2020, I recommend five new essay collections with which to begin 2021. Let's try again.
*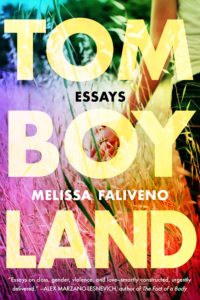 Tomboyland: Essays by Melissa Faliveno
Narrated by Melissa Faliveno · TOPPLE Books & Little A/Brilliance Audio
9 hours and 2 minutes
Melissa Faliveno grew up in the Midwest, "a place that transcends boundaries, that defies definitions, that holds within it a multitude of definitions." She thinks of this state of in-betweenness, of resisting definition, as Tomboyland. In the essays that make up her enthralling debut, Faliveno explores bisexuality, androgyny, and the liminal feelings so difficult to name.
"Pain is weakness leaving the body," says the T-shirt the author wore as a high school powerlifter, one of only two girls on the team. Faliveno also played softball at a high level, passing up a college career in the sport. More than a simple dichotomy of masculine vs. feminine, athletics offer a window into her future of extremes and self-destructive behavior.
Faliveno narrates the audiobook with an amiable—dare I say—Midwestern voice. Like the region she writes about, it's a rich voice capable of great nuance. All writers, one assumes, possess a deep understanding of their work, but conveying that complexity in narration is a rarer skill. Throughout the collection, Faliveno echoes out loud what she does so well on the page, subtle adjustments in tone revealing a multitude of layers.
Tomboyland's essays span decades of the author's life. They are self-contained but expansive, and together they satisfy as a memoir satisfies. "All choices are a sacrifice," Faliveno writes in a later essay about her decision not to have children. The line echoes essays about gender roles, sadomasochism, and tornadoes.
In "Gun Country," the author wrestles with the history of her own violence. A staunch supporter of gun control, she comes to understand their complicated appeal to some of her friends. Splitting wood, Faliveno writes, "I feel good. As I lift each log, throw the press, and watch the wood split in half, I am calm. I am strong. I am unafraid."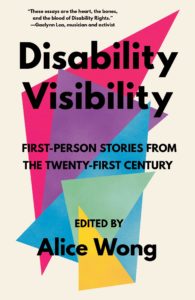 Disability Visibility: First-Person Stories from the Twenty-First Century edited by Alice Wong
Narrated by Alejandra Ospina and Alice Wong · Vintage/Random House Audio
8 hours and 1 minute
People with disabilities comprise twenty percent of the United States' population, making them the largest minority group in the nation. We learn this in an essay by the Harriet Tubman Collective called "Disability Solidarity: Completing the Vision for Black Lives." Among Blacks, it notes, nearly a quarter have some form of a disability. In spite of this, the disabled are rarely a part of conversations about racial justice.
This essay appears in Disability Visibility, an anthology that shines new light on aspects of disability rarely discussed in American culture. Edited by disability rights activist Alice Wong, the book seeks "to center the wisdom of disabled people," a minority especially equipped to "challenge and confront the status quo." Wong explains this eloquently in the introduction she narrates herself before handing over audiobook duties to Alejandra Ospina.
Divided into sections titled Being, Becoming, Doing, and Connecting, the collection explores a wide array of disability topics from equally varied perspectives. Some of the authors included are professional writers, but many are not. Most importantly, the book gives voice to people and topics often spoken for by others and frequently silenced altogether.
Logistics invariably prevent dozens of authors from reading their own pieces in audiobook anthologies. As a result, the wide variety of voices come to life in the lone voice of Alejandra Ospina. Her straightforward, respectful work serves the subject matter well. The use of a single narrator brings a tonal unity to the audiobook, but it also undermines, if only slightly, the book's mission to present so many unique voices.
In one essay, a deaf man describes his inability to communicate in prison and the prison's general indifference to his deafness. In another, a New York attorney with cerebral palsy chronicles the myriad, egregious problems with public transportation for the disabled and her successful efforts to improve it. Some pieces are necessarily dark, but others, like Jillian Weise's "Common Cyborg," use sly humor to parse the misconceptions of labels. Sky Cubacub's essay about the first fashion line for disabled, queer, and trans people is downright jubilant.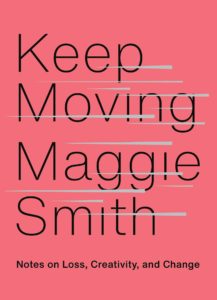 Keep Moving: Notes on Loss, Creativity, and Change by Maggie Smith
Narrated by Maggie Smith · Atria/Simon & Schuster Audio
2 hours and 15 minutes
"Do not ignore what hurts," writes poet Maggie Smith in Keep Moving, a collection of short essays that could not be more timely. "Even as you feel yourself beginning to heal, the wound may be with you indefinitely, like a phantom limb. That ghost is a teacher. Learn from it all you can. Keep moving."
Smith's book began as notes to herself following her divorce. She ended all of these with the mantra to keep moving. Dozens of them are included in the book, forming a sort of chorus between essays about motherhood, marriage, and grief.
Narrating the audiobook, Smith's soothing voice conveys the same empathy one finds in her words. Sections move backward and forward in time, building toward an arc of healing and acceptance. Subtle shifts in the author's inflection make this audible even in the repeated phrase to keep moving.
More than traditional essays, the pieces in Keep Moving resemble what Ross Gay in The Book of Delights calls "essaylets." Also like poems, they offer compressed moments of emotion and insight. "Twice there was almost a child," Smith writes about a new pregnancy after multiple miscarriages, but "there is no name for a mother of almost a child."
At just over two hours, Keep Moving is the length of a double album, and it's easy to imagine readers returning to this book for inspiration and peace. Even the advice intended for writers, like not letting rejection determine your self-worth, can be applied to the non-writing life.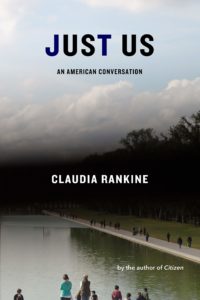 Just Us: An American Conversation by Claudia Rankine
Narrated by Janina Edwards · Graywolf Press/Audible Studios
4 hours and 14 minutes
"The running comment in our current political climate," writes Claudia Rankine, "is that we all need to converse with people we don't normally speak to." Even though her husband is white, she adds, she finds it easy to converse with most strangers except for white men. Just Us: An American Conversation chronicles the celebrated poet's attempts to conduct these difficult conversations about race, with white men and many others.
One would expect a cultural conversation about race in the 21st century to discuss police violence and the bias of the criminal justice system, and Rankine offers valuable takes on these subjects. She also navigates nuanced positions on hair color, diversity training, and microaggressions in the workplace. To her credit, these are not problem-solution arguments, but attempts to acknowledge what our culture has so much difficulty acknowledging.
Like her award-winning poetry collection Citizen, Just Us is formally inventive, blending personal experience with criticism, excerpts from textbooks, historical documents, and more. The jacket copy of the print edition also notes the inclusion of photos, tweets, and poetry, but in the audiobook it isn't clear where these appear or what the photos depict.
Rankine does not narrate the audiobook, but Janina Edwards captures the poet's affable blend of honesty and genuine curiosity. With a warm voice, Edwards handles well the occasional, sudden turns from elegiac to sardonic.
Late in the book, Rankine recalls Samuel Beckett's explanation that Waiting for Godot was "a way of finding a form that accommodates the mess. Are conversations accommodations?" she wonders. "Perhaps words are like rooms. They have to make room for people. Dude, I am here. We are here. You are here. She is here. They are here. He is here. We live here, too. He eats here, too. She walks here, too. They shop here, too. Dude, come on. Come on."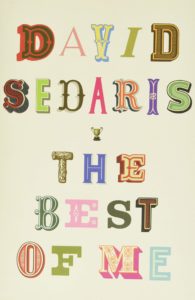 The Best of Me by David Sedaris
Narrated by David Sedaris · Little, Brown and Company/Hachette Audio
13 hours and 8 minutes
To most writers, a book tour means bookstores and the occasional college. Audiences, to put it generously, vary in size. David Sedaris, on the other hand, in non-pandemic years, sells out theaters and concert halls. Tickets to hear Sedaris read his essays for a couple of hours at my local theater cost around thirty dollars. This makes thirteen hours of the author narrating some of his best-loved essays in an audiobook one of the great bargains in publishing.
At live events, Sedaris admits in a lengthy, insightful interview that closes the audiobook, his primary goal is to garner laughs. Indeed, around a quarter of the essays included are taped with a live audience, whose laughs come frequently. Longtime readers know the laughs are often a means to a more delicate, sometimes darker end.
In "Us and Them," Sedaris writes of neighbor children who didn't fit in and his own inability to empathize. When they visit his home the day after Halloween, not knowing trick or treat was the day before, Sedaris's mother insists her children share their candy. Young David hurries to his room to eat as much as he can. "while it hurt to destroy [the wax lips and candy necklaces], it would have hurt even more to give them away."
Jazzy, instrumental music fills the space between essays. The interludes recall NPR, where many first met Sedaris decades earlier, reading "The Santaland Diaries," not included in this collection. Doubtless fans will lament some favorites that didn't make it into The Best of Me, but this speaks less to the chosen selections than the volume of the author's work.
The latter third of the book centers on his most frequent subject, his immediate family, including the suicide of his youngest sister. He also reckons with the use of his family as material. "It's not like you're going to do anything with [the story]," writes Sedaris with self-deprecating awareness. "Your life, your privacy, your occasional sorrow. It's not like you're going to do anything
---