38 Americanisms the British Can't Bloody Stand
To Some of Us, Grammar Feels Personal
When it comes to American words and phrases creeping into British English, I like to think that I keep my cool and maintain my stiff upper lip. I'm that phlegmatic because I happen to know that "keeping your cool" and "stiff upper lip" are both American in origin. We may now think of the "stiff upper lip"—showing fortitude in the face of adversity and self-restraint in place of quivering-upper-lip emotion—as a quintessentially British attribute, but the phrase originated in America in 1815 and became popular thanks to the success of a poem by the American women's rights activist Phoebe Cary (1824[?]–1871), which featured the lines "And though hard be the task, / Keep a stiff upper lip."
The reliable, talented, and influential British journalist Matthew Engel, author of the tremendous That's the Way It Crumbles: The American Conquest of the English Language, is the acknowledged authority on Americanisms that have successfully invaded British English. The list of them is lengthy—and, as Matthew points out, includes "lengthy," as well as "reliable," "talented," "influential," and "tremendous": "All of these words we use without a second thought were not normally part of the English language until the establishment of the United States. The Americans imported English wholesale, forged it to meet their own needs, then exported their own words back across the Atlantic to be incorporated in the way we speak over here. Those seemingly innocuous words caused fury at the time. The poet Coleridge denounced "talented" as a barbarous word in 1832, though a few years later it was being used by William Gladstone. A letter-writer to The Times, in 1857, described "reliable" as vile."
Some modern American imports Matthew can't stand— among them "faze" (as in "it doesn't faze me"), "hospitalize," "elevator," "rookies" (for "newcomers"), and "guy," "less and less the centerpiece of the ancient British festival of 5 November [Guy Fawkes Day]—or, as it will soon be known, 11/5. Now someone of either gender." However, sometimes, he concedes, American phrases can have "vigor and vivacity": "A relative of mine told me recently he went to a business meeting chaired by a California woman who wanted everyone to speak frankly. It was 'open kimono.'"
When Matthew wrote about this for the BBC, the BBC invited the public to send in their own pet aversions (English), bêtes noires (French), and bugaboos (American).
Here are just 38 of the Americanisms it seems the British public really can't stand.
1. When people ask for something, I often hear: "Can I get a . . ." It infuriates me. It's not New York. It's not the '90s. You're not in Central Perk with the rest of the Friends. Really.
2. The next time someone tells you something is the "least worst option," tell them that their most best option is learning grammar.
3. The phrase I've watched seep into the language (especially with broadcasters) is "two-time" and "three-time." Have the words double, triple, etc., been totally lost?
4. Using 24/7 rather than "24 hours, 7 days a week" or even just plain "all day, every day."
5. The one I can't stand is "deplane," meaning to disembark an aircraft, used in the phrase "you will be able to deplane momentarily."
6. "Touch base"—it makes me cringe no end.
7. Is "physicality" a real word?
8. Transportation. What's wrong with transport?
9. Does nobody celebrate a birthday any more, must we all "turn" 12 or 21 or 40?
10. What kind of word is "gotten"? It makes me shudder.
11. "I'm good" for "I'm well." That'll do for a start.
12. "Bangs" for a fringe of the hair.
13. Takeout rather than takeaway!
14. "A half hour" instead of "half an hour."
15. A "heads up." For example, as in a business meeting—Let's do a "heads up" on this issue. I have never been sure of the meaning.
16. To put a list into alphabetical order is to "alphabetize it"—horrid!
17. People that say "my bad" after a mistake. I don't know how anything could be as annoying or lazy as that.
18. "Normalcy" instead of "normality" really irritates me.
19. Eaterie. To use a prevalent phrase, oh my gaad!
20. I'm a Brit living in New York. The one that always gets me is the American need to use the word bi-weekly when fortnightly would suffice just fine.
21. I hate "alternate" for "alternative." I don't like this as they are two distinct words, both have distinct meanings and it's useful to have both. Using "alternate" for "alternative" deprives us of a word.
22. "Hike" a price. Does that mean people who do that are hikers? No, hikers are ramblers!
23. Going forward? If I do I shall collide with my keyboard.
24. The most annoying Americanism is "a million and a half" when it is clearly one and a half million! A million and a half is 1,000,000.5, where one and a half million is 1,500,000.
25. "Reach out to" when the correct word is "ask." For example: "I will reach out to Kevin and let you know if that timing is convenient." Reach out? Is Kevin stuck in quicksand? Is he teetering on the edge of a cliff? Can't we just ask him?
26. I hate the fact I now have to order a "regular Americano." What ever happened to a medium-sized coffee?
27. My worst horror is expiration, as in "expiration date." Whatever happened to expiry?
28. I am increasingly hearing the phrase "that'll learn you"—when the English (and more correct) version was always "that'll teach you." What a ridiculous phrase!
29. I really hate the phrase "Where's it at?" This is not more efficient or informative than "Where is it?" It just sounds grotesque and is immensely irritating.
30. My pet hate is "winningest," used in the context "Michael Schumacher is the winningest driver of all time." I can feel the rage rising even using it here.
31. My brother now uses the term "season" for a TV series. Hideous.
32. Having an "issue" instead of a "problem."
33. I hear more and more people pronouncing the letter Z as "zee." Not happy about it!
34. To "medal" instead of to win a medal. Sets my teeth on edge with a vengeance.
35. "I got it for free" is a pet hate. You got it "free" not "for free." You don't get something cheap and say you got it "for cheap" do you?
36. "Turn that off already." Oh dear.
37. "I could care less" instead of "I couldn't care less" has to be the worst. Opposite meaning of what they're trying to say.
38. Dare I even mention the fanny pack?
The Americanized version of Harry Potter and the Philosopher's Stone refers to "English muffins" instead of "crumpets." It has come to this.
__________________________________________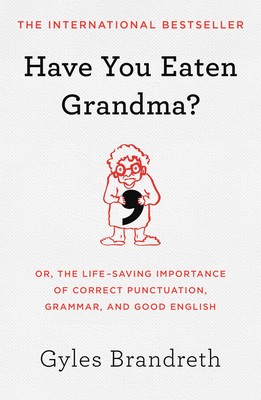 From Have You Eaten Grandma? Or, The Life-Saving Importance of Correct Punctuation, Grammar, and Good English by Gyles Brandreth. Used with the permission of the publisher, Atria Books. Copyright © 2019 by Gyles Brandreth.
---