30 Books for Americans' 10 Most-Visited Countries
Literary Fuel for Your International Jet-Setting
Ah, spring—the itchiest season. And I'm not talking (only) hay fever here. After a long, cooped-up winter, spring is the time many of us start to look longingly towards the open road—or up to the open skies, if you're fancy. But as always, wanderlust comes with its own set of problems—namely (for our purposes): whatever should one read on the way? If you're planning some international jet-setting this year, you're in luck. Below, I've recommended a few books perfect to read when traveling to the ten countries Americans visit most often (listed below in descending order), according to these numbers released by the National Travel & Tourism Office in December, 2017.
For each destination, I've recommended three books. Obviously, it's impossible to sum up a whole country in three books, so I haven't tried to do that. Instead, I've simply selected great books, available in English, that are set (at least in part) in the country for which they are recommended, and also written by an author who is a citizen of that country (or who has family roots there). As always, feel free to add to the list—I don't know about you, but the more books I've got, the merrier a traveler I will be.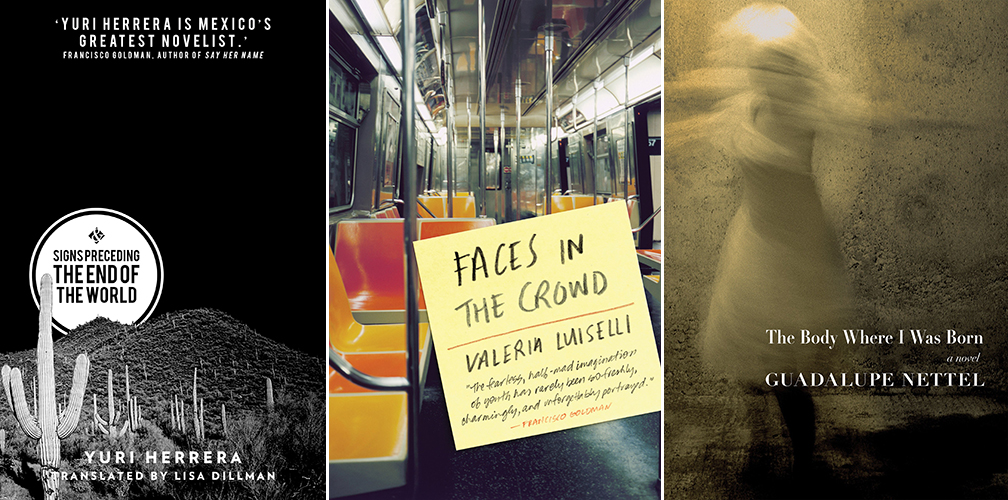 1.
Mexico
Yuri Herrera, Signs Preceding the End of the World, tr. Lisa Dillman
A work of genius, in which a girl must cross the border from Mexico in the US, laden not just with secret messages from her mother to her brother, but also with secret messages from dangerous men on one side to even more dangerous ones on the other.
*
Valeria Luiselli, Faces in the Crowd, tr. Christina MacSweeney
An experimental patchwork of a novel, fragmented and compelling, which is sort of about woman attempting to translate and publish a long-forgotten Mexican poet, but is also about being a writer, being a parent, living in the world.
*
Guadalupe Nettel, The Body Where I Was Born, tr. J. T. Lichtenstein
A deeply interior autobiographical novel about a girl who grows up a "cucaracha"—at least according to her mother. Almost confessional in its stance, the story of a flawed body (aren't they all) giving rise to a fascinating mind.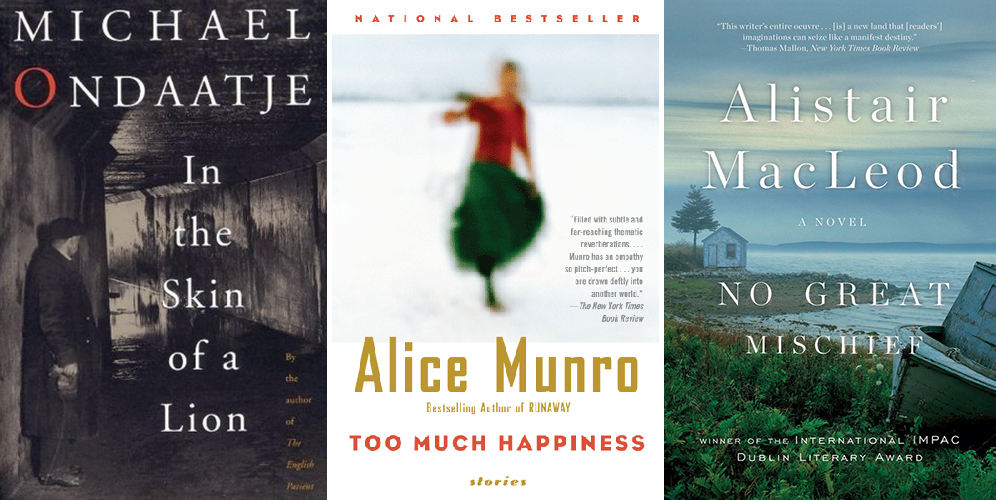 2.
Canada 
Michael Ondaatje, In the Skin of a Lion
In which Ondaatje evokes the immigrants who helped build Toronto in the 1930s, including the bridges above (and a man who saves a nun from falling to her death off the side of one) and the tunnel below Lake Ontario (dynamite is involved).
*
Alice Munro, Too Much Happiness
Well, to be fair, any book by Canadian Treasure and Legendary Short Story Writer Alice Munro would do—pick your pleasure. Too Much Happiness simply happens to include my favorite Munro story, "Wenlock Edge" (which you can read at The New Yorker, if you want to know what you're getting into).
*
Alistair MacLeod, No Great Mischief
A novel, suffuse with memory and longing, that tells the story of one family's history on Cape Breton, with tendrils that spiral in all directions.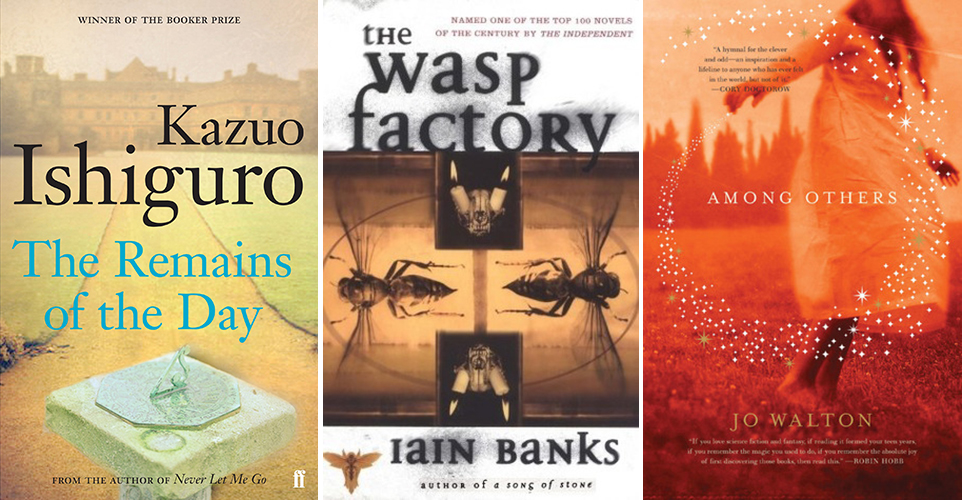 3.
The United Kingdom
Kazuo Ishiguro, The Remains of the Day 
The best novel by our newest Nobel Laureate in literature is not only an extremely British novel—being as it is about an English butler who continually sacrifices his own happiness in the name of duty and commitment to service—it's also an extremely good one.
*
Iain Banks, The Wasp Factory 
Not a book that will particularly make you want to go to Scotland, but a compelling and frighteningly addictive book all the same, featuring one of the most terrifying characters ever written.
*
Jo Walton, Among Others 
In which a 15-year-old science fiction nerd joins forces with the fairies to keep her mother from doing some kind of shadowy evil. I recommend listening to this one on tape so you can hear the book read in an amazing Welsh accent.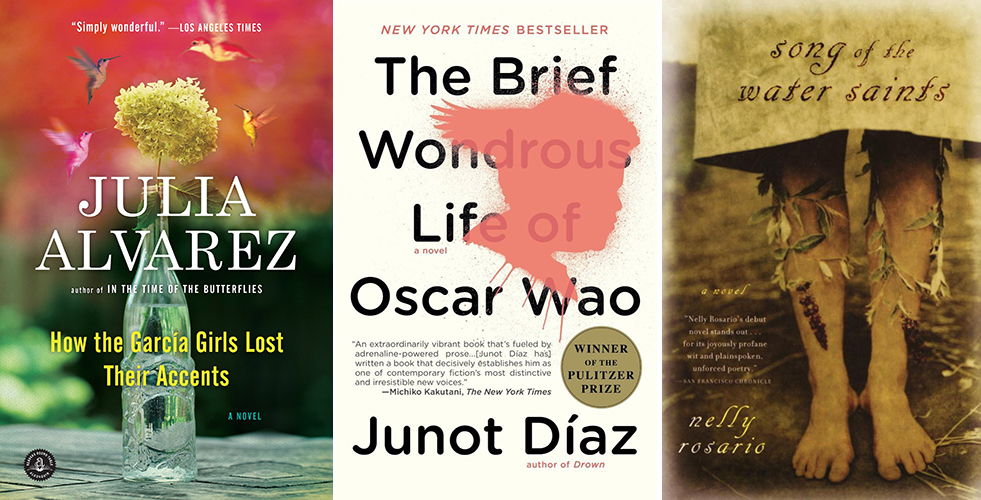 4. Dominican Republic
Julia Alvarez, How the García Girls Lost Their Accents
Set both in New York City and in Trujillo-era Dominican Republic, Alvarez's modern classic traces the lives, loves, and histories of four sisters.
*
Junot Díaz, The Brief Wondrous Life of Oscar Wao
If you haven't read the most famous (and lauded) novel about the Dominican Republic, now's the time. Set in New Jersey and (again!) Trujillo-era Dominican Republic, it's a magical, metafictional, metaphysical masterpiece.
*
Nelly Rosario, Song of the Water Saints
A beautiful and lush debut novel about three generations of Dominican women.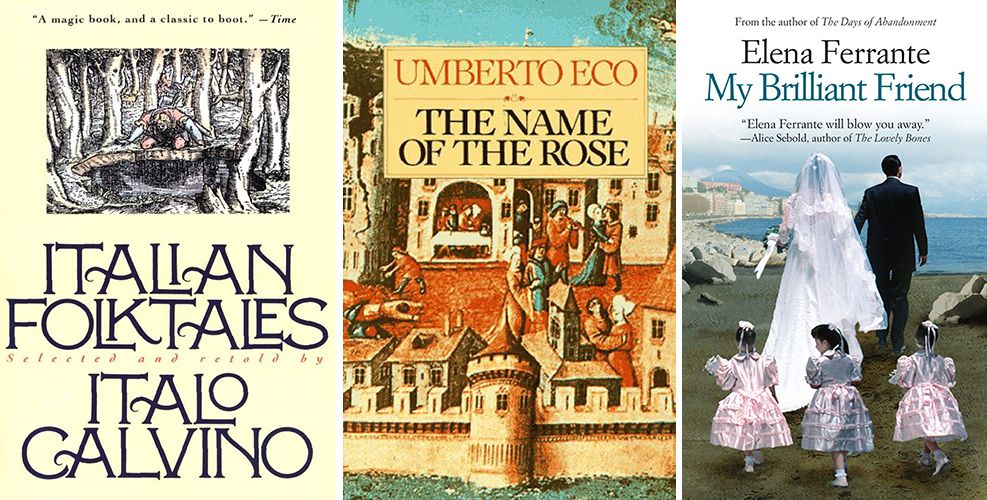 5. Italy
Italo Calvino, Italian Folktales, tr. George Martin
Not really set in Italy of course—but in another sense entirely very much set in Italy: the essential Italy of myth and story and fireside tale. Either way, Calvino's answer to the Grimm brothers is absolutely wonderful.
*
Umberto Eco, The Name of the Rose, tr. William Weaver
An Italian monastery, a murder mystery, a labyrinthine library. What more could you want on your Italian vacation? (Besides gelato. . .)
*
Elena Ferrante, My Brilliant Friend, tr. Anne Goldstein
Not the best Ferrante novel—which doesn't keep it from being everyone's favorite—but this series might include the best evocations of Naples, so I'll leave it here (but also read The Days of Abandonment).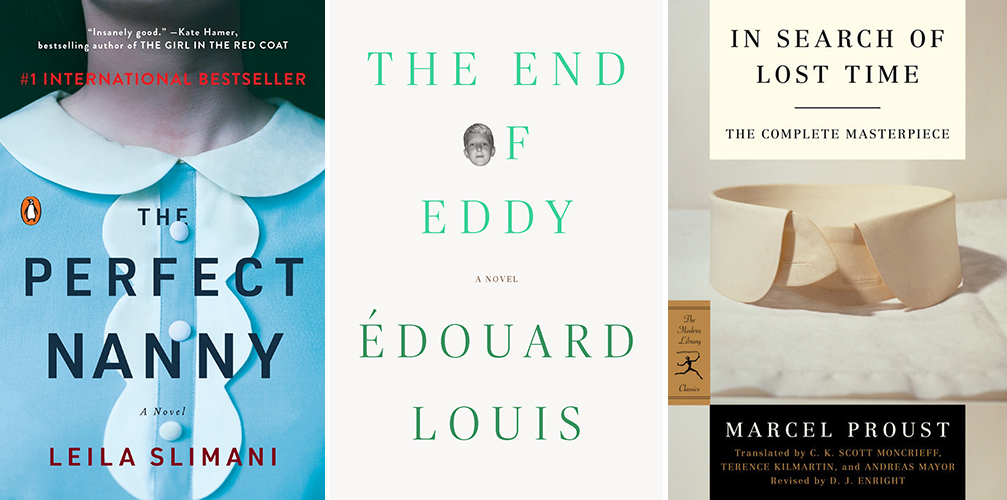 6. France
Leila Slimani, The Perfect Nanny, tr. Sam Taylor
Not quite "the French Gone Girl" as the press likes to call it, but in fact something much subtler: a slim novel that investigates class, race, motherhood, and the nature of caring for someone else—and yes, how a devoted nanny might end up murdering her young charges in the bathtub.
*
Édouard Louis, The End of Eddy, tr. Michael Lucey
Another recent one: the autobiographical story of a young gay man growing up poor in a small post working-class village in northern France, which some have called "a bulletin from the enraged heart of Le Pen country."
*
Marcel Proust, In Search of Lost Time, tr. Terence Kilmartin, C. K. Scott Moncrieff, Andreas Mayor, Lydia Davis, etc.
Since the other two are contemporary hits, the third France book will have to be a crusty and wonderful classic: what else but Proust? Fun fact: in the beginning of this, the first volume of his epic, Proust referred to the small town of Illiers, in Central France, as "Combray." In 1971, on first centenary of Proust's birth, the town voted to officially change its name to Illiers-Combray.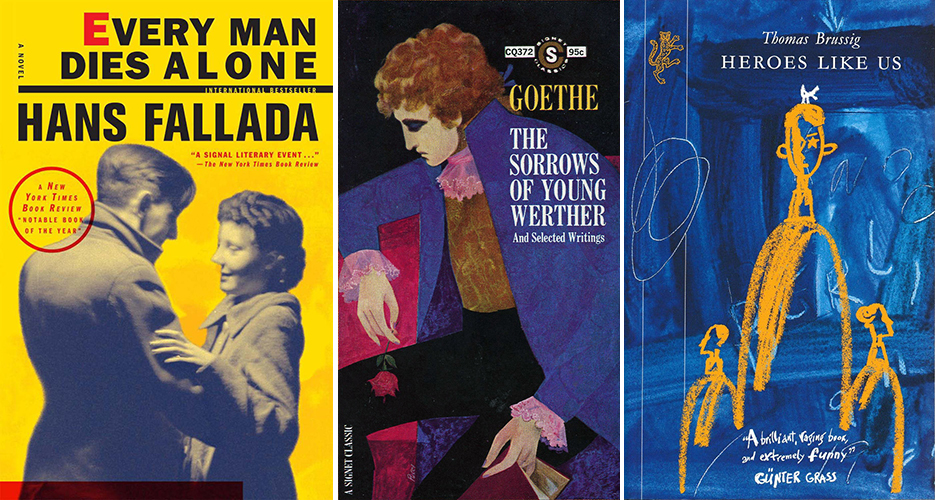 7. Germany
Hans Fallada, Every Man Dies Alone, tr. Michael Hofmann
One of the first anti-Nazi novels published by a German after WWII, this is based on the true story of a Berlin couple, Otto and Elise Hampel (Otto and Anna Quangel in the novel), who decide to join the German Resistance after Elise's brother is killed at the front, and begin a secret anti-Hitler postcard-writing campaign.
*
Johann Wolfgang von Goethe, The Sorrows of Young Werther, tr. David Constantine
All the proof you need that Germans can be romantic too. Ach!
*
Thomas Brussig, Heroes Like Us, tr. John Brownjohn
A satirical, comic novel about the fall of the Berlin wall—starring, as PW put it, "Alexander Portnoy reborn as an East German police officer."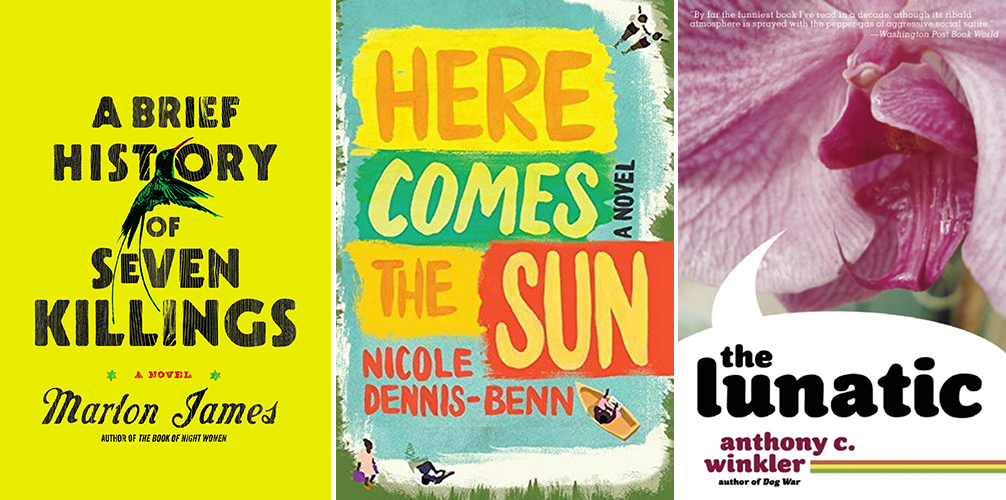 8. Jamaica
Marlon James, A Brief History of Seven Killings
James's epic, cacophonous novel about Jamaica—which Michiko Kakutani likened to "a Tarantino remake of The Harder They Come but with a soundtrack by Bob Marley and a script by Oliver Stone and William Faulkner, with maybe a little creative boost from some primo ganja"—won the Man Booker Prize in 2015.
*
Nicole Dennis-Benn, Here Comes the Sun
In this intense survival story set in Montego Bay, Margot will do anything to protect her brilliant little sister—and hopefully send her to college one day. But in order to do so, she must sell herself, hide her sexuality, and somehow slip the ever-tightening stranglehold of class, exploitation, race, and history.
*
Anthony C. Winkler, The Lunatic
One of the funniest novels about Jamaica or anywhere. As Marlon James himself put it: "A madman wakes up in the bush to find a German tourist taking pictures of him. Naturally, they move in together and try to start a popular uprising in between marathon bouts of sex." Naturally!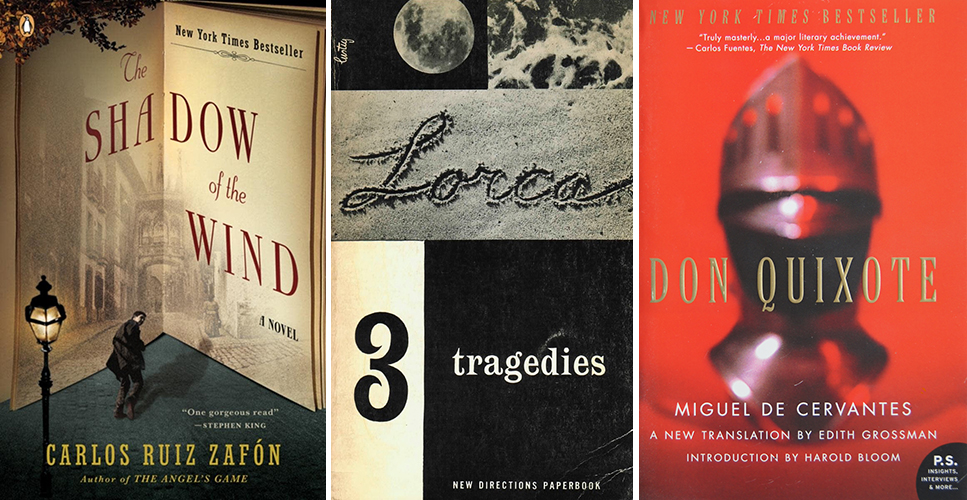 9. Spain
Carlos Ruiz Zafón, The Shadow of the Wind, tr. Lucia Graves
Frequently cited as one of the best-selling novels of all time—probably in part because it's a book about books. In Barcelona just after the Spanish Civil War, a boy named Daniel is initiated into the Cemetery of Secret Books and soon finds himself on a strange quest of love, murder, magic and history.
*
Federico García Lorca, Three Tragedies, tr. James Graham-Lujan and Richard L. O'Connell
And now for something a little different: three plays by the legendary García Lorca, each focused intensely on the experiences (and yes, tragedies) of Spanish women.
*
Miguel de Cervantes, Don Quixote, tr. Edith Grossman
Possibly the most famous and influential novel ever written—which puts it pretty high in the ranks of Spanish literature too, I'd wager.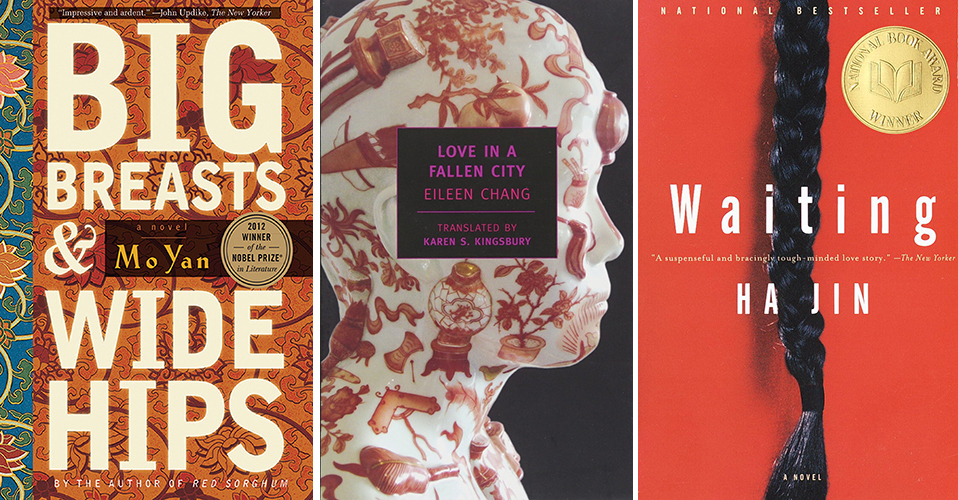 10. China
Mo Yan, Big Breasts and Wide Hips, tr. Howard Goldblatt
A hallucinatory exploration of 20th-century Chinese history through one family—but primarily through women, mothers, daughters, and their bodies—written by China's most recent Nobel Laureate in Literature.
*
Eileen Chang, Love in a Fallen City, tr. Karen S. Kingsbury
Six gorgeous short stories of longing and consequences set in Hong Kong and Shanghai in the 1940s.
*
Ha Jin, Waiting
This novel by Chinese-American novelist Ha Jin (whom Francine Prose called "the Isaac Babel of the Chinese Army") won the National Book Award in 1999. It tells the story of an army doctor torn between two women and two worlds—his wife, chosen for him by his parents, and the nurse with whom he has become infatuated.
---