26 Notes on Memory and Forgetting
Tedi López Mills: "Maybe I remember when I imagine because I'm already starting to forget."
A.
Lately, when I imagine, I remember. Then I shift into a peaceful kind of forgetfulness. And I start to imagine again, remembering. Like a circle that's no longer vicious because it erases its own trail, little by little, always re-sketching its outline for the first time.
B.
Yesterday I dreamed of an ice rink and a frozen staircase. It wasn't a compelling dream; the symbolism of the white and the cold and the clumsy skates twisting on the ice with my feet inside them struck me as so ordinary that I decided to interpret it literally. And not even that was enough to hold my attention.
In the morning I retold the dream so I'd have something to tell and could assign an anecdote to the night itself, which was long and uncomfortable and full of bodies. My dreams never come from my imagination; they're the recycling of my most elemental memories.
Today is less predictable than yesterday was. Who knows what the night will bring. The raindrops on the windowpane are as rigid as routine. As soon as I focus on them, they lose their rhythm, sound arbitrary.
C.
Maybe I remember when I imagine because I'm already starting to forget.
I'd like to know what I'm going to forget. Or is it what I imagine? But then forgetting would be some intricate procedure in which you'd have to decipher the stuff of imagination in order to recover the memories that, adding insult to injury, you don't even recognize anymore—because you've forgotten them. Which means you perceive them as original images. Shreds of memory that could gradually amass into a creative form of amnesia. An extravagant thriller: the protagonist is the only character who never shows up.
No matter how hard I try not to, I stumble into labyrinths. It must be the natural path of aimless words: they immediately assemble the artifice of a style. And in a labyrinth, the surface is just as complex as the depths are.
D.
There are corpses.
If I know what I forget, I remember everything. I'm Funes:[1] someone paralyzed by the weight of my memory, and then, if I'm lucky, by everyone else's memory, too. That's why it doesn't grant me a gender, which is crucial these days. What's most truly mine, I suspect, what lies beneath my skin, is neutral. Unfortunately, its claim of innocence is worth little. It's said that any gender—any genre—is guilty of excluding all the rest. But I'd suggest that neutrality doesn't exclude, precisely because it doesn't include. So who feels the caresses? Their memory, which imagines them as soon as it forgets.
E.
In my imagination of this newly arrived memory, there's a little girl, a garden, a house full of birds in the middle of the garden, and three windows set into the gray walls. The girl, kneeling, scrapes a red brick until she produces a very fine dust, the proofreader of my memories would add, wanting all recollections to be beautiful, spiritual.
F.
It bothers me that they insist on being fragments: as if my consciousness were too small for them.
Although I'm not sure if they take place in my consciousness, or if they even take place at all: maybe they float because they're dying. The unconscious will be their amphitheater.
G.
I don't remember my first memory.
In my second memory, I'm watching my baby brother kick his feet as my mother wipes his buttocks and legs. This memory is theirs, not mine.
Or, in Freudian terms, it could be interpreted as the beginning of the end of a reign: my brother will replace me in my mother's arms.
A perfect, boring schema: I remember because it was the origin of a trauma; my brother doesn't remember because it was the beginning of guilt.
But that's not how it is, because it's not any way at all. I choose chance: the memories that remain, whether my own or someone else's, are the ones that successfully seep through. The others, fragile, are forgotten: the theory of evolution as applied to memory.
Although this contradicts the hypothesis of dying memories. Chance permits it. The only rule is to keep playing: remembering.
H.
Memory is proof—fragile as an article of faith—of my existence over time.
I could ask someone else for evidence: "Wasn't I here with you the day before yesterday?" If confirmed, the knot of fear will loosen. If not, paranoia will unfurl in the opposite direction until it attaches to the first memory, which is the first forgetfulness, biting its own tail as soon as it remembers.
I.
There were two trees in my memory. A long river. There were little girls' bodies struggling against the frigid water. There was a pond farther up, rough ground, wet rocks. There was an older girl in the pond and the little ones watching, waiting. "Take off your clothes," they told her. The girl pulled off her shirt and the little girls went quiet. It was in their eyes, the silence. The little girls' hands wanted to touch but the water was too far away.
J.
I can't get used to forgetting. I see the holes in what's slipping away.
I guess they'll close up eventually and I'll only know what I remember, without the crutch of dialectics.
K.
In my memory of this moment, there's a room with a bunk bed. I'm on the bottom mattress; up top is an English boy who smells bad. I'm excited by the fact that he's English and smells bad; it makes me feel interesting. The English boy has long hair and speaks in a very low voice. Suddenly he announces that he wants to leave. He peers over the edge to look at me. I make a face I'd never made before.
It's a memory that includes a memory: my own face.
L.
You can play a very basic game of chess with paving tiles in the street. This is what I do when I remember how I used to play chess in hopes of impressing an invisible audience: I'd furrow my brow and never win.
Will today manage to become a memory?
(In another life, he's an ephebe I would have liked to put into my head: an ephebe of ideas and of the heart.)
M.
On Saturday I found myself somewhere dark at three in the afternoon. There were tiny servings of food on enormous plates. We all exclaimed "They're like abstract paintings!" and laughed at the reference and talked about Nazis and feelings of guilt, about how long they last or how long they should last, about whether new poetics even exist or whether they're the same as always, ancient, just bloodier, about mothers who had already died or were beginning to die, about stories so perfect they don't even need to be written.
I went downstairs to the restroom and said to myself, "I won't forget this."
We left and emerged onto the street; there were lots of people milling around a fair full of trinkets in a park. We could hear the racket of the rides. One was a dragon that swayed in the air like a noisy, monotonous swing. Children shouted and parents clapped.
The fair wasn't included in what I wasn't going to forget. Maybe someday it will help me remember.
N.
The smell of grass always leads me to a memory.
In one of them, I'm lying on my back and looking for shapes in the clouds. I'd been told that this was what you were supposed to do when you lie on your back and look up at the sky. But I can't find any shapes. Sometimes I pretend and shout "A flower!" I'm almost always distracted by my own image: looking at myself look.
In another recollection, I'm rolling down a hill and someone named Tote is waiting for me at the bottom, where there's an abandoned cabin and a chimney covered with dry leaves.
In my memory, the grass is an automatic reflection: it turns on and arranges minimalist images across the screen, with the bygone rhythm of slides.
My grass conceals another stretch of grass, then another, until it reaches the first, which I've already forgotten so I can remember the next.
O.
Today I watched my cat remembering. A glimmer. I was in it.
P.
In my visions of fear, there's a man in profile. I know who he is but I can't remember him. If I'd forgotten him, why is he still there?
A taxi driver and I speak intensely about the weather; we try to remember the first heat wave that unleashed the subsequent heat waves and we peer backward, searching for the year, and we smile at each other in his rearview mirror because neither of us can find it.
This will be a repetition, not a memory.
Q.
I heard the alarm clock and the water at the same time. I remember an American man shouting into a pay phone in a Sanborns café. Nearby, I'm seated at a table with someone I never saw again because the hang-ups of admiration spoiled the outcome. I tried to arrange some words alongside other words, but my friend only wanted to please me, and this inflamed my sense of adjacent loneliness.
The American weeps, cajoles: "Let me come back… please let me come back… you can't do this to me…" He's tall and fat; he looks like my high school gym teachers. My friend and I stop speaking.
There's another memory inside the memory: a little boy vomits on the stairs at the Atayde circus. I'm climbing them with my father and the tickets he's just bought. When we get home, I tell my father I don't want to go to the circus anymore and I lock myself in my room.
R.
I've strayed from memory: my self-compassion is a form of idolatry. Why am I consoling myself?
S.
My memory tries to get in the middle so it can capture forgetfulness as soon as it strikes.
T.
The content empties out very quickly. The image of the pink flamingos at night, flocking back to their refuge, is so canonically beautiful that it doesn't resize itself to fit my memories. I couldn't say that it belongs to me, but to the bird species and to humans engaging in a pantheistic experience: a chain effect of memories that never ends and is always someone else's. Or an epiphany, like what Joyce had. I wouldn't be able to distinguish them from a vision. The flamingos cloaked the dusk with their wings and their cries and I thought about how someday I'd tell someone about it as a recollection and how that someone would tell me, astonished, "You have such great memories."
U.
There was a dripping jar of honey, open, full of ants, in the kitchen of the cluttered apartment, its windows dim with grime. The tenant explained that the jar of honey and the ants scared off cockroaches.
This is a memory that someone else remembered in front of me yesterday.
Which reminds me of Brodsky's worst poem: "Buenas noches. / Don't mind the roaches."
V.
My brother hides under the bed because I'm chasing him and hunting him and his face is hurt from the car accident when he was flung against the windshield and splinters of glass were embedded in his forehead and nose and he's frightened, weeping under the bed, and I mock him.
This shouldn't be forgotten.
W.
I'm going to be taught a lesson in objective fear. It's a stain that fades when you study it up close. It looks like a red boulder when you follow the curve of the highway in a dream.
I'm going to be taught a lesson in putting myself in others' shoes and accepting the existence of empathy despite everything.
Later I'll remember and I'll feel a sense of peace about how good I was before I shut myself up in my head with memory's autopilot turning in incessant circles.
X.
Today my memory screeched to a halt. The last thing I saw was the plaza with a clown, children everywhere, myself among them.
Y.
It was supposed to be one day and became another. It's impossible to speak aloud.
I'd rather my imagination bump around inventing things than immerse itself in a formula without resources. Today I'll excommunicate it.
Sometimes, when nothing comes out of nowhere like a headlong sun, I run into Mr. Stetson in the supermarket aisles. I make a secret gesture to him that he immediately understands. I never ask him the crucial question: "Excuse me, weren't you with me in the ships at Mylae?"
Impossible in the supermarket at four in the afternoon.
But I've been in some ships. I remember.
Z.
Forgive my sins of negligence and ignorance. Or I won't forgive yours.
[1] "Funes el memorioso," or "Funes the Memorious," is a story by Jorge Luis Borges in which the protagonist acquires the gift, or curse, of prodigious memory.
_________________________________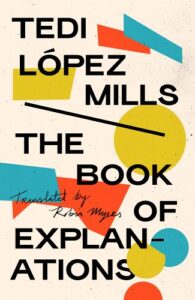 Excerpt from The Book of Explanations by Tedi López Mills, translated by Robin Myers. Published by Deep Vellum Publishing. Copyright © 2012 by Tedi López Mills. Translation copyright © 2022 by Robin Myers.
---