20 Books You Should Read This April
Flash Fiction, True Crime, Refugee Stories, and More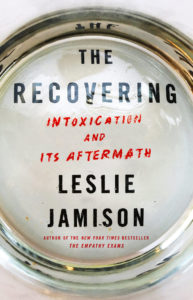 Leslie Jamison, The Recovering
(Little, Brown and Company)
I've been looking forward to Leslie Jamison's new book The Recovering: Intoxication and Its Aftermath since we spoke about it two years ago. The book uses Jamison's story of alcoholism and recovery as a spine for a larger examination of the kinds of stories we want to tell ourselves about addiction and recovery, and what makes stories of addiction and recovery worth telling (and reading). At the outset of The Recovering, Jamison writes, "addiction is a hard story to tell, because addiction is always a story that has already been told." Along the way, she breaks down the notion that stories need to be unique to be worthwhile, believing instead that "every unoriginal idea could be reborn in the particularity of any given life." Crucially, in engaging with the stories of writers like John Berryman, Jean Rhys, and Charles Jackson, Jamison topples the myth of the the brilliant, tormented writer whose art depends on their drinking.
–Kristen Martin, Lit Hub contributor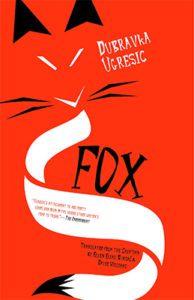 Dubravka Ugresic, Fox, trans. by Ellen Elias-Bursać and David Williams
(Open Letter Books)
Is there a better avatar for the storyteller than the fox, that sly and duplicitous creature who haunts the margins (and roots around through our trash)? This figure flits through Ugrešić's novel, illuminating the origins and destinies of stories—which in Fox range from considerations on Nabokov, Russian literature, and the fragmentation of Eastern Europe as experienced by women. Written in her typically funny, touching, and layered prose, Fox proves beyond a doubt that Ugrešić is one of the most incisive and talented of our contemporary novelists.
–Stephen Sparks, Lit Hub contributing editor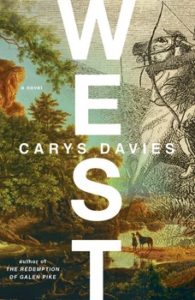 Carys Davies, West
(Scribner)
In Carys Davies bold and lyrical West, the early-19th century frontier holds mysteries greater than the novel's protagonist, farmer John Cyrus Bellman, can resist. Having recently lost his wife, John finds that the news of a recent discovery of bones belonging to a large animal somewhere in the Kentucky wilderness is too enticing not to explore on his own. He leaves his daughter behind and embarks on a journey to determine just where those bones came from—and whether any living analogs still roam the Earth. Ultimately, what he—and his abandoned daughter—both discover about themselves is as wild as the animals he seeks. West is an exquisite debut that's short in length but steeped in the tall tales of American myth.
–Amy Brady, Lit Hub contributor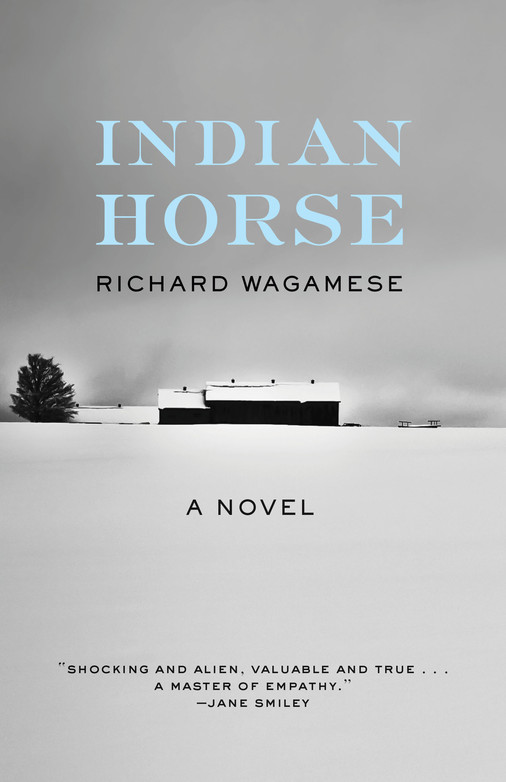 Richard Wagamese, Indian Horse
(Milkweed Editions)
With Indian Horse, the late Richard Wagamese tells a troubling, all-too-familiar story among Canadian First Nation peoples: Indigenous children taken from their families and sent to residential schools, denied their language and history, forced into lives of hard labor and abuse. And while Wagamese's fictionalized account is unflinching in its grim history of institutional cruelty, it also witnesses moments of human joy—in particular, the main character Saul's discovery of hockey. It is not easy to capture the speed and kineticism of hockey on the page, and with Indian Horse, Wagamese has sneakily written one of the great works of sport literature, filled with the kind of poetry that can redeem individual lives despite the systems that would see them destroyed.
–Jonny Diamond, Lit Hub editor in chief.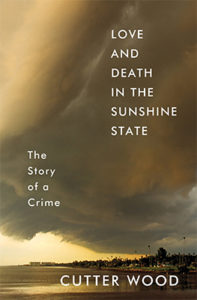 Cutter Wood, Love and Death in the Sunshine State
(Algonquin)
Love and Death in the Sunshine, the new debut by Cutter Wood, is an astonishing true-crime narrative that, in its lyricism and formal inventiveness, expands and defies our expectations of what literary nonfiction can be. Wood explores the story of Sabine Musil-Buehler, who was murdered a decade ago on Florida's Gulf Coast. In the spirit of William Maxwell's So Long, See You Tomorrow, Wood pushes beyond the facts of the case itself to explore larger questions of intimacy, destruction, and regret. This is a brilliant first book by an enormously talented young writer.
–Timothy Denevi, Lit Hub contributing editor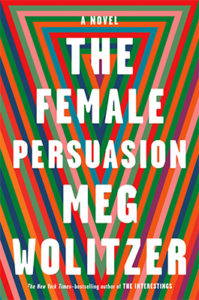 Meg Wolitzer, The Female Persuasion
(Riverhead)
I know I'm joined by many, many readers in my elation at a new Meg Wolitzer novel, and I can happily report that I am currently devouring my way through this gem of a book and having the time of my life. When shy and avoidance-prone college student Greer meets the elegant and famous feminist figurehead Faith Frank, 50 years her senior, she immediately feels her life change: finally, someone who sees her potential and spark! But female mentorship is so complicated. There is so much to relate to in this hilarious, zeitgeisty and perfectly-crafted story, but I'll borrow the words of Emma Straub, who recently recommended it better than I could: "The Female Persuasion is one of the first pieces of art made in a post-2016 election world that encapsulates the experience of being a woman in our time, a world filled with feminist rage and personal regrets and ambition and friendship and love and death and, yes, a turtle."
–Marta Bausells, Lit Hub contributing editor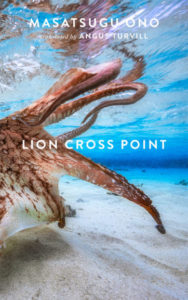 Masatsugo Ono, Lion Cross Point, trans. Angus Turvill
(Two Lines Press)
Masatsugu Ono's Lion Cross Point pulls off a number of narrative elements that I admire in fiction. It's a story about a child that evokes a child's perspective and worldview without being cloying; it deftly incorporates aspects of the surreal and possibly supernatural; and it impressively incorporates a sort of echoing within the narrative itself—all of which makes for a moving and (literally) haunting novel.
–Tobias Carroll, Lit Hub contributor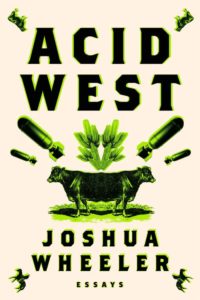 Joshua Wheeler, Acid West
(FSG Originals)
Joshua Wheeler's essay collection Acid West is alive, unglamorous, funny, visceral, American, a Martin Parr-esque look at a country that has always been in the business of redefining itself. From the bereft stands of a New Mexican minor league baseball game, where "the beer is three bucks, except when the cleanup batter strikes out; then it's two for the rest of the inning" Wheeler follows the white lines of first and third baseline to the landscape beyond. There lies the "rolling Sacramentos," Ham the Astrochimp at the Museum of Space History, a Catholic church, the Holloman Air Force Base (where Ham was trained) and space itself, a long way from the heartbreak of baseball. Yet space, like baseball, is part of the American spectacle, part of American mythology, and part of "the possibility of sacrifice" like a fly ball soaring into center field, scissoring those chalky white lines of identity.
–Kerri Arsenault, Lit Hub contributor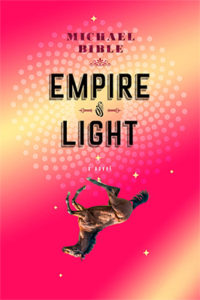 Michael Bible, Empire of Light
(Melville House)
A prequel to Bible's excellent debut novel, Sophia, Empire of Light paints the early years of the enigmatic Alvis Maloney. Bible's style is unique: swift, mythic without pretense, eccentric but focused: the perfect mix for a character whose life wavers between magic and madness. Maloney's legal guardian was a conservative Christian dry cleaner who labored over a "miniature model of the town in the basement, a memorial to his dead wife." He falls in love with his neighbor Molly, and the scenes between them are infused with something like grace: "the yard filled with puddles so deep the water splashed back skyward like it was raining in both directions," and "Molly got out a quilt and wrapped it over her tan legs. Up in the sky the stars radiated." But as Maloney and Molly and the other characters in this small North Carolina drift and party and pulse with life, there are problems: Maloney's role in a tragic event years earlier lingers, the high school quarterback disappears, and we remember that good times never last.
–Nick Ripatrazone, Lit Hub contributor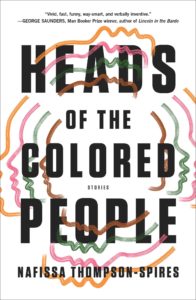 Nafissa Thompson-Spires, Heads of the Colored People
(Atria)
In Nafissa Thompson-Spires' striking debut collection of interlinked stories and vignettes, the already complicated question of what it means to be black in America becomes more difficult to answer still, even as the collection half-smirkingly, half-sadly offers one: that to be black in this country is so often to exist in a state of almost paranoiac unease and frustration, either about how one appears to others, or how one appears to oneself. Thompson-Spires' collection veers between ludic metafictional satire and more somber social realism, but most of the stories are braided together by protagonists who question their racial identity, or find it questioned by other black people. Can one really be black, the first story asks sardonically, if one likes anime, like Death Note or Rurouni Kenshin, or if one marries someone white, or if one goes to a predominantly white school and has no black friends?
Thompson-Spires' stories join a particular tradition of African-American fiction, recalling the sardonic absurdism of Percival Everett's Erasure and Paul Beatty's The Sellout, amongst others. The collection's quick nod to Ralph Ellison's Invisible Man belies its debt, too, to that novel, as these characters, like Ellison's narrator, are tormented at once by being too visible and not visible enough, though these characters often wish their blackness was more visible. By turns hilarious, charming, ingenious, and heartbreaking, Thompson-Spires' debut is well worth checking out.
–Gabrielle Bellot, Lit Hub staff writer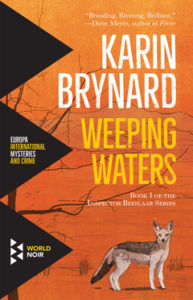 Karin Brynard, Weeping Waters, trans. Isobel Dixon and Maya Fowler
(Europa Editions)
A woman and her young daughter are gruesomely murdered on a farm on the edge of the Kalahari Desert in South Africa. So begins the work of a worn-out cop in pursuit of a brutally efficient crime syndicate. This is just one entry in the re-launch of Europa Editions' World Noir imprint, which offers a dive into international literature for noir readers, or noir novels for readers excited about international literature. This spring, you can also go sleuthing in Corsica, Naples, Marseilles, and Glasgow.
–Nathan Scott McNamara, Lit Hub contributor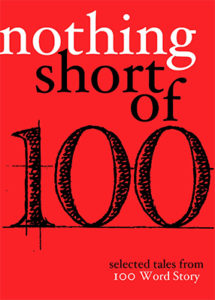 Nothing Short Of: Selected Tales from 100 Word Story.org, ed. Grant Faulkner, Lynn Mundell, and Beret Olsen
(Outpost19)
Nothing Short of 100: Selected Tales from 100 Word Story, from Grant Faulkner, Lynn Mundell and Beret Olsen, the editorial team behind the innovative flash fiction webzine 100WordStory.org. They've been publishing the best of micro-flash for nearly seven years. They've showed how bursts of illumination can be captured in 100 words, bringing shock and joy, wonder, and grief. They even have a photo prompt on the website, where readers can post. Their first anthology showcases the inventive ways writers tell stories within such a tiny compartment. It includes more than 100 gems—work by Maude Casey, Thaisa Frank, Molly Giles, Manuel Gonzales, Pamela Painter, Meg Pokrass, Ethel Rohan, Paul Strohm, Aaron Teel (and my flash story "Weed"). Reading them makes it clear, as the editors write, "To write with such brevity seems like it should be easy, but it's not. Every word, every sentence matters."
–Jane Ciabattari, Book Marks columnist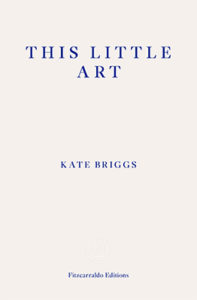 Kate Briggs, This Little Art
(Fitzcarraldo Editions)
"It is easy not to think about translation," writes Kate Briggs in her outstanding book-length essay, This Little Art. I'd add that it is difficult to think about translation, or at least to think about it well. This is exactly what This Little Art achieves: precise, perceptive thinking on the essential yet alarmingly under-discussed issue of literary translation. Briggs, translator of two volumes of Roland Barthes' lecture notes, inquires into the practice of translation as a personal pursuit, as a business, as a philosophical problem, and—above all—as an art. The best essays transform one's sense of their subject; I can't imagine leaving the pages of This Little Art unchanged.
–Nathan Goldman, Lit Hub contributor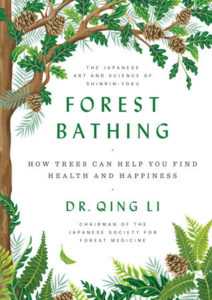 Dr. Qing Li, Forest Bathing: How Trees Can Help You Find Health and Happiness
(Viking)
I received this book a bit ago and had let its place in the pile steadily get closer to the floor. In the meantime I read Richard Powers' The Overstory and was fully devastated. And then an ah-ha moment: I searched my pile for Forest Bathing knowing it would serve as antidote to the mind-blowing wreckage realized in Powers' book. It helped. I have always leaned on trees when feeling ill or confused, trekked into the forest and sat, hands sifting through the forest floor. Look to the forest for salvation, Forest Bathing instructs. Ease worries, get healthy, allow for connection to the natural world as you go deeper into the realm where living things are thousands of years old, wear the scars of survival, and serve as host to magical possibilities of healing. To know that Shinrin-yoku (Forest Bathing) is an official practice growing in popularity around the world helps me to believe that humankind hasn't appropriated the natural world only to fuck it up. FYI : It will help to believe another outcome is possible if you use this Ursula Le Guin book title as mantra: The Word For World Is Forest.
–Lucy Kogler, Lit Hub columnist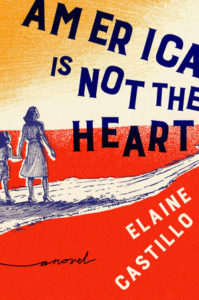 Elaine Castillo, America is Not the Heart
(Viking)
Elaine Castillo's full-throated debut, America is Not the Heart is quite simply one of the best first novels I've ever read. Not since Junot Diaz first emerged 20 years ago have I seen a writer shuffle so confidently between codes and languages as she builds a world, one full of love and heartache. Like Diaz's stories and first novel, Castillo's is a story of immigration and its costs, a meditation on brutality and where trauma goes, a love story, a friendship story, a family story, and its also a deeply funny story in moments. Laugh aloud funny, not book snort-through-your-nose-in-a-barely-audible-way funny. It's astonishing she fits it all in. I've watched friends who got this galley walk around in the days after reading it as if clubbed on the head, as in, how I'm supposed to read something new after this? For a while, you won't.
–John Freeman, Lit Hub executive editor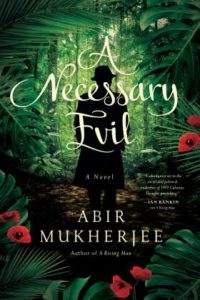 Abir Mukherjee, A Necessary Evil
(Pegasus)
While any book that involves execution by elephant is worthy of praise—in a genre that vacillates between realistic depictions of power and fantasies of revenge, I try to note any book that comes my way that involves animals killing humans—A Necessary Evil is far more than just a fancily dressed elephant with blades attached to its feet. In this second work to feature Mukherjee's opium-addicted, shell-shocked British investigator and his cricket-bowler partner, Surrender-Not, the two take a trip outside the official borders of British-colonized India to a semi-independent principality to investigate the murder of the royal heir.
–Molly Odintz, CrimeReads editor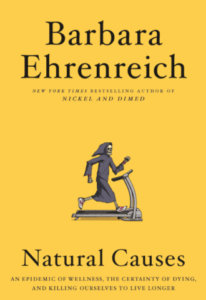 Barbara Ehrenreich, Natural Causes
(Twelve Books)
Fresh off joining a gym for the first time in my adult life is perhaps not the best time to pick up Barbara Ehrenreich's Natural Causes: An Epidemic of Wellness, the Certainty of Dying, and Killing Ourselves to Live Longer, but I enjoy Ehrenreich's polemics too much to care about the cognitive dissonance. If it's even half as punchy as Mark Greif's famous anti-gym treatise "Against Exercise"—in which he calls working out "a punishment for our liberation [now that] the most onerous forms of necessity, the struggle for food, against disease, always by means of hard labor, have been overcome"—then I'm sure I will enjoy it. Perhaps I'll even read it on the stationary bike.
–Jess Bergman, Lit Hub features editor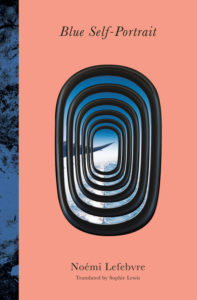 Noémi Lefebvre, Blue Self-Portrait, trans. Sophie Lewis
(Transit Books)
Here are some things I love in novels: brevity, obsession, experimentation, characters whose minds are unlike any I've come across before. All of these seem to be available concurrently in this slim French novel, which takes place over the course of 105 minutes, on a flight from Berlin to Paris. The narrator is a young woman going over the man she just left, as well as sex, Arnold Schoenberg, her own intellect, her "not-caring," her whole lie, the Holocaust. You know, etc. I am looking forward to diving into the whole ecstatic mess.
–Emily Temple, Lit Hub senior editor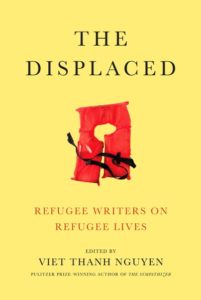 The Displaced: Refugee Writers on Refugee Lives, ed. Viet Thanh Nguyen
(Abrams)
Rarely does the phrase "Now more than ever," seem like an accurate way to describe why a book is important for "for our tumultuous times," but honestly, for this book, it's accurate. In this collection Pulitzer-Prize winner Viet Thanh Nguyen has brought together twenty essays about refugees written by refugee writers. Each essay is worthwhile: Reyna Grande asks what the difference os between an "official refugee" and an "illegal" immigrant; Joseph Azam looks at the evolution of his name. There are essays by Aleksandar Hemon, David Bezmozgis, Thi Bui, Porochista Khakpour, Dina Nayeri, and Kao Kalia Yang. Plus, proceeds from sales are donated to the International Rescue Committee, a not-for-profit organization dedicated to providing humanitarian aid, relief, and resettlement to refugees and other victims of oppression or violent conflict.
–Emily Firetog, Lit Hub managing editor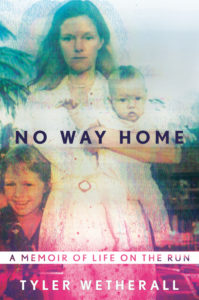 Tyler Wetherall, No Way Home
(St. Martin's Press)
In her searing and heart-wrenching coming-of-age memoir, the British-American writer and journalist Tyler Wetherall tells the story of a childhood like no other. Having lived in thirteen houses and five countries before she was ten, Wetherall discovered (when two officers from Scotland Yard turned up on the doorstop) that she had been living a lie: her father was a fugitive from the FBI and the family's nomadic lifestyle was his attempt to evade capture. Wetherall is a beautiful writer, but what makes this memoir so unique is her ability to seamlessly blend a propulsive tale of buried secrets and familial betrayal with a tender father-daughter story about the difficult road to, and power of, forgiveness.
-Dan Sheehan, Book Marks Editor
---