1980s Glam French Rebellion: A Literary Playlist
By Valérie Perrin, Author of Three
Translated from the French by Emma Reynolds
Everyone has their own, personal playlist. It is unique, like DNA: One person's five favorite songs will always be different from another's.
And then, there are what we call in France the "tubes": the hit songs that can connect thousands, even millions, of people in an instant. As soon as we hear them, they transport us to a precise time, an intimate moment. (Think of Michael Jackson's "Billie Jean," for example.)
Music gives our life its cadence and temporality. It is integral to our feelings, not to mention to our mental images. Music is there to make us tremble, dance, sing, understand, and love.
That's why I used it a lot in the writing of Three. I created a soundtrack belonging to three friends who meet in 1986, when they're 10 years old, and I describe their 31-year journey—a journey that is largely musical. Three friends, a girl and two boys: Nina, Adrien and Étienne. Three different sensibilities. Three different musical tastes. United by the same dream: to go to Paris to make music.
As if my books were movies, I use music like a director. No song is used casually. Each responds to a specific situation. A light song can enter the heart of a dramatic situation, or vice versa. Before writing each chapter, I point my mental cameras at my characters and shoot.
For this book, I used more than 50 songs that have had a national or global impact over the past 30 years. Some of them are:
*
The Cure, "Charlotte Sometimes"
I was 17 years old when I discovered The Cure. I felt a mix of curiosity, envy, terror, and beginnings. It was time to get going—what was tomorrow going to bring?
While we waited, we drank whisky & coke in our strange New Wave outfits. We used to mix sugar in water and apply it to our hair, letting it dry with our heads hanging down, to give ourselves a spike; there would be several of us doing the same thing, each in our parents' bathrooms, getting ready to go out to a nightclub.
The Cure hasn't aged, and never will.
*
Indochine
Three, the title of my novel, is also a tribute to Indochine's third album "3." To my great chagrin, many remember only a vague "et on se prend la main" from the song "3e sexe," which played on loop in nightclubs in 1986. However, the leader of Indochine, Nicola Sirkis, has never stopped writing and creating. The guardian of Indochine's soul, obsessed with Marguerite Duras, Patti Smith and David Bowie, never gave up. There were many more personal and yet magnificent albums between "3e sexe" and "J'ai demandé à la lune," the song that brought the group back into the limelight.
Today, Indochine fills rooms and stadiums. After 40 years of drama and splendor, Nos Célébrations, their latest title, was the most-aired song on French radio in 2020. The connection between the story of this group and the lives of my protagonists is so evident that I used their music as a through-line in my book. I needed a rock band that survived—and this group has survived every storm. As the saying goes, "You fall seven times, get up eight."
*
U2, "New Year's Day"
It's one of those songs that brought together millions of listeners around the world all at once.
It's also a timeless song that marks the beginning of adolescence for the three teens in my book. They will grow up. We have grown up, too. When we listen to this song now, when we realize that our own children also listen to it, then we can appreciate the importance and the power of music. Real music never goes out of fashion.
*
INXS, "Need You Tonight"
My little brother was a fan. He went to a concert. When he returned, he was holding one of Jon Farriss' drumsticks that he'd caught on the fly. He was screaming with joy. In later years, he broke that drumstick in half and placed the pieces on the graves of two friends who had passed away.
My brother also loved Sonic Youth and Spaceman 3. I wanted Étienne to have the same musical tastes as my brother. When I asked him for his ideal playlist, he said anything by these three groups.
*
A-ha 
This group did not last, but they did make history with two songs: "The Sun Always Shines on TV" and "Take on Me." These are essential to Three, marking the first explosions of adolescence.  
*
Étienne Daho, "La Baie"
In my life, I have always listened to this magnificent song about a breakup when I have been at my unhappiest. I used it in my novel at a moment when Nina is also very unhappy—she listens to it on repeat.
*
David Bowie, "Rebel, Rebel"
David Bowie is present in all three of my novels. How could we survive without him? And who would want to survive without him? Bowie personifies an utterly brilliant spirit of youth that flows through our veins early in life.
I find that his songs never take me back to the past; there is nothing nostalgic about them. He always keeps us in the here and now, in the immediate present. His eternal modernity does precisely that.
__________________________________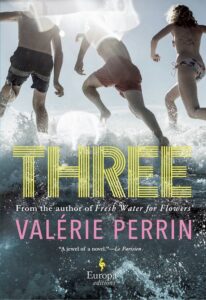 Three by Valérie Perrin is available via Europa Editions.
---