17 Books You Should Read This July
Pop Music, Sex Dolls, Arson, and More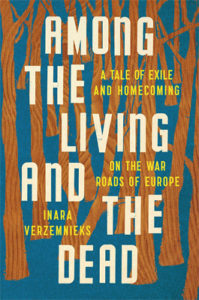 Inara Verzemnieks, Among the Living and the Dead: a Tale of Exile and Homecoming
Verzemnieks shores up her ruins in this examination of her ancestral Latvian home/homeland, the landscape where lives were corrupted by the Second World War. The author's visits to "this place of flight" strengthen bonds with her extended family but don't extinguish the suffering that took place. A densely researched book of longing and belonging, this book not only outlines the trauma of refugees and exile, but does so with distilled, gorgeous, and generous prose: "Occasionally, a house will appear, canted and suffering, maybe with a slope-shouldered figure poking at a smoldering brush pile in the yard. But just as quickly, these glimpses are smothered by the trees." She writes like the warm breath of a sigh.
–Kerri Arsenault, Lit Hub contributing editor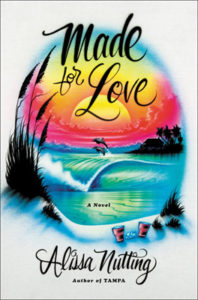 Alissa Nutting, Made for Love
Alissa Nutting's Made for Love has to be this summer's most heartwarming novel, and that's saying a lot, given that it involves a man with two sex dolls named Diane and Roxy. Oh, a man who is aroused by sea mammals. Meanwhile, protagonist Hazel escapes a horrible marriage to Byron Gogol, whose eponymous company has infiltrated every aspect of American life, even monitoring its female employees' menstrual cycles. Did I say most heartwarming? Maybe I meant most screwball. In any case, Made for Love holds a surprise on every page. Read it on the beach instead of your usual bland summer romance, and thank me later.
–Bethanne Patrick, Lit Hub contributing editor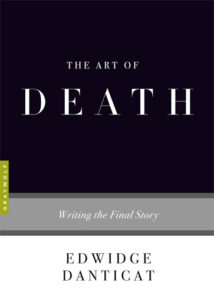 Edwidge Danticat, The Art of Death
Danticat's slim book is an elegy for her mother, who died of cancer  a few years go, a reframing of their lives together through shared memories and deathbed conversations, a compendium of elegant riffs on authors who have written about death—Tolstoy, Camus, Gabriel García Márquez, Christopher Hitchens, Toni Morrison, Didion, Sontag, among others—an appreciation of Murakami's After the Quake in comparison to Danticat's experiences (and family losses) during the earthquake in Haiti and more. It's a haunting heart-breaking book that illuminates the artfulness in writing about death as well as Danticat's own genius at conjuring up powerful emotions.
–Jane Ciabattari, Lit Hub columnist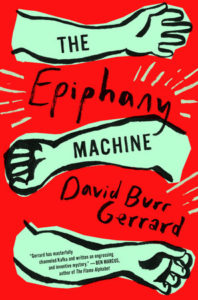 David Burr Gerard, The Epiphany Machine
Everybody's doing it: everybody's calling David Burr Gerrard's new novel, The Epiphany Machine, "kafkaesque." But I told myself I wouldn't. While reading Gerrard's odd and fascinating tale, I remembered a classic Christopher Hitchens anecdote. On a trip to communist Czechoslovakia, Hitchens said to himself, "Whatever I write, I'm not going to mention Kafka." So he went to a meeting of dissidents, and it was interrupted by the police. Told he was under arrest, he asked, "What's the charge?" They said, "We don't have to tell you the charge." And he thought, "Fuck, now I do have to mention Kafka." And, fuck, now I do too. Whereas so much of what is called "kafkaesque" doesn't deserve that distinction, Gerrard earns it. He's an author to keep an eye on.
–Tyler Malone, Lit Hub contributing editor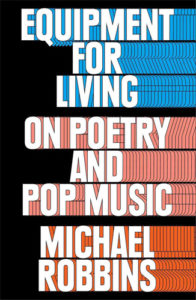 Michael Robbins, Equipment for Living: On Poetry and Pop Music
In Equipment for Living: On Poetry and Pop Music, poet Michael Robbins deftly defies the dichotomies that often inhibit criticism. Accessible or academic, formalist or political—Robbins effaces these categories and seeks new vocabularies for understanding how art helps us live. He puts heterogeneous critical and artistic pantheons (Harold Bloom to Eve Kosofsky Sedgwick, Anne Carson to Rihanna) to use in probing, profound readings. Of the drive to criticism of art, he writes, "We can't let them be—cathedrals, blockbusters, poems, pictures, statues, songs. They demand words from us." Robbins' criticism not only meets art's demand, but also rises to its level.
–Nathan Goldman, Lit Hub contributor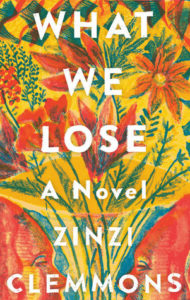 Zinzi Clemmons, What We Lose
Zinzi Clemmons's debut novel has already been hotly tipped as the "book of the summer", and it is worth every bit of the the hype. Told in intimate vignettes, including photos, hand-drawn charts and song lyrics, What We Lose it is a touching and transfixing story of identity and race, illness and family, love and sex. Thandi, the protagonist, finds herself between identities and grappling with her mother's cancer. The way Clemmons—who is a contributing editor at Lit Hub—maps her emotions like rhythmic, precise meditations is unforgettable. I am still under the novel's effect and can't wait for it to hit bookstores.
–Marta Bausells, Lit Hub contributing editor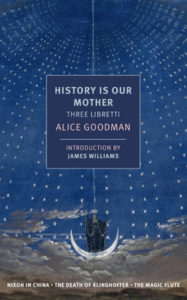 Alice Goodman, History is Our Mother: Three Libretti
Imagine Richard Nixon, Henry Kissinger, and Mao Tse-tung all on a stage singing to one another about the fine points of statecraft. You don't have to imagine it—American composer John Adams took Nixon's historic visit to China as the basis for one of his most original and enduring operas. Likewise for his opera The Death of Klinghoffer, which involves the hijacking of the cruise ship Achille by the Palestine Liberation Front in 1985. NYRB Classics has put out a splendid edition of these operas' libretti, whose audience should go well beyond opera to those who like good drama, good poetry, or just good writing. Included here is also librettist Alice Goodman's translation of Mozart's The Magic Flute, one of the strangest of all operas.
–Scott Esposito, Lit Hub columnist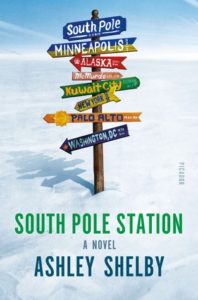 Ashley Shelby, South Pole Station
Few places evoke feelings of isolation and existential crisis like the South Pole. In this terrific debut, Ashley Shelby achieves not only that but also a grand sense of comedy. Her protagonist, Cooper Gosling, is a struggling painter, guilt-suffering daughter, and in the midst of finding her way after a family tragedy. When she's offered the chance to join an artist colony at the South Pole, she figures an adventure is just what she needs to jump-start her life. What follows is a lovely, satirical, and emotionally complex novel about coming to terms with heartbreak and re-finding one's self through art.
–Amy Brady, Lit Hub contributor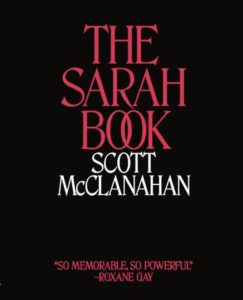 Scott McClanahan, The Sarah Book
"The best thing about books is you can turn back and start all over. You can turn back to page five and the people will still be here inside of the pages." In West Virginian writer Scott McClanahan's latest novel, The Sarah Book, a character with his same name moves through the muddled stages of a failed marriage, from sweet gestures to bad fights to a divorce. Loss might be the theme of this book, but the reader gains so much from the riveting authorial voice.
–Michele Filgate, Lit Hub contributing editor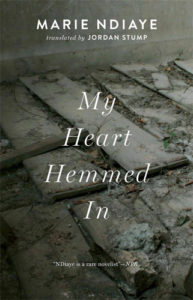 Marie NDiaye, My Heart Hemmed In
I've slowly been working my way through the works of Marie NDiaye, and the two that I've read–the haunting, Hitchcockian Ladivine and the surreal memoir Self-Portrait in Green–each addressed questions of family and identity in radically different ways. The forthcoming English translation of her novel My Heart Hemmed In, about a couple at odds with their community, promises to show an entirely different side of her work.
–Tobias Carroll, Lit Hub contributor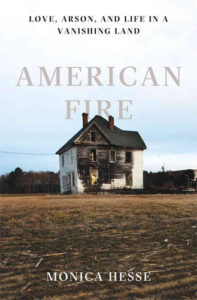 Monica Hesse, American Fire
It was the title, American Fire, and the cover photo of a partially burned abandoned home that drew me to this, what turned out to be, fascinating narrative of impotence, people and place. How could I not immediately see it as metaphor for this country? Hesse tells the story as if winding a ball of string: adding with each circling of events more of the story of an unraveling of of a dysfunctional relationship. The tension of the narrative relied on these juxtaposing concurrences. I get it. To burn it all down and lay claim, ownership, to what is lost clearly serves as aphrodisiac to many, including the current administration. But in the case represented in this book people actually had to pay. Lesson learned? Who knows.
–Lucy Kogler, Lit Hub columnist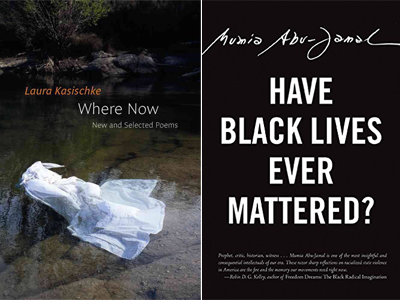 Laura Kasischke, Where Now and Mumia Abu-Jamal, Have Black Lives Ever Mattered? 
I've always loved Laura Kasischke's poems for their brilliant associative logic, how they move like less sinister fairy tales. Having the best of them together in Where Now (Copper Canyon), her new and selected collection, makes me realize what a rich moonlit garden she has built over the ages. It's the kind of place where you do not get lost, but rather stop and look at strange things in wonder. I'm also keen to read Have Black Lives Ever Mattered? by Mumia Abu-Jamal (City Lights) When enough time has passed, as in when what was staring us in the face can actually be acknowledged, it will be significant that one of clearest voices on the injustice of our justice system has spent much of his life in prison, and by many accounts, wrongfully. Here Jamal directs his attention at other people who have suffered at the hands of justice, and tells their stories. What a remarkable thing to be doing from the heart of one's own ongoing travesty.
–John Freeman, Lit Hub executive editor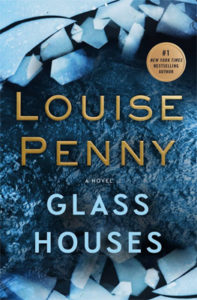 Louise Penny, Glass Houses
Yours truly, your regular crime fiction reviewer, is usually a hardboiled type. But I confess to a weakness for the Inspector Ganache novels by Louise Penny, which are parboiled at best. Penny's fictional village of Three Pines (somewhere in the wilds of Quebec) is just a delightful place to visit, even if it does have a suspiciously high crime rate. Her latest, Glass Houses, finds Gamache, now head of the Sûreté de Québec, in ethically murky territory while trying to solve a murder and stop a shipment of designer drugs from crossing the Canadian-American border. Come for the atmosphere, stay for Penny's surefooted plotting and wonderful characters.
–Lisa Levy, Lit Hub contributing editor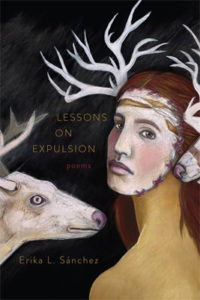 Erika L. Sánchez, Lessons on Expulsion
A new voice can force me to tilt my head to the side and view the world from that new center. In her debut poetry collection, Lessons On Expulsion, Erika L. Sánchez does just that. She allows me to live within her lines and see the everyday flushed in a new hue. This collection explores what it is like to exist on both sides of a border and what survival means when one is constantly moving within languages, countries, and homes. I am happy to live inside the poems of Erika L. Sánchez and watch her words reshape my vision. She writes, "The first time I ever came the light was weak and carnivorous. / I covered my eyes and the night cleared its dumb throat." When tilt my head just right, I can see the light eating away at the day.
–Laura Buccieri, Lit Hub editorial fellow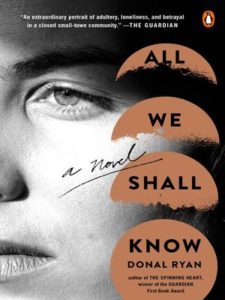 Donal Ryan, All We Shall Know
Despite receiving rave reviews and award nods aplenty in the UK and Ireland these past five years, Donal Ryan is still a relative unknown on this side of the Atlantic; but trust me, that will soon change. The balance of pathos, humor, and humanity Ryan brings to each of his three short novels of the damaged and doomed outsiders of contemporary rural Ireland is nothing short of breathtaking. His latest, All We Shall Know, concerns Melody Shee—a damaged but ferociously intelligent woman haunted by a teenage betrayal that ended in tragedy—who explodes her poisoned marriage by seducing, and getting pregnant by, a 17-year-old Traveller boy she was teaching to read. At a cumulative 560 pages, you could read all three of Ryan's novels by the close of the summer, and I strongly recommend that you do. Like Melody, though they be but little, they are fierce.
–Dan Sheehan, Book Marks editor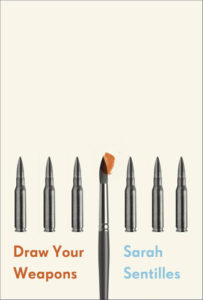 Sarah Sentilles, Draw Your Weapons
Draw Your Weapons, a meditation on art, critical theory, and war, is an essay collection in the loosest of terms. Sentilles, a would-be-priest who dropped out of divinity school to pursue the study of art history, searches for the role of art in an age of perennial warfare. She deftly and gently weaves together disparate topics—photography, Japanese internment, Abu Ghraib, sainthood, to name a few—so that I felt like an awakened genius at the close of each section. Also works well read aloud to an infant.
–Emily Firetog, Lit Hub managing editor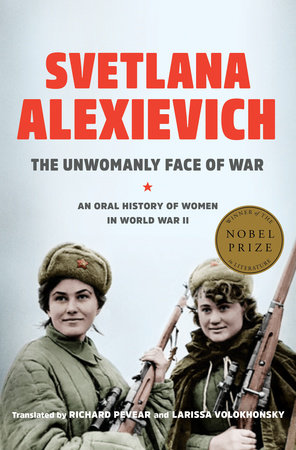 Svetlana Alexievich, The Unwomanly Face of War (trans. Richard Pevear and Larissa Volokhonsky)
In her first book, one of the great chroniclers of the 20th century applies her Nobel-worthy talent and tenacity to accounts of Soviet women soldiers on the frontlines of empire. From Siberia to Afghanistan Alexievich traveled thousands of miles to hear the stories of Russia's fighting women, and the results are compelling and important.
–Jonny Diamond, Lit Hub editor
---