15 of the Creepiest Children in Literature
Come Play With Us, Reader
Let's face it: children can be pretty scary. Think about it: they're like regular humans, only tiny, with slightly out-of-proportion heads and T-Rex arms. (Your kid is great, though.) Of course, some of the creepiest, weirdest, and most fucked-up children can be found in the pages of your favorite books, and to that end, the Lit Hub staff has hereby assembled some of our favorite scary children in literature, from murderous orphans to nightmarish versions of tech-happy millennials to practitioners of sympathetic magic who really wish they were werewolves. Read on if you dare.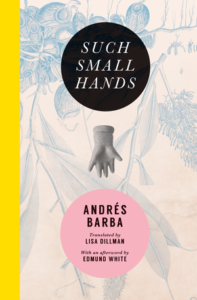 Such Small Hands, Andrés Barba, trans. Lisa Dillman
When seven-year-old Marina arrives at the orphanage, both her parents having been killed in a car accident ("Her father died instantly, her mother in the hospital," is the book's increasingly chilling refrain), she instantly becomes an object of fascination for the other girls. Fascination turns to love, and love turns to scorn—scorn that only abates during the middle of the night, when Marina leads the children in their game. In the end, it's hard to say who is more frightening: Marina herself or the plurality of orphans who are her ultimate destruction. Who will be the doll tonight?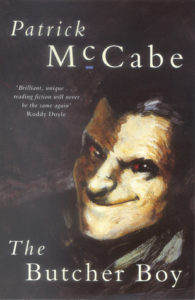 Francie, The Butcher Boy, Patrick McCabe
Francie's journey towards adulthood is marked not by the discovery of solace in art or escape into love (this isn't a John McGahern novel), but by total mental collapse. He is a troubled kid in an abusive home (his father is a drunk and his mother is on the verge of suicide) but the journey from stealing Philip Nugent's comic books to (spoiler alert) murdering Mrs. Nugent and disemboweling her is all the more troubling being filtered so convincingly through his mind as it comes apart. Francie jabbers all the while to the reader and to himself in an utterly convincing stream of deranged consciousness as he discovers that "All the beautiful things of this world are lies. They count for nothing in the end." Yikes!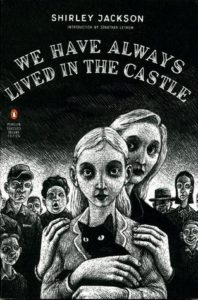 Merricat, We Have Always Lived in the Castle, Shirley Jackson
Though Mary Katherine "Merricat" Blackwood is technically an adult when We Have Always Lived in the Castle begins, she was only 12 when she took out four of her immediate family members—parents, brother, and aunt—in one fell swoop via poisoned sugar bowl, a scandal for which her beloved older sister Constance took the fall (though she was ultimately acquitted). As befits a murderous child, Merricat has a number of strange habits. To ward off danger, she maintains superstitious "safeguards" around the Blackwood property—a book nailed to a tree and several buried objects, including coins, marbles, a doll, and even her own baby teeth. On Thursdays, her "most powerful day," she tries on the clothes of her dead relatives. Part of Jackson's genius, however, is to make the surrounding village's children—whose obsessive interest in the Blackwoods is constantly threatening to break out into violence—similarly sinister, if not as obviously macabre. Whenever Merricat goes into town for food and books, they taunt her with a disturbing rhyme: "Merricat, said Connie, would you like a cup of tea? / Oh no, said Merricat, you'll poison me."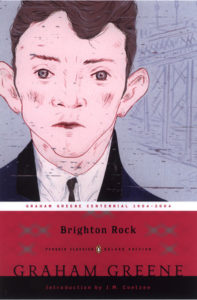 Pinkie Brown, Brighton Rock, Graham Greene 
Seventeen-year-old Pinkie, most often referred to in the text as merely "the Boy," becomes the unlikely leader of a small-time Brighton gang after the violent death of his predecessor, Kite. A temperamental sociopath obsessed with revenge, Pinkie is made even more unnerving by the fire-and-brimstone style Catholicism he practices. Obsessed with damnation, Pinkie is disgusted by sex and eschews all worldly pleasures, including alcohol—yet despite his fear of sin, he's able to coldly dispatch enemies and friends alike as soon as they begin to inconvenience him. Creepiest of all is the way he manipulates 16-year-old waitress Rose after she witnesses something that could implicate him in one of the murders. In order to neutralize her as a threat, Pinkie seduces her into an emotionally abusive relationship, and eventually convinces her to marry him in a civil ceremony, despite the fact that they both consider it a mortal sin. When it seems even that might not protect him from the police, he tries to convince Rose to commit suicide—and very nearly succeeds.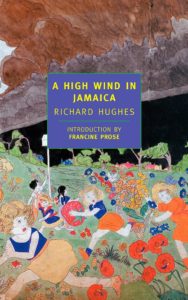 The children, A High Wind in Jamaica, Richard Hughes
Two families of children growing up in the West Indies are sent to England by their parents to get a "civilized" education. Along the way, pirates hijack their Dutch freighter, the children climb on board the pirate ship, and the freighter speeds merrily away, unknowingly leaving behind its most precious cargo to run feral in a den of thieves. The pirates alternate between wanting to exploit the children, preserve their innocence, and abandon them on the nearest island, yet the pirates come out looking more concerned about right and wrong than their gleefully amoral charges. When it comes to evil children in fiction, they tend to be completely, unquestioningly, 100 percent evil, and happy with their own maniacal natures. The children in Richard Hughes' 1929 classic of discomfort, A High Wind in Jamaica, represent more the "banality of evil" style of wrongdoing—except instead of arming themselves with a thin guise of professionalism, à la Eichman and his compatriots, they hide behind the protective armor of childhood, despite the dark consequences of their dangerous childhood games.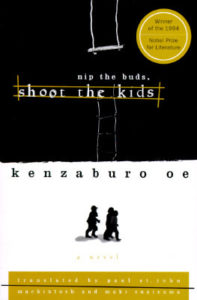 The boys, Nip the Buds, Shoot the Kids, Kenzaburō Ōe, trans. Paul St. John Mackintosh and Maki Sugiyama.
In Kenzaburo Oe's first published work, released in 1958 when the future Nobel Prize-winner was just 23, a group of malnourished and maladjusted youth are sent to the Japanese countryside during World War Two for the dual purpose of saving them from American bombs and isolating them and their antisocial tendencies from their peers. When disease breaks out, the villagers and officials flee, leaving behind the group of juvenile delinquents to fend for themselves. The children, in turn, form a kind of reverse Lord of the Flies childhood paradise, free of the madness of war, full of unrepentant delinquents. Although the crimes of the adults outweigh the sins of the children, there's still plenty of creepiness surrounding the delinquents' struggle for survival, once the initial flush of self-sufficiency gives way to an understanding of scarcity and the children realize they are not free of supervision—merely quarantined.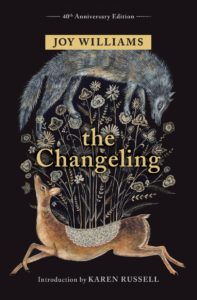 Sam, The Changeling, Joy Williams
The Changeling follows a young woman named Pearl who leaves her husband for a man who catches her shoplifting in a department store. She returns with him to the remote Maine island where he lives with his four siblings, the most sinister of whom continually adopts and raises children "according to his interests." This results in a demonic horde of precocious, semi-feral children roaming the grounds—Pearl likens them to "deadly little flowers. . . budding Satans, quoting Dante before they [lose] their baby teeth." Pearl believes that this upbringing has killed another of the children, her nephew, and escapes to Florida to protect her own infant son, Sam. The book begins with her at a bar, seemingly free, but her husband comes immediately to retrieve her. In the ensuing plane crash, she momentarily loses Sam and becomes convinced that he has been replaced with something else that is driving the other children towards evil.
David, Fever Dream, Samanta Schweblin, trans. Megan McDowell
Fever Dream unfolds as a conversation between Amanda, confined to a hospital bed with hours left to life, and David, the creepy child in question. He is guiding her to determine when, exactly, "worms" entered her body and began killing her. The question is tied up with David's own fate; six years prior, as his mother revealed to Amanda, he became deadly ill, and a the local healer split his soul in two. After, he became an entirely different boy—as his mother chillingly and succinctly explains, "David doesn't call me Mom anymore."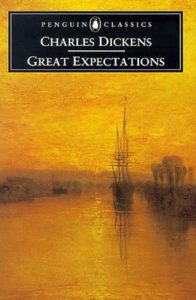 Philip Pirrip (aka "Pip"), Great Expectations, Charles Dickens
Sure, he's a charming narrator telling a pitiable and soul-enriching tale, and sure, he was probably just a pawn manipulated by cynical adults, but let's face facts: he's also a little creepy. Here's what Pip gets up to at Satis Hall: (i) snooping, (ii) spying, (iii) lots and lots of dancing, mostly while being ogled, and (iv) more snooping. The Havishams do a number on him, yes, but that kid was a little off from jump street and being tortured by Estella only ornamented his oddity.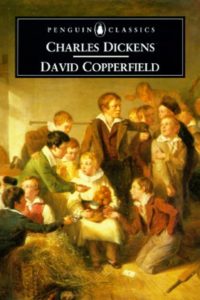 Uriah Heep, David Copperfield, Charles Dickens
Lest we forget, Uriah Heep, sycophant extraordinaire, was only 15 years old when young David arrives at the Wickfield house. Skulking around the house, watching everything and everybody, scheming against them and stewing in his own resentments, Heep hardly breathes a word but to trumpet his own "umbleness." His extravagant humility and his constant and off-kilter attempts at flattery quickly reveal the corruption in his soul. This has absolutely nothing to do with his red hair. The guy's just a creep.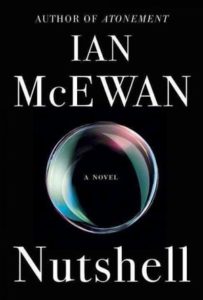 The fetus, Nutshell, Ian McEwan
Ian McEwan's homuncular Hamlet is creepy not because we think he's on the cusp of some terrible villainy, but rather because his prodigious intellect—which allows the boy prince to wax lyrical about wine, literature, property, politics, sex, and all manner of other sublimated adult concerns—is demonstrated from within his mother's womb. Shakespeare's tale is Oedipal enough without adding these kinds of lines to your reimagining: "Not everyone knows what it is to have your father's rival's penis inches from your nose. . . On each occasion, on every piston stroke, I dread that he'll break through and shaft my soft-boned skull and seed my thoughts with his essence, with the teeming cream of his banality."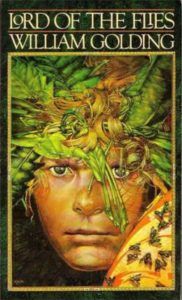 Jack, The Lord of the Flies, William Golding
Jack is a little bastard. The signs of this were there early: he's a militaristic, red-haired choir boy jock (apparently this combination was possible in wartime England) with hatred in his heart who resents not being cast in the leadership role when he and a brood of his schoolmates are left stranded on an uninhabited island somewhere in the Pacific. All noble Ralph and good-natured Piggy want to do is have fun and maintain some semblance of order while they await rescue, but bullying, bloodthirsty, beast-obsessed Jack (and his sadistic flunky Roger) will have none of it. If Milton's Lucifer and Captain Ahab had a child, and then shunted that child off to a mid-century British boarding school for five years of towel-snapping and shit food, Jack is who would emerge.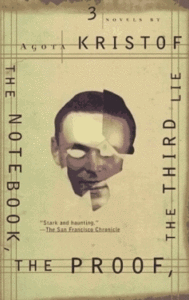 The Notebook, Agota Kristof, trans. Alan Sheridan
The young twin brothers of Kristof's blankly terrifying tale of moral chaos at the end of WWII (and its immediate aftermath) operate like ambulatory AI tasked with defining Good and Evil as it relates to human behavior. As such, they do some terrible things, some good things, and seem to operate under impossibly strict moral codes. This would be creepy even if they were robots. But they are not. They are pre-pubescent Hungarian twins who speak in the first person plural, so it's even creepier.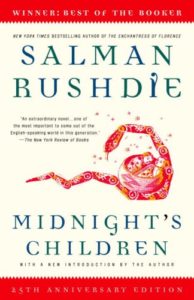 All the children, Midnight's Children, Salman Rushdie
Is Saleem Sinai creepy? Not exactly: he's sort of like the X-Men's Professor Xavier, a telepathic unifier of all the eponymous super-powered kids born just after midnight on the partition of India. Taken as a whole, though, there is something a little unsettling about the idea of 1,001 children walking around with odd gifts—Shiva of the Mighty Knees, Parvati-the-Witch—and Rushdie's magnum opus crackles with the wild, comic, and occasionally creepy power of a whole bunch of freaky kids.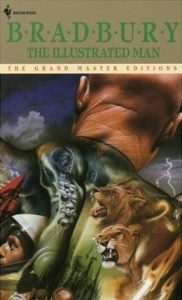 Wendy and Peter Hadley, "The Veldt," Ray Bradbury
Peter and Wendy Hadley are nightmarish versions of millenials. Their parents purchased a fully automated house, complete with a "nursery" that projects the children's fantasies into virtual reality—and they've figured out a way to hack it. The room is locked on a scene of lions feeding in the African grassland, complete with the smell of rot and blood. It's a haunting image, but the virtual killers are merely a means to an end. With a home that provides everything—machines to tie their shoes, cook their meals, paint their paintings—without restriction or punishment, the children realize they prefer it to real parents. Of course, in this coddling world Peter and Wendy wouldn't raise a hand to hurt their parents. That's where the hungry lions come in.
---