15 Major Award-Winning Novels You've Probably Never Heard Of
Aspiring Writers, This is Not the Pep Talk for You
O fame, fame, thou glittering bauble. In searching for thee, what fame have I not lost? Yes, even literary fame, the mildest of the family, can be fickle, cruel, and like life, unpredictable. It's hard to tell, as a reader on the ground, which books will stand the test of time—it can even be hard to tell once time has gone by, because novels and novelists go in and out of fashion, like wide-leg pants, or fringe. Still, if you're a big reader, or perhaps someone who writes about books on the internet, it's easy to assume you've at least heard of most of the important books from the last 100 or so years. But you probably haven't—that is, if one takes "important" to mean "having won a major American literary award," which for our purposes here I am doing, if only temporarily. In fact, there are quite a number of books that have been generously lathered with Pulitzers, National Book Awards, and National Book Critics' Circle Awards that no one ever reads or talks about anymore. Tragedy? Justice? I suppose you'd have to read them and let me know. Below, 15 award-winning classics (of many, honestly) that have dropped off the radar since their coronations. With a few noted exceptions, no one in the Literary Hub office has read any of these, but maybe you have—or will.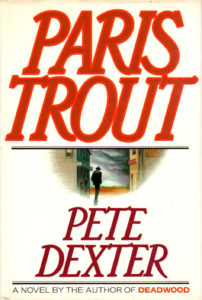 Pete Dexter, Paris Trout
National Book Award, 1988
This one is a little more well-known (and a little more recent) than some of the other novels on this list—but still a nearly forgotten book, despite being a bestselling National Book Award winner. Set in Cotton Point, Georgia, in the 1940s, it's the story of a repugnant and unrepentant racist hardware store owner and loan shark who kills a 14-year-old black girl in the course of punishing someone who hasn't paid. What's fairly chilling is how contemporary this book sounds. In the New York Times, Deborah Mason wrote,
Trout's stubborn assumption that what he calls "the real rules" will eventually free him is, at first, simply an embarrassment to Cotton Point, an ostensibly enlightened Eisenhower-era Southern town. As Trout presses his claim more ominously, the townspeople come to fear him: he is dragging out into the air and light their own elaborately camouflaged prejudices. And still they excuse him because they have to excuse themselves.
In 1991, Paris Trout was adapted into a made-for-TV movie, starring Dennis Hopper, Barbara Hershey, and Ed Harris, and directed by Jake and Maggie Gyllenhaal's dad. Dexter also wrote Deadwood, by the way, the source material for the popular HBO show—so it's even more surprising that more people haven't heard of this book.
Larry Heinemann, Paco's Story
National Book Award, 1987
The thing this novel is best remembered for? Being the book chosen over Toni Morrison's Beloved for the 1987 National Book Award—a decision that (rightly) shocked the literary world. "How good is Paco's Story?" Michiko Kakutani wondered in the New York Times after the snub. She went on:
Is it truly the finest work of fiction published in America this year? Such assessments, like the jury's decision itself, are obviously subjective, though it might be interesting to compare it, say, with Beloved. Both novels deal with a huge, tragic fact of American history—Vietnam in one case, slavery in the other. Both reveal, through discontinuous narratives, the terrible consequences of those events—the ways in which they prevent ordinary people from living ordinary lives. And both are ghost stories of sorts, invoking the spirits of the dead to lend their narratives a heightened, even surreal dimension: Paco's Story is narrated by the hero's comrades in arms, who died during a devastating firefight; and the heroine of Beloved is confronted by the spirit of her baby daughter, whom she murdered under shocking circumstances many years before.
. . .
In this reader's opinion, however, the use of Paco's dead buddies never becomes more than a shrewd narrative device. Though it's a well-crafted, often admirable novel, it never succeeds—as did Tim O'Brien's Going After Cacciato—in enveloping the reader in the halluciantory atmosphere of the war, or in forcing us to examine the complicated ways in which the war relates to everyday human frailties and needs. Instead, Paco's Story settles for bluntly telegraphing the sort of messages that have become familiar to us from dozens of newspaper and television reports—that Vietnam vets were often met with scorn, rather than honors, upon their return home; that Paco, like many others, has been so scarred by his experiences that he now simply seeks to survive or cope; that he wonders why he, rather than someone else, managed to survive.
. . .
Beloved, on the other hand, remains a work of mature imagination—a magisterial and deeply moving meditation not only on the cruelties of a single institition, but on family, history and love. Instead of reconfirming our feelings about tragedies in our nation's past (war is hell, slavery is evil), the novel shakes up all our preconceptions, makes us grapple with the moral chiaroscuro that shades each of the characters' decisions. It does not merely give us a portrait of one individual's loss of innocence, but also reveals the myriad ways in which families and strangers can hurt and redeem one another.
So far, history has certainly vindicated Beloved—more than 30 years on, we still read it, we still talk about it, we still press it into one another's hands. Paco's Story, it's safe to say, less so.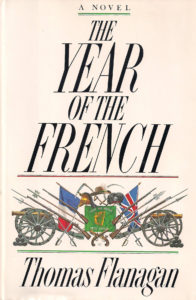 Thomas Flanagan, The Year of the French
National Book Critics' Circle Award, 1979
Thomas Flanagan's classic historical novel—about a group of Irishmen and Frenchmen who were fighting to free Ireland from English rule in 1798—won the National Book Critics' Circle award in fiction in 1979, and was made into a TV show (albeit overseas) but it doesn't even have its own Wikipedia page, despite the fact that it was reissued by NYRB Classics in 2004. The one person in the Lit Hub office who has heard of this book (she's a former bookseller) says it's really good, because it's about a violent rebellion—and friendship!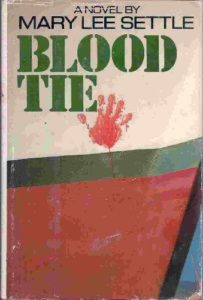 Mary Lee Settle, Blood Tie
National Book Award, 1978
Mary Lee Settle once accounted for her lack of literary fashionability this way: "I don't write about being vaguely unhappy in Connecticut." Fashionable or no, she wrote 22 books in her lifetime; Blood Tie—a novel about expats in Turkey—was her eighth, and it made her only the fourth woman to win the National Book Award. Though her early work was reviewed well, it was her turn towards historical fiction that caused her fall out of public favor. In a 1989 review of George Garrett's Understanding Mary Lee Settle, Brian C. Rosenberg writes,
Even the reception by Blood Tie of the National Book Award for Fiction in 1978, which Garrett calls "a turning point in at least the public aspect of her life's work," initially provoked more complaints about the nature of literary awards than recognition of Settle, the tangential literary-political issue overshadowing the achievement of the novelist. . . If the lack of attention paid to Settle is neither conspiratorial nor a sign of bad taste, it is nonetheless a somewhat jolting example of the scarcely noticed power of fashion and expectation to shape the literary canon.
Fun fact: Settle was also the founder of the PEN/Faulkner award for fiction.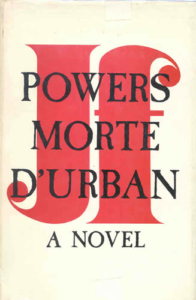 J. F. Powers, Morte d'Urban
National Book Award, 1963
J. F. Powers won the National Book Award for his debut novel, Morte d'Urban, a comic novel about the exploits of a priest banished to Minnesota. Jonathan Yardley, who on his fourth reading in 2007 was "as convinced as ever that the oblivion into which [Morte d'Urban] seems to have sunk is inexplicable and wholly undeserved," considers it one of the best workplace novels going—"If there's a better novel about that subject," he writes, "I don't know what it is; certainly Joseph Heller's ambitious but numbing Something Happened falls far short of it," and praises NYRB for keeping it in print (they republished it in 2000). "These are books that matter, and keeping them alive—in the face of general indifference to Powers's work—is a genuine service to American literature."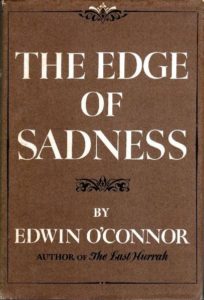 Edwin O'Connor, The Edge of Sadness
Pulitzer Prize, 1962
Another book about a priest, though as the title hints, a less comic one. In this novel, an Irish priest and recovering alcoholic returns to Boston to try to repair his community, and gets mixed up in a large and complicated family dynamic. In the Los Angeles Review of Books, Pete Tosiello called it "O'Connor's most difficult work — a long arc of soul-searching and telephone conversations from rectories and hospital beds, as well as a well-informed workplace novel in which prelates are constantly worried about diocesan politics."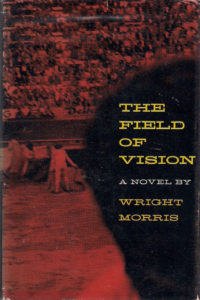 Wright Morris, The Field of Vision
National Book Award, 1957
When Kirkus reviewed this novel, which won the National Book Award in 1957, they had it right: "Wright Morris has done it again—that is, he has written a fine, complex interesting novel which, like his others, should get important critical attention and probably small sales." That is, they had it right if sales equate to people continuing to discuss novels long past their pub dates, which I think they do, to some extent at least. Despite being a prolific and respected author, Morris has faded into history somewhat. Remembering the book, Harold Augenbraum wrote:
Except for Hemingway's The Sun Also Rises, no one seems to remember novels about bullfights. Perhaps Hemingway's late Romantic view of the gelded war-fighter versus the potent matador—so elemental, so asqueroso—lingers in the mind more than the comparatively domestic problems of a group of Midwesterners on holiday in Mexico, witnessing a quasi-comic killing of a bull, doused with Pepsi-Cola (now there's a metaphor for American vantage-points), and harkening back to their own impotence. Morris was also an acclaimed photographer and won the National Book Award twice, but he is virtually unknown outside his native Nebraska.
For the record, his other National Book Award was for Plains Song, and he also won a number of other awards, including the Los Angeles Times' Book Prize Robert Kirsch Award for lifetime achievement, in 1981.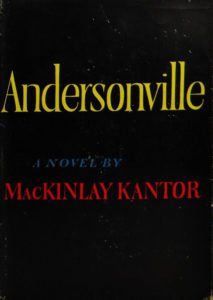 MacKinlay Kantor, Andersonville
Pulitzer Prize, 1956
To be fair, most of us on the Lit Hub staff have heard of this novel—set in a Confederate POW camp during the Civil War—but mostly because of the piece we published by Kantor's grandson, Tom Shroder, an excerpt from his memoir in which he details how Kantor went from being a hugely famous writer (Andersonville won the Pulitzer prize in 1956; an earlier novel, Glory for Me, was adapted into the Oscar-studded blockbuster The Best Years of Our Lives) to a complete unknown.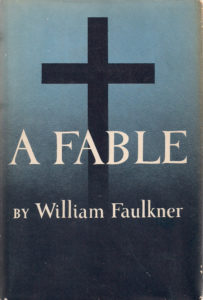 William Faulkner, A Fable
Pulitzer Prize and National Book Awards, 1955
Well, you've probably heard of William Faulkner (hey, I have, too), but what strikes me as strange is that the two novels for which he won Pulitzers—A Fable and The Reivers, in 1963—are widely unknown and even considered by Faulkner scholars to be relatively minor works. In fact, the 1955 Pulitzer jury actually voted for Milton Lott's The Last Hunt to win the prize, though they did say that Faulkner's A Fable was their runner-up (Faulkner had already won the Nobel Prize in literature, six years before.) "There are portions of this novel that seemed to us to be close to greatness," wrote jury member Francis Brown, "but I think we are agreed that it fails ultimately because of its inability to communicate with the reader. We also have a feeling that Faulkner has done better in the past and that it would be a mistake to give him a Pulitzer award for something less than what he has done before." The Pulitzer board did not agree. As administrator John Hohenberg wrote at the time, "I needed only a glance around the table to determine that Faulkner, after being ignored for his greatest works finally would be given a Pulitzer Prize as our great living novelist. And so it turned out, by a unanimous vote." This was much to the jurors' disappointment. According to Hohenberg, Carlos Baker "said he'd been so upset at the Lott reversal that he worked in his garden for an hour with his rapid-digger, felt better, and said he'd write an encouraging letter to Milton Lott." Much good that did Milton Lott, who unlike Faulkner, is more or less completely lost to time.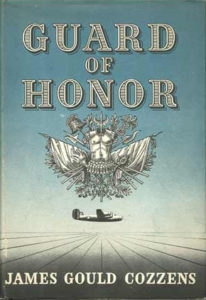 James Gould Cozzens, Guard of Honor
Pulitzer Prize, 1949
For 30 years, James Gould Cozzens was a success, both in terms of popularity and literary cachet. His works were difficult; they were also read widely. Guard of Honor, set on a Florida air base, won the Pulitzer Prize; he had four bestsellers. Certain popular critics, wrote John W. Aldridge in the New York Times,
saw Cozzens as the great novelist of the American upper class establishment, a most welcome antidote to the often disturbingly morbid offerings of Hemingway, Fitzgerald and Faulkner. It is not surprising that their enthusiastic support, buttressed by the wide distribution provided by the Book-of-the-Month Club, helped give Cozzens a popularity with the middlebrow reading audience that very few novelists of his quality have since had.
Yet in the years since his death in 1978, Cozzens has been all but forgotten by that audience, while his former critical supporters have mostly passed from the scene, leaving very few descendants. In fact, Cozzens now seem to have come to rest in that limbo to which writers are consigned when their work has somehow ceased to speak significantly and they await the moment when, with luck, the shifts of history may cause them to be rediscovered.
There is, of course, nothing remarkable about this. It happened to Melville and Henry James, and it happened again, somewhat less drastically, to Hemingway and Fitzgerald. But what is different about Cozzens' case is the suspicion, still held by some, that he was the victim of a process more insidious than the usual posthumous eclipse, that his abrupt descent into oblivion, which actually began almost 20 years before his death, was the result of calculated critical sabotage.
It was, apparently, the liberals.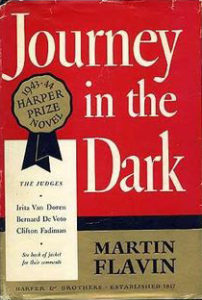 Michael Flavin, Journey in the Dark
Pulitzer Prize, 1944
This novel, which won the 1944 Pulitzer Prize for fiction, is a classic rags-to-riches tale about a good man who rises from poverty and obscurity to wealth and status. It is now out of print, in a classic rags-to-riches-to-rags tale.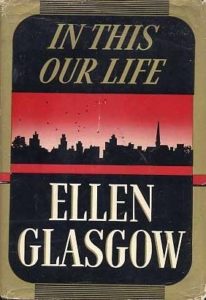 Ellen Glasgow, In This Our Life
Pulitzer Prize, 1942
This book, published in 1941, was snapped up so quickly by movie producers that there was a film of the same name, starring Bette Davis, in theaters the year it won the Pulitzer. In a contemporary review in VQR, James Southall Wilson wrote:
In This Our Life ought to prove for its season the most popular of all Ellen Glasgow's novels. It is easy to read; it has rapid movement; it has spice, and daring, and beauty of style; it has vivid characterization; it is a challenge to this generation and it raises questions to be pondered over for tomorrow. It may not be Ellen Glasgow's greatest novel, nor her wittiest, nor her wisest. To readers in general it may prove her most successful. . . Ellen Glasgow, even as a writer, is greater than any one of her novels. But her novels collectively are the measure of her genius. In This Our Life is worthy of "the great tradition" she has built.
It may have been popular at the time; but alas, it is popular no more.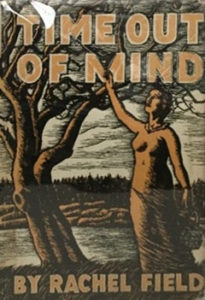 Rachel Field, Time Out of Mind
National Book Award, 1935
This is the story of a woman named Kate Fernald and her childhood on the Maine coast as the shipping industry dries up. Kirkus called it a "philosophical book, carved out of the very soil of Maine. Not for those who want swift action and highly keyed drama, but for those who seek a quiet love story against a background of Nature." In another contemporary review, Louise Maunsell Field called it "well-wrought but very conventional." According to Wikipedia, Time Out of Mind has been the title of five novels, none of which I have ever heard of, as well as three films, the earliest of which is indeed an adaptation of Field's book (but not many people remember the movie, either).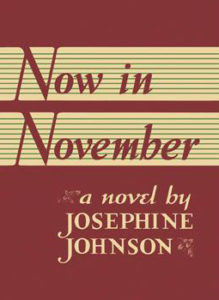 Josephine Winslow Johnson, Now in November
Pulitzer Prize, 1935
Josephine Winslow Johnson won the Pulitzer prize for her debut novel—which follows the downfall of a middle-class family during the Great Depression—at just twenty-four years old. "Here's a book that should be required reading for everyone who belittles the farmers' problems and who lacks imagination enough to see what drought and famine mean in a civilized world," wrote a contemporary reviewer at Kirkus. "And yet—the problem of selling it is there to be faced. Someone in the staff should read it. Then make a careful selection from your list of customers and bring it to their attention. Too fine a book to fall by the roadside—but it wont sell itself." Indeed it did not.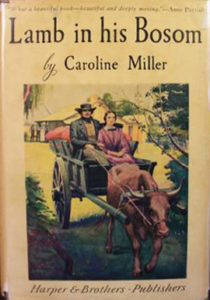 Caroline Miller, Lamb in His Bosom
Pulitzer Prize, 1934
Lamb in His Bosom was an instant best-seller, not to mention the first novel by an author from Georgia to win the Pulitzer—Margaret Mitchell was the second; Gone With the Wind won only three years later. According to the book's publisher, it was actually responsible for Mitchell's classic—Lamb in His Bosom was the book that got Mitchell's future editor Harold S. Latham interested in southern novels at all.
---