How My Grandfather Went From the Pulitzer Prize to Complete Obscurity
Tom Shroder on Growing Up in the Shadow of MacKinlay Kantor
My mother once told me that when she and her brother, my uncle Tim, were growing up, their father led them to believe he was the most famous writer who ever lived.
This was an absurdity, of course, but not to the degree it may at first seem. My grandfather MacKinlay Kantor wrote innumerable works of fiction, including 31 novels, one of which, Andersonville, won the Pulitzer Prize. Another novel, Glory for Me, was the basis for the movie The Best Years of Our Lives, which took seven Oscars, became the highest-grossing film since Gone with the Wind, and is often ranked among the greatest American movies of all time. These successes played out over more than three decades, during which Mack, as everyone called him, rose from near-starvation poverty to considerable wealth, performed on popular television shows, and made cameo appearances in movies. He "discovered" Oscar-winning actor and folksinger Burl Ives, mentored the crime novelist John D. MacDonald, and hung out with the likes of Grant Wood, Gregory Peck, Stephen Vincent Benet, Carl Sandburg, James Cagney, and Ernest Hemingway.
My first clear memories of my grandfather are from the late 1950s, when he was still at the height of his fame. He was 50 years old in 1954, the year I was born, already acclaimed on the front of The New York Times Book Review for having reinvented the historical novel and two years away from his Pulitzer. When he came to visit us in our suburban New York home, often between long sojourns in Europe, he arrived in a limo. Maitre d's in swank New York restaurants fussed over him and gave him prima tables. I was mightily impressed, both with the chauffeur-driven limos and the kowtowing factotums, but also painfully uncomfortable when, after the third or fourth cocktail, he would grow loud and demanding, and could be counted on to make a profanity-laced scene if some product, service, or individual fell short of his expectations.
We all knew that he had overcome a difficult childhood. We'd been told the story in bits and pieces, which I'd always suspected were a little too lurid to be entirely true. They added up to this: His father, my great-grandfather John Kantor, was a con artist who had aban­doned his family (Mack, his sister, and their mother) before Mack was born, barely staying ahead of the sheriff, rose to wealth and power in corrupt political machines in Chicago and Montreal, hobnobbing with characters out of a gangster film, and ultimately did time in Sing Sing prison for one or more of a series of scams. My grandfather talked often of his bitter hatred for the man, who continued to hold out the possibility of love and support throughout Mack's youth, only to betray his hope over and over. But to us great-grandkids, John Kantor was merely a splash of spice on the family tree, an object of curiosity and irony, an off-color genealogical punch line. We didn't take him seri­ously, just as, in the years to come, we wouldn't take Mack—his blus­ter, his fame, or his literary accomplishments—entirely seriously.
When we were young, he was simply Grandpa. Once each winter, my parents; my brother, Michael; my sister, Susan; and I would board a train at Pennsylvania Station in New York City and make the over­-night trip down the East Coast and through the swampy wilds of Cen­tral Florida to Sarasota on the state's southwest Gulf Coast, where we would be met by Mack and my grandmother Irene Layne, a petite woman with dyed-blond hair who was a fairly accomplished amateur painter and still daintily pretty well into her fifties. They would pull into the gritty small-town train station in a late-model canary-yellow Lincoln Continental. Grandma, dressed in pastels, would enfold me in a hug smelling of gardenias, oil paints, and the little cigarillos she smoked and kiss the top of my head while Mack stood back, puffing on his pipe. When the cuddling was out of the way, he'd stick out his chest and offer a firm handshake, man to man.
We'd load the luggage into the trunk and Mack would whisk us off to Siesta Key and the rambling beach house he'd built in 1936 with the proceeds from his first big literary success. As he drove, he took long sips from the cocktail glass parked in the custom-made cup holder he'd had installed on the dashboard—this was long before the days when such things came standard. The house, built with termite-proof pecky cypress lumber and a pair of coquina rock fireplaces, was hidden down a long shell driveway on three acres of beachfront jungle. We'd park in the carport and my sister, brother, and I would burst from the backseat and race through the open, airy house, out the sliding glass doors, through the screened patio, across the palm-studded lawn of prickly Bermucla grass, and straight down to the beach. We'd toss off our city shoes and splash into the gentle swells rolling from the Gulf of Mexico into Big Pass as Mack mixed drinks for the adults.
Most days after that he spent in his study with the door closed, and woe be to any child or canine (of which there were always one or two) whose boisterous vocalizations disturbed him. But when the study door, just off the living room, opened at precisely 5pm—cocktail hour—we were free to explore the big room with its book-lined walls and eclectic museum of mementos. The very atmosphere altered when we entered. The air seemed stiller, somehow, infused with an intoxicating bouquet of pipe tobacco, sea salt, seasoned wood, and the musty aroma given off by hundreds of bookbindings slowly decaying in the unconditioned Florida humidity.
Hanging above the volume­-crammed shelves and on every bare wall was a Boys' Life fantasy of artifacts: black-and-white photos of bombing runs taken from the bombsight of a B-17, the impact of the bombs evident in a trail of tiny black mushrooms erupting from the distant surface; rough-and­-tumble group shots of louche pilots lounging before sheet-metal hangars—the men of the bomber groups he flew with in World War II and Korea; framed Saturday Evening Post covers featuring his short stories; a photo of the bronze plaque containing a poem he'd written embedded in a wall on the 86th-floor observation deck of the Empire State Building; Nazi spoils of war, including German helmets, a dummy potato masher, uniform insignia, and, most intriguing, a bullwhip; original prints of Civil War battle scenes; a red, white, and blue sign that said FUCK COMMUNISM; and a scale model of a B-52 jet bomber perched atop a metal stand, which I coveted most of all.
His mahogany desk backed up to a picture window overlooking the deep green lawn, which was studded with palms draped in long links of sausage-like cacti that made excellent targets for the archery sets Mack bought for us, much to my mother's horror. The cacti's juice-filled segments clung to the spiky palm trunks and threw out fragrant white blossoms. You could smell them through the open windows to either side, and hear the surf sliding along the beach beyond.
Sometimes after dinner we'd all be summoned to the living room to find Mack enthroned in the middle of an aqua-blue sofa, a stack of onionskin typing paper beside him—the product of his day's work. He'd read aloud, and we understood that even shuffling our feet loudly would bring down God's own wrath on our heads. I don't remember actually listening, just pretending to listen.
Though he could be gruff with us—he once provoked a huge fight, prompting my parents to drag us off in a huff to a hotel, when he declared that we kids would have to vacate the premises entirely to eliminate any possibility that we would interrupt an adults-only party­—he could also be kind and entertaining.
Once, he showed us how they made floating lanterns when he was a kid in Iowa: He folded a newspaper into a box shape, turned it on one pointy end, and lit the bottom with a match. As it burned, the hot air filled the unlit end and made it rise like a balloon, the thin paper lit briefly with a flickering golden light before being entirely consumed. I always wondered how many forests had burned because of that little trick, but the lanterns' beauty, lifting into the dusk against the dark silhouettes of palm fronds, was moving. He wrote us long letters in­cluding stamps from the many exotic places he visited, and brought home spectacular gifts—like the miniature replica of a Scottish castle with a working drawbridge and metal soldiers wearing tartan kilts that I have preserved for half a century.
The year I turned 14, my parents moved us from the New York suburbs to a house on Siesta Key, less than a mile from my grand­-father. He became a fixture in my most formative years. We'd have inevitably comical weekend dinners in which Mack, Irene, my mother, and Tim would argue with increasing passion and volume over the exact words of an alternate verse of some 19th-century ballad or whether they had spent the summer of '47 in upstate New York or Southern California. (My grandmother, absent the loud gene herself, always threatened to write an autobiography titled I Learned to Shout.) When I was in high school, Mack would let me pitch a tent on his beach, where I camped out with friends. He'd often show up as night fell, puffing on his pipe in the firelight, telling us this or that anecdote about his war experiences or his childhood adventures in the Midwest outback as we listened politely. He even pulled strings to get me a job as a copyboy with the Sarasota newspaper. When I turned it down because the job would have required working Saturday nights—date night—his disgust, so justified, was shockingly brief.
* * * *
Preoccupied with my own adolescence—the football team, the girls, the parties, the endless sun-saturated days on the beach—I barely noticed his slow decline. But I did increasingly notice his reactionary politics. He was a great friend, admirer, and ghostwriter of the "autobi­ography" of Air Force general Curtis LeMay, who had urged John F. Kennedy to bomb the Soviet nuclear missiles in Cuba—which likely would have triggered World War III. He famously threatened to bomb North Vietnam "back into the Stone Age" and ran for vice president on a third-party ticket headed by segregationist George Wallace. We even once picnicked with LeMay and his family at a ranch east of town, which was the first and only time I shot a living thing with a rifle. As Mack and the general watched approvingly, I put the .22-caliber barrel to the head of a toothy garfish struggling at the end of a hook and blew it back to the Stone Age, from whence, no doubt, it had come.
My own political awakening was proceeding in the opposite direc­tion, which reinforced my sense of my grandfather as a discordant relic from a bygone era. My brother and I had always viewed him with the arrogant skepticism typical of youth—especially the youth of our partic­ular generation. We cringed at what seemed to us to be his egotism and his need to be the center of attention. At one large gathering of family and friends, he interrupted the lively party chatter in his impossible-to­-ignore voice to tell a long story, glaring at anyone who didn't appear rapt. The tale went on and on. And on. Finally it reached a somewhat unsat­isfying conclusion, and in the embarrassed silence, our smart-ass friend said: "Great story!" Then he pointed at me. "You remember the first half and I'll remember the second half."
That brought down the house, and Mack stormed out. I laughed with everyone else, but felt sick inside.
It wasn't just his conversational style I considered old-fashioned. I was quick to judge his writing—though I'd read little of it—as overly mannered, alternately tediously detailed and overwritten, and some­ times downright hokey. I simply didn't have the patience or the interest to give it much of a chance. Unfortunately, I represented the times well.
Mack saw this creeping disdain of a new era and raised it. He went all in, railing against modernity with a bitter intensity. My father liked to say that Mack was born in the wrong century, and Mack took that as a badge of honor. But he somehow failed to understand that the flood­ing cultural tide would sweep him out to sea.
Being a teenager, I never discussed this with him, of course, but through my mother and Tim, who both grew increasingly worried about their parents as the 1970s progressed, I understood that he had thought his royalties would keep rolling in forever, and that he could always get a big book advance or a movie deal. But his florid writing style and obsession with earlier centuries had gone out of fashion, and people stopped buying most of his books—followed by the publishers who'd been stung by disappointing sales on the heels of big advances.
I discovered only recently some criticism from that period that pretty much summed up what was happening. One reviewer wrote of Mack, "Your grandfather and grandmother would take him to their respective bosoms. Your present-day college son and daughter would find him strictly from 'Squaresville."' Another called one of his novels "embarrassingly jingoistic."
At the time, I merely had a vague sense that he wasn't as famous as he seemed to think he was, and that there was tension around money. As the big paydays dried up, he kept living high. He couldn't conceive of himself as anything other than the famous author of the past. He insisted on going on a monthlong luxury cruise because he said he couldn't write at home. He picked up every check. He ran through his money and mortgaged his property. He had to rely on friends to keep from default. We eventually learned that John D. MacDonald, the perennially best-selling detective novelist who was a Siesta Key neigh­bor and longtime drinking buddy, had come to the rescue with an infusion of cash.
By mid-decade, Mack's life of hard drinking and his ever-darkening prospects had a predictable effect and his health began to fail. In the late summer of 1977, he landed in a stark hospital room, dying of conges­tive heart failure and other complications of long-term alcoholism.
I was 23, just embarking on a writing career of my own at my first newspaper job in Fort Myers, another beach town, to the south. I was about to become a father—my daughter was due any moment—when my mother called to say that Mack wouldn't last much longer. I begged off work and jumped in my car to drive the two hours north to Sarasota Memorial Hospital. My mother had warned me not to expect any kind of recognition: He'd descended into a near coma and hadn't spoken a word for days. As my car rolled nearer, the familiar landmarks accumulating, an urge grew inside me to turn around. What was the point, I asked myself, if he was simply lying insensate, this man who had always been so full of words now com­pletely devoid of them? But I forced my foot down on the gas pedal as if I were holding my hand over a candle flame, ashamed of the cow­ardly impulse to turn away from what mortality was doing to this man whom I had always loved, if not fully appreciated.
When I arrived at the hospital, I expected to meet my mother and uncle there. I emerged from the parking lot into an empty waiting room. There were no cell phones in those days, so I had to live with the mystery of their absence, naked in my aloneness. I got the room number from the pink lady at the reception desk and took the extra­ wide elevator to the floor she'd indicated. I hadn't seen him for several months, and I tried to steel myself for what I would find as I walked reluctantly down the long, oddly empty corridor past doors opening on scenes from various circles of hell. I slowed as I counted down the numbers to his room. The door was swung nearly shut. I gave it a ten­tative shove with my hand, and peered inside.
He lay on his side on a bed by the window, lit by the bone-colored light of an overcast afternoon. His body had shrunken horribly, his skin sallow, his breathing ragged. Tethered to a web of tubes, he looked like one of the inmates of the Andersonville prison he'd written about—tortured, starved, barely alive. I forced myself toward him, to the space between the window and his bed.
His eyelids, blue-veined, translucent, fluttered like moth wings nearing a flame. I recoiled from the scene, a panicky voice in my head again arguing that I was punishing myself for no reason, as he couldn't possibly realize my presence, much less recognize me.
One arm, the arm that had an IV needle stuck in it, was above the white sheets. I put my hand on the bare skin that had once covered a bicep. "Grandpa," I said. "It's Tom." My name caught in my constrict­ing throat. I swallowed hard. "I love you," I said. "I'm so sorry you have to go through this."
He drew two more ragged breaths. I almost jumped when his eyes popped open. He looked straight at me.
"Grandpa?" I said. "It's me, Tom."
His eyes looked wild, his crusted lips worked as if he were trying to speak.
"What is it?" I asked. "Do you want me to get you something?"
His lips kept twisting. I leaned in closer. And then I heard a stran­gled croak from deep in his throat. "Horrible," he said. "Horrible!"
After millions and millions of words, these were his last.
* * * *
The years piled on like so many shovels full of earth on my grand­father's grave in his tiny hometown of Webster City, Iowa. He had been cremated, but his ashes weren't interred with the remains of his mother and grandparents until two years later. As family farms sold out to corporate farmers and local factories closed, the town of 8,000 souls struggled to survive, hanging on to the idea of my grandfather's fame as a slender claim to its own. The city council erected a plaque in the city park, a historical marker downtown, and a road sign bearing his name at the intersection of a cornfield and an industrial warehouse on the edge of town. Everywhere else, the passing years merely confirmed that his celebrity had been fleeting. All but a tiny handful of his books fell out of print, and even the once mighty Andersonville only sold at a trickle. Most college graduates would never hear his name.
Though my mother and my uncle kept trying to push the signifi­cance of their father's biography and accomplishments on us, we rolled our eyes and mostly ignored them—glanced at the old newspaper clip­pings without reading them, thought about what we were going to do after dinner rather than listen to yet another story from the distant past. Though his many books lined a shelf in my bookcase, I never so much as cracked open a cover, save for Andersonville, the 350,000-word book which I attempted twice, and both times failed to penetrate beyond page 30.
For so many people, maybe even most—and it's certainly true of me and my siblings—even extreme dramas in family history beyond one generation removed become a kind of white noise, tuned out until it's too late. I can't remember the exact moment it occurred to me, but at some point a question popped into my head about my grandfather and I realized nobody alive could answer it.
Even as the details of my grandfather's life evaporated from the reservoir of human memory, my questions about him grew more numerous and insistent. I couldn't explain why it had never occurred to me that my desire to become a writer, or the fact that I had, to some extent, succeeded in that rather ludicrous ambition, might have some­thing to do with my heritage, and specifically my grandfather. If any­one ever asked me why I wanted to write, I remembered a moment in an eighth-grade English class poetry section when the teacher chose my poem to read, and my chattering, snoozing classmates actually sat up at their desks, stopped talking, and listened. But suddenly, a half century tardy, I remembered that, around the time I was learning to read, I would corral a tiny portable typewriter—a functional toy (and who gave their five-year-olds typewriters as toys?)—roll in a sheet of crisp white paper, and attempt, letter by letter, to copy the text from The Cat in the Hat, mesmerized by the idea that by assembling words together, one typed letter at a time, one could actually create that mag­ical thing called a book.
When I did the math in my head, I realized that this unusual childhood literary fetish would have coincided perfectly with the moment of my grandfather's maximum fame. Could I really believe it was unrelated? Had I been predisposed by nurture or nature, or simply by imitation, to tie my identity to the written word? Could so complex a skill as writing possibly be passed down in Grandpa's DNA? Could it be mere coincidence that my most fervent dreams of accomplishment were precisely those things my grandfather in fact accomplished?
I had only too late considered the possibility that I might have been formed or even influenced by the abilities, proclivities, or eccentrici­ties of my near and distant forebears after the firsthand sources of knowledge about them had forever vanished.
Who arrives at maturity without experiencing that regret? Why, I wondered, do most of us have these dual and conflicting tendencies, resisting our genealogical past as if it were an existential threat, yet ultimately pining to connect with it, even as it vanishes before our eyes?
Suddenly, questions about the past, your past, and your family's past begin to flood in, questions that could have been so easily, or at least profitably, answered during the lifetimes of your parents or their parents, but have become literally unanswerable, lost forever behind the impenetrable veil of death.
Tracing one's lineage, a persistent psychological impulse through the ages, has also become a cultural mainstay. A 2013 Time magazine story called genealogy the second most popular American hobby after gardening, and the second most visited category of websites after por­nography. Popular reality TV shows are filled with genealogical sleuths digging through crumbling registers and handwritten census docu­ments. The portraits they manage to draw with great effort, even when they make lucky finds, are mere outlines providing in the end little more than ancestral stick figures.
I realized I had an advantage, a big advantage—if not unique, at least exceedingly rare: In the Library of Congress of the United States, which happened to stand less than 25 miles from my home, was a room stacked with 158 boxes filled with 50,000 items; countless pages of indexed correspondence, contracts, manuscripts, photo­graphs, journals, tax returns, paraphernalia, and even an unpublished autobiographical novel—all of it by or about my grandfather. This vast cache—collected because a committee at the Library in the 1950s determined that my grandfather represented a "typical American writer"—was supplemented by the 40-some books that he had pub­lished, including at least two autobiographies, as well as a memoir about him written by my uncle—almost none of which I had ever read.
What secrets, what forgotten calamities and unremembered tri­umphs, what surprising revelations and shocking truths could be pried from those cardboard file folders, all that slowly disintegrating cellu­lose and black ribbon ink? Was it possible, 40 years after his death, that I could get to know my grandfather, not as a teenager might re­member a sometimes garrulous old man, but as a contemporary could come to know a living, breathing intimate? More than an intimate­ someone whose blood ran in mine, whose most primal makeup mixed in quarters to make me who I am. In learning about my grandfather's life, what would I come to discover of my own? What would I gain from studying the minute realities of the history of a man from a now-distant era whose life and mine bore such obvious parallels? What could I learn about writing from my grandfather's mastery of words, his huge success, and his ultimate failure?
And what would that tell me about why any of us care about our ancestors? Are we blank sheets of paper, waiting to write our own sto­ries? Or are we merely appendixes to lives already lived and largely forgotten?
But mostly I wondered if I could discover the meaning of those awful words—that one word, repeated—the final words my grandfa­ther ever said to me, or to anyone. What was it that was so horrible? Was it the futility of accomplishment—the fame, success, and money that had promised so much, but in the end mattered so little? Was it the realization that ultimately his writings would not reach that high and durable orbit of the immortals, but fall ignominiously earthward to serve as footnotes in obscure histories and turn to dust in attic boxes?
Or was it simply illness and death itself—the inevitable, inescap­able pain and ugliness of physical destruction that awaits us all, and, possibly, erases all good?
The answers I found were not what I expected, and far more than I bargained for. My grandfather turned out to be a deeply flawed man, in ways both anticipated and that I never would have imagined. He was also far more worthy of admiration than I could have known. I discovered a series of astonishing parallels between our lives that defied chance and made me see myself in a new light. I ran smack into stark differences that provoked insights both powerful and uncomfort­able. I thought I would merely be pulling at the threads of my grandfather's life, but soon realized I was clinging to the tail of a tiger as it careened through two centuries of an outrageous American saga.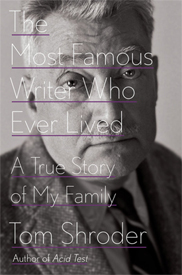 From The Most Famous Writer Who Ever Lived. Used with permission of Blue Rider Press. Copyright © 2016 by Tom Shroder.
---