14 Curious Telegrams from (and to) Famous Writers
"I Can't Look You in the Voice"
The other day, Letters of Note reposted a famous telegraph that Dorothy Parker sent to her editor after what sounds like an uncommonly bad writing day. I have to say, I am fond of telegraphs; yes, in part as vehicles of pure nostalgia, but also as evidence of urgent messages sent long distances by code, artifacts of communication. I even find the all-caps screaminess sort of charming, which is not at all an invitation for anyone to start emailing me that way. So thoroughly charmed was I by quipmaster Dorothy Parker's telegram that I set to the internet to see what other interesting telegrams from (and to) famous writers I could uncover. Well, a few! I should say it's a very inefficient method of communication, telegram to internet scan. But it still works—unlike Western Union, which stopped sending telegrams in 2006. At any rate, it's a fine diversion.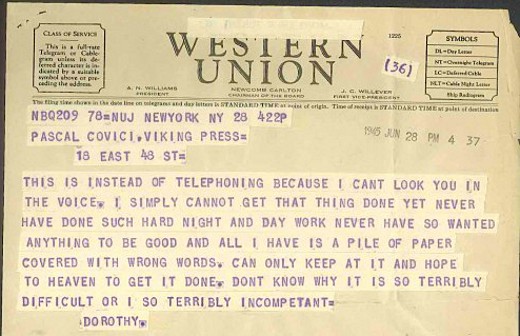 Dorothy Parker to her editor, Pascal Covici, in 1945. [via Letters of Note]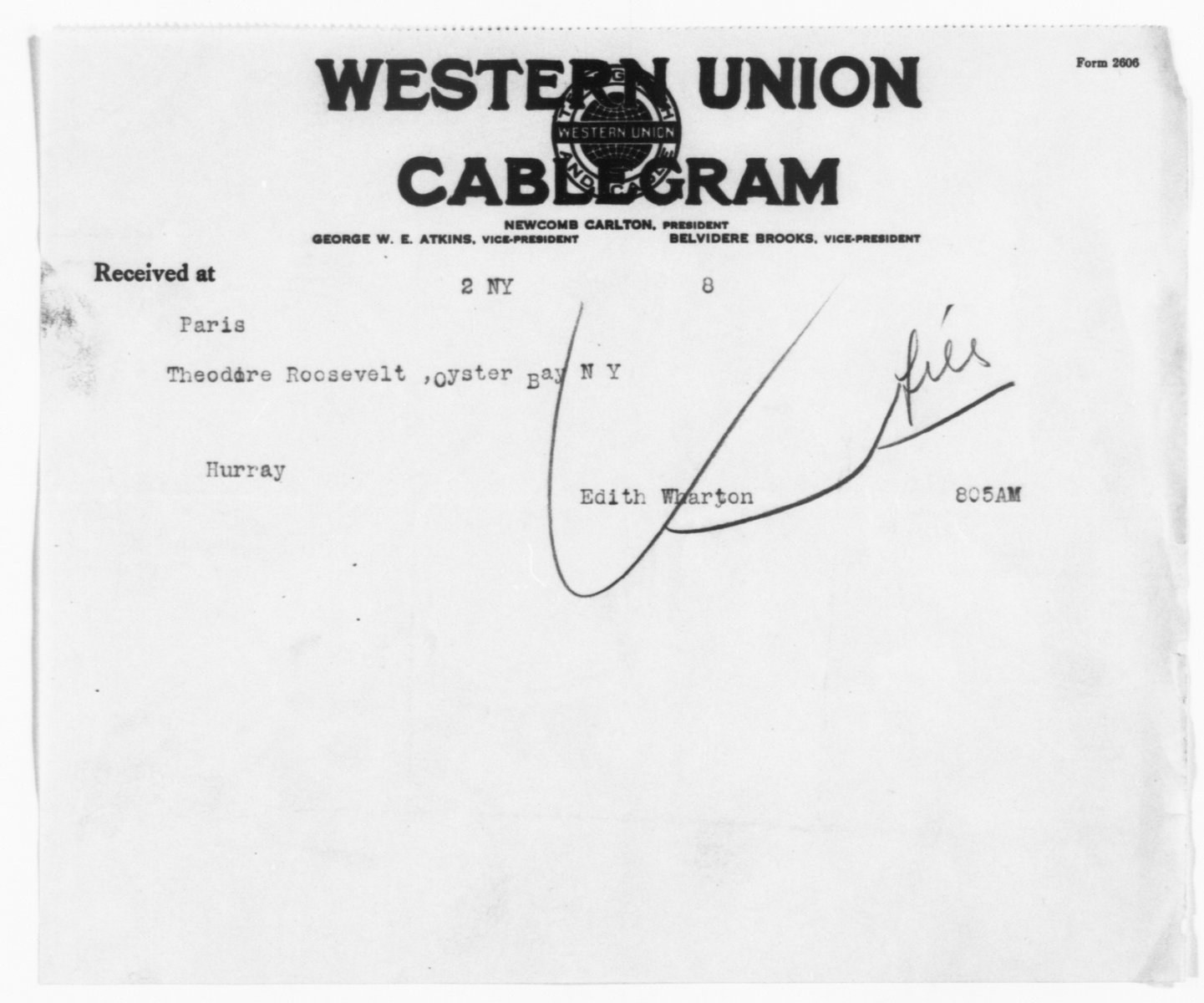 Edith Wharton to Theodore Roosevelt, in regards to what I can only guess, date unknown. [via the Theodore Roosevelt Center]
Ezra Pound's condolence message to Jacqueline Kennedy after the death of JFK, 1963. [via the JFK Library]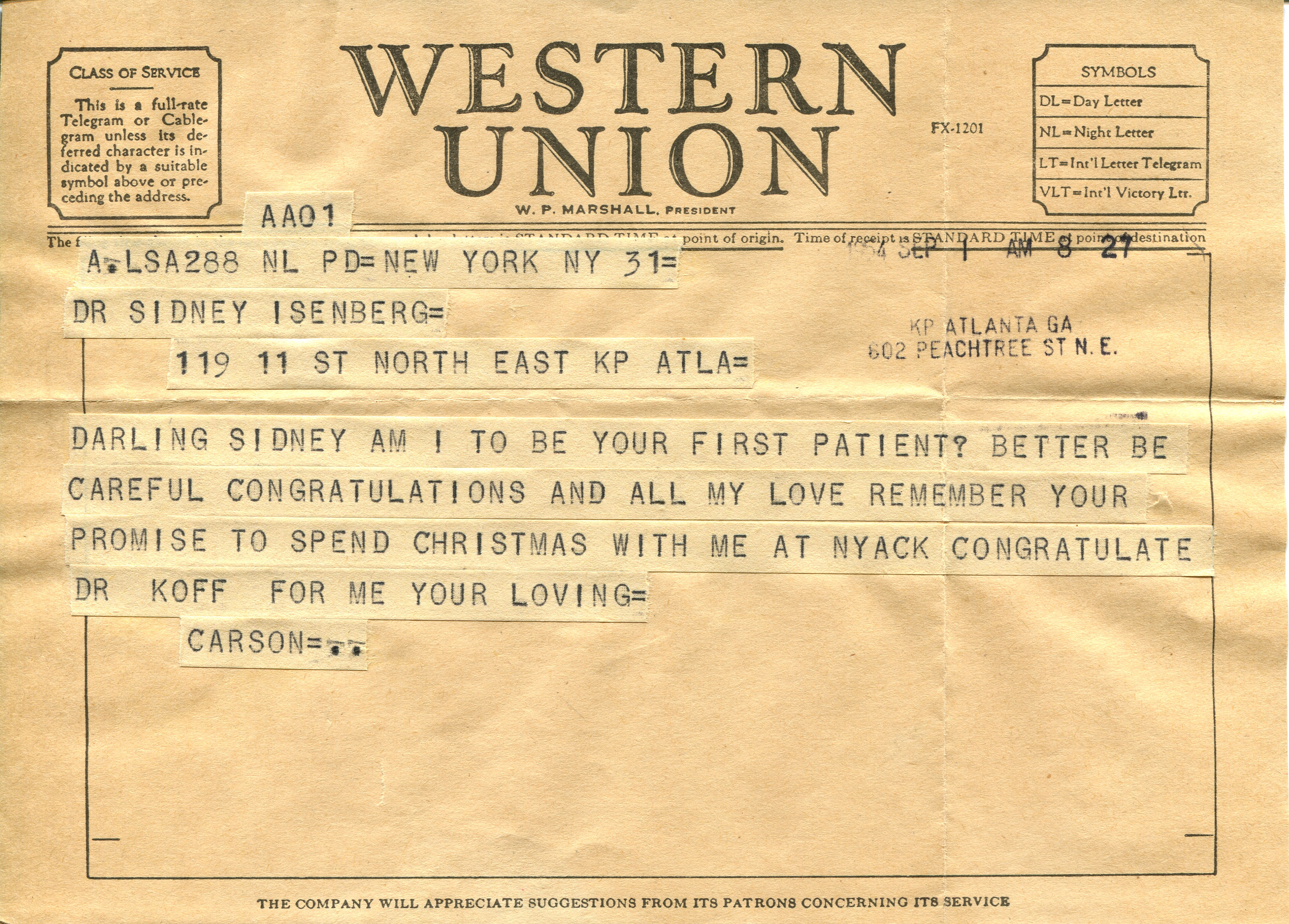 Carson McCullers to Dr. Sidney Isenberg, 1954. [via the Washington and Lee University Library]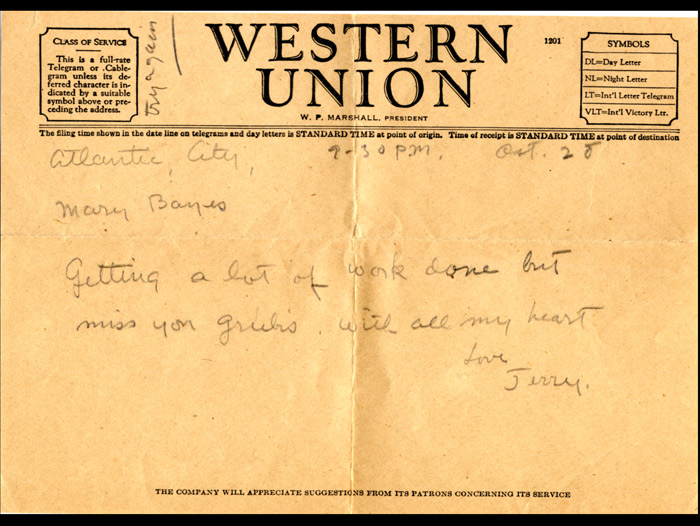 J.D. Salinger to his fianceé Mary Bayes, a.k.a. Grubis, circa 1952. [via Bauman Rare Books]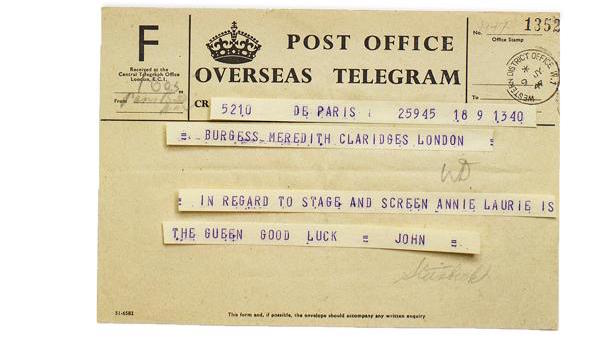 From John Steinbeck (in Paris) to Burgess Meredith (in London) about their agent Annie Laurie Williams, who was performing in Maxwell Anderson's "Winterset." A bit hard to read, so just in case, it goes: In regard to stage and screen, Annie Laurie is the queen good luck — John —" [via viaLibri]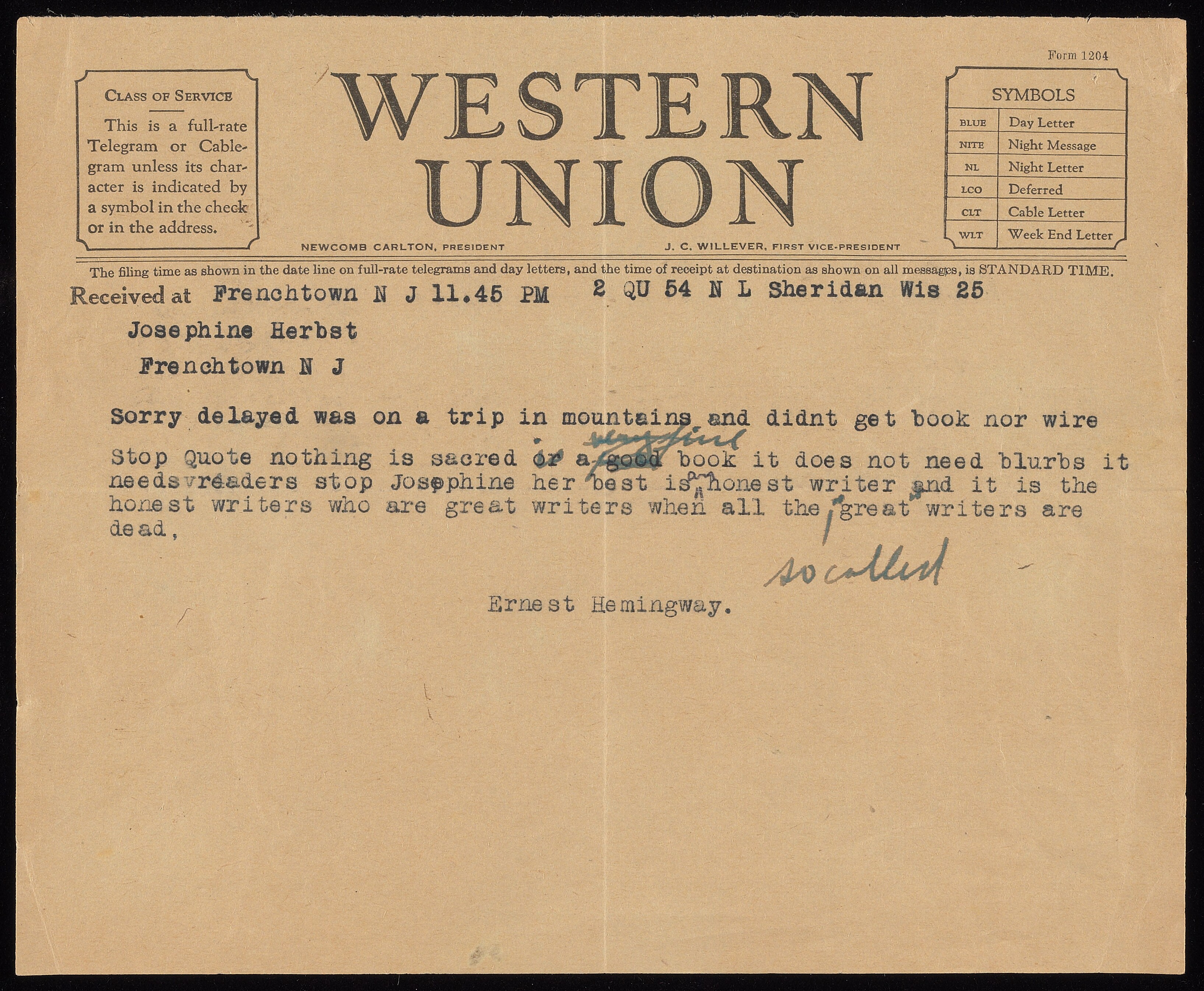 From Ernest Hemingway to Josephine Herbst. "It is the honest writers who are great writers when all the great writers are dead." Ok! [via the Beinecke Rare Book & Manuscript Library]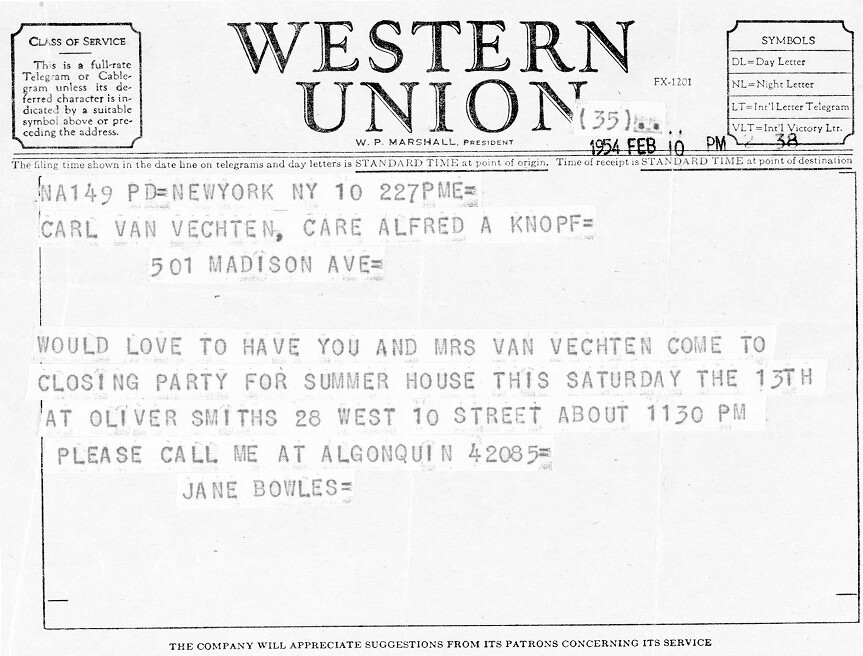 From Jane Bowles, hanging out at the Algonquin, to Carl Van Vechten, 1954. [via the Beinecke Rare Book & Manuscript Library]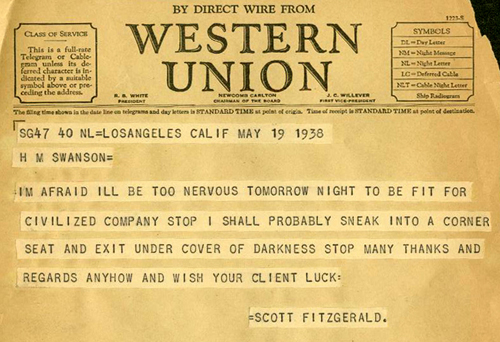 From F. Scott Fitzgerald to his Hollywood agent, H. N. Swanson, 1938. [via Princeton University]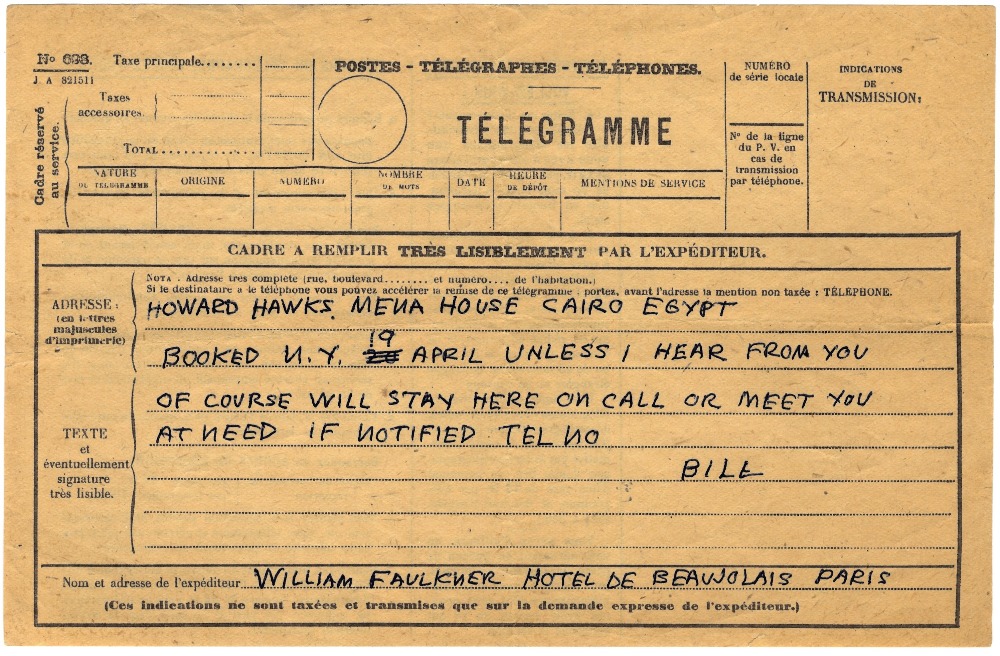 From William Faulkner to director Howard Hawks, circa 1955. Note the backwards "N"s. [via the Saleroom]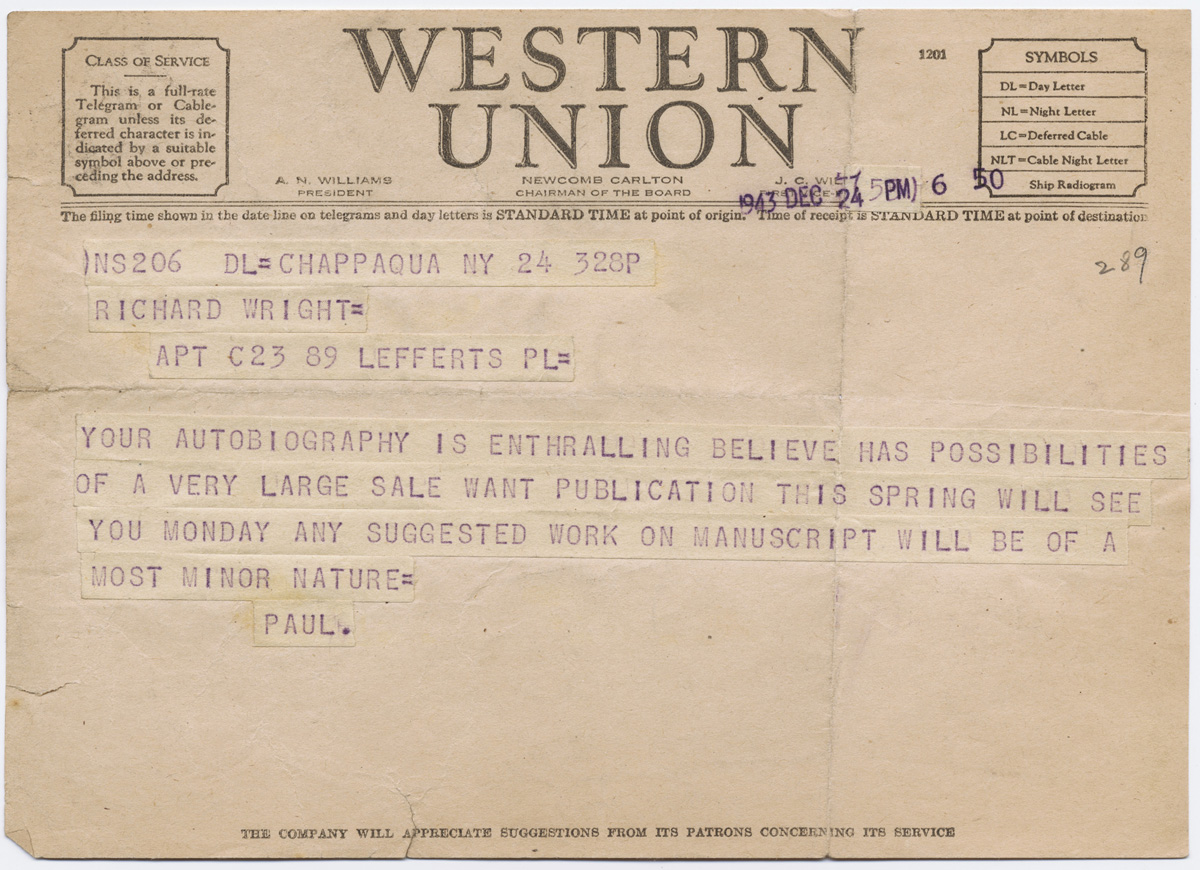 From Paul R. Reynolds Jr. (Wright's literary agent) to Richard Wright, on Christmas Eve, 1943, very elated. [via Yale Alumni Magazine]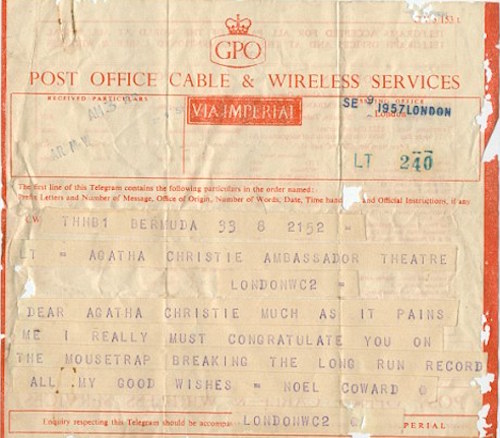 From Noel Coward to Agatha Christie, a snooty compliment (found alongside a receipt for ladies' underwear). [via the Daily Mail]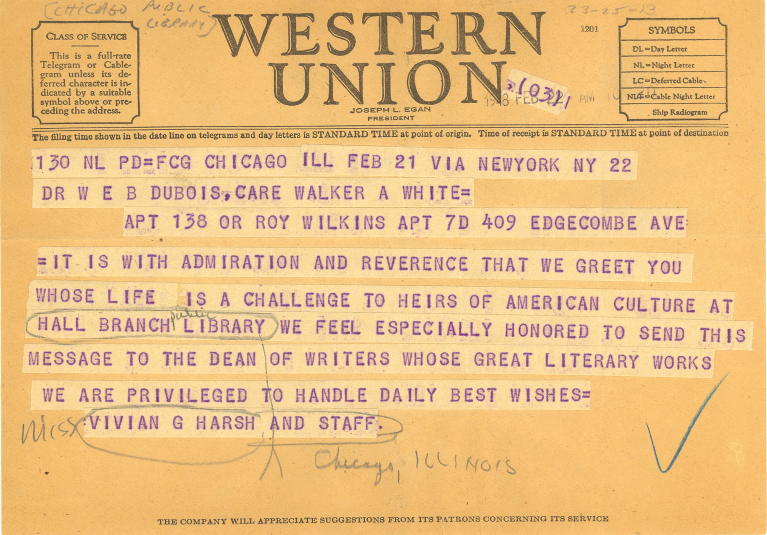 A happy birthday message from Vivian G. Harsh, the Chicago Public Library system's first black librarian, to W.E.B. Du Bois, 1948. [via the University of Massachusetts Amherst Library]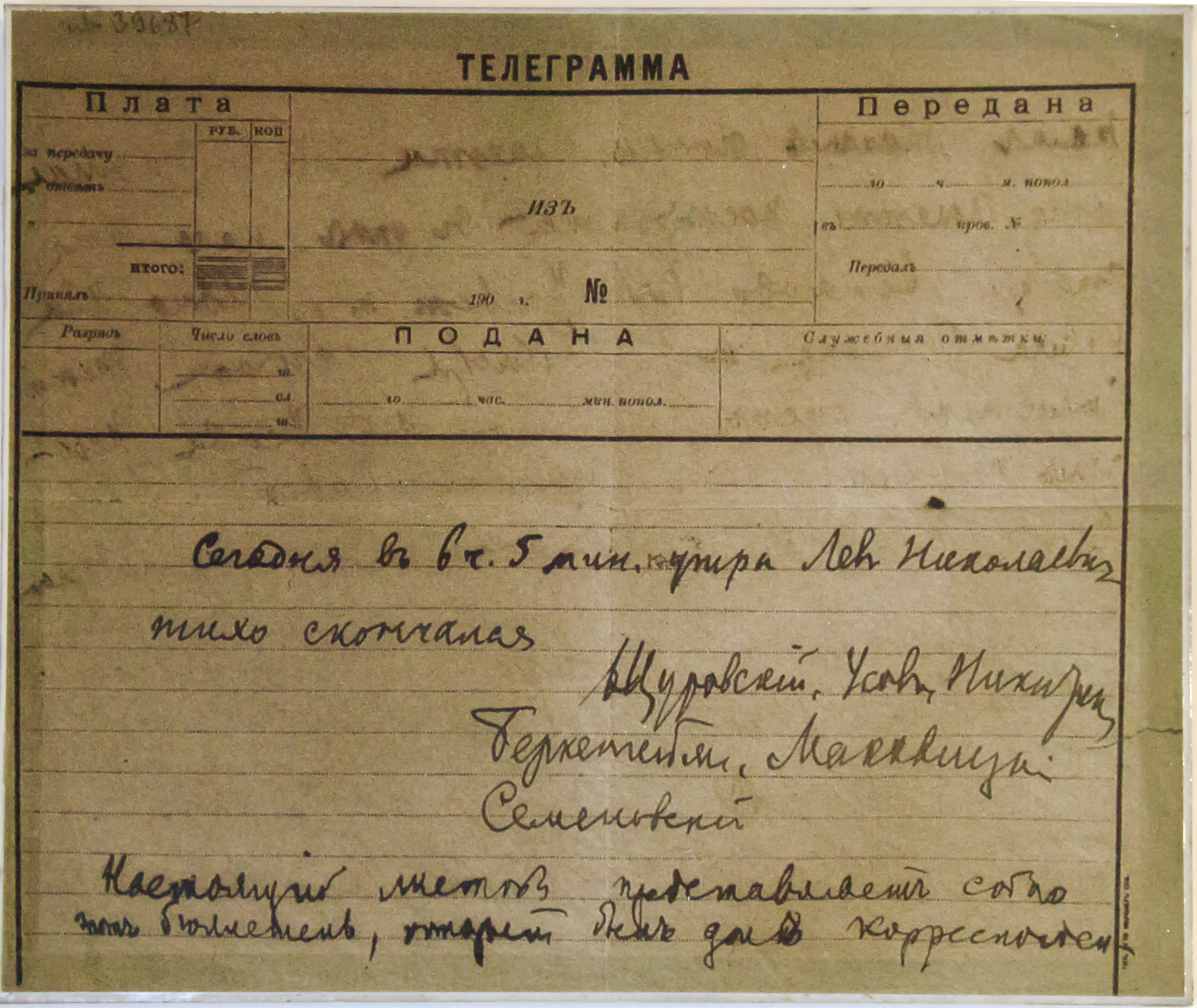 And finally, just because it's interesting: a telegram from Leo Tolstoy's doctors on the occasion of his death. [via Wikipedia]
---