12 New Poetry Collections to Read During National Poetry Month
From Chen Chen to Chance the Rapper
From spoken word to written verse to hip hop, the diversity of voices coming through modern poetry can serve as a beacon of light in difficult times. National Poetry Month is always a great excuse to dust off all of your favorite old collections, but this year, why not try something new—here are thirteen great poetry collections coming out in April.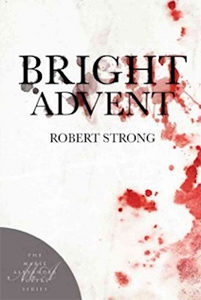 Robert Strong, Bright Advent
White Pine Press
Strong's work brings Puritan America into the 20th century, melding archival texts with a contemporary tone. This collection creates a dialogue around Christian conversion of the indigenous peoples of North America, looking specifically at the relationship between Massachusett John Sassamon and Puritan missionary John Eliot. Strong's poetry feels at once academic and accessible.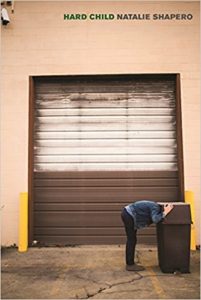 Natalie Shapero, Hard Child
Copper Canyon Press
Hard Child is full of laugh-out-loud bleakness and self-deprecation. Shapero isn't afraid to get intensely personal as she picks apart the territory of newfound motherhood and leaving her twenties behind. She expertly alternates between being relatable and too macabre. Her writing is compulsively readable and uses gentle turns-of-phrase to build thought-provoking stanzas. In one of the most memorable and hilarious poems, Shapero shines a nihilistic light on personality quizzes that determine what dog or inanimate object the reader might be, saying, "Actually it's ridiculous to opine on what kind / of a dog I would be, were I ever a dog, as I don't / contain within me half enough life to power / a dog. I WOULD BE A DEAD DOG, THAT'S / WHAT KIND."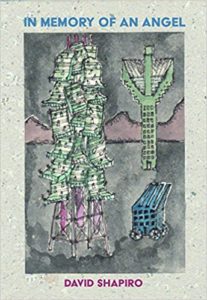 David Shapiro, In Memory of An Angel
City Lights Publishers
David Shapiro's poetry carries with it the tone of the New York School of poets, the generation of authors who came of age in the mid-60s and 70s and were influenced both by the Beatniks of the previous generation and the surrealist movement of their visual art peers. In Memory of An Angel balances avant-garde tributes to post-modernism with retrospectives on childhood and fatherhood. There's a surprisingly heartfelt undercurrent through all of these poems, making the book seem to almost be one long love poem. With a 50-year career under his belt, Shapiro's writing has both shaped and been shaped by decades of poets, and he's considered something of a maestro; In Memory of An Angel is his first collection in 15 years.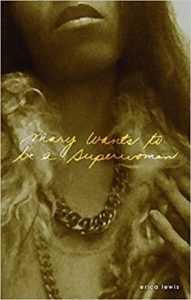 erica lewis, mary wants to be a superwoman
Third Man Books
mary wants to be a superwoman pays homage to the works of Stevie Wonder and the power of music to trigger certain emotions and memories. Each poem is titled after a line of a Stevie Wonder song, and while the poems aren't directly about the songs, they're inspired by them, encapsulating lewis's emotive responses and personal associations. Her words tumble over one another like river rapid, constantly tugging the reader forward into the next line, and the next, and the next. Don't mistake her smooth flow for a lack of power though; the ease of her words only makes for a more potent punchline.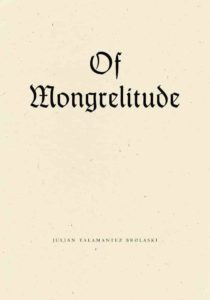 Julian Talamantez Brolaski, Of Mongrelitude
Wave Books
Brolaski (whose pronouns are xe/xir/xem) dumps Latin, pop culture, etymology, politics, and sex into the melting pot of the page. Xir poetry almost demands to be read out loud. References to the 14th-century swirl around contemporary criticisms of corporations and the gender binary. Of Mongrelitude is a poetry collection for a digital age, where memes, emojis, and abbreviations create new vernaculars on a daily basis.
Tomás Q. Morín, Patient Zero
Copper Canyon Press
This collection brings a classic genre (the love poem or, more accurately, the lost love poem) into a fresh and fanciful new light. Morín's writing uses the mundane details of everyday life—from pretzels to geese to blues music—as a jumping off point for creating fascinating and philosophical worlds. In Patient Zero, Morín looks at love not only from the perspective of the lovers, but from the places and things that surround a life sick with heartbreak. Morín has an uncanny knack for setting a scene. Once the scene is established, he uses clever wordplay to reveal layers upon layers of new meaning. It's poetry that invites further thought, insisting that the reader go back and reread each line to untangle the puzzles Morín has laid out.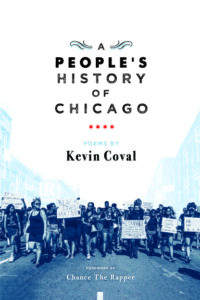 Kevin Coval, A People's History of Chicago, foreword by Chance the Rapper
Haymarket Books
Founder of Louder Than a Bomb: The Chicago Youth Poetry Festival, the Artistic Director of Young Chicago Authors, and a professor at the University of Illinois-Chicago, there's no one better to write a history of the Windy City than Coval. The book contains 77 poems—one for each of the 77 neighborhoods of Chicago—written from the perspective of those on the margins. A People's History of Chicago centers the often-untold histories of the city's workers, people living in poverty, and people of color. Coval's poems have the flow of rap verses, and you can practically hear the thumping bassline running just beneath his words. If this isn't convincing enough, the foreword was written by Chancellor Bennett, aka the one and only Chance the Rapper.
Kai Cheng Thom, a place called No Homeland
Arsenal Pulp Press
a place called No Homeland takes the reader on a journey through memory and mythos to draw new maps of gender, race, sexuality, and violence. Stemming from her experiences as a Chinese-Canadian trans woman, Thom uses her characteristic lyricism (the cadence of which is drawn from a strong spoken-word influence) to unpack complex ideas of what exactly "home" is, particularly in queer and diasporic communities. If Thom's name sounds familiar, it might be because her work has been published on Everyday Feminism, BuzzFeed, xoJane, and other feminist-forward corners of the internet. Thom isn't just a poet; she's also an essayist, a novelist, and a performer. She's a rising star to watch, and a place called No Homeland offers a great introduction to her work and ideas.
Noah Wareness, Real is the Word They Use to Contain Us
Biblioasis
Real is the Word They Use to Contain Us reads like a Tim Burton-directed, uncanny valley version of a beloved children's book. Using The Velveteen Rabbit as a jumping off point, it contains 26 poems linked by unbelievably weird happenings. Noah Wareness's writing is grim, gripping, and more than a little creepy. Real is the Word They Use to Contain Us is a trippy philosophical exploration that feels less like reading a book and more like into someone's dreamscape. It's a delicious celebration of loss, vertigo, and wonder.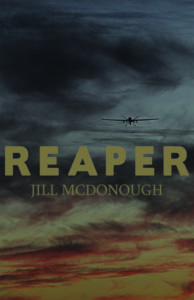 Jill McDonough, Reaper
Alice James Books
Jill McDonough's Reaper zooms in on America's expanding drone program and the ever-blurring line of man and machine. McDonough examines the distancing of culpability and repercussions that follow when there's a computer screen and a continent between a soldier and the dead. This, obviously, is not a happy book; it shines a light on the darker side of American politics and the warfare we often pretend isn't happening. McDonough swaps out flowery imagery for repetition of sparse, to-the point poetry that hammers home her message. Her writing is gritty and unapologetic, refusing to let even the reader off the hook. It never feels like an attack, though. Instead, McDonough is simply insisting that we look at the whole picture, not just the pretty, easy parts.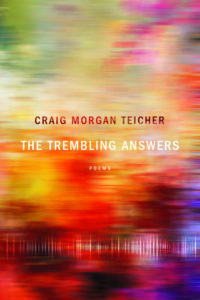 Craig Morgan Teicher, The Trembling Answers
BOA Editions
Teicher's poems are largely confessional and autobiographical, and The Trembling Answers is no exception; this particular volume deals with explorations of family and fatherhood, and the role his poetry plays across each. One of Teicher's great strengths is his honesty. He frequently reveals his flaws and mistakes to the reader, laying bare intimate details about his wife, his son, and his marriage to illustrate his humanity. His writing is full of lists and repetition, as if Teicher is searching for answers in real-time. Each poem is meaty and sprawling, providing plenty of space for interpretation and re-interpretation.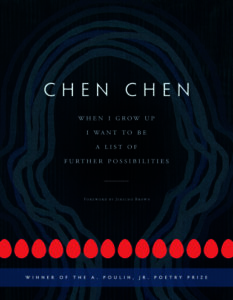 Chen Chen, When I Grow Up I Want to Be a List of Further Possibilities
BOA Editions
Chen Chen's work is versatile, skillfully adapting to different forms and functions; on one page, there will be a traditional poem, lines grouped together in rhythmic couplets. On another, lines run together into paragraphs, blurring the difference between poetry and prose. Chen Chen's poems are odes and elegies, considerations of everyday life. In When I Grow Up I Want to Be a List of Further Possibilities, Chen Chen muses his way through the idea of inheritance (specifically, what it means to inherit things like love and family), a concept that is central to his identity as a queer Chinese-American immigrant. American Book Award winner Jericho Brown gave When I Grow Up I Want to Be a List of Further Possibilities his seal of approval in his introduction to the book.
---