Don't Be a Dick: Colum McCann's Advice to Young Writers
On the Importance of Kindness and Reading Widely
I. Don't Be a Dick
Three things in human life are important: the first is to be kind; the second is to be kind; and the third is to be kind.
–Henry James
Hey, you. Over there in the corner. Yeah, you, with that half-assed grin. Don't turn away, I know that grin, I've worn it myself. Listen up. Yeah, you. Half-listening but pretending not to. Don't get too attached to the romantic illusions of yourself. You hear me? Yeah, you over there with the tilted chin. Listen up. Save yourself from yourself.
Being a writer is not about cocaine or the White Horse Tavern or the tab of acid or the Crazy Horse Saloon or the vial of laudanum or the late night of bottled-beer bravado. It's not about the hangover. Or the warehouse party. Or the jacket photo. Or the Facebook entries. Or the tweets or the twats or whatever they're called. It's not about the shirt you wear or the hat or the scarf or the white suit or any other ridiculous affectation, mea culpa. It's not about the spotlight. It's not about gloating. It's not about reaching around to slap your own back.
In the end nobody really gives a shit about the writer's life unless the writing is there first. That's all that matters. That's the endpoint. What appears on the page is what makes your life interesting.
Too many young writers think of themselves as writers rather than that which they have written. Get used to this: it must be on the page. So don't walk around thinking of yourself as a writer. Noth­ing worse than an author constantly obsessed with himself. Don't prop up the corner of the party with announcements about your brand new story. Don't go into workshop prattling on about your new opening salvo. Don't draw attention to any part of your life as an artist, or, even worse, an artiste. If someone genuinely wants to know, they will ask. Say nothing. At least until you need to say some­thing.
Don't get me wrong: I'm not advocating a clean rap sheet or an empty liquor cabinet or prissy be­havior. You don't have to live a mannered life. You don't have to be sober (but be sober while you write, please; don't fall into that trap). You don't have to be obsequious. You don't have to kowtow to anyone. You don't have to listen to older writers spouting their rubbish either. In fact, forget this letter—go, get lost, go write. Rip it up. Go write your own. See what it takes. A writer writes.
But first allow me four words of the sagest advice I know: Don't be a dick. At the party. In the bookstore. On the page. In your own head. Don't call people names. Don't insult your colleagues. Don't tell people how great you are. Don't drink all the wine. Don't complain that there's nobody lis­tening. Don't ignore your friends. Don't smirk. Don't think yourself better. Don't relegate your hu­mility and allow it to become arrogance. Don't smoke when you're asked not to. Don't drop the silverware from the balcony. Don't gossip. Don't get sick on the carpet. Don't insult the host. Don't condescend. Don't leave your partner stranded. Don't talk about your contract. Don't mention your advance. Don't sigh. Don't yawn. Don't scratch that public itch. Don't dismiss. Don't scan the room. Don't lie. Don't fawn. Don't drop your publisher's name. Don't make a fanfare of yourself. Don't patronize. Don't humiliate. Just don't. Don't. Don't. Don't be a dick.
II. Read, Read, Read
Trying to write without reading is like venturing out to sea all by yourself in a small boat: lonely and dangerous. Wouldn't you rather see the horizon filled, end to end, with other sails? Wouldn't you rather wave to neighboring vessels; admire their craftsmanship; cut in and out of the wakes that suit you, knowing that you'll leave a wake of your own, and that there's enough wind and sea for you all?
–Téa Obreht
You would be amazed by the number of writers who just do not read, especially older writers who believe that they are the only ones who deserve to be read. Their reading world shrinks. They believe that they have written enough that they can afford now to come indoors. They close the curtains. They deposit themselves in the corners of the couch, shadowed by their bookshelves. They dip in for a few pages and find themselves exhausted. They sell their curiosity to the sound of their own words. They forget about finding the expansive in others. But forgive them, forgive me. We have forgotten what it meant to be a young writer.
So here it is, before I forget again. A young writer must read. She must read and read and read. Adventurously. Promiscuously. Unfailingly. It sounds so simple. Yet it is not. Not even the simpli­fication of it. She must read everything that comes her way. The classics, the old books that speak to her from the shelves, the tomes recommended by teachers, the chapbooks left on the subway seats, the old dog-eared novels in the railway station, the ancient hardcover in the holiday cottage. Read, read, read. The brain is an agile canister. Your mind can contain so much. The more difficult the book, the better. The greater the agility of your reading, the greater the elasticity of your own work.
Challenge yourself. Get out of the comfort zone. Find something that confounds others. The great joy in difficulty is, in fact, its difficulty.
A young writer must also read her contemporaries. Fiercely and jealously. She must go into the bookshop and spend hours in awe and contemplation. She must flip to the biographies at the back. She must get her blood boiling. Shit, that author comes from my hometown. How dare they say what I want to say? Yes, rage, but a temporary rage. Not in competition, but in desire. (After all, they are not taking your job: your job is entirely your own, nobody else can have it, who else is going to finish your piece of literary carpentry, unless it's an Ikea chair?)
A young writer must go to the library and wander through the dusty old stacks. Run your fingers along the shelf. Follow your instincts. It is amazing how a book will find you. There is somehow a homing device in language. Unlike love, there is a destined one always there. And it can be found at any time. You must be open to it. Then you open it up to its magnitude of suggestion. The world is suddenly cleaved open.
You read to fire your heart aflame. You read to lop the top of your head off. You read because you're the bravest idiot around and you're willing to go on an adventure into the joy of confusion. You know when a book is working. Give it time.
And if it confuses you while thrilling you, that's a good sign, keep going, keep going, keep going. Absolute consistency is unimaginative. Confusion is an honest response. Change comes about because of confusion. But there also comes a time when you might have to throw it away. Life is too short to drink bad wine, but it's shorter still when it comes to bad books. So be prepared to jettison that book, but only after you have given it a good chance.
A good book will turn your world sideways. It will also turn your own writing inside out. The prose writers should read the poets. The poets should read the novelists. The playwrights should read the philosophers. The journalists should read the short story writers. The philosophers should read through the entire crew. In fact, we all should read the entire crew. Nobody makes it alone.
I have heard young writers say that they don't have time to read. That's most likely because they have already taken too much time shooting their mouths off. Listen, young writer, it's ridiculous to say you don't have the time to open a book. It's lu­dicrous to claim that a book is too long. It's un­imaginative not to try the hardest work available. Marquez. Woolf. Gaddis. Hansen. Gass. This is the past shaping your future. It's in what you read. We get our voices from these books.We discover mas­ters this way and then we shape our own form of mastery by imitating, echoing, journeying through the canyon toward the canon, or the cannon—or both.
But if you don't read—especially in the direc­tion of that which is supposedly difficult—you will never sustain your own writing. So, go. Find a corner. Open a book. Read the hardest thing you possibly can.
Joan Didion says that we tell ourselves stories in order to live. So, live as many lives as you can. Over and over and over again.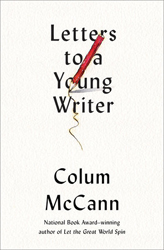 From Letters to a Young Writer. Used with permission of Random House. Copyright © 2017 by Colum McCann.
---