Odd, Weird, Scary: 12 Books to Read This Halloween Night
Gabrielle Bellot Goes Beyond the Seasonal Standards
"What the ghost really needs," Edith Wharton wrote in the preface to her collection of ghost stories, "is not echoing passages and hidden doors behind tapestry, but only silence and continuity."
Many writers tell tales of ghosts, witches, and monsters, but, unless we study the literature of horror, we might miss most of them. People are sometimes surprised to learn that Wharton, Ambrose Bierce, and Charles Chesnutt wrote ghost stories, or that Elizabeth Bowen wrote a story about a demonic lover, or that Mark Twain wrote an unsettling, pessimistic novella called The Mysterious Stranger in which Satan comes to a town, or that Sir Arthur Conan Doyle, when not writing about Sherlock Holmes or the veracity of fairy photographs, penned tales about reanimated mummies, mysterious ships and magical stones, and more. W.E.B. Du Bois published a chilling tale in 1920 about a comet that wipes out most of America, save for a black man and a white woman. Jorge Luis Borges once penned a horror story in imitation of H.P. Lovecraft called "There Are More Things." Chinua Achebe's "The Sacrificial Egg" is a short tale in which colonialism, diseases, and cursing spirits intersect. Guy de Maupassant has an unnerving story about an invisible terror called "The Horla," H. G. Wells wrote about bloodsucking orchids, and Henry James conjured up ghosts in more than just The Turn of the Screw. Halloween is the perfect time, I think, to look at a few old and newer books (even beyond many of these above) that tend to get overlooked relative to the classics many of us know and love.
Halloween is curious and contradictory, a time when the line between artifice and true eeriness almost disappears. As a child, I was obsessed with R.L. Stine's Goosebumps series, which I had every book of, and the story of Stine's I identified with most was always The Haunted Mask, in which Carly Beth, a young girl teased and intentionally terrified by her cruel classmates, decides to steal a grotesque mask from a mysterious shop on Halloween, intending to scare her classmates as revenge, only to find that the mask works so well that it literally becomes her own face. To me, that novel exemplified my idea of Halloween, the very title of which suggests Halloween in a nutshell: the falseness of a mask, but also the possibility of something genuinely unnerving. There was also something in that idea of the mask as a face that seemed to reflect me as a trans girl hiding deep in a cobwebbed closet, long before I even knew the word "transgender" existed.
But, of course, Halloween is about more than just horror. There is mischief amidst the mayhem, and there is also, of course, a potentially spiritual side to Halloween, particularly as it intersects with Samhain for Wiccans and precedes All Hallows Day for some Christians. The holiday can seem mundane and dull, even depressing; it can also seem hallucinatory, like being trapped in the surreal narrative of Carlos Fuentes' novella Aura. For some Dominicans in the country I grew up in, Halloween—which the majority of people did not practice, but which it was difficult to ignore because of the pervasive influence of American television—was simply another sign that the Devil was alive and well in America. Of course, when someone views the day from another country (and as for many Americans within their country, as well), there is an obvious economic artificiality to Halloween, much like with Christmas. And, sometimes, truly terrifying things do happen on Halloween, only these are events we need no supernatural agents to explain: murders, abductions, assaults.
"Trick or treat, the bitter and the sweet," as Siouxsie Sioux sings in "Halloween."
Here is a somewhat unconventional list of books for Halloween. I wanted to focus a bit less on the best-known books, like Bram Stoker's Dracula, Mary Shelley's Frankenstein, and Stephen King's The Shining, and more on other books that tend to be a little less known than they should be, but all of which represent, to me, something about Halloween. I hope you enjoy them. And, as all lists must be incomplete—except, perhaps, in a story by Borges—this is only my own very trimmed-down list, and I would love to hear what ghostly, ghastly, grisly—or even fun—tomes you'd like to add to the list in your comments.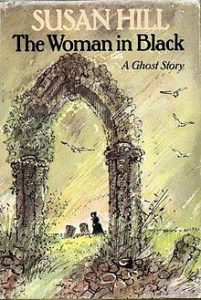 The Woman in Black, Susan Hill
Perhaps most famous in its adaptation into a long-running—and, I can attest, terrifying—play in the West End of London, The Woman in Black began life not as a stage performance, but as a novel by Susan Hill. While book and play are fairly similar, minus one dramatic twist, the novel is a chilling ghost story well worth its time. You may just find yourself listening for the rocking of a chair or the slam of a door after reading this book—and you had best hope there be no one unexpected in that chair. Fans of this tale might also enjoy her later novel, The Mist in the Mirror, which, while I thought it less effective than The Woman in Black, is still worth a look into.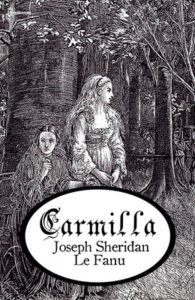 Carmilla, Joseph Sheridan Le Fanu
Bram Stoker's Dracula (1897) is arguably the most famous vampire novel of all time, and, in the popular imagination, Stoker's character is often imagined to be the first of his kind. However, without the publication in 1872 of Carmilla, a lesser-known, yet widely influential novel about a bloodsucking countess by Irish writer Joseph Sheridan Le Fanu, Dracula might never have existed. (Indeed, Stoker even pays homage to Carmilla in a deleted chapter from his novel, which appears to reference the fascinating countess, and the first European vampire in fiction is generally believed to be John Polidori's short story, "The Vampyre," composed in the famous sessions that also gave us Mary Shelley's Frankenstein.) Published twenty years before Dracula, Carmilla is notable for being the first novel to feature a seemingly queer vampire figure, for Carmilla Karnstein famously seems to prey only on women she has fallen in love with. Indeed, this was how I, long before coming out myself, found this novel, and I read it all one night alone, unable to stop, unnerved but seduced all at once. Indeed, just as Dracula became the male icon of vampirism, Carmilla is often alluded to in later works in the same way (and was recently the subject of a lovely web series adaptation), though she's unfortunately never attained the same cultural iconicity of Stoker's monster. A fun yet frightening read, Carmilla is a great historical complement to Stoker's Dracula, as well as a fine Irish vampire tale in its own right—and one that might just make you look uncertainly into the dark from your bed, should something unexpected wake you.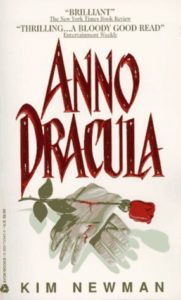 Anno Dracula, Kim Newman
 Anno Dracula is the first book in an intriguing series (my favorite of which is the second book, a fine World War I novel, but we must begin with the first in the series) of supernatural historical revisionism. Sort of like Neil Gaiman's cult classic short story, "A Study in Emerald," which reimagines the Victorian era with a Lovecraftian twist, Anno Dracula portrays a world in which Count Dracula has decided to take over Victorian England—along with his new bride, Victoria. We begin the novel in the days of Jack the Ripper—but by this point, England, like the world at large, has become a place where humans and vampires find themselves suddenly coexisting, for better or for worse. Whereas Richard Matheson's I Am Legend (which I also recommend) imagines a world destroyed by vampirism and powerful shows like Buffy the Vampire Slayer show vampirism existing largely in the shadows of otherwise unaware human societies, Anno Dracula is more similar to True Blood or The Southern Vampire Mysteries, in that it imagines a world in which humans and vampires coexist—though this coexistence can often, as you may imagine, be horrifying. The books are filled to the brim with nods to other literature and, later on, films—imagine a Victorian England run by Dracula, which contains such personages as Sherlock Holmes, Mycroft Holmes, Edgar Allan Poe, and more—which makes them even more enjoyable for me. If you want a delightfully nerdy alternative to Dracula, this may be the book for you.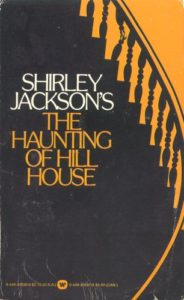 The Haunting of Hill House, Shirley Jackson
During her lifetime, many critics dismissed or ignored Shirley Jackson's work; a reviewer in Time referred to her glibly in 1962 as "a kind of Virginia Werewoolf," and, in 2010, Malcolm Jones wrote for Newsweek that her inclusion in the Library of America might be a sign that the LoA was "jumping the shark." Jackson's writing has begun to be recovered from unjustified erasure in recent years, but there are still many people who haven't come across her work, or who may only have read her famous New Yorker short story, "The Lottery." The Haunting of Hill House is scary in the best of ways—it obviously takes place in that trope of tropes, a haunted house, yet it uses that house so well. If you haven't already, pick up Jackson's beloved novel, as well as Ruth Franklin's new biography of her, A Rather Haunted Life. But listen for the jiggling of locks, should you read this at night behind a closed door.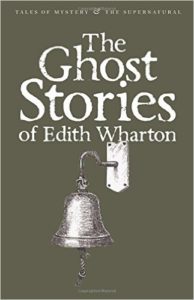 Ghost Stories of Edith Wharton, Edith Wharton
Often best known for her social novels, Edith Wharton was also a writer of subtle, eerie ghost stories. They sometimes remind me of the stories of another master of the ghost story, M.R. James, whose ghosts are rarely ever seen directly—a technique of subtlety that I think works so well. Wharton's ghost stories create unexpected, unnerving situations. If you want to see another side of the renowned American novelist, be sure to check out her supernatural tales.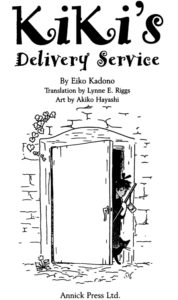 Kiki's Delivery Service, Eiko Kadono
Halloween isn't only about horror; it is also about mischief, identity, and, in different ways, rituals. Kiki's Delivery Service, the delightful novel by Japanese writer Eiko Kadono that inspired Hayao Miyazaki's film of the same name, exemplifies that. Witches, like most things, are multifaceted: most importantly, witches do not need to be scary, and that is the point. Kiki's Delivery Service is a charming way to round out the scares.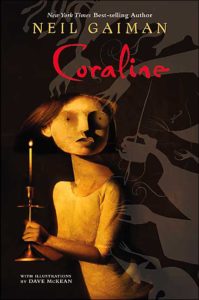 Coraline by Neil Gaiman
"This book," Terry Pratchett wrote, "will send a shiver down your spine, out through your shoes, and into a taxi to the airport." A gothic tale for children as much as for adults, Neil Gaiman's Coraline is a tale of disturbing escalation, in which a young girl named Coraline, bored in her parents' new home, opens a mysterious door in the house that first leads to a brick wall—and then leads to another version of her own home, complete with new parents, a parallel world that initially seems perfect. Her "other mother" has buttons for eyes, and she, who has a dark secret, wants to change how Coraline sees the world—literally and otherwise. Even if you've seen the richly atmospheric film—which differs in a few ways—the book is worth your time, and it comes with lovely illustrations by Dave McKean. Beware the scuttling shadows.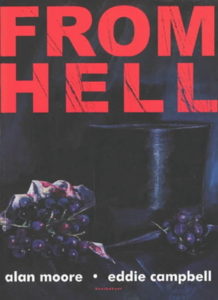 From Hell, Alan Moore
One of my favorite graphic novels, Alan Moore's ghastly take on Ripperology—the study of Jack the Ripper—is worth every page. Printed in black and white, the novel is gorgeous to look at, and, just as the original 1922 Nosferatu is able to craft frightening scenes without any color shots or modern CG, From Hell uses its lack of colors to full effect, seeming even scarier to me because of their absence. And the narrative in here may be a delight for both Ripperologists and more casual acquaintances of the lore of Jack the Ripper's 1880s murders, as this is one novel that almost assuredly goes down alleys you won't expect it to. Be prepared to look over your shoulder after you've read it—and then to look, once more.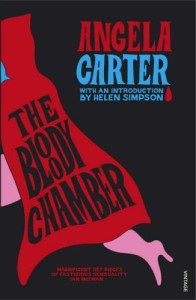 The Bloody Chamber, Angela Carter
By turns twisted, charming, and perverse, The Bloody Chamber, which is a decadent and disturbing reworking of a number of fairytales, is one of those books that, to me, shows the many-sided mirror of Halloween. Angela Carter—who Salman Rushdie called English literature's "high sorceress, its benevolent witch-queen"—wrote that she wished "to extract the latent content from the traditional stories and to use it as the beginning of new stories." Carter had long been drawn, in her own words, to "Gothic tales, cruel tales, tales of wonder, tales of terror, fabulous narratives that deal directly with the imagery of the unconscious." If you like Carter's short stories, you may also enjoy Steven Millhauser's marvelous and disquieting tales in The Knife Thrower and The Barnum Museum.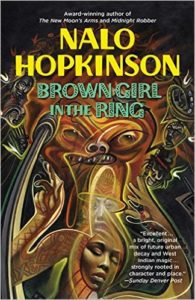 Brown Girl in the Ring, Nalo Hopkinson
Nalo Hopkinson's debut novel features a dystopian Toronto in which the things of Caribbean mythologies—duppies, soucouyants, and more—are as real as anything else. Spirits and gods can be called upon for helping—and also for hurting. Hopkinson depicts a world in which disaster has struck—in her case, authoritarian governmental violence and the pushback from its citizens. This is a distinctive novel about race, mythology, belief, gender, and violence.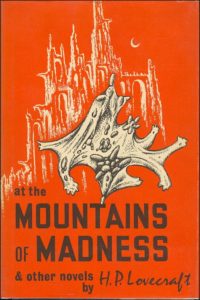 At the Mountains of Madness, H.P. Lovecraft
Lovecraft's exponentially more chilling tale creates an alternate version of how humanity emerged on Earth—and it's the stuff nightmares are made of. "Adulthood is hell," Lovecraft wrote in 1920, but perhaps the premise of this novel—which is true cosmic horror—is closer to a step into the abyss.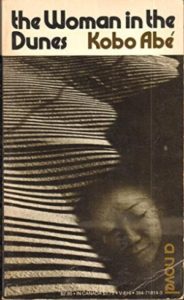 The Woman in the Dunes, Kobo Abe
This novel by the influential Japanese writer Kobo Abe features no monsters, yet is monstrous all the same. In this surreal, existential tale, a male insect-collector comes upon a strange, sand-filled town—and eventually finds himself in a deep hole in the sand where a woman has her home. There is no way out of the hole unless he can find a way up out of it—but the villagers around the hole, and the woman he is living with, don't seem to want him to leave. If sand didn't make you shiver before, it just might after this book.
---