11 Powerful Books to Read on Father's Day
From Philip Roth's Patrimony to Alison Bechdel's Fun Home
The problem with writing a book about one's father is that he's either going to read it, or choose not to, or else he has died and will never have the option.
Each of these scenarios is fraught with its own quicksand pits of apprehension, second guessing, and potential regret. I doubt many of us who have written a nonfiction book with our father as a main character have thought, "I can't wait till he reads this!" Plenty have waited intentionally until after the old man's passing to put the story onto the page.
In my own case, my dad kept asking through the four years of my writing, "When am I going to get to see this?" He had some idea of what was in store, as I was chronicling the process of our building a casket together, which would eventually result in the memoir Furnishing Eternity: A Father, a Son, a Coffin, and a Measure of Life, published at the beginning of this year. He knew I was making notes as we hung out in his workshop, writing down things he'd said, taking photographs, asking questions about the arcane details of woodworking and many other things (including the Playboy bunny he'd once dated), a necessarily obtrusive process of real-time research that I tried to make as natural as possible. He knew I was home for long hours behind a closed door, hunched over a keyboard, trying to get the corners square.
When I finally did give him a manuscript, he spent a few days with it, then returned it to me, stating flatly, "All my worst fears are confirmed." That was it. His response was as simple as it was complex, and it would evolve over the months leading up to publication. He warmed to the idea of being a character in a book that would be read by strangers and (worse) people who'd known him for most of his 85 years. Then, in one of the great hairpin ironies of both his life and mine, he died three days after publication. So those fears, whatever they were, have an entirely different relevance now, and I'll never know exactly what that relevance is. Like every other writer who has taken on the subject of death, I didn't solve its mystery in this book, and the ongoing tricks of life have only deepened it.
All I can know is I tried to get it right, as I believe all of the writers listed here have done, by honoring my father with the truth of himself. And I'm glad I did it, now more than ever.
Happy Father's Day, Dad. I'm sorry I mentioned your farts.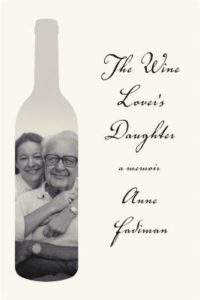 Anne Fadiman, The Wine Lover's Daughter
Anne Fadiman's father Clifton Fadiman was a noted oenophile, but she doesn't much like wine. He was also a celebrated literary critic, and she became a writer—as though father-daughter dynamics weren't already tricky enough. As a result, this is, like all good father memoirs, a sparring match with an often inscrutable subject. To understand her father, Fadiman had to write about him. And to write about him, she had to wait until he'd died. Only then could she allow herself the breadth of her impressive research, most notably a 194-page transcription of interviews she recorded with him for a piece Life magazine commissioned her to write on the occasion of his 80th birthday. What a treasure for any child, to have the opportunity to interview one's parent under the auspice of research (not to mention having someone else pay for the transcription). Like the best of these books, this portrait is fond but not fawning, and the role of the child is scrutinized as closely as that of the father.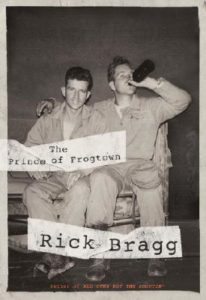 Rick Bragg, The Prince of Frogtown
At a book talk I attended shortly after the release of The Prince of Frogtown, Rick Bragg began by telling the audience his motivation. "I went looking for someone to say something good about my daddy," he deadpanned in his Southern drawl. "It took me three years." Those words remained seared in my mind as I read this unforgettable, unvarnished memoir of a hard man Bragg barely knew. Bragg, among the finest journalists of his generation and an earthy, poetic stylist, completed a trilogy of family memoirs by tracking the greasy trail of his itinerant father, a man he felt deserved more than the flat character who had appeared only briefly, drunk, violent, and indifferent, in the first two books. Having recently "got a boy of my own," fatherhood motivated him to complete his own, and our, understanding of the flaws and failures of the man who'd given him, among other things, life.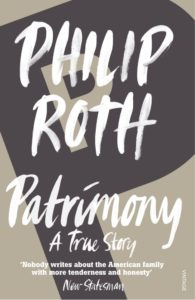 Philip Roth, Patrimony
I read Patrimony as my father was entering his 80s, a time when I refused to believe in anything other than his certain immortality. I admired it as the work of a master, but it didn't move me the way it ought to have. I returned to it again this spring, in the wake of my father's death, and not long before Roth (who had also seemed immortal, and who died at the same age as my dad) passed away. And in it I now find what was always there, a profound reflection on what it means to be the son, trying to do the right thing, and realizing finally that the only right thing is to love.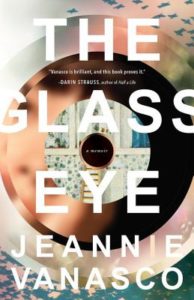 Jeannie Vanasco, The Glass Eye
Excellent memoirs can resonate for various reasons—the singularity of the experience, the artfulness of the prose, the honesty of the voice. Jeannie Vanasco's book hits for the cycle. She (Jeannie) is the daughter of a man who years before had lost another daughter (Jeanne) at age 16—two strangers whose names are separated by a single letter—i—and connected by the man whom neither got a full life with. Terry Vanasco died when Jeannie was 18, and on his final night, she promised to write a book about him. This might not be the book he—or she—expected, as Vanasco, in addition to unraveling the story of her father and the mystery of her dead half-sister, presents a frank exploration of her own mental illness and recovery.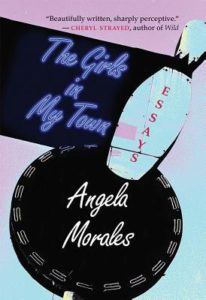 Angela Morales, The Girls in My Town
Another difficult father comes to life in this honest, brilliantly woven collection, winner of the 2017 PEN/Diamonstein-Spielvogel Award for the Art of the Essay. Morales humanizes her father, a slick, self-made appliance salesman who'd pulled himself up from a poor Mexican childhood, before revealing his dark, violent nature. Describing one of her periodic calls to the police as her mother was being beaten, she writes, "Being a descriptor of dad never felt altogether accurate, even though, biologically speaking, he was indeed my father, but he did not belong to me in the way that some dads belong to their daughters or vice versa." The family emerges from his shadow as the pages unfold, most of all Morales. By book's end, she is herself a parent, forged in the fire of her childhood, street-smart, cautious, and hopeful.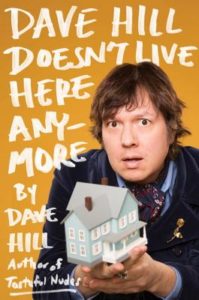 Dave Hill, Dave Hill Doesn't Live Here Anymore
This collection of very funny personal essays is, among other things, an endearing foxtrot through the next level of male bonding that transpires between the author, who is approaching/resisting full grownup-hood, and his dad, who is approaching/resisting the rear border of that same hood. (The aforementioned "other things" include Mexican prison, writing ringtones for Donald Trump, and P.F. Chang's.) The ways in which this bonding transpires are manifold, but can best be summed up by the essay in which Dave sets out on a Make-a-Wish-style mission to get his 82-year-old dad into the driver's seat of an 18-wheeler. Hilarity ensues.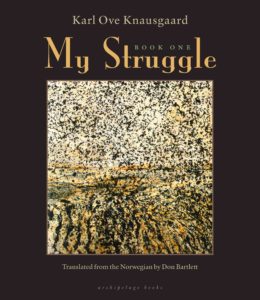 Karl Ove Knausgaard, My Struggle, Book 1
The question of whether this should qualify as nonfiction is fair (it's often categorized as an "autobiographical novel" and just as often categorized as uncategorizable), yet the piercing honesty of Knausgaard's prose and the way it works the body before punching the nose makes it impossible not to include here. In the latter part of the book, Knausgaard writes in hyperreal detail about the practical and emotional matters of a father's death—sorting through the detritus, cleaning his messes, meeting with the undertaker, discovering his secrets, choosing funeral hymns—and most of all finding a way to exist in the space he no longer occupies.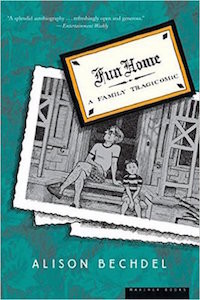 Alison Bechdel, Fun Home
It's difficult to break down all the artistic achievements of this book, so much that when I attempted to do so, it felt reductive, as though I was trying to dissect the whimsy from the melody from the cultural context from the melancholy of a Henry Mancini song. Fun Home is a graphic memoir, and so it has the intimate visual character of Bechdel's hand. It's also a mystery—Bechdel's father lived a closeted gay existence all through her life, something she didn't learn till just before he died. And a tragedy: he was hit and killed by a truck. And a mystery again: Bechdel tries to determine whether this was an accident or a suicide. And it's also a steady-handed triumph of research, augmented by diary entries, police reports, letters, recreations of photographs and other sources. And it's a coming-of-age story, as Bechdel interweaves the interior of her 1970s childhood and her own artistic and sexual awakening. And, oh yeah—it was also a hit Broadway musical.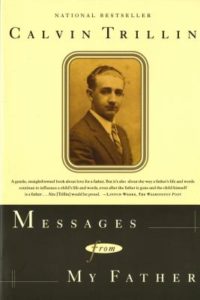 Calvin Trillin, Messages from My Father
In his ever-deft manner, Trillin manages to have written about your father, and my father, and everyone else's father while simply presenting the singularity of his own father: stubborn, hardworking, private, and ultimately American. Abe Trillin, a Jewish immigrant who made his living as a grocer, had secret literary aspirations of his own, a fact unknown to Calvin until after his father's passing. In mainstream American families such as this, the children rarely consider their parents' passions and personal aspirations. Trillin's portrait is warm and gentle and gives tribute to a man who might not have expected it. (His only hint at vainglory was his trademark yellow necktie.) In the book's final passage, Trillin reflects on the fact that, in speaking to his daughters, "I often hear his voice in mine." This slim memoir honors both voices.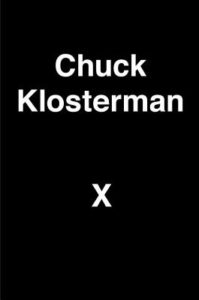 Chuck Klosterman, "(1928–2013)" and "Something Else" from Chuck Klosterman X
I'm cheating a little on this one. This entry represents the final two essays in Chuck Klosterman X, a compendium of the cultural observer's writing on music, sports, celebrity and contemporary Americana. These two pieces are only tangentially about his father, yet in Klosterman's work the tangents are most often the center, and so it's impossible not to read these ruminations on mortality and fatherhood and Brent Musberger without the understanding that his dad is the central figure of it all. (His father's death is the subject of the "1928–2013," even though it's the topic of only four, or possibly five, of its sentences. The rest is about a Notre Dame football game, and everything else.) With his hyperactive intellect and his dogged resistance to sentimentality, Klosterman's bigheartedness can be overlooked, but it's here in these two essays. Just not in the ways you'd expect. Which is the point.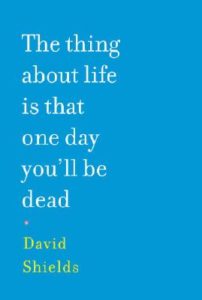 David Shields, The Thing About Life is That One Day You'll Be Dead
And the thing about having an elderly father is that his body becomes a map of the universe. From birth, we study our fathers' shapes and habits to find our own way, and in this wise, unfettered book, Shields uses the mystery of his father's 97-year-old body to try to decode corporeality and mortality and sex and his own aching joints. I read a considerable chunk of this book sitting next to my octogenarian dad on long ferry ride to an island on Lake Michigan—a recurring vacation spot where he had always seemed even younger than his characteristically spritely self—and was prompted again and again to glance over at him, clandestinely studying, spying, wondering. A hallmark of many of these books about fathers is how they lead their authors to reflect on their own roles as parents. Shields, the 51-year-old father of "an annoyingly vital 14-year-old girl," does this with wit and insight, extending out the generational chain and reminding us that life does, among a great many other things, go on.
---