What We Loved This Week
The Lit Hub Staff on Heredity, A Wrinkle in Time, Planet of the Apes, and more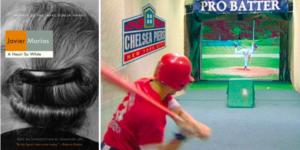 Finally, in danger of actually collapsing under the combined weight of other people's recommendations, I started reading Javier Marías's A Heart So White this week. It is brilliant, if not exactly subway reading—better to read when there's silence, no one to jostle you, and a nice long period of nothing to do. So maybe on the E train. The only other thing I've done so far this week that could generously be described as "culture" is swinging a bat for the very first time, in a batting cage at Chelsea Piers, in preparation for a company softball game. Now that I have participated in the great American pastime, I feel about the same as before, except slightly more likely (if that's even possible) to take a bath tonight.
–Emily Temple, Senior Editor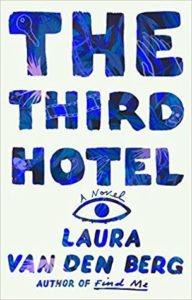 I am not the type of person that misses my subway stop. I pre-walk, I know when my train comes, and I get to the office at the same time every day. But this week I've missed my stop twice and once I had pry open the closing doors because I have been completely, utterly absorbed in Laura van den Berg's forthcoming The Third Hotel. A surreal novel about a woman who follows her dead husband to Cuba, it's the type of story that sits so comfortably in the uncanny that whenever I looked up from the page I am sure the world had changed in some way.
–Emily Firetog, Managing Editor
Article continues after advertisement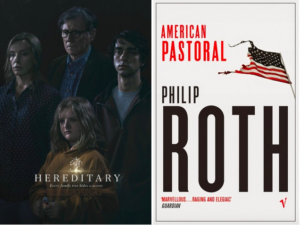 Last weekend I saw Ari Aster's debut feature Hereditary and have spent every subsequent moment in fear of both god and the devil. At the very least I have felt more vulnerable to spiritual possession while brushing my teeth alone at night. And because it is never too late, at least when it comes to novels, for the last several days I have been reading American Pastoral for the first time, which also happens to be my first Philip Roth. It is, of course, great, as I was told it would be, but I have been surprised at how strange it is—it takes the kind of risks I no longer associate with a near universally lauded book. More than anything, I can't stop marveling at the architecture of the story, how decades worth of memories will feverishly and unpredictably unspool in the space of a single narrative moment.
–Jess Bergman, Features Editor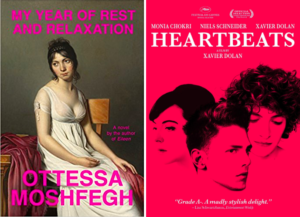 Last weekend, I trekked around Brooklyn with My Year of Rest and Relaxation in hand, engrossed in the sad reality of an adult orphan sedating herself with heavy narcotics. The book was horrifying and hilarious and a horrible conversation starter—especially when attending a birthday party at a tropical bar with free champagne. I'm not always great at reading the room. I also rewatched Xavier Dolan's Heartbeats, which features a beautifully stylized love triangle centered around an extremely smug, modern-day Adonis.
–Alicia Kroell, Editorial Fellow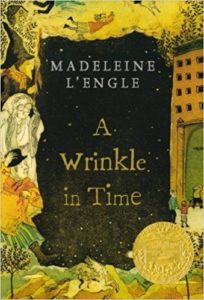 Several weeks ago, I was in a coffee shop on Smith Street watching a terrible Tinder date unfold at the table next to mine. It was doomed from the start: the woman had gotten there early and was reading A Wrinkle in Time. The man had never heard of it. He "grew up in New York and had better things to do than read." When it was over, she sat there for a moment, then kept reading, totally unfazed. To be honest, I'd never read A Wrinkle in Time either, but after watching that go down (and after watching Oprah and Mindy Kaling on the big screen in the film adaptation), I've decided to pick it up. It's a lovely thing to disappear into.
–Katie Yee, Book Marks Assistant Editor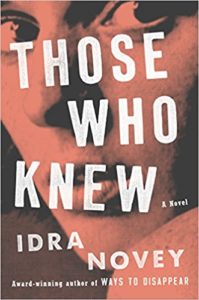 This week, I've been enjoying Idra Novey's new book Those Who Knew, which comes out this November. Novey has translated a number of works into English from Spanish and Portuguese, and the influence of experimental and political Latin American fiction is obvious on her work. Set on an unnamed island dominated by an overbearing mainland superpower (sound familiar?) Those Who Knew is filled with activists, feminists, melancholy bookstore-dispensary owners, guilt-ridden bakers from the mainland, experimental theater sequences, and the mysterious Maria P., whose death invokes an inevitable confrontation between Lena and her former lover, now an revolutionary senator.
–Molly Odintz, Crime Reads Associate Editor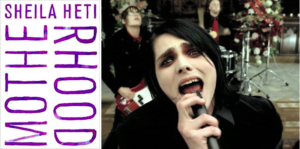 I celebrated returning to public life after breaking my foot by playing a DJ set so horrible that a man wearing a t-shirt from a local strip club shouted "you're a terrible DJ!!" at me, which I would say is an experience that I loved. I recommend playing "Helena" by My Chemical Romance to a room full of angry people who are just trying to enjoy their Wednesday night to anyone. During the Week of Rest and Relaxation following my injury, wherein I did not leave my apartment once, I read both of Sheila Heti's novels; "How should a person be?" is a question I frequently found myself returning to after spending hours on end without moving, with only my indifferent rabbit for company (fun fact: Sheila Heti also has a rabbit! He's a very big boy… beautiful)
–Blair Beusman, Associate Editor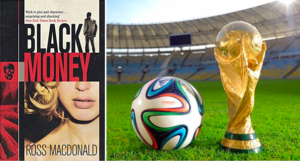 This week I've been making my way through Ross Macdonald's Black Money, somehow for the first time, and remembering everything I love about the Lew Archer novels: the precision of the prose, the tension that comes from what's not said, the low California sun, the entree into a world of great wealth where that wealth is almost universally recognized as a corrupting agent likely to make its bearers soft and doomed. Evenings this week, I've done very little but read Macdonald, and would probably go on doing so if it weren't for the World Cup beginning, at which time I'm sure seeing and rooting for a string of increasingly random countries will lure me, quite happily, into reading a few far-flung crime novels before returning to SoCal.
–Dwyer Murphy, Crime Reads Senior Editor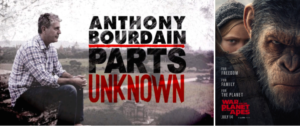 It occurred to me in the wake of his tragic death last week that I had, to my great shame, never actually sat down to watch an episode of Anthony Bourdain's Parts Unknown (or No Reservations, or any of his shows for that matter). In an effort to rectify that, over the course of three or four days, I set about devouring as many installments as I could before food and foreign lands envy overwhelmed me and I had to take a break. That break took the form of a little movie you might have heard of by the name of Planet of the Apes 3: The Apes Go Bananas (actual title: War for the Planet of the Apes). I can't stress enough how emotionally invested I've been in the travails of Caesar and his troop of super intelligent simian comrades over the course of this trilogy. In this final installment of the rebooted franchise, Caesar's family is killed by the ape-hating Colonel Kurtz-esque leader of the human forces (Woody Harrelson), and Caesar must choose between exacting revenge or leading his friends to safety. "Apes together strong."
-Dan Sheehan, Book Marks Editor
---