Every week, the TBR pile grows a little bit more. It's getting precarious. It's taking up your whole nightstand. It's threatening to crush you in your sleep. Well, what are you waiting for? Get cracking. What are you reading this week?
FICTION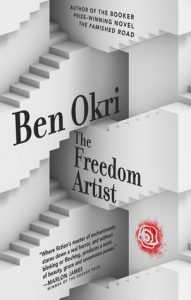 Ben Okri, The Freedom Artist
(Akashic Books)
The latest novel from the Booker Prize-winning author of The Famished Road has already been out in the UK for a year; I have no idea why we've had to wait so long to read it stateside. The Freedom Artist is a fable-like allegory set in a dystopian future in which the "Hierarchy" is dominant, the citizens trapped and muted, except sometimes when they are heard screaming in their sleep. It is through this world that Karnak must travel to find his lover, who has been arrested for asking the question: "Who is the prisoner?"
–Emily Temple, Lit Hub senior editor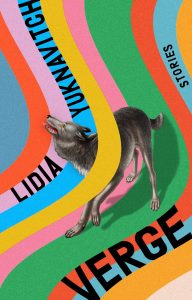 Lidia Yuknavitch, Verge
(Riverhead)
In her latest collection of short stories, Lidia Yuknavitch addresses the themes that most interest her, that exist on the verge—as her title says—or on the boundaries between sex and trauma, art and violence. Verge is full of suspense, directed with empathy at describing the psychology of the marginalized. An eight-year-old becomes an underground courier of frozen organs across Eastern Europe; a janitor takes trash and assembles it into a miniature city, a creation which ultimately frightens him. Young or old, male or female, the characters in Verge will shock and impress themselves onto the reader. Yuknavitch has after all been called a "galvanizing" voice in American fiction.
–Eleni Theodoropoulos, Lit Hub editorial fellow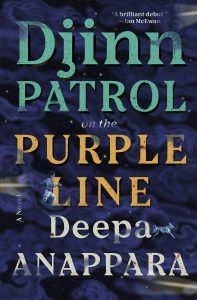 Deepa Anappara, Djinn Patrol on the Purple Line
(Random House)
Debut novelist and journalist Deepa Anappara's Djinn Patrol on the Purple Line is one of the more anticipated books of 2020, having been hailed by authors like Ian McEwan, Anne Enright, and Chigozie Obioma. Set in a Delhi shantytown, Djinn Patrol is loosely inspired by a series of real-life child disappearances that happened throughout urban areas in India. When a young classmate goes missing, nine-year-old Jai, a fan of reality detective shows, and his friends Pari and Faiz decide to use the lessons they've learned from TV to find their friend. But more and more children continue to disappear. An apathetic police force (and rumors of a demonic djinn) compound the children's problems, and what begins as an innocent search evolves into something much darker.
–Aaron Robertson, Lit Hub assistant editor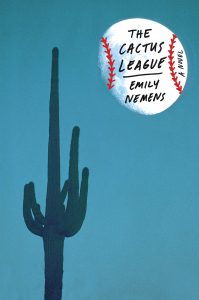 Emily Nemens, The Cactus League
(FSG)
Baseball has always been America's most literary of sports, its regal (some would say glacial) pace an ideal stage for intimate human drama: dizzying highs, bathetic lows, extreme close-ups, all in nine innings. So I'm pretty excited to see what Paris Review editor Emily Nemens does against the backdrop of major league spring training in the Arizona desert. I've long been a fan of Nemens' short fiction, and everything about this debut novel—a golden boy on the edge, old-timers trying to stay relevant, a sportscaster narrator—has it at the top of my TBR pile.
–Jonny Diamond, Lit Hub editor in chief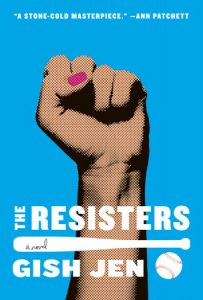 Gish Jen, The Resisters
(Knopf)
Further proof that baseball is the most literary of sports! Gish Jen's fifth novel imagines a future America, one ruled by authoritarian automation. On the margins of society live the "Surplus," a disenfranchised population. This is where we find Gwen, our heroine, who is astonishingly gifted at baseball and who plays it in secret. Once her talents are discovered, she is accepted into a university for the privileged. Let the moral dilemmas begin!
–Katie Yee, Book Marks assistant editor 
NONFICTION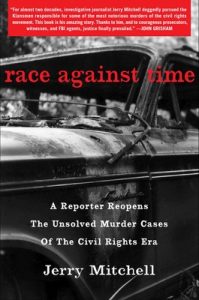 Jerry Mitchell, Race Against Time
(Simon & Schuster)
It was an open secret, the guilt of those involved in the infamous 1964 murder of three civil rights activists in Mississippi, and yet no murder charges were brought in the wake of the terrible crime. It took 41 years and the tireless work of investigative reporter Jerry Mitchell to finally see the plotters of the Mississippi Burning case face justice, a story revealed one dramatic episode at a time, as Mitchell unearths documents and meets with the very men he's trying to catch. I wouldn't be surprised if this shows up on the big screen very soon.
–Jonny Diamond, Lit Hub editor in chief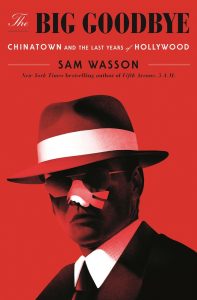 Sam Wasson, The Big Goodbye
(Flatiron)
From Faye Dunaway's tragic and haunting "my sister, my daughter" moment to the bleak last line (I know you know it; I still have to say it: "Forget it, Jake. It's Chinatown."), Chinatown is a classic of 1970s cinema. The Big Goodbye, written by social historian Sam Wasson, tells the unique and fascinating story of its creation and is a fitting homage to the people who made it possible.
–Katie Yee, Book Marks assistant editor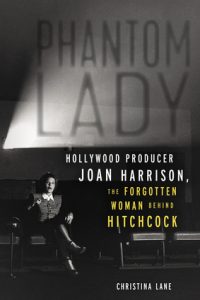 Christina Lane, Phantom Lady
(Chicago Review Press)
Well, of course you know the name Alfred Hitchcock. He's considered one of the most influential filmmakers of his time. From Psycho to Rear Window to The Birds, his films are iconic. But what about the name Joan Harrison? Once a twenty-something-year-old salesgirl dreaming of escaping the suburbs, she became Hitchcock's confidante—and one of the screenwriters for his film, Rebecca. In her new book, Christina Lane tells the long overdue story of this vital "phantom lady."
–Katie Yee, Book Marks assistant editor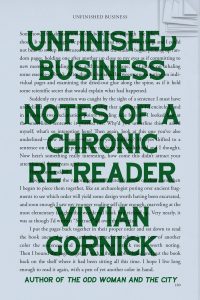 Vivian Gornick, Unfinished Business
(FSG)
It has been Vivian Gornick's position that the work of self-analysis is never complete. Some might find in this endlessness a horror; Gornick has made of it a strength, turning her search to understand herself, in books like The Odd Woman in the City, and Approaching Eye Level, into a sound unlike any other in American life writing. Gornick's prose is warm where others are ashamed, open-ended where others slam shut doors and scold, funny when so many take themselves too seriously. Gornick brings all these sounds to the work of reading, too, which she views with the same infinite loop. "It has often been my experience that re-reading a book that was important to me at earlier times in my life is something like lying on the analyst's couch," she writes in the opening of her latest book, Unfinished Business, a meditation on rereading. These new essays, drawing from errands of introduction and anniversaries of convenience, return to authors she has read before and sees them anew: D.H. Lawrence, Marguerite Duras, Colette, Elizabeth Bowen, A.B. Yeshuoa and others appear in the lamplight of her attention and are regarded with fondness and, in some cases, intriguing autobiographical lacunae. No light entertainments in the bunch. "I'd grown up in a noisy left-wing household where Karl Marx and the international working class were articles of faith," Gornick reminds, at one point, "feeling strongly about social injustice was a given." For more on that, pick up Gornick's The Romance of American Communism, which is being reissued in February by Verso. It contains a miniature political biography of Gornick's family at a time when communism, in America, was on its death throws, and her part of the Bronx still spoke Yiddish. Meanwhile, if you need to be reminded of the lifelong luxuriance of reading, it's hard to imagine another book in 2020 will come even close to Gornick's Unfinished Business.
–John Freeman, Lit Hub executive editor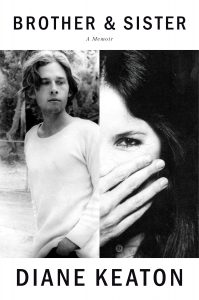 Diane Keaton, Brother & Sister
(Knopf)
If you've been following Diane Keaton's life on screen—if you loved her in The Godfather and Annie Hall and Something's Gotta Give and the severely underrated Morning Glory—you might be curious about her life off of it. Enter: Brother & Sister, her new memoir about her complicated, winding relationship with her younger brother. As children, they were thick as thieves. As adults, their paths diverged. Not only is this a deeply personal portrait of Diane Keaton's family, but it's also a beautiful look at the bonds and barriers of siblinghood.
–Katie Yee, Book Marks assistant editor