Every week, the TBR pile grows a little bit more. It's getting precarious. It's taking up your whole nightstand. It's threatening to crush you in your sleep. Well, what are you waiting for? Get cracking. What are you reading this week?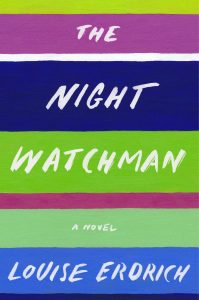 Louise Erdrich, The Night Watchman
(Harper)
Louise Erdrich is the most enchanting novelist in America today. She has so many registers, and in recent years, so much invented territory which is hers alone. With the publication of LaRose in 2016, she concluded a trilogy of novels about justice. The many ways injustice seeps down into the most intimate relationships. The Night Watchman takes on a new public level of concern. Thomas, the so-called Night Watchman of the title, is the leader of a tribe whose reservation land is under threat. Though mostly a night watchman, he also has to plan to go to Washington and argue before committees on behalf of the people he represents. The book, in many ways, is a study in how we are haunted by people we should stand up for. Patrice, Thomas's niece, goes to Minneapolis in search of her missing sister, who almost surely has met a grim fate. Other characters begin with good intentions and get distracted. All this is handled with a matter-of-fact grace and awareness that work and family take almost all of her characters' energy. Ultimately, it is this network, lived rather than built or curated, which comes to their aid. What a thing it is to be alive during Erdrich's time, to see kindness and cruelty engaged with equal grace.
–John Freeman, Lit Hub executive editor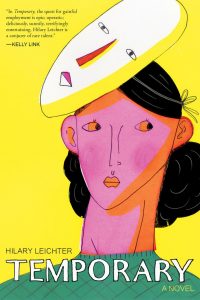 Hilary Leichter, Temporary
(Coffee House Press)
I have long been a fan of Hilary Leichter's fiction, and am very much looking forward to her debut novel, Temporary, which has been described as a Calvino-esque critique of the American Dream, in which the main character takes on ever-stranger job placements, from work on a pirate ship to sitting on the board of a corporation to shining an endless closet of shoes. We could honestly use a little absurdist humor in the face of late-capitalism's ubiquitous predations. LOL.
–Jonny Diamond, Lit Hub Editor in Chief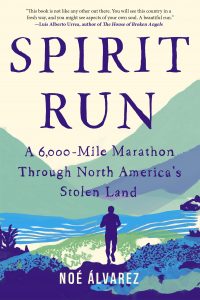 Noé Álvarez, Spirit Run
(Catapult)
Have you ever heard of the Peace and Dignity Journeys? They are marathons held as part of a Native American/First Nations movement to renew cultural connection across North America. At the age of nineteen, Noé Álvarez drops out of school to join this movement. This awe-inspiring debut memoir traverses 6,000 miles and is peopled by the unforgettable cast of characters.
–Katie Yee, Book Marks assistant editor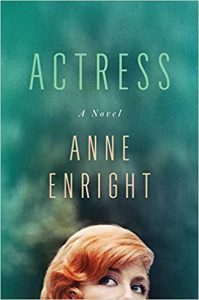 Anne Enright, Actress
(W. W. Norton)
Booker Prize-winning Anne Enright is one of the best writers on families working today. Her newest novel tells the story of Irish theatre legend Katherine O'Dell from the perspective of her daughter, Norah. Bouncing between the glamor of post-war America and the shabbiness of 1970s Dublin, the novel recounts secrets, crimes, and fame, but also, critically, perfectly, explores the relationship between mothers and daughters in light of them.
–Emily Firetog, Lit Hub deputy editor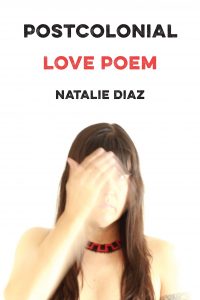 Natalie Diaz, Postcolonial Love Poem
(Graywolf Press)
Natalie Diaz's second collection has been so highly anticipated, so yearned for, so slowly revealed, one poem at a time, here and there, and now, at last it is here. God, is it beautiful, and like all the best poetry, it makes you want to be in it up to your neck. Furious and tender, warm and embodied, these poems make you want to love, they make you want to think. They cause you to read slowly, and pay attention. Moving from sensual poems addressed to a lover, to poems that make it clear how much of a body like hers must be reclaimed from public space in order to love—like the poem "American Arithmetic," which ran here at Lit Hub—this is a breakthrough collection. In a world where nothing feels so conservative as a love poem, Diaz takes the form and smashes it to smithereens, building something all her own. A kind of love poem that can allow history and culture and the anguish of ancestors to flow through and around the poet as she addresses her beloved.
–John Freeman, Lit Hub executive editor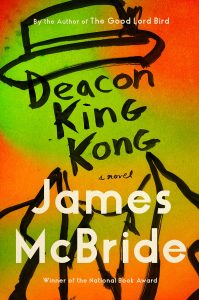 James McBride, Deacon King Kong
(Riverhead)
National Book Award-winner James McBride returns with a comic new novel set in 1960s New York. After a church deacon named Sportscoat wanders into a Brooklyn housing project and shoots a drug dealer, the people affected by the murder must reckon with Sportscoat's decision, from the residents to the cops, Italian mobsters to the members of the same Baptist church where Sportscoat once served. These characters lives ultimately intersect in unexpected ways. McBride brings his darkly optimistic sense of humor to an odd tale of a crotchety deacon gone rouge.
–Aaron Robertson, Lit Hub assistant editor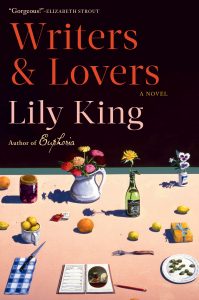 Lily King, Writers & Lovers
(Grove Press)
Casey is 31 years old, a waitress clinging to dreams of becoming a writer. Her mother is dead, she is torn between two men who are polar opposites, and she is an absolute delight to spend time with. The pleasure of reading this novel comes from walking alongside Casey in her everyday life. Her wandering, her waffling, her indecision, her panic—all relatable. The characters feel like flesh and blood humans. The specificity with which she describes the nuances of working in a restaurant—all spot-on. You're right there with her, and she makes for great company.
–Katie Yee, Book Marks assistant editor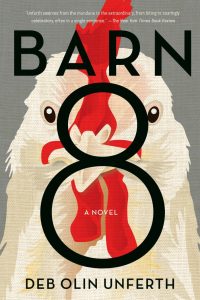 Deb Olin Unferth, Barn 8
(Graywolf Press)
Look, I love Deb Olin Unferth, and it is my policy to read anything she writes. That would be true even if I had only read this one piece of flash fiction by her, but I have read almost all of her books, and my policy stands. I once went to a reading she gave and had to take notes on my arms in eyeliner because I'd forgotten my notebook. Anyway. In her latest book, two egg industry auditors (yes) decide to attempt "one of the greatest animal heists in history" (oh yes) by stealing a million hens from an Iowa egg farm. Unferth is the master of being funny and political and weird and serious at the same time, and this book sounds no different. Can't wait to crack it open. (Sorry not sorry for this egg pun.)
–Emily Temple, Lit Hub senior editor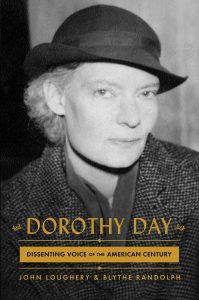 John Loughery and Blythe Randolph, Dorothy Day
(Simon & Schuster)
Dorothy Day: journalist and social activist. She was arrested numerous times during political protests. (Once she went on a hunger strike as part of an effort to secure the right to vote for women.) Wikipedia calls her the best known radical in American Catholic Church History. In this detailed biography, John Loughery and Blythe Randolph tell the story of an individual you ought to know.
–Katie Yee, Book Marks assistant editor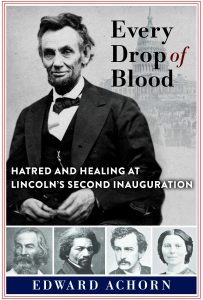 Edward Achorn, Every Drop of Blood
(Atlantic Monthly Press)
Wish you'd been at Lincoln's inauguration? Here's your ticket. Drawing on historical wizardry—diaries, accounts, and memoirs—Achorn has assembled a prismatic portrait of that fateful day which reads like one long rolling dolly shot of history. Some of the figures are unknown, whereas others, like Walt Whitman, have figured largely in Lincoln's presidency. And yet Achorn manages to retrieve new information, showing what Whitman, on assignment for the New York Times, conceived of as news. Frederick Douglas also looms large, but Achorn has a tougher time of accessing his essence. In a time of bot-and-propaganda enhanced actual divisions in America, this book argues the republic has been there before and got through, though it took a lot of blood.
–John Freeman, Lit Hub executive editor