10 Female Killers in Fiction
The Transgressive Pleasure of the Literary Murderess
Today is the 125th anniversary of the day Lizzie Borden took an axe and (probably) killed her father and stepmother with a varying number of whacks. 125 years is a long time, and yet we're still thinking about Lizzie Borden, and children are still telling her story—in rhyme, no less—to one another on the playground. Sure, it's partially because unsolved crimes always appeal. Humans are suckers for a mystery. But it's also because Lizzie Borden was a woman. Just look at some of the highly-gendered theories about the murder: she was a secret lesbian! She was driven mad by menstruation! As a culture, we're morbidly obsessed with the concept of the female murderer. But, you may well ask, why?
First, there's the question of quantity. Violent crimes are much more likely to be committed by men, both in life and in literature. The reasons for this, at least in life, are complex and not fully understood, but it seems to be a function of the neurobiological differences in the brains of different sexes combined with the way men and women are socialized in America. That is, there's no "hardwiring" here—men's brains may make them more vulnerable to violent actions, but male violence seems to have much more to do with the fact that our culture presents violence as a viable, acceptable response to negative emotions or stimuli for men, and does not do the same for women. Think of it this way: how many times, on television or in film, have you seen a man punch another man for insulting or otherwise displeasing him? How many times have you seen it taken seriously? How many times have you seen it played for laughs? How many times have you seen a woman punch another woman, for any reason at all? So who do you think might be more likely to punch someone that angers them—a little boy or a little girl?
The relative scarcity of the female murderer interests us on a base level—if mystery appeals, so does the unusual. But the female murderer doesn't feel merely uncommon, but nearly taboo—because she represents not only a subversion of expected gender roles, but a pretty significant reversal. Her existence is a violent (pun intended) transgression against our ingrained social notions of femininity. There's also, particularly for female readers and consumers, the very delicious sense of power seized—power, specifically, of the body, of which women in our culture are so frequently deprived. Women in America are constantly told that their body is the purview of others—we are told this on the street, by catcallers, and at the highest level of our government—so there's something thrilling in reclaiming that agency at the edge of a knife.
Don't get me wrong: American culture as a whole is still much more obsessed with the idea of the beautiful dead girl than it is with the beautiful deadly girl. And when you (or at least I) think of "literary murderers," the list of names that springs to mind first is almost entirely male. Patrick Bateman, Humbert Humbert, Tom Ripley, Raskolnikov. But it's the very fact that film and literature are strewn with the bodies of dead girls makes the killer woman so attractive—she's not only escaped victimhood but stepped into the role of the aggressor, and thus fully reversed her fate.
Some people don't want to believe it. "I think society is in denial that women are capable of such hideousness," evolutionary psychologist Marissa Harrison (who studies serial killers) told Emily Anthes for The New Yorker. But again, it's that fantastical element that makes the figure so alluring. She can't be real—or can she?
There's also the question of what kind of killers women get to be when they do appear—both in terms of how they're portrayed in the media and in terms of how they're written into fiction. As crime writer Melanie McGrath has pointed out, female killers, when they exist in fiction, are almost always motivated by revenge or, less-often, insanity:
We rarely question the gendered language of motive that reinforces essentialist assumptions and explains away female violence. The roster of 'female-friendly' motives for violence is largely reactive. It presupposes that women resort to violence only as a last-ditch response to intolerable past abuse, or because they are in fear of their lives or mentally ill. So, this argument goes, we do not use violence instrumentally to get what we want, or simply because we feel like it, but because we're driven to it. And there's an accepted 'female' typology of killing, too. Women kill in the home, or near it, and we kill people we know, targeting partners, children or the elderly, mostly by poisoning or some other indirect method.
These typologies are borne out by the data in the aforementioned Marissa Harrison's studies of actual female serial killers, with one exception: in real life, female serial killers most often kill for financial gain, not epic revenge.
Female violence is also tied into the perpetrator's sexuality in a way that male violence isn't, or isn't as often. As Katharine Quarmby writes, "[t]ypically, a woman who is violent will have her sexuality portrayed as deviant, and her sexual attractiveness examined. Her role as a woman will also be scrutinized—is she a bad wife, or a bad mother? We need to keep the very essence of womanhood separate from, and untainted by, women who kill." Overt sexuality often accompanies violence, and paradoxically, it can be a way of de-feminizing the woman in question, or at least reducing her down to a lurid trope; violence and sex are two parallel ways for women to subvert expectations of submission, nurturing, and kindness. I can't help but think of Rihanna's "Bitch Better Have My Money," which ends with a blood-stained, naked Rihanna bathing in a trunk of cash. My first thought: has there ever been anything more badass? But my second thought has to question my own delight in the image—do I only think it's so cool because she's subverting ideas of femininity that I don't even believe in? And if I really don't believe in them, why so much visceral pleasure in their subversion? You can't subvert something that's already been conquered.
By the way, this is all not even approaching the issue of race, which is a major factor in Rihanna's video, and certainly in the ways we understand both sexuality and violence in both sexes in America. Honestly, I couldn't find very many good examples of female killers of color in literature who fit into my parameters for the list below—and the three crime fiction experts I asked couldn't either, except for Sax Rohmer's very racist character Sumuru, whom I will not include—though I'm sure more do exist, and I'd be very interested in an essay that examines them and their scarcity in the genre.
A lot of literature tries to split the difference with the gender tropes, letting female characters goad male ones into murder, so they get the blame without actually doing the deed. (Think Lady Macbeth, Phyllis Dietrichson, and Abigail Williams.) But below, I've collected ten actual female murderers from literature for your reading/gawking/gasping pleasure. NB that I've left out any novels with supernatural or science fictional elements, because death and murder are typically treated somewhat differently in these genres, and I don't want to muddy this pot any further. Also NB that spoilers do lurk below, as the identity of the murderer is sometimes a reveal—though most of these books are pretty up front about their femme fatales.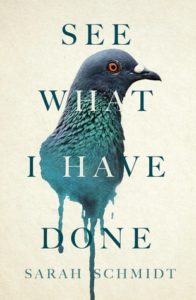 Lizzie Borden, See What I Have Done, Sarah Schmidt
You all know how it goes: Lizzie Borden took an axe, and gave her mother forty whacks. When he saw what she had done, she gave her father forty-one. Sarah Schmidt climbs into the mind of the notorious Lizzie Borden—as well of the minds of her maid, sister, and a mysterious stranger—in this hot house of a debut novel, which tells the story of that fateful day, but more importantly, the story of all of the intersecting bonds, desires, and desperations of this doomed family. See also "The Fall River Axe Murders," by Angela Carter.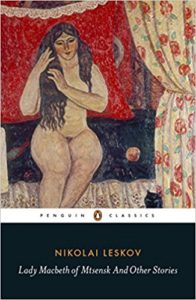 Katerina, The Lady Macbeth of Mtsensk, Nikolai Leskov
This one's on my mind because of the recent (and excellent) film adaptation, but also because Katerina is so deliciously unrepentant (unlike, say Lady Macbeth proper, who actually didn't kill anyone but still drove herself mad over it). When her horrible husband leaves her alone, she picks up a lover, and then, to protect their relationship, murders her father-in-law, her husband, a small child, and ultimately, her rival (along with herself). Like the Lizzie Borden story, it's a murderous fairy tale from which it is wildly difficult to look away.
Cathy Ames, East of Eden, John Steinbeck
"They thought they were so smart," Cathy says in Steinbeck's classic. "They looked at me and thought they knew about me. And I fooled them. I fooled every one of them. And when they thought they could tell me what to do—oh! that's when I fooled them best." Steinbeck's most monstrous female character—the intensity of her evilness is rivaled only by the intensity of her sexuality—is a force of destruction. Among other things, her "malformed soul" causes her to drive her teacher to suicide, burns down her family home with her parents still inside, becomes a prostitute, then murders her madame to get her job. She's not the greatest person, and nor does she want to be. "I'd rather be a dog than a human" she said. "But I'm not a dog. I'm smarter than humans."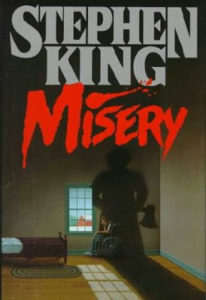 Annie Wilkes, Misery, Stephen King
Annie Wilkes is a prime example of the archetypal Bad Nurse. When novelist Paul Sheldon crashes his car, a kind—if strange—woman rescues him. She turns out to be a fan of his work. She turns out to be extremely angry that he has killed off her favorite character. She turns out to be a serial killer who has murdered a slew of people, including patients, babies, her father, and the state trooper that she's buried up at her "laughing place." Truly one of the most terrifying characters of any gender to be committed to paper. (For the record, I also love King's Carrie, but I'm counting her tale as supernatural, and so Annie will have to stand in for them both. I'm sure she wouldn't mind.)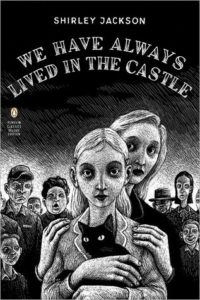 Merricat, We Have Always Lived in the Castle, Shirley Jackson
When this novel begins, almost all of Merricat's family members are dead. Someone, it seems, mixed arsenic into the sugar bowl. The angry townies seem to think the fault lies with Merricat's older sister Constance, and ostracizes the sisters because it, but it soon become clear to the attentive reader that the eighteen-year-old Merricat, who wishes she were a werewolf, is the real killer. Beware the weird girls, my friends. They have more powers than you may think.
Yayoi, Out, Natsuo Kirino
This truly captivating novel centers on a group of women who work the night shift at a bento factory outside Tokyo. One of them, Yayoi, strangles her cheating, good-for-nothing husband to death after he comes home drunk yet again, having, this time, lost every cent of their money in the casinos. Yayoi convinces her co-workers to help her dispose of the body, which they do, before promptly beginning to blackmail one another—all while the police start asking questions and another killer begins to target the women.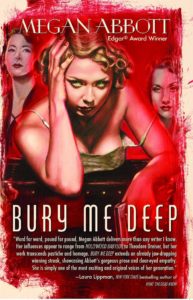 Marion Seeley, Bury Me Deep, Megan Abbott
Abbot's murderer Marion is based on the "Trunk Murderess" of the 1930's—a woman named Winnie Ruth Judd, whose two best friends were found dead, their bodies stuffed (and in one case, chopped up and then stuffed) into two large trunks and abandoned outside a Los Angeles train station. This novel reimagines Judd's story, diving into the relationships she might have had with these so-called friends, and her path to violence. As Abbott herself put it: "I wanted to write a novel that would look at this "tiger women," Judd, from another vantage point, free of the tabloid trappings—a novel that would place at its center the kind of woman so frequently portrayed as a femme fatale, as a party girl hoping to snag some sugar daddy, or as a vengeful mistress bringing ruin on her married lovers. I wanted to look at such a woman from the inside."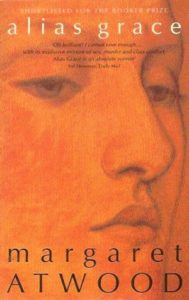 Grace Marks, Alias Grace, Margaret Atwood
Here's another novel based on the story of a real life murderess: Grace Marks, who in 1843 was convicted, with co-conspirator James McDermott, of killing her employer Thomas Kinnear and his housekeeper. Marks was 16, and while McDermott was hanged, she was thrown in jail, to be made a spectacle of. In Atwood's retelling, a young doctor comes to assess the prisoner, and her claims that she can't remember anything of the murder—and winds up rather in over his head.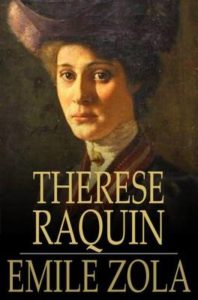 Thérèse, Thérèse Raquin, Emile Zola
Another crime driven by passion—though unlike Katerina, Zola's classic heroine feels badly about the fact that she and her lover murdered her husband. Like, really badly. She hallucinates his presence in her bedroom every night, and quickly, both she and Laurent, her co-conspirator and new husband, go insane. They plan to kill each other, but in the end, they wind up killing themselves. That's amore!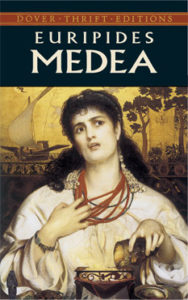 Medea, Medea, Euripides
One of the most memorable characters in the memorably-populated world of Ancient Greek tragedy is Medea, the barbarian princess who, when she hears that her husband (Jason, of Golden Fleece fame) plans to leave her to marry a better princess, is not very pleased. She kills her rival, her rival's father (both by means of the same poisoned robes, which, genius) and her own children. She knows the deaths of her children will be painful to her, but she wants to hurt her unfaithful husband so badly that she's willing to endure it. Then she runs off with their bodies and leaves him utterly alone, forever.
---