10 Books You Should Read
in October
Recommended Reading from Lit Hub Staff and Contributors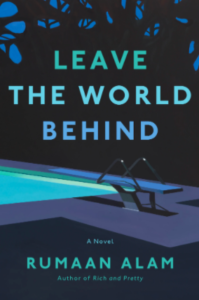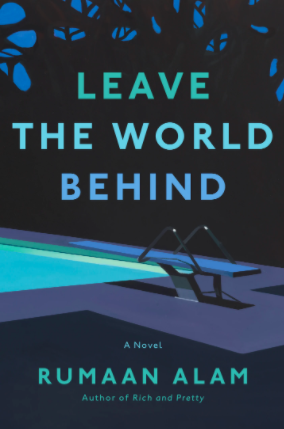 Rumaan Alam, Leave the World Behind
(Ecco Press)
Rumaan Alam's third novel, Leave the World Behind, has been receiving a lot of buzz lately—and for good reason. This page-turning, atmospheric story is the perfect amount of scary/thrilling if you, like me, love spooky stories but are afraid of everything. It's about a couple who flees the city for a mini vacation. Then there's a knock on the door. (This is how these things always start, isn't it?) The older couple who they're renting the house from have arrived, and they're frantic. Chaos has taken New York City, and they're stuck here, in this remote part of Long Island with no cell reception and no Internet (the scariest thing of all!). Every page drips with anxiety—but, like, in a fun way. If it helps, imagine Julia Roberts and Denzel Washington as the main characters, as they are set to star in the upcoming adaptation.
–Katie Yee, Book Marks associate editor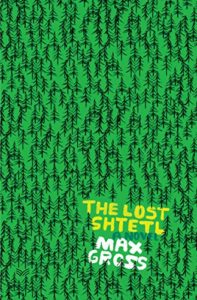 Max Gross, The Lost Shtetl
(HarperVia)
Imagine the Garden of Eden as an isolated village in a forest in Poland. There people live simply, mostly honoring G-d. Idyllic. Here we find Pesha (Eve-like but not quite) whose refusal to stay married to her brute of a husband (could be the devil) forces her to exile herself from the community. Enter Yankel (Adam) an orphaned young man, whom the community sends out into the world to find Pesha. Suffice it to say that their exoduses cause the community to have knowledge of the evils of the world forced on them. They learn that most of the Jews of Poland have been murdered in an event called the Holocaust and that they were spared. The village becomes a curiosity and "civilization aka capitalism" does what it always does, wrecks havoc with all things. There is no one apple that gets bitten—marriage maybe—that forces the present to enter this backward place. Gross is hilariously funny as he weaves this story incorporating every anti-semitic trope known to man.
We laugh, but… do we? Yes. But we the readers are equipped with knowledge and understand just how horrible the reality of all that happens is. If there was more space, I'd offer another review. The miracle of this book is that it provokes theories about its intention and doesn't let you stop trying to figure them out. But always, looming, is the question "where is/was G-d."
–Lucy Kogler, Lit Hub columnist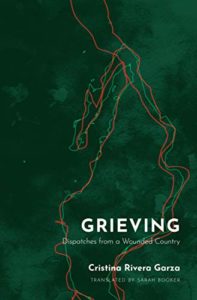 Cristina Rivera Garza (trans. Sarah Booker), Grieving: Dispatches from a Wounded Country
(Feminist Press)
Cristina Rivera Garza is quickly becoming known among English-readers due to the recent translation of her compact and surreal novels The Iliac Crest and Taiga Syndrome. In Grieving, Rivera Garza demonstrates that in addition to the avant-garde, she is also a deft practitioner of horror theory and historical analysis, as she meditates on the systemic violence in contemporary Mexico and along the US-Mexico border. A hybrid collection of crónicas, journalism, and personal essays, in Grieving, Rivera Garza writes about resistance to the oppressive effects of misogyny, neoliberalism, and the war on drugs. "Poetry does not impose," Rivera Garza writes, quoting Paul Celan, "it exposes."
–Nate McNamara, Lit Hub contributor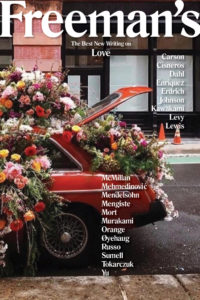 Ed. by John Freeman, Freeman's: Love
(Grove Press)
Love. It's pretty much the antidote to the brooding hate in our ranks, to a world gone amok and askew, and can even resuscitate us from our isolated zoom boxes and two-layered masks. The new issue of Freeman's is full of love, not only because that's its theme, but because editor John Freeman's love—of words, of people, of justice, of inclusion, of writing, of love itself—inhabits every page. With writings from Sandra Cisneros, Mieko Kawakami, Daniel Mendelsohn, Louise Erdrich, Tommy Orange, it's a junket of love, a festival and a dirge, an exploration of rite and ritual, a landslide of emotions that confront love's ornery sidekicks: sexuality, death, desire, absence, spirituality, insomnia, fear.
But it is Semezdin Mehmedinovic's essay "Snowflake," which outlines the aftermath of his wife's stroke, that conveys an entire universe of love, including the emotional tether-balling that occurs if who we love forgets they love us; or how "shared remembering" of insignificant events is lost to the annals of disease; or the devastating happiness of tracing a lover's body that is partially numb. I wept on every page. The essay is love incarnate. Vertical and horizontal in its socioeconomic reach, global in its diversity, expansive in every kind of love on the page, Freeman's newest anthology convinced me: we are nothing without love.
–Kerri Arsenault, Lit Hub contributing editor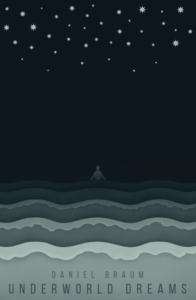 Daniel Braum, Underworld Dreams
(Lethe Press)
With the month of October upon us, I'd be remiss if I didn't recommend something on the uncanny side of the literary spectrum. Daniel Braum's collection Underworld Dreams fits that bill pretty neatly—Braum is acutely aware of the genre's history and tropes, but he's also using both to tell stories that are deeply modern. It doesn't hurt that he has a way with titles—including "Rebbe Yetse's Shadow" and "Between Our Earth and Their Moon."
–Tobias Carroll, Lit Hub contributor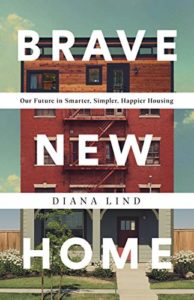 Diana Lind, Brave New Home
(Bold Type Books)
Even if you don't have the stats on hand, you have probably picked up on changing trends in the life of the American family. Younger people are marrying later and having smaller families. For many people, financial security is not a long-term guarantee. These social and economic transformations are shaping the homes we choose or are compelled to live in. In Brave New Home, Diana Lind explores how American fantasies of the homespace have evolved since the period of post-WWII prosperity, and she makes a case for why alternatives to single-family households may bring positive changes to our financial and psychological well-being, as well as the health of the globe.
–Aaron Robertson, Lit Hub assistant editor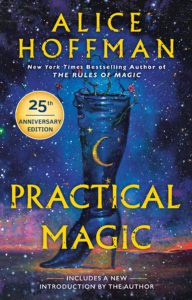 Alice Hoffman, Practical Magic
(Berkley Books)
Anyone who knows me knows how much I love Practical Magic. I spend a lot of my time going over the plot in great detail to friends over midnight margaritas. (To recap: the original story follows sister witches who are ostracized by their sleepy town and who are haunted by a family curse that condemns any man who dares love an Owens woman to die.) Unsurprisingly, I'm particularly thrilled that Alice Hoffman has written a prequel to the book that started it all, a quarter of a century later. Magic Lessons tells us the story of Maria Owens, the woman accused of witchcraft in Salem and the matriarch of the Owens family line. The curse (and the cult classic) begins with her, and we finally get to hear her story.
–Katie Yee, Book Marks associate editor
Sayaka Murata, Earthlings
(Grove Press)
If you want to return to that time in your youth when everything is enchanted with otherworldly meaning, you should pick up Sayaka Murata's Earthlings. Gorgeously translated by Ginny Tapley Takemori, this novel tells the story of Natsuki, a young girl and social outcast with a big heart. (She's the scapegoat, the black sheep in her family, and the gut-wrenching thing is, she knows it: "The phrase 'close-knit family,' which I'd come across in a school library book and had stuck in my mind, always came back to me when I saw my parents and sister together.") Her best friend is a toy hedgehog named Piyyut who discloses to her that he has come into her life to help her save her planet. Her saving grace—the thing she waits for all year—is the big family gathering hosted at her grandmother's house on the mountain. Here, she gets to see her cousin, who is also an alien. (Read: also an outcast.) This is a story about the way we cope with things beyond our comprehension. The heartbreaking thing is their earnestness, the way they see the world versus the things the reader can see happening under the surface. But it is also a joy to see the world through Natsuki's eyes. Sayaka Murata (author of the mesmerizing Convenience Store Woman) has a special gift for stripping away familiarity from our world (as an adult, Natsuki views her society as a "baby factory" and her city as "nests packed closely together"). Earthlings is a gem, a glimpse at our world not quite reflected but refracted back at us in the most interesting light.
–Katie Yee, Book Marks associate editor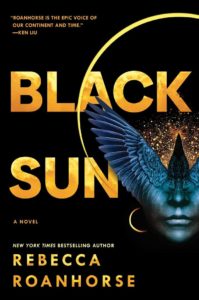 Rebecca Roanhorse, Black Sun
(Gallery / Saga Press)
I tore through Rebecca Roanhorse's Black Sun, the first in a new epic fantasy series based in pre-Columbian American mythology and history that provides a refreshing alternative to the Eurocentric blockbusters of the past. In Black Sun, Roanhorse entwines the stories of a priest, a sea captain, and the vessel of an ancient god as they grow closer to a confrontation that threatens to upturn the status quo and usher in a time of chaos and revolution. I can't recommend this book enough! Also the next one needs to come out, like, immediately. I need to know what happens next.
–Molly Odintz, Crime Reads senior editor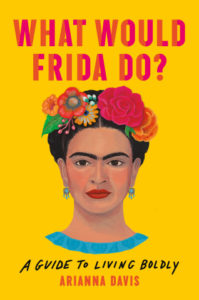 Arianna Davis, What Would Frida Do?
(Seal Press)
I'm excited for the release of Arianna Davis's debut, What Would Frida Do? In this book, that feels part-biography and part-self help, Davis tells the story of Kahlo's life while extracting some advice for the present day. She answers the title question in various chapters such as what would Frida do to find inner strength or to spark inner creativity. The advice one could pull from this artist's life is vast and unique but Davis does a great job of making it fun while educating you about Kahlo. Davis even touches upon more superficial pieces of current life and encourages social media curators to take note of Kahlo's self-awareness when painting her imperfections in self portraits and perhaps turn off the face tune or overly photoshop themselves. It's a good positive read and a great gift.
–Melissa Ximena Golebiowski, Lit Hub contributing editor
---