Yiyun Li on Taking Writing Lessons from War and Peace
"The line will always be crossed."
The following first appeared in Lit Hub's Craft of Writing newsletter—sign up here.
*
To start by contradicting myself: I do not read War and Peace, or any fiction, for craft lessons; I have never raved about a novel or a story because it is well-crafted. Still, some of Tolstoy's decisions stand out to me after reading War and Peace for years. Here are ten narrative decisions of Tolstoy's that may be helpful approaches to writing.
1.
A simple and straightforward structure will do. Structure is one of those craft decisions that unfortunately one cannot avoid when writing a novel. Some novels may be remembered for their ingenious structures, but a novel does not have to have an ingenious structure to be great. A simple structure will do just fine. For instance, War and Peace has the most straightforward structure: the novel alternates between war (characters in the military settings) and peace (characters in the civilian settings). A complex book doesn't have to have a complicated structure.
2.
We don't always live in long flashbacks. Memory rarely takes the form of a continuous and complete narrative. In War and Peace, there is only one (fleeting) moment of flashback, when old Prince Bolkonsky remembers himself as a young officer. Long flashbacks in fiction feel artificial. If backstories are so important, as Elizabeth McCracken, one of my favorite writers, says, why not start there?
3.
The best gestures are often saved for an audience. Sometimes I see, in my students' work, characters engaged in hair-flipping, eyebrow-rubbing, handwringing, eyes-shutting, pen-grabbing, fist-tightening and other such movements, which make a white noise machine of gestures. In War and Peace, some of the best gestures belong to Napoleon: he takes a single glove off from his white hand before ordering the beginning of the Battle of Austerlitz; wordlessly he signals for someone to hand him a monocular on a riverbank. He is a character with many memorable gestures, and for a good reason: they are for his audience—his subordinates, and historians. Another character, defined by a single gesture, is Ippolit: in society he never parts with his lorgnettes, through which he studies, with equal interest, a pregnant woman and his own elegant feet propped up on a sofa. Sometimes a character gestures alone and yet it is still for the audience: Natasha, tiptoeing in a room by herself, is watching herself from the eyes of the world (and even thinking about herself in third person).
4.
The surprising and the inevitable go together. I've heard writers say that characters have to surprise the authors before they surprise the readers. But I like another possibility, when the characters surprise themselves because they are who they are, not who they wish to be—in that way they surprise the readers with inevitability. For instance, 19-year-old Nikolai Rostov, during his first encounter on the battlefield with the French army, forgets to shoot his pistol; rather, he throws the pistol at the enemy like a toy, and begins to run like in a game of catch on the playground. War is often written as a setting where characters lose their innocence; Tolstoy writes about the return to innocence.
5.
A cliché setting can serve for an astonishing moment. There are many moments in War and Peace where characters study themselves in the mirror. (Tolstoy himself, in his youth, was obsessed with the mirror and often spent hours studying his own image.) All those moments, it turns out, are paving the way for this: Moscow is about to burn down, the Rostov family has fled from the big house, and their yard porter enters the house, "…arms akimbo, smiling joyfully, stood before the big mirror…marveling at the smile spreading across his face in the mirror." It is his first time seeing himself in the mirror! He may not survive the fire, but he has seen himself in the mirror before the arrival of inferno.
6.
Actions that become activities tell a good story about the characters. One of my favorite minor characters in War and Peace is Tikhon, the valet of old Prince Bolkonsky. In two different chapters, Bolkonsky throws his plate from the dinner table out of anger. Both times Tikhon deftly catches the plate, and the narrative flows on. A plate thrown and shattered may signal a dramatic moment under another writer's pen, but with Tolstoy, the actions of a character throwing a plate and another character catching it become activities habitually carried out. Both times there is only half a sentence assigned to Tikhon, the classic tip-of-the-iceberg treatment of a character.
7.
The best characters are those who make other characters behave uncharacteristically. "Ah, my God, Count, there are moments when I'd marry anybody!" That line is blurted out to Pierre by Princess Marya, the most pious girl who dedicates her life to her father, her brother, and God. Even in her most private thought she would not have dared to put the wish to marry in such clear words, but Pierre is a character who makes others act out of the norm. Another example: Tushin, an awkward officer, makes Prince Andrei smile despite the fact that he nearly never smiles in the novel. Some characters are good at disturbing the established behavioral patterns of other people.
8.
Animals can tell human stories efficiently. After a battle, "dead horses, skinned or unskinned"—the dead horses made deader brings the horror of the war across. During the French army's retreat from Moscow, a dog "was sleeker and merrier than in Moscow"—because the dog is happily feasting on dead horses and dead humans. Tolstoy's animal characters tell human stories succinctly.
9.
War and peace are not far from each other. The peace part of the novel is written with a warlike atmosphere: the encounters in the drawing rooms are like military campaigns and battles, with suspense and momentum, defeat and triumph. In the war part, the military characters are often full of drawing room pettiness and intrigues. Tolstoy is good at flipping the script for the characters.
10.
The line will always be crossed. "He noticed a solitary tree ahead. This tree was first ahead of him, in the middle of the line that seemed so terrible. But then they crossed that line, and not only was there nothing frightening, but everything became merrier and livelier." That is Nikolai Rostov, on the battleground for the first time. I love that he keeps in his sight some concrete marker as the future. When I work on a long project, I make the middle of the project that solitary tree: it's ahead, but sooner or later I will get there. There is no reason to hurry or to fear.
*
Read more on building a narrative structure:
Elissa Washuta on creating a three-act structure for stories.
Katie Crouch on taking narrative lessons from popular rock songs.
Helen Betya Rubinstein on what seduction and narrative choices have in common.
Sinéad Gleeson on learning from non-linear forms.
*
Books That Make Smart Narrative Decisions
RECOMMENDED BY YIYUN LI 
Elizabeth McCracken, The Souvenir Museum
Sarah Shun-lien Bynum, Likes
Anakana Schofield, Bina
Lan Samantha Chang, The Family Chao
__________________________________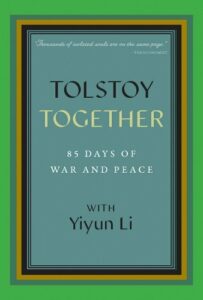 Tolstoy Together: 85 Days of War and Peace with Yiyun Li is available via A Public Space Books.
---