Rock Stars and Author Trading Cards: Tales from a Decade of Bookstore Events
Thomas Gladysz on the Most Memorable Moments from an Indie Bookselling Career
For more than 20 years, I worked at the Booksmith, an independent bookstore located in the Haight Ashbury neighborhood of San Francisco. For half that time, I ran the events program. I worked with publishers in selecting authors, creating a monthly schedule, and banging the drum to make sure someone showed up. I also hosted the events—which meant setting up chairs, making sure there were books, bottled water, and signing pens available, and most importantly, introducing the writer before an audience which might range between three and 300. If only a few showed up, it was my job to smooth things over, especially with an established author.
Author events can be highly competitive, especially in the bookstore-rich San Francisco Bay Area. To distinguish its event series, Booksmith began issuing a series of promotional cards for most every author event the store put on. These author cards were similar to baseball cards or other like collectibles, except that these cards featured contemporary poets, novelists, short story writers, essayists, critics, biographers, artists, and historians—as well as more than a few film and music celebrities. Today, they're collectibles of a particularly niche variety: in search of a rare Rebecca Solnit #358 or Neil Gaiman #453 or Colson Whitehead #896 trading card? Or how about Ray Bradbury #168 or Camille Paglia #751 or Patti Smith #807?
The card project was the brainchild of the store's original owner, Gary Frank, who loved baseball and saw it as a way to draw attention to the store's events. Each month's cards were displayed near the cash register, where customers purchasing a book could take one as a memento. Due to their novelty, they quickly caught on: from the time the series began in 1993 to when it ended, 15 years later, the cards totaled more than 1000.
Early on, the cards themselves drew authors to the store. When Pulitzer Prize-winning novelist Robert Olen Butler, an avid collector of tobacco trading cards and other ephemera, first heard of them, he asked to do an event at the store so he could become a card (#32). He returned three more times, each time asking for other cards to fill out his collection. When Mary Roach, now a bestselling nonfiction writer, was still unpublished, she asked Martin Amis (#94) to sign his card; later, she would appear on three of them herself, including the landmark card #1000.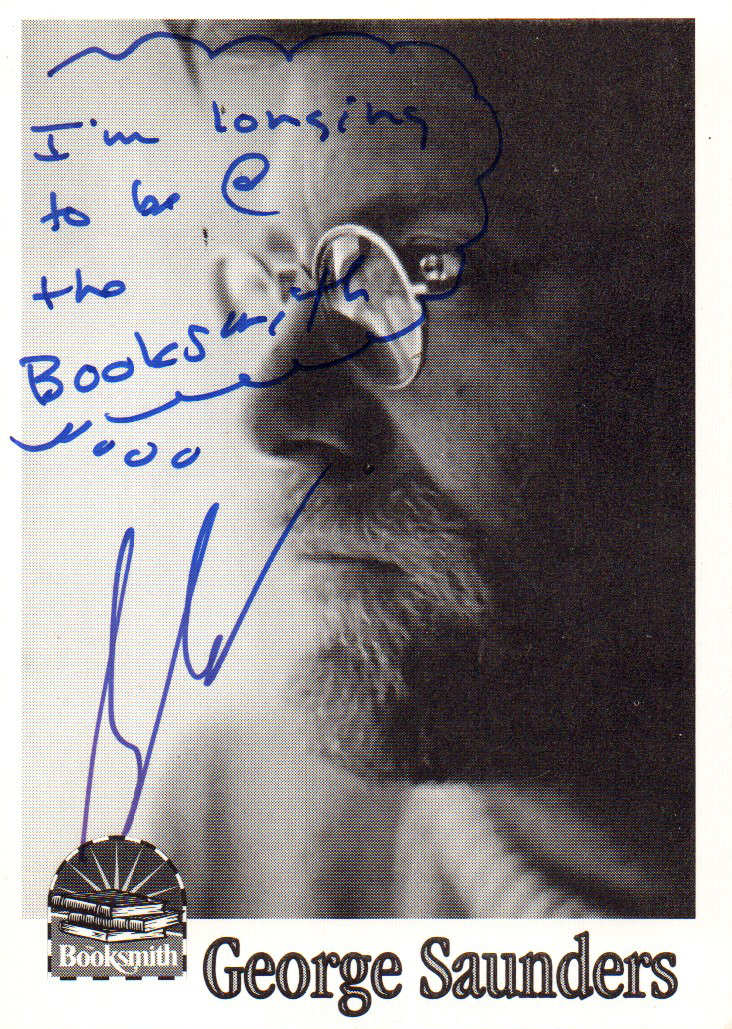 Booksmith is located near Golden Gate Park, and if we expected an especially big crowd, we might hold the event offsite at the nearby Park Branch library. That was the case for events with T.C. Boyle, Paul Auster, Jeanette Winterson, and others, including Titanic actress Gloria Stuart. The Academy Award nominee was especially pleased to appear at this modest branch library, the oldest in the city; just after she arrived, Stuart told us she had frequented it in her youth while living in the Bay Area. Although the branch had already closed for the day, Stuart asked the librarian on duty if she could have a nostalgic tour and was obliged.
For one of the store's more unusual events, we featured an event for Thomas Pynchon (#183), a famously reclusive novelist who never appears in public and hasn't had his picture taken since his college days. Fans and staff read from Pynchon's then-new book, Mason and Dixon, and the store held a "Thomas Pynchon look-alike contest." The card for the 1997 event featured Pynchon's college yearbook picture.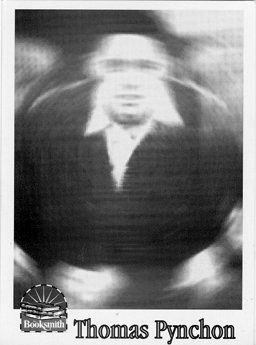 One event that put the store on edge was for Hunter S. Thompson (with an understudy named Johnny Depp in tow). Books for the event with the gonzo journalist were autographed ahead of time; fans that purchased a book showed their receipt, were handed a signed copy, and were then able to join a receiving line and greet the author. It was all very controlled, and customers were told in no uncertain terms that Thompson would not sign anything else (although he did autograph one woman's breast). Getting an event with Thompson was rare, and we wanted to do everything right to make sure it came off as smoothly as possible. However, when some fool in line dared ask for an autograph for some ratty old paperback, Thompson pounded the table with his first, knocking over his liquor bottle, and let out a loud screed. The writer's volatile mood made things a bit tense, especially when the Hell's Angels (the subject of one of Thompson's best known books) were rumored to show and beat up the celebrated author.
The Booksmith is in the heart of the Haight-Ashbury district, the spiritual home to hippies and 1960s counterculture. As such, it drew many of luminaries of the era, including a frail, white glove-wearing Timothy Leary as well as various rock stars like Marianne Faithful and members of The Doors (Ray Manzarek), Jefferson Airplane (Grace Slick), and Grateful Dead (Mickey Hart and Phil Lesh). As well, there were singers like Judy Collins and Janis Ian, and members of the Kinks (Ray Davies), Animals (Eric Burdon), and Monkees (Mickey Dolenz).
Back in 2004, the store was offered a book signing with Neil Young on two weeks' notice. The rock legend had just released Greendale, a book related to his 2003 album. I had been begging everyone I could for Young to come to the Booksmith but had heard that the musician wanted to do one event, and one event only, with another legendary San Francisco store. When they turned it down, the Booksmith got the call. Despite the short notice—and despite various strictures like the request that no Neil Young music be played and that the musician would not sign anything but his new book—the store pulled off a wildly successful event and sold tons of books.
The writer's volatile mood made things a bit tense, especially when the Hell's Angels (the subject of one of Thompson's best known books) were rumored to show and beat up the celebrated author.
San Francisco was home to a number of Beat writers, at least one of which lived in the neighborhood. Poet Michael McClure was a longtime customer and did a few events with the store; at one of them, the crowd chuckled as he described the grocery that had once been housed in the building where the Booksmith now stood, and how he and novelist Richard Brautigan used to buy cheap red wine there in the 1960s. The Booksmith also held events with locals Diane di Prima and Lawrence Ferlinghetti, as well as those Beats who lived elsewhere, like Anne Waldman and Allen Ginsberg; Ginsberg's December 16, 1996 reading at the Booksmith is thought to be his last public reading before his death in April, 1997. I recall the poet was not in the best of health, and after the long, grueling event—for which hundreds turned out—the store owner, his wife, and I accompanied Ginsberg to dinner. We ate at the Francis Drake Hotel, whose lit nighttime windows, decades before, had inspired the hallucinatory cry of the many-eyed "Moloch!" in Ginsberg's celebrated poem "Howl."
Novelists and short story writers were the series' bread and butter. We put on events with everyone, from Kate Braverman and Junot Diaz to Tom Robbins and Aimee Bender, as well as Charles Johnson, Mona Simpson, Robert Stone, David Mitchell, Nick Hornby, and Rick Moody. There were also some wild events with Trainspotting author Irvine Welsh, a couple of which were held at a local pub. Despite his rough and tumble fiction, Welsh was always accommodating, really a rather nice fellow—never mind the fact that he set a store record for the most profanities delivered during a single reading.
Along with its author cards, the Booksmith had a bit of a reputation for something else a bit quirky: its restroom. Otherwise not open to the public, the restroom was available to staff, sales reps, visiting authors, and the like. Notably, the walls of the restroom were papered over with all manner of odd clippings from the World Weekly News, photocopied pages from books annotated by the staff, clippings from publisher's catalogs, and more. Once, when the store hosted the Indian-born novelist Vikram Seth, he used the bathroom and wrote a couplet on a wall. It read, "In this loo (where I have pee'd) / There is far too much to read". Seth's handwritten "poem" stayed there for years. I turned the text into a limited-edition broadside, which Seth autographed.
The event series featured numerous local authors, like debut novelist Kiara Brinkman, who eventually landed a job at the store. Later, Brinkman married another store employee, cartoonist Sean Chiki, and together they recently published their first joint book, a graphic novel titled Lucy in the Sky.
One other author who lived not far from the store has appeared on five different cards under three different names: Daniel Handler (#393) is well regarded as a contemporary novelist; he once satirically impersonated "The Pope" (#857) but is better known as the bestselling children's book author Lemony Snicket (#428) and (#804). And then there was the time Lemony Snicket did an event under the persona Snicket Squirrel (#985) in the company of his wife, the equally squirrely illustrator Lisa Brown (#984).
I am especially proud to have put on the first ever Bay Area (and likely West Coast) events with UK novelists Sarah Waters and China Miéville, then new voices with remarkable careers still ahead. Having grown up in Michigan, I was also pleased to book events with writers associated with my home state. That's how Michiganians like Jim Harrison, Charles Baxter, Michael Zadoorian, Stuart Dybek, Tom Bissell, and Loren Estleman ended up reading at the San Francisco store.
The oldest individual the Booksmith ever hosted an event with was Frederica Sagor Maas, a 99-year-old screenwriter whose memoir, The Shocking Miss Pilgrim, recounted stories from her life in Hollywood beginning in the 1920s. Maas was nearly blind, a little frail, and hard of hearing, and so she and I (a film buff) sat down together in front of nearly a hundred people and I asked her a few basic questions. It was Maas' first-ever bookstore event, and the crowd loved her. Of course, it didn't hurt that Maas told some dishy stories, including one about Joan Crawford, who she met when the future star first arrived in Hollywood. Maas, mentally sharp and opinionated after nearly a century, had clearly not been impressed by young Crawford, and called the then-aspiring actress a "tramp." The crowd laughed. On the other end of the age spectrum, there's the youngest-ever author to appear on the cards: the 17-year-old writer who took the pseudonym Zoe Trope and whose memoir Please Don't Kill the Freshman became a cult classic of young adult literature.
As collectible cards go, the series is little known. Yet, to this day—and despite their small print run, Booksmith cards still show up on eBay and other auction and book websites. One of the most commonly-found cards depicts author Chuck Palahniuk, who appeared on seven of them. The celebrated Fight Club author often drew on his own cards, blacking out teeth or giving himself a black eye. For one of his last events during the run of the cards, the author asked that the store print an alternative card which resembles the regular card; on its reverse, Palahniuk asked the store to print a covert message which read, "Let me surprise you or someone you love. Staple this card to a letter and send it to me …. Send the person's name and address and expect something." That event is memorable for another reason: it was the only event I worked where a fight broke out, when drunken Santa Clauses and other members of the Cacophony Society disrupted the reading as Palahniuk, a member of the group, looked on. (Was it a set-up, a stunt? My bruise and a sprained finger felt real.)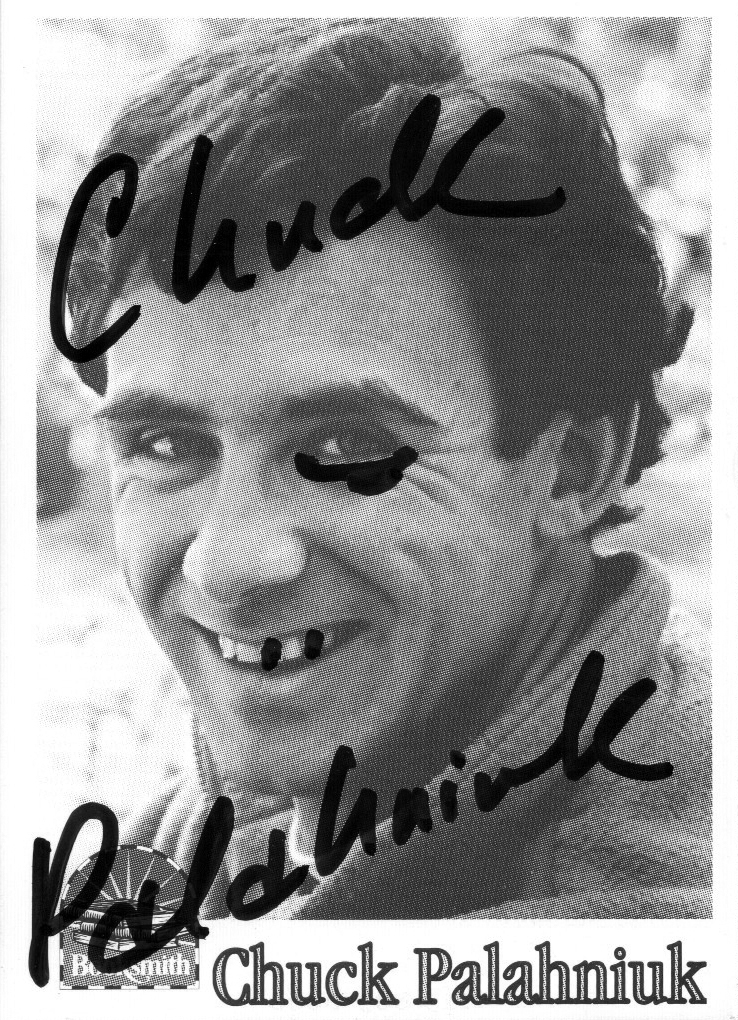 The more-than-1,000 cards tell as many stories. There were the authors I went drinking with, the authors I picked up or drove back to their hotel, and the authors who sent gifts—everything from handwritten thank-you notes to a hand-drawn cartoon (later published), an original painting (thank you Lynda Barry), and even a huge box of candy bars (thank you Steve Almond). On the other hand, there was the author who berated me before their audience, the author who wouldn't shut up after an hour and a half, the author who brought a semi-automatic weapon to the event, the rock stars who cancelled their events at the last minute, the male "author" who made lewd remarks to female staff, and the authors who didn't close the bathroom door. And then there was the bestselling author who requested a bowl of M&Ms be present at the signing table, as long as all the green M&Ms were removed—and they didn't eat any of them. You know who you are.
Before one event, I was holed up in the back room with two novelists who were regulars at the store, James Ellroy and Bruce Wagner. I had given them their author cards, they had signed their special orders, and we were sitting in the back chatting and waiting for things to start. Wagner excused himself to use the restroom. He was in the bathroom for more than a few minutes, perhaps reading the walls, as the start time approached. Ellroy, aware that we were about to begin, suddenly blurted out, "Wagner, what are you doing. Dropping your kids off at the pool?" I never laughed so hard in my life.
I will never forget a joint event with Patti Smith and guitarist Lenny Kaye, which was held in a neighborhood church hall where we also sometimes held off-site events. Kaye read from his then new biography of 1920s crooner Russ Columbo. Smith read some poems and spoke, and then the duo performed a short acoustic set. It was transcendent.
Another memorable event took place with Anthony Rapp, who was on hand to read from his then-new book, Without You: A Memoir of Love, Loss, and the Musical RENT. After he finished speaking, Rapp sang R.E.M.'s "Losing My Religion." It was a moment that felt revealing, intimate; it was a close encounter between readers and an author. It was a moment that might only have happened in the confines of a bookstore.
---