Yes, Elephants and Dolphins Like Talking to You
Eva Meijer on Translating Animal Languages
At the beginning of the 1960s, neuroscientist John Lilly set up a laboratory on the Caribbean island of St. Thomas to study the language of dolphins. Dolphins can make human-like sounds through their blowholes, and Margaret Lovatt, a young woman with an interest in dolphins but with no scientific background, wanted to research if, in a close relationship and with a lot of training, they could learn to speak. So in 1965 she moved to an underwater house, together with the young dolphin Peter, one of three dolphins kept at the aquarium.
She gave him speaking lessons twice a day. Peter worked hard. He found her name difficult to say, for example, and tried to blow the 'M' underwater with air bubbles. However, Margaret soon discovered that it was not the speaking lessons that gave her most insight into Peter's thinking. She learned more when they were just hanging around. Peter was very interested in her anatomy, for instance. He stared at her limbs for a long time and seemed to be trying to understand how they worked. 
The study lasted six months. During that time, Lilly began to experiment with LSD on the dolphins. As a result, and because of the publicity surrounding sexual activity between Peter and Lovatt, the project lost its funding. As an adolescent male, Peter often became sexually aroused, which got in the way of the training. At first, Lovatt sent him to the other aquarium with a female dolphin (he had to be hoisted up there in a kind of lift). After a while, though, she began to use her hand on him instead; it was faster and she did not object to doing it. The story spread, though, resulting in an article in Hustler.
According to Lovatt, the reports were misleading, but the damage had been done. The dolphins were moved to a smaller laboratory, without daylight, and without Margaret. A few weeks later, Lovatt received a phone call from Lilly. He told her that Peter had committed suicide. Dolphins, unlike humans, breathe intentionally. They have to go up to the surface whenever they want to breathe. When life becomes unbearable, they take one last breath and sink to the bottom, where they remain.
Lilly continued to research communication with dolphins, in scientific ways such as with music, but also using more mystical methods such as telepathy. Through his contact with dolphins he learned that captivity is harmful to them, and he later became an advocate of animal rights.
More has since been learned about the language of dolphins, which is thought to be very complex. We do not know exactly how complex as we cannot hear many of the sounds, which are outside of our auditory range and equipment for recording them has not been around for long. Researcher Denise Herzing makes use of digital techniques to translate dolphin language into human language, and vice versa. In 2013, she succeeded in translating a word for the first time: "sargassum," a kind of seaweed, using a dolphin translation device.
Different groups of dolphins have their own dialect, or even language

—

an indication that language is culturally transmitted.
Dolphins learned symbols and the meanings of words. They learned that words in a sentence mean something different when you change their order, and they learned to understand gestures and body posture. The dolphin translation device gives humans the opportunity to communicate more extensively with dolphins and runs parallel to other research into dolphin behavior. In order to interpret signals properly, we need to understand when they are used and how they fit within the wider setting of the dolphins' lives.
Different groups of dolphins have their own dialect, or even language—an indication that language is culturally transmitted and does not purely stem from instinct or physicality—so it will be a long time before we can truly communicate with them. Much remains to be discovered; only time will tell the scope of their interaction. 
Noc, a beluga whale, was captured in the late 1970s for the Navy Marine Mammal Program, which still exists. Whales and dolphins are used, for example, to detect bombs underwater with their sonar, and Noc was employed to search for torpedoes in the Arctic. These whales and dolphins are trained using voice and hand gestures. One day, Noc's trainer heard people chatting underwater. There was no one around. Later it happened again. 
It turned out to be Noc, who was mimicking humans. He spent his life in captivity, and his trainer thought this was a way to form a stronger bond with the people around him. After four years, Noc stopped talking. He died of meningitis at the age of 23. 
*
The Asian elephant Batyr and the Indian elephant Kosik, both of whom were kept in zoos, went a step further than Noc, actually saying human words. 
Batyr was born in 1969 and lived all his life at Karaganda Zoo in Kazakhstan without ever having seen another of his species. Batyr spoke for the first time just before New Year's Day in 1977 and went on to develop a vocabulary of more than 20 sentences. For example, he would say "Batyr is good" and use words like "give" and "drink." He also used the words "yes" and "no," and knew several swear words.
He would change the sound of his name depending on his mood and use his trunk to alter the position of his tongue. At night he spoke quietly to himself in his cage, without using his tongue but making unarticulated sounds instead. It was not only the sounds of humans that he mimicked, but also those of dogs and mice, and mechanical noises.
Kosik lives in an amusement park in South Korea and has taught himself a number of words, including "hello," "sit," "lie down," "no" and "good." Koreans who hear the recordings can clearly understand what he is saying. Scientists are not sure if he understands what he is saying: he knows what the word "sit" means but when he says it he does not expect the zookeepers to sit, so he is not using it as a command.
Between the ages of five and twelve—a crucial period in an elephant's development—he was the only elephant in the park, and scientists believe that he started mimicking people's speech in order to form a stronger bond with them. Like Batyr, he uses his trunk to speak, and the sounds are at the same frequency as his keeper's voice. He is now living with a female elephant. He speaks to her in elephant language, and continues to use human language with the people around him.
While some sounds made by dolphins are too high for human hearing, some elephant sounds are too low. Like dolphins, elephants live in complex social relationships and sound plays an important role in their communication. Elephants have two voices: they can speak with their mouths and with their trunks. Low-frequency sounds, also known as infrasound as it is below the threshold of human hearing, can travel longer distances than high-frequency sounds. The sounds are audible up to four kilometers away, with loud calls being heard even up to as far as seven kilometers away.
The discovery of these sounds solved a number of puzzles for elephant researchers, such as how males manage to locate females over long distances during the mating season and how families who are kilometers apart are able to find the same locations. In order to hear the infrasound, researchers play recordings at about three times the speed. Researchers from the Elephant Listening Project believe that elephants have an extensive language, in which they convey not only information but also emotions, intentions and physical characteristics.
Learning human words and using them in the right context should not be so incredibly difficult for elephants, given their intelligence.
They have specific sounds for acquaintances (they can distinguish between hundreds of individuals on the basis of that sound), and sounds, or words, for humans and for bees, for instance. Sounds are used to indicate family relationships. They probably also refer to abstract concepts. 
One of the reasons why elephants can form such complex communities is that they have a good memory for events and for individuals. Female elephants live in groups, which the young males leave once they reach puberty. It was long assumed that males only had social contact with one another in the contest for land or females, but recent research has shown that they also form close friendships, and live in larger groups of friends.
Relationships do not cease at death. When an elephant is dying, the other members of the group, often family, come and stand around the dying elephant, gently comforting him or her with their trunks. When the elephant has died, they sometimes try to hold him or her upright, or to push him or her back up. Then they cover the body with soil and leaves, and for years they return to places where elephants have died: elephant graveyards.
They also show interest in the bones of strangers. The combination of their good memory and their involvement with dead family members suggest that they have an abstract understanding of death. Maybe further research into their language will throw more light on the subject.
Research into the language and intelligence of elephants, and social relationships among wild elephants, could help us to gain better understanding of the talking elephants in zoos. Learning human words and using them in the right context should not be so incredibly difficult for elephants, given their intelligence. The fact that they do their best to imitate words correctly, in a way that is physiologically challenging, shows how important social contact is for them.
Batyr, who never knew any other elephants and spent his entire life in a small space, must have been very lonely, and also very bored. The words he spoke in human language give us far less insight into his linguistic ability than the research of the Elephant Listening Project. 
__________________________________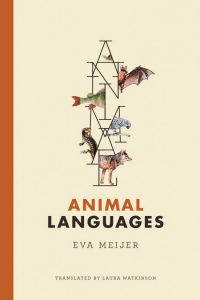 Excerpt adapted from Animal Languages by Eva Meijer. Used with the permission of the publisher, The MIT Press, February 2020. 
---