Writing the Historical Mystery Novel: Jane Smiley Explains Her Process
Jane Ciabattari Talks to the Author of A Dangerous Business
Jane Smiley is a master of plot, with multiple awards for her novels, including the Pulitzer Prize and National Book Critics Circle award for A Thousand Acres (King Lear as set on an Iowa farm circa 1979). She's also distilled her years of teaching and cultural criticism into a superb writing text, Thirteen Ways of Looking at the Novel (2005). A Dangerous Business isn't her first mystery novel. Her 1984 novel Duplicate Keys, set in contemporary Manhattan, was dubbed a "first rate cliffhanger"by the New York Times Book Review.
Her thoughts on the special challenges of the mystery plot comprise a succinct and insightful master class in the genre.  "You have to be sure that the reader understands all of the characters—the perpetrator, the detective(s), and, to some extent, the victims," she explains. "I think what the reader wants to know the most is why in the world someone would kill someone else. And, as always in fiction, a big question is 'How?' How did the perp plan the crime, how did the detective figure out who the perp was, how did it feel for the victim? In order to follow the plot and get to the 'Why,' the reader has to understand the hows first. Another challenge is plot-twists. The plot has to be surprising so that the reader can't predict who the killer is and why he/she did it, but once the reader has finished the story, he/she has to be able to look back and say, 'Oh, that makes sense.' The plot-twists are the bits that give the reader some surprises."
We discussed A Dangerous Business via email just before the Thanksgiving holidays.
*
Jane Ciabattari: How have you been managing during this past tumultuous time? Writing? Traveling?
Jane Smiley: Mostly walking, riding, writing, and trying to be careful. No travel (though I miss it so much!) But I live in a beautiful spot, have a wonderful local market, and spend most of my social time outside, horse or not.
JC: A Dangerous Business begins in 1851, in Monterey, on the California coast.  Your narrator, Eliza, has moved from Kalamazoo to Monterey with her husband Peter, a man twenty years older her father "handed her over to." Peter is shot in a bar fight; a woman who identifies herself as Mrs. Parks approaches Eliza at the funeral and says, "Dear, if you find yourself in embarrassed circumstances, don't hesitate to come to me. I think I can help you." Two weeks later Eliza goes to work at Mrs. Parks's brothel.  Why did you decide to make your narrator a prostitute? What were her options in the mid nineteenth century West?
It was a line in the book, spoken by Mrs. Parks. And yes, but as she says, "Being a woman is a dangerous business."
JS: When her husband is killed, Eliza is only about twenty-one, and she knows that most people, including her mother, if she told her mother about the killing, would expect her to go back to Michigan. Her early life with her family has been very confined, and. now that she has seen new and exotic places, she doesn't want to return. Her husband has left her a little money, not much. When she visits Mrs. Parks, she actually feels comfortable there, because she senses that Mrs. Parks is responsible and generous. I don't think that she has other options. The story is that Monterey in the 1850s was a good place to be a woman, because there were so few that they were valued, but there weren't many jobs that single women could get.
JC: Is that how your title emerged? Is prostitution the dangerous business?
JS: It was a line in the book, spoken by Mrs. Parks. And yes, but as she says, "Being a woman is a dangerous business."
JC: Eliza meets Jean at the Bear, a cafe. "I'm in the same business," Jean explains to Eliza. "We attend to the needs of ladies, not men." They discuss the two young women who have disappeared, with the gossips saying "those girls know what they're getting themselves into" and calling them sinners. You describe Eliza's work in detail. How did you research that era of sex work?
JS: I simply found some evidence that there had been brothels in Monterey, and then I researched how the town and the area were settled once the Gold Rush headed to San Francisco. How I portrayed her work was plausible, given the situation. I also gave the mss. to a local historian [Dennis Copeland is credited in the acknowledgments], who fiddled with the facts a bit, but he accepted the plausibility of both the male establishment and the female establishment.
JC: How far is Monterey from where you live in the Carmel Valley? Did living near your location help in building the dramatic sense of the place in the novel—the routes of the fog, the points along the bay that were rocky and often windy, the trail up the mountains with the view of Monterey Bay, the wooded spot where a body is found?
The Monterey Peninsula itself is like a minivacation.
JS: I live16 1/2 miles from Colton Hall, the original Capital building, downtown. There is a very interesting museum in that building, and a few others around town, too. The houses built in that era are beautifully maintained, and I love the local cemetery—it's a great place to walk around; because of that, imagining people walking around the area 170 years ago is easy as pie. The weather and the geography always change, and when I plan to look around, I am careful to prepare. The Monterey Peninsula itself is like a minivacation—six to ten different landscapes and communities, depending on how you count them, and always fascinating.
JC: Eliza and Jean become sleuths tracking down the serial murderer in Monterey. Is your plot based on a real case?
JS: No.
JC: Eliza and Jean study Edgar Allan Poe's "The Murders in the Rue Morgue" as they embark upon their search.  Did you draw upon other classics (or more contemporary work) as part of your research? What else was involved in your research process? Did you know who did it when you began, or did that evolve?
JS: The first real murder mysteries were written by Wilkie Collins, and Charles Dickens' last unfinished novel, The Mystery of Edwin Drood was an attempt to mimic his friend's work. There is some evidence that Collins was influenced by Poe, and, at any rate, his books wouldn't have been available to Eliza and Jean (the first one, Basil, was published in 1852), so "Murders in the Rue Morgue" would have been Eliza's and Jean's only instruction manual. Of course, I read information about the history of Monterey, also.
JC: Our last Lit Hub exchange, about Zola novels set in Paris, was in 2020, when you published Perestroika in Paris, a novel narrated a talking race horse living in the Champs de Mars. There are many horses in A Dangerous Business. Cooper's racing horses (we see half a dozen), the pale gray horse and the dark bay Eliza and her friend Jean rent (from five available). Others?
JS: My favorite is the pinto named Query who has a marking on one side that looks like a question mark.
JC: Perfect for a whodunnit!
JC: What are you working on, or publishing, next?
JS: The Questions that Matter Most: Reading, Writing, and the Exercise of Freedom. It is a compilation of essays that I've done over the years, with a couple of short stories interspersed.
___________________________________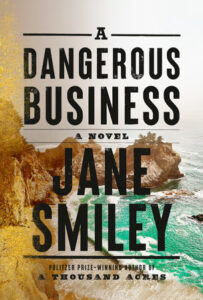 A Dangerous Business by Jane Smiley is available from Alfred A. Knopf, a division of Penguin Random House, LLC.
---