Writing My Dead Sister Through Fact and Fiction
Brian Phillip Whalen on Finding Resolution in Storytelling
I broke down crying after my book launch, but not for the reasons you might think.
A friend of mine told me that after her first book launch, she hauled her writing desk to the trash and didn't write for an entire year. I've heard other stories about the depression and disappointment that follows a book's release, especially when the book is released by a small, independent press. A mentor of mine, a successful writer with a celebrated career, told me, "Publication of a book is a misery . . . writing to write and enjoy it, that's the best—it's the Eden that we writers lose."
My launch, however, was enjoyable. I read with an author I've long admired. There was a decent-enough turnout on Zoom, all things considered. My expectations for the night were low, my hopes sober (so they couldn't be dashed). I've had my share of disappointments since the book's release, as any first time author does, but on the night of my launch, I didn't cry because I was unhappy, disillusioned, or depressed.
I cried because I read a story about my sister.
*
There are four stories about a sister in Semiotic Love [Stories], my debut collection of fiction. The sister stories in the book are linked—a recurring character. The sister in the book is based on my real sister, who died of a heroin overdose in 2017, at the age of 39. Three of these sister stories are so rooted in fact you could call them true stories (two, in their original forms, were published as nonfiction). One story is entirely true, about my overhearing a homeless man singing in the street around the time my sister herself was homeless. Another story is based on a photograph my sister took on a study abroad trip to Russia in high school. A third story incorporates my sister's conspiracy theory that the band *NSYNC were robots.
These are the stories I consider "true."
The fourth story, "Una Vida Mejor," is fictional—or what I would consider a "not true" story. Many details in the story, and the backstory, are true. My sister's boyfriend did, in fact, kill himself in front of her (she was imprisoned for ten days on suspicion of murder); my sister and I used to play gin rummy together; she was befriended by an undocumented worker in Richmond, Virginia; we did have a beagle who got his head stuck in a plastic milk jug; and it's true that I cut her out of my life (I called it "tough love") after years of addiction.
So tell me: why does the fictional sister feel more real to me than my real sister ever did?
But the story itself—the plot—of an afternoon get-together between a brother and a sister, after a long estrangement, is not true. The story tells of a brother and sister eating pizza and playing cards together, coming to terms with one another and the hurt that had grown, irreparably, between them. For me and my sister, that get-together never actually happened.
In real life, there was never any reunion between us.
*
My sister was my very first reader. She read the first story I ever wrote and told me my use of symbols was advanced for my age. I was eight years old. I had no idea I had symbols in my story. My story was about a fish. My sister told me the fish was a symbol for Christ and for sacrifice. My story was rooted in experience. My father and I jigged for small-mouth bass under bridges that crossed the Susquehanna River. I could tie a line, bait a hook, work the water with long, slow pulls followed by a rapid spinning of the reel. I knew about fish. Real fish. But I knew nothing about Christ, let alone sacrifice.
*
I wrote "Una Vida Mejor" when I was 33 years old, in 2013, four years before my sister died. At that point in time we'd been out of touch for five years. She'd been in and out of jail, living on the streets, working as a prostitute. I knew this because she was in touch with her dead boyfriend's mother, who was in touch with our mother.
I cut my sister out of my life years before my parents did. But I heard the gossip. I'd get an occasional email from my sister, now and again, but if I replied—often just to say "I love you," or to wish her well—she'd disappear. She was a ghost that haunted my inbox once every year or so. Her email addresses kept changing. (My favorite was jamieinjail@yahoo.com.)
When "Una Vida Mejor" was published online, I sent her, in a rare attempt to reach out to her, an email with a link to the story. I never heard back.
"Una Vida Mejor" was the final story I read at my launch. I'd never read the story aloud before. I've written essays about my sister, true stories that directly address her addiction, her death, and the horrors she endured while she was living: rehab, rape, homelessness, prison, abandonment by family and friends. All the tragic details, all the juicy bits about my giving up on her, our estrangement, and the regrets I had before, and after, she died. Over the years, after she died, I've given many readings of those true stories. And I never once cried.
It was reading fiction about her that brought me to tears.
*
It had been a long time since I cried about my sister. I don't remember crying when I heard the news that she had overdosed. My father was crying, over the phone, like he'd cried ten years earlier, when he told me my sister was in jail and her boyfriend was dead. I felt badly for him, and for my mother, who I knew was crying, too, even though she didn't get on the phone. My sister's death, for me, was expected: something I'd been preparing for for almost a decade. My parents were prepared, too, but it's different for mothers and fathers. I cried, here and there, when I was a younger man, when my sister first became an addict, and in the years before, and after I shut her out of my life. But by the time she died, after 15 years of addiction, and nearly 10 years of estrangement, I was all out of tears.
Tough love is especially tough on those performing—and withholding—the love. I remember, after we told my sister she couldn't be in our lives until she got clean, I'd often break down in my parents' kitchen when I came home to visit; it was always late at night, when they were asleep. I'd get a glass of milk and think, "My sister is not allowed home again. She will never get another glass of milk at this refrigerator. She will never again sleep in this house." Those nights I'd cry, alone; a little out of empathy, a lot out of guilt. I was the one who pressured my parents the hardest to kick my sister out of their house, to pack her bags, and to lock the door—forever—behind her.
*
Since my book launch, I've been trying to unpack the ways I represent my sister in my writing. The stories in Semiotic Love [Stories] were written during my PhD program, many composed in a four-year period from 2011 to 2015. In the four years since my sister's death, I've written another book about her—a collection of essays about her addiction, her death, and the toll her suffering took on our family. Much of that book centers on my being a father of a young daughter and the fears I have, having witnessed my own father's struggles and failures: to help his daughter, to keep her alive. The novel I am revising is about a brother who works in a homeless shelter to atone for failing to help his drug-addicted sister, based, loosely here, less-loosely there, on experience. I can't seem to escape my sister's story—her true story—no matter the genre I'm working in.
In memoir, I'm haunted by the facts of my sister's life and death, and what I did and didn't do to help her. Memoir is an index, a record of the past: unmalleable, fixed. When I write true stories about my sister, even stories from when she was living, I'm writing about a ghost. Nothing about the past, or her future, can be changed. If I write about her, say, when she was 15, the year she joined the swim team, she is still very much dead 25 years in the future. When I write true stories about my sister, they must always begin and end with her dying. There is no dodging the fact of her very real ending.
Where memoir curates, fiction creates. If not a happy ending, then the possibility, the hope, of one.
But in "Una Vida Mejor," the sister is a ghost of a different variety—because that sister is a character. In memoir, my sister is recollected. But in "Una Vida Mejor" she has agency, she acts. You see her eating Rolos and playing cards; you hear her joking with her brother; you see her tattoos. More importantly, she doesn't have to abide by the laws of history, by the facts. She's present, unfixed by reality, a player on the stage. There's no telling what she might do after the story ends, because it's only a story. Her future is not foreclosed by my sister's fate. And the premise of the story—the imagined reunion—is only possible, now more than ever, in fiction.
So tell me: why does the fictional sister feel more real to me than my real sister ever did?
Why did reading the untrue story return me to the pain more than all the essays I wrote about her?
Why did the dream affect me more than the truth?
One possible answer is this: where memoir curates, fiction creates. If not a happy ending, then the possibility, the hope, of one. Or at least of alternate endings, of an escape from a determined fate (one thinks of the final chapter, the father's monologue, in David Benioff's The 25th Hour). Memoir can only tell you that a door has been closed—fiction can make you believe it might open again.
It's implied, of course, in "Una Vida Mejor" that this will be the final meeting between the siblings, that for each of them it's a sort of memorial, a way to forgive one another, and to forgive themselves without reconciliation or change. But that's for the reader to decide for themselves. At the end of the story, the sister shuts her apartment door. The last thing you hear is the sound of her sliding the door's locks into place. The brother is left standing in the hallway, alone. The story ends. A future is presumed, but it isn't predetermined. The brother could return for another visit. The sister could change her life. The possibilities are not endless, but they exist. The future need not necessarily end in death.
So maybe it's as simple as this, why I cried: where fiction offers hope, real life did not.
*
When I think about "Una Vida Mejor," I think how I'd give anything, now, to spend one more night with my sister, playing rummy, or hearts, or pitch, at the kitchen table. Maybe we'd deal dad in on a hand until he grew tired. Then it'd just the two of us, brother and sister, hanging out, playing games into the night. Or other times, like when she got me drunk at the Irish pub she worked at in Warrenton, Virginia, and I did a jig with the wife of a financial advisor (they were in their fifties), and on the drive home after her shift my sister, rolling her eyes at me, her younger brother, who couldn't hold his liquor, had to pull her car to the side of a holler road so I could throw up in the street (I remember how embarrassed she was, honking her horn, because in-between heaves I did my worst impression of Springsteen's "white man dance," as she called it, from the "Dancing in the Dark" music video).
Or memories of childhood, getting our tonsils taken out together, playing Zelda with her when we were kids, discovering a new bush to burn or boulder to push aside, revealing a secret passage or a hidden treasure. Or playing in the snow in our backyard, or eating all-you-can-eat soup and salad in the Olive Garden, her favorite restaurant. Nothing epic, nothing tragic, just small, shared moments in time.
But there's irony here, and it cuts deep:
When my sister was still alive, after our falling out, the last thing on earth I would have wanted was to be in a room with her, to sit down across from her, even to play cards, and if she'd ask me to come visit, to make the trip to Richmond, Virginia for a slice of pizza and a game of gin, I'd have made excuses until she stopped asking. But she never asked, so I never had to lie. She only tapped me, randomly, from the safety of the distance an email provides. Anything more than that would be too intimate—too real.
*
A few nights before my book launch, I emailed friends, family, and colleagues of present and past, to invite them to my reading. Before I hit send, I added one final address. The last one I had for my sister, from an email she sent me a couple of months before she died. (There was nothing deep to that final email, there never was; she told me she heard I had a daughter, and hoped I was sleeping okay—then she made a joke about baby poop.) The address she used wasn't gimmicky, nothing about jail or drugs; it was simply her name, at gmail.com. I blind copied her on the email, and hit send.
When she was alive, she'd never reply.
But I had this ridiculous hope she'd get the message.
When my launch ended, when the cameras were all off, I found myself in my home office, alone, surrounded by books. On the wall above my desk hung the picture my sister took in Russia, the photograph that inspired one of the stories in my collection. My own book was on my desk in front of me. It was in that moment, caught between a dead woman and a girl from 30 years ago—a girl who loved travel, and photography, and who had never used drugs—that I felt the true weight of my sister's passing, of her irretrievability, of the impossibility of our salvation.
*
I'm not a religious man, but I understand sacrifice now—and the desire for resurrection. I know that I can't return to or change the past. Yet there's a part of me, a fabulist within my hardened realist shell, that believes in the transformative power of fiction, that a fish can be more than a fish, that rivers of dreams are as real as rivers on land, that in the eden of our imagination we can outpace the thunderous footsteps of fate—if only for as long as it takes us to write, or to read, a story.
__________________________________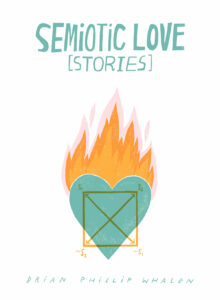 Semiotic Love: Stories by Brian Phillip Whalen is available now from AWST Press. 
---