Writing Into the Future: What Motherhood and Creativity Have in Common
Alexis Schaitkin on Bringing Babies and Novels Into the World
When I told my editor that I was pregnant, and we discussed when I should submit the manuscript for my novel-in-progress, the answer was clear to us both: I needed to finish it before the baby was born. This is how my second baby and my second book came to share the same due date.
During the months leading up to that date, I was keenly aware of the resonances and tensions between the two endeavors. Childbirth is frequently invoked as a metaphor for the writing process. We say that an idea needs to gestate. We speak of fertile imaginations, of writing as an agonizing labor. Books and babies both begin with conception: that first small idea, a few cells, and from those unlikely beginnings they grow and take shape until they are whole. A search for the term "book baby" on Twitter turns up scads of posts from authors: "Happy paperback birthday to my beloved book baby." "Weighing in at 0 lbs 8 oz, my book baby arrived tonight with great fanfare. Hello, baby!"
Both processes have something of the miraculous about them. Here is something where once there was nothing. And once they are here, there is the sense that a gestation rich with manifold possibilities—Who will they be? How will the story unfold?—has given way to the infinitely richer singularity of this one specific child, this one story told in just this way.
Yet the actual experience of being both a writer and mother is frequently one of conflict and contingency. In her book, The Baby on the Fire Escape, Julie Phillips calls this "the mind-baby problem." It is a tension that pulls along multiple axes: On the one hand, mother-writers struggle to find the time and emotional resources to write; on the other, they face the judgments of a society that questions whether the devotion art requires leaves room for good mothering. In other words: Can she do both? And should she? When I was in graduate school, an esteemed novelist whose work I loved asked me, during what was supposed to be a conference about a short story I'd submitted, if I planned to have children. (He "couldn't help but notice" that I wore an engagement ring). When I said I did, he advised me: "Stop at one." With one child, he said, the child would fit into my life. Two or more and I would be fitted into theirs.
Childbirth is frequently invoked as a metaphor for the writing process. We say that an idea needs to gestate. We speak of fertile imaginations, of writing as an agonizing labor.
As I worked to finish my book before my second child's arrival, I expected to feel all of this—both the ways these endeavors were like each other and the ways they were at odds with each other—and I did. What I had not anticipated, what I could not have imagined, was that writing a novel about motherhood would transform how being a mother felt to me.
*
My novel, Elsewhere, is a dark fable about a town where some mothers quite literally vanish. The townspeople are convinced that these mothers vanish because something in their love for their children is out of balance. Mothers live under a cloud of judgment and self-scrutiny, terrified that their love for their children will be their undoing.
Back when I started writing it, I didn't believe I would have a second child. My son was two years old. On a recent visit to my parents in New York City, he had woken up crying in his pack n' play at one in the morning, and no matter what I tried, he refused to fall back to sleep. My spouse wasn't with us, it was just me and my son, and after two hours of rocking and shushing, I gave up. I put his fleece on over his footie pajamas and took him out in his stroller. It was a raw autumn night, and as I pushed his stroller I cried. I was feral with exhaustion and I felt helpless. But more than this, I cried because I had the sense that there was something I might be finding in these hours with my son beyond their difficulty, something like meaning, but I couldn't access it. I wanted to want to be here, doing what I could to meet his need, but I didn't. All I could feel was that this night was extremely unpleasant and I wanted to be anywhere but here.
So much of motherhood was like this for me. Whether a moment was delightful or difficult, what I felt above all was resistance to my son's claim on me, to the absolute presence he seemed to demand. Always, the feeling that he was pulling at me, trying to get me to come with him to some place I didn't want to go.
What I had not anticipated, what I could not have imagined, was that writing a novel about motherhood would transform how being a mother felt to me.
My resistance to my own child came as a brutal shock, alienating me from everything I thought I understood about myself. I had known that motherhood would be hard, but I had assumed I would be well-suited for it because I was good at conquering a challenge. I had no experience with a hard thing that becomes your life, that cannot be vanquished because you cannot live without it, because you love it.
We looped the block until dawn. As the sky began to lighten, beneath the shelter of one of those metal scaffoldings that are ubiquitous in the city, I took out my phone and typed a message to my future self: "One child is enough. One child is a whole world. Let him be enough."
*
I didn't want to write about any of this. Writing was my escape, and I couldn't bear the thought of devoting it to evoking the negative emotions I spent the rest of the day feeling. Many mother-writers have written brilliantly and movingly about maternal ambivalence, but to me these emotions just felt tedious and unwanted, and I didn't have anything interesting to say about them.
What fascinated me was imagining what it might be like to have a different experience. I began to imagine a woman who was seduced by the pull of her child from the beginning. She would not necessarily be a "better" mother; on the surface she might look similar to me, mostly patient but sometimes not, playful but scattered. But she would love the work of mothering so much it frightened her, so much she feared she might lose herself to it. I named her Vera.
*
Then came the pandemic. For five months, our son's school shut down and my spouse and I juggled work with caring for a toddler. We devised a schedule: From 5:30 to 8:30 am, my husband took our son so that I could write, then we switched. Life took on a mesmeric cadence. For the first few hours of each day I was with Vera and her daughter. For the rest, I was with my son.
The playgrounds were roped off with yellow caution tape like crime scenes. The town pool was shuttered. There was nowhere to go but the woods, so day after day we went there. We spent hours together and we rarely saw anybody else. One day, we came upon a pond teeming with tadpoles. My son had brought his water bottle, the penguin one that leaked, and he squatted at the edge and scooped water until he caught a tadpole. For a minute he watched it swim circles in the bottle, and I watched him watch it, both of us filled with wonder.
Then I told him he needed to let it go. He refused. He wanted to take it home to be his "best love." I explained that this pond was its home, but he clenched the bottle and shook his head. "Do you want it to die?" I asked, though I knew I shouldn't. He turned hysterical and threw himself down in the mud, getting his clothes wet and filthy, and when I tried to pat him, he howled, "You're ruining the whole universe!"
Sometimes, without quite realizing it, we are writing into an incipient future, toward something which, through the act of writing, we may learn.
I remember crouching beside his thrashing body and realizing that I didn't feel as itchy with resistance to this moment as I ordinarily would. Something was beginning to happen to me. It was the hours I now spent with my son—so many, so alone together, that it was no longer possible to skim by on the surface. And it was the hours I spent with Vera, her sensibility lingering in my mind the way the mood of a dream lingers into the day.
I had the strange feeling I wasn't only here in this moment, with its crying and cold mud and frayed nerves; I was somewhere else too, an inner world known only to my son and me: a secret, mysterious place we built through every moment we shared. This place was a labyrinth, by turns claustrophobic and sweeping, cramped passageways opening onto grand vistas, a thousand ways to lose yourself in it. Its terrain was beautiful, also dangerous. How deep did it go, and where did it lead?
*
It's impossible to say whether I would have decided to defy the message I had written to myself under that scaffolding in New York if there hadn't been a pandemic, if I hadn't been writing this book. But I really don't think so. It was only because of these circumstances that I began to hope that my experience next time might be different, better. The fall passed in a blur of childcare and writing and drives to the fertility clinic in the pre-morning darkness, six hours round-trip. By December, I was pregnant.
*
During the months of my pregnancy, I awoke every morning frantic to get to work, desperate for my novel's growth to be on track. But being pregnant made that work so much more difficult. There were months of morning sickness, brain fog so thick it made it difficult to find words. I wasn't myself, and the writing felt like a sham, but I couldn't linger on this; I had to get my son off to his precious Covid-era childcare and sit at that desk. The sitting itself became a problem before long. I was so big so quickly this time: swollen feet, sciatica; when I sat the baby squeezed into my diaphragm, no space for breath. I had three months left, two; four weeks, three.
Then one night I was awakened at 3:18 am by the feeling of something warm and wet flowing out of me. Surely this wasn't what it seemed to be. I wasn't due for ten days. But it kept happening. At 5 am I left my son and husband asleep and drove the twenty minutes to our hospital alone, certain it couldn't be. My novel wasn't finished.
Characters are not merely entities we create out of material we already possess. At their best they are mysteries we circle, and they act upon us, casting their wills outward into our lives.
By mid-morning I had been admitted. My husband joined me at the hospital. It had rained all night, and the delivery room had a view of lush green hills cloaked in mist—a scene eerily reminiscent of Vera's hometown, as if I had stepped into her world. For now, there would be no more time to work on the novel. I changed into a gown and a pair of those socks with the white grips on the bottoms and emailed the manuscript to my editor from the bed where, nine hours later, I would push our child into the world.
*
A few weeks later, I found myself rocking our infant daughter through the night. She was sick for the first time; she woke every half hour or so, and nothing but nursing soothed her. I was so tired my skin tingled and my vision warped. But this was the task before me. I rocked her in my arms, this eleven-pound creature who knew nothing about me, cared nothing about me except that I was her mother. It was every bit as difficult as that night in New York; but this time, the feeling beneath that difficulty wasn't resistance. This time, it was something like peace.
*
In those early months, I didn't want to examine this peace too closely; it still felt too precarious, like if I tried to hold it up to the light, it might dissolve in my hands. Looking at it now, I can see that the change of mind I experienced had no single cause, no one explanation. This was my second child; I was seasoned, unruffled. When our son was born I had not yet published a book and I had no idea if I ever would. We're supposed to say that publication doesn't change things, that it's the work that matters, and I've always found this both true and disingenuous: I found tremendous psychic safety in publication. I could let my child pull me with her because I was not afraid I would disappear; I had this work, this career, to pull me back.
But I do not think my experience of motherhood would have transformed so profoundly were it not for Vera. We tend to think of writing as an act of reflection, a capturing: We take what we observe and feel and believe about the world and wrangle it into language. But writing can do other work, too. Sometimes, without quite realizing it, we are writing into an incipient future, toward something which, through the act of writing, we may learn. We're more accustomed to thinking of this as the sort of thing that happens to the reader of a text than to its writer: You read a book and it alters the way you see the world. Until those first sleepless nights with my daughter, I don't think I understood how thoroughly Vera's consciousness had entered my own. Characters are not merely entities we create out of material we already possess. At their best they are mysteries we circle, and they act upon us, casting their wills outward into our lives.
*
Our daughter is nine months old now. She has reddish curls we can't account for. Her brother adores her and is far too rough with her, yet every time I open my mouth to scold, "Gentle! Gentle!" I realize she isn't crying, she's laughing.
Yesterday when I walked into a room where she was playing on the floor, for the first time she lifted her arms, reaching for me. Her lips puckered together, babbling in a sweet whisper: muh-muh-muh. I scooped her into my arms. With her little hands she grabbed my hair, my necklace, my ears, my fingers, trying to pull every part of me to her mouth, to have as much of me as she could. She pulls, I follow, and together we begin to build the ever-expanding world that is ours alone.
__________________________________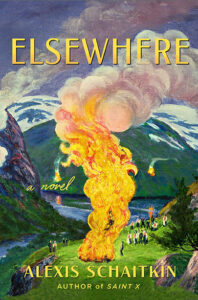 Elsewhere by Alexis Schaitkin is available from Celadon Books, a division of Macmillan.
---