Writing Bellow's Biography While He Was Still Alive
James Atlas on the Dangers of Befriending Your Subject
I never missed a Bellow reading at the 92nd Street Y, and my heart gladdened when I read in The New York Times that he would be appearing in October.
I had heard that the house was sold out, and I congratulated myself on having ordered my ticket early, as was my custom. When I arrived, I spotted a friend in the lobby. He asked me if I was with anyone. "No," I said. "I'm just a lone fan." He, too, was alone. Going to hear Bellow wasn't a social event: it was an act of witness.
Rust Hills, the crusty fiction editor of Esquire, introduced him. "It's a wonder there are any awards left," he joked. "Why doesn't he give some back?" Then he turned earnest: "I don't just mean that at 80 he's still here. That's swell. But I mean longevity. Every decade, because of him, the canon of American literature grows."
When Bellow emerged from behind the curtain, the applause was thunderous and sustained. He looked well. His face showed few new lines; his hair was white but still there. He wore a conservative gray suit. I was struck, once again, by how handsome he was.
"This is an extremely large audience," he said, peering out at the sea of fans. It was an older crowd, verging on the geriatric, but there were lots of younger people, too, in their thirties and forties. Bellow was read now by a new generation; he still had the goods.
He read from The Bellarosa Connection, a book I'd never been crazy about. The narrator, an elderly Jew who lives alone in a vast, lavishly furnished house in Philadelphia (why Philadelphia?), spends his days absorbed in the past and finds himself ruminating on a distant relative, Harry Fonstein, who was saved from the Holocaust by the Broadway impresario Billy Rose. The story had always struck me as contrived, but now, as Bellow read from his novella, a "late" book written when he was in his mid-seventies, I finally heard its pathos. It was a book about memory, "which is life itself," the unnamed narrator muses. He had put the people he most loved "in storage," "a mental warehouse" closed off from his true feelings. He had gotten it wrong. In a terrible dream, Fonstein comes to the realization that "the best he could do was not enough."
After an hour of reading, his voice still strong though tinged with the hoarse octave of old age, Bellow said, "My strength is going here," and broke off. The applause was even louder this time.
The moment had come for the ritual of answering questions drawn from file cards that the ushers had handed out before the reading. Bellow leafed through the cards and paused at one he seemed to like: "What do you think of Mr. Atlas's biography?"
Bellow gazed out at the audience and said, after a pause: "It's like being measured for your coffin. All kinds of shameful matters . . ." He trailed off.
More questions followed, some self-written, I presumed, others from members of the audience. Did people still interest him at 80? "Part of your business as a writer is to discover the fascination of people. You think they're perfectly ordinary, but they never are." On Delmore: was he the most brilliant person Bellow had ever known? "He wasn't the most brilliant. He was one of the most charming." On his own early works: "I feel an urge to cut them."
He told a funny story about Isaac Bashevis Singer. A friend of Bellow's had once picked up Singer at the airport for a reading, and Singer had asked him to pose a question that night about "the parallels between Singer's work and Chagall's."
Dutifully, Bellow's friend had stood up after the reading and asked: "Are there any parallels between your work and Chagall's?"
Singer: "What a stupid question."
A great roar of laughter erupted from the audience.
*
The next summer I waited until almost the end of August to call. I was scared. But I didn't want to leave our quarrel unresolved. Also, it seemed rude not to call. I looked forward to visiting Bellow each summer ("to see your bubba," he said). As far as I could tell, he enjoyed it, too. At least sometimes.
It was his wife Janis who answered: "This is Mrs. Bellow." She was friendly when I announced myself. "Hello, Jim Atlas," she said pertly, and asked me how my summer had been. I asked if I could "have a word with Mr. Bellow." I wouldn't have dreamed of calling him "Saul," even at this late date. Or ever.
"James Atlas," Bellow said, intoning my name—as if in calling me James, he was upgrading me, giving me respect. I felt a surge of gratitude.
I asked if I could come and see him, and though he sounded congenial, he put me off. "Janis's parents are coming, and I have three children and four grandchildren."
I was silent. He had often put me off, only to relent. Sure enough: "But maybe next week. I'm not good at remembering these things. Why don't you call me on Sunday?"
"Great," I murmured. "Fine."
Suddenly awkward, we muttered shy goodbyes to each other—"like two boys making up after an argument in the locker room," Annie said when I recounted our conversation.
Significantly, I have no recollection of whether a subsequent meeting took place that summer, and no record of one. I was beginning to slip away from Bellow's influence, shrugging out of its once-tight bonds. I was deep into my book now, asserting my freedom—the freedom that art grants the biographer to choose his facts. Not to fabricate them, but to order them in such a way that they create a likeness—a likeness that was mine. Foolishly and generously, out of kindness and vanity, innocence and egotism, Bellow had allowed me a glimpse of his many-selved character. For the better part of a decade, I had observed and made notes. The data had been collected. That work was done. Ahead lay the harder work: making sense of it.
That I was writing a biography of a living person was beginning to give me doubts. It wouldn't be the final word, for one thing, and it might cause embarrassment to people in the book—including the subject, who would live to see himself depicted as a philandering misogynist, and the author, who would be scolded for providing the evidence. There were times when I wondered if knowing Bellow in the flesh offered any advantage. "If a man has not supped with his subject, he cannot know him well enough to write his biography," proclaimed Dr. Johnson. Was he right? I had never met Delmore, but I was floundering with Bellow, whom I had supped with on more than one occasion. Somehow knowing him was proving a hindrance to understanding him. I had conducted many hours of interviews, but instead of bringing my subject closer, they had distanced him from me. It was as if his own huge personality was getting in the way, obscuring my sightlines. He loomed over me like one of those carved wooden bears you see at the entrance to national parks, casting his giant shadow.
Then there was the matter of our relationship. Bellow protected himself by subterfuges—fidgeting, laughing insincerely, displaying unfelt modesty, grimacing when he had meant to smile, losing his temper, raising his voice, pretending not to hear. Being human: in other words, impossible to understand. It would have been fine if I had been writing a memoir, but I was writing an "objective" biography, and Bellow wouldn't sit still. Biography, he once said, was "a spectre viewed by a spectre." And here we were, two ghosts invisible to each other: one determined to see, the other equally determined not to be seen. The blind misleading the blind.
"I will make the record in my own way," says Augie March. So would I. And if it turned out to be a little tough at times, well, what could I do about that? Bellow had said his job was to study the clover flowers; mine was to study him. And as Augie noted, "in the end there isn't any way to disguise the nature of the knocks by acoustical work on the door or gloving the knuckles."
*
I am putting the finishing touches on my biography (having a little trouble writing the last chapter, as you can imagine)," I wrote Bellow early in the summer of 2000. "Every time I come up with a good ending, some new and remarkable event transpires in your life." First there was the baby, Naomi Rose, born just before Christmas 1999—new life, but a heavy responsibility for a man of Bellow's years. This momentous event would receive only a passing mention in my book: should I lean over the infant's crib with my notebook in hand, recording each mewl and puke?
I worried that he had taken on too much, but he still had lots of energy, and his capacity for provoking uproars was as robust as ever. In the spring of 2000, he published Ravelstein, a slender novella about his colleague Allan Bloom, author of The Closing of the American Mind. Basing a character in his work on a real-life figure was nothing new for Bellow; it was the revelation that the charismatic professor Ravelstein "liked pretty boys" and appeared to be dying of AIDS that got him into serious trouble. As Bloom's acolytes saw it, Bellow had "outed" his dear friend.
Bellow insisted that Bloom had urged him to write an honest book, but he also admitted to "a feeling" that Bloom might have minded his candor. In any event, the fallout was heavy—though I was glad to see there were still critics around capable of recognizing Ravelstein for the great book it was, especially when you considered that its author was 85 years old.  For me, it was a vindication of biography as a literary form that could attract the greatest writers of fiction—even those who questioned its legitimacy. The book was in essence a brief life on the model of Johnson's Lives—Bellow mentioned it as a source and constructed his portrait of Bloom out of what Boswell called "the minute details of daily life," the specific features that bring a person before us in all of his contradictions and complexity. "If these are left out of my account of his life we'll see only his eccentricities or foibles, his lavish, screwy purchases, his furnishings, his vanities, his gags, his laugh-paroxysms, the marche militaire he did as he crossed the quadrangle in his huge fur-lined coat of luxurious leather." Here were the minute details—in spades.
One afternoon that same summer, we sat around the kitchen table in Vermont, papers spread out before us, like two real estate brokers closing a deal. I just needed permission for two last items: a letter to a girlfriend, written in 1947, in which Bellow tried to extricate himself from their affair; and a lengthy quotation from a random note (he seldom kept a journal) that I'd found among his papers. I prized it for its candor; in just over a hundred words, Bellow provided a portrait of his character—a difficulty establishing emotional  connections "because of attachment to something in childhood"; an inability to accept the responsibilities of parenthood ("a brother rather than a father to the children"); and most revealing of all, a revelation of how much his struggle to become a writer had cost him: "And the great fatigue of a struggle of 50 years. Feel it in my arms, in the very fists." There was also a note of self-forgiveness in this frank appraisal of his failings: "Miraculous to have accomplished so much in the world while in such bondage."
It was miraculous; Bellow had worked so hard against himself that the magnitude of his achievements as a writer was all the more impressive. He had often sabotaged his genius—the multiple marriages and general chaos of his life exacted a high toll—but he had just as often persisted. He let me quote the whole thing. On the matter of the off-putting love letter, he demurred, at least for the moment, on the grounds that "the context [had] vanished." (In the end, he allowed it.)
Bellow said a benediction in Hebrew—I didn't understand it but was embarrassed to let on. Then he asked me what I'd learned over the last ten years.
I quoted Herzog's axiom—identifying the source in case he didn't remember—"Each man has his batch of poems." It worried me a little to recite this phrase, which could have been construed as suggesting that Bellow repeated himself. (Also, I'd searched through the book the night before and hadn't been able to find it.) I'd learned something else, too: "That you can never really know another person, no matter how hard you try."
"That will do," Bellow said. Meaning: That's enough to justify your labors. Or, if said in a stern voice, which it might have been but I don't think was: That's enough out of you, young [not so young] man.
__________________________________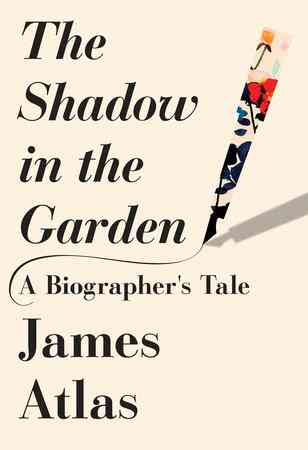 From The Shadow in the Garden, by James Atlas. Courtesy Knopf, copyright 2017 by James Atlas.
---