Writing and Confronting Terror in the Form of a Color
Theodore Wheeler's Notes on Blue
An hour after my second daughter was born, she turned blue in my arms.
The first time it happened I didn't say anything. Her skin tinted bluish, just a little, but she pinkened right away and that was all fine. She was healthy and large, we were happy. Minutes later, my wife holding her this time, her skin blued again and my stomach sank. "Do you see that?" I asked my wife. "Does she look a little blue?" But Cee was apparently breathing; her chest rising and falling. "Should we ask a nurse?"
When the nurse answered our call, she immediately slapped a button on the wall that announced a code blue over the entire floor. Cee was snatched from our arms by a dozen doctors and nurses and taken to an incubator across the hall. Although her chest was rising, Cee was not taking enough oxygen to stay alive. In less than an hour she would be moved downstairs to the neonatal intensive care unit, then would undergo a spinal tap to make sure she didn't have meningitis. There were alarms that chimed when her oxygen levels dipped too low, something that happened over and over her first hours. There were a lot of things that happened over the next four days, too many to mention. We stayed in the NICU until her lungs cleared and we could take her home. And then she was fine. After she learned, Cee has never forgotten how to breathe.
This isn't an uncommon thing to happen. Many parents have NICU stories, almost like a rite of passage. Stories we confess while standing guard at the edges of playgrounds and birthday parties. Stories that sneak into conversations at what might otherwise be inappropriate times, if we didn't understand what each of us was going through, and why we need to tell our version of the story.
I'd held my baby after she was born and she turned blue. How could anything I was doing make this better?
It was the gut punch of that moment—Cee turning blue—that sticks with me. I have written many times about the color blue since then, and each time I think it will be the last time. Like, if I can perfect it, if I can see the story from every angle, then the memory will go away.
*
Over the few months after Cee turned blue in my arms, I struggled to delude myself that much about my previous life was at all important. I maintained a standing 8 am to 2 am schedule that included typing away three hours on a historical novel about a race riot and immigrant life on the Plains, traveling to courthouses for my day-job as a legal reporter, picking up my daughters from daycare and preschool, fixing dinner, putting in a few hours a day as web editor for a noted lit mag, then often reviewing books after midnight when the rest of my family was asleep. Although the routines of many people are more grueling than this, it was too much for me, living in a blue world like I was. I couldn't see why it was important to struggle with a failing novel; or how submitting a short story to an obscure literary journal could make our lives better; or why converting another journal to Kindle format was more important than watching my kids nap or walking the dog or going to sleep at a decent hour.
I'd held my baby after she was born and she turned blue. How could anything I was doing make this better?
That was the only question I could think about. So I quit the lit journal. I quit reviewing books. I even quit writing for a few months, toying with the idea of not being a writer at all. Instead I lifted weights four times a week. Maybe going to the gym couldn't change anything about what happened in the delivery room, but at least my shirts would fit.
After a few weeks, that summer, I gave up on the idea of that novel and accepted that the book wasn't going to work. Despite all my training and suffering over sentences for a decade, I wasn't going to be a novelist after all. Oh, well, the world said. Less than that. The world said nothing.
*
Nearly a year after Cee was born, I received an email to notify me that I'd won a fellowship to move to Germany for nine months and write a new book while living on the grounds of a baroque palace. At that point, I'd forgotten that I even applied for the fellowship. Only recently had I started writing again after spending most of a summer and autumn going to the gym and starting home improvement projects, having mostly given up the idea of being a novelist. What I wrote those days wasn't very ambitious. Vignettes about learning how to play baseball, and what it was like to be a little brother, and how it felt to move to a new town when I was nine. These vignettes would end up girding the rewrite of my first novel, but, at the time, they didn't have to mean anything. I was just writing paragraphs about a few things I knew. Little thoughts I held onto for no reason, remembrances of what it was like to learn how to live.
Every time I started to write something, the story merely came out blue.
The fellowship was such an inexplicable gift. There was no question I'd go. Cee slept through the night by then, but I still struggled to sleep. I fought so much with what happened, and was only beginning to learn how to write my blue stories—so I understood there was a reason this gift had found me. Cee would be two by the time I left home for three months to go write a novel in Germany.
*
The novel I started writing, In Our Other Lives, is largely a reflection on privacy and how post-9/11 domestic spying campaigns diminish our freedoms and our ability to be fully human. But it's also obsessed with the loss of loved ones: the tragedy of blue babies and sudden infant death syndrome, but also one young man who disappears while serving as a missionary in Pakistan and another who abandoned his wife and newborn without a word because he didn't believe he could be a father. It felt inevitable, in Germany, that I would write something blue. There was nothing else I could write about other than the tragedies of how these characters were ripped away from each other. If I didn't repay the universe for this gift of the fellowship, I'd only be inviting tragedy back into my life.
*
During this period, I also wrote a short story called "The Missing" that was about a father's inability to face his wife's pregnancy with their third child after their second turned blue in the delivery room and almost died in his arms. More recently, I wrote a new short story called "Everything She Could See Would Be Blue" that tells the same story, but from the perspective of the mother as she faces her obsession with the color blue. One summer day, she inexplicably begins a project to paint her home. She picks a deep blue color as a way to make the outside world mirror her perception of it, as everything she sees reminds of her trauma.
I didn't set out to write any of these stories the way they are. Every time I started to write something, the story merely came out blue.
*
I never really believed in the idea of writing as therapy. My stories kept returning to the idea of seeing blue, though I never thought the obsession made me feel better. But these stories did seem to help a little. Our NICU story always seemed to pop out at odd times—while at a steakhouse in San Salvador with a buddy, on the back patio at an MFA party. It got a little old, even for me, especially for me, to be that person. After writing "The Missing" and In Our Other Lives, our NICU story didn't bubble up so often. I thought I'd exhausted the story—fighting those feelings, the shame, the shock, so often that I didn't need to fight them anymore.
So it was strange, in the last year, Cee now seven years old, to have blue babies pop up again in my work; that blue feeling linked so viscerally to when Cee was born. I can see those fat cheeks, her rising and falling chest as I held her for the first time, the three of us alone in the room. And how blue crept into the rose color of her chest. How blue spread across her cheeks, then disappeared below the rosiness, below the perfect, fat cheeks.
*
The first meaningful story I wrote down, in high school, took the form of a poem that addressed the death of my cousin Justin. He asphyxiated during an asthma attack when he was eleven. In college, that poem turned into a short story that became one of my first published works. The story follows a boy who imagines the procedure of his half-brother asphyxiating during an asthma attack. There were blue stitches in the boy's scalp as he lay in the casket; the tile of the boy's swimming pool was blue; the plastic cartridge of his asthma vaporizer was blue.
Most of my young adult life I told and retold Justin's story, so it seems inexplicable that it took me so long to appreciate how much the memory his death must have contributed to my panic when Cee went blue in my arms. For years I was convinced that I shouldn't become a father, for the fear that one of my children could die in my arms. No wonder that moment, when it was happening to Cee, was so devastating.
*
All of this is still baffling to comprehend. Cee is such a healthy kid, and we almost lost her in the first hour of her life. Her turning blue was just a hiccup, really, in the story of her life.
*
It's possible I will only ever write one story again—if this latest variation on the theme isn't the last one—and that every story I write will, in some way, be blue.
It's natural to take stock, then, to wonder what all the words add up to. Writers often talk about their personal lives as an oppositional force to creative work—which is a shitty way to think, of course—though we must also hope that writing gives more to our lives than it takes.
My blue stories can't change what happened, but there is some benefit in telling the story. Like shell-shocked parents confessing the details of their time in a NICU as a way to say they're sorry for the way things happened, and humbled, and grateful, perhaps, if things turned out well, like they did for Cee.
__________________________________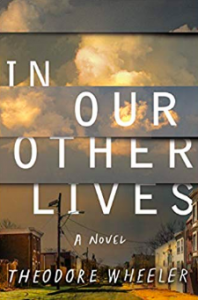 In Our Other Lives by Theodore Wheeler is available now via Little A. 
---