Writer's Block? Maggie Shipstead Befriends It Instead of Fighting It
The Author of Great Circle Takes the Lit Hub Questionnaire
Great Circleby Maggie Shipstead is now available.
* 
What time of day do you write, and why?
In pre-COVID times, I usually wrote in the morning because I would bribe myself with coffee. I'd be like, okay, self, you can go out and get a giant iced latte, but you have to take your computer with you and do work. There's a cafe in my neighborhood that's weirdly enormous and cavernous and always over-decorated for every holiday, and I'd go sit there for a few hours. I hadn't really realized how stimulating I found that simple change in environment and the background activity of other people until it wasn't possible to access anymore. At home this past year I've been more likely to write in the afternoon because I've been letting the morning get swallowed up by email and random tasks. But I'd like to get back to morning writing because I think my mind's more clear then. When I was younger, I used to write at night, but now that just seems like torture.
How do you tackle writers' block?
I tend to think of writers' block as a symptom of something being off in my work, and I take it as a signal to step back and reconsider what I'm doing. If I'm struggling to start something new, feeling blocked, for me, usually means I don't have enough to go on. I usually need at least two ideas to get going, and that might be two plot elements, or it might be a voice and a plot element, or it might be two voices, etc. If I'm feeling stuck mid-project, I have to figure out what's gunking up the works.
For example, if I don't know what should happen next, it might mean that what's already happened isn't driving the action (be that physically or emotional) forward in quite the way it should. Or it might be time for a change in point of view because I've come to the limit of what my current POV can do for the story. Or sometimes the structure is off and isn't supporting the story properly. There are times, too, when I'm not really blocked in terms of not being able to write but have a red light flashing that what I'm doing isn't working. Sometimes I ignore the light and forge ahead, and that's always a mistake. So writers' block can be your friend.
Which books do you return to again and again?
This question is sort of project-specific because I always try to have books on my desk that share some sort of tone or spirit with what I'm working on. I dip into them when I need to find my groove. For Great Circle, some of the books I cycled through were Life After Life by Kate Atkinson, The Signature of All Things by Elizabeth Gilbert, Veronica by Mary Gaitskill, On Beauty by Zadie Smith, and Pachinko by Min Jin Lee. When I was writing in present tense, I'd also add Wolf Hall by Hilary Mantel to the rotation. Possession by A.S. Byatt is a book that I re-read parts of on an infinite loop and that has plenty of other parts I'll never read again. (I learned from that book that I can love a book deeply even if my love isn't dispersed evenly across the whole.) I like to open Alice Munro's Collected Stories at random and fall in. I've read Americanah by Chimamanda Adichie three or four times. Pride & Prejudice. I guess I re-read love stories? That makes me seem like more of a romantic than I am.
What's the best writing advice you've ever received?
I was a Stegner Fellow at Stanford from 2009-2011, and my teacher Elizabeth Tallent told our workshop to follow the interest in fiction. Like, think about the most interesting thing that could happen, and follow it. This is such a simple idea on the surface and yet so helpful. Part of the reason it's helpful is because it helps open up your thinking, not close it off. It's about possibility rather than avoiding making mistakes. And I know I'm not the only one who still thinks about what Elizabeth said: I just did a bookstore in-conversation with my friend Kirstin Valdez Quade, who was in that workshop, and she mentioned the same piece of advice. Interest is the right word, too. Because it's not "do the wildest, zaniest possible thing" or "be as high-drama as possible." Like having purple dinosaurs suddenly fall from the sky isn't, in fact, interesting. The question is, what excites your mind? What holds your attention? I don't think a lot about readers when I'm writing, but asking myself about interest is also a way of getting outside myself a little bit.
Name a classic you feel guilty about never having read, and why?
I had lunch with my editor, Jordan Pavlin, not long after she bought Great Circle in 2018, and she is a huge Russian literature-head and absolutely insisted I read War and Peace. Have I? No. I bought it, so that's something. And I like long Russian novels, but somehow the time has just never been right. I will read it, though. I definitely, definitely will, very soon.
__________________________________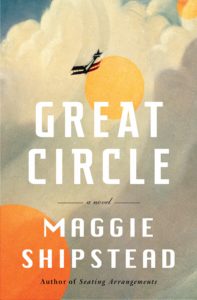 Great Circle by Maggie Shipstead is available now from Knopf. 
---