Women Write Now: Imbolo Mbue, Patricia Lockwood, and Anna Wiener
Questions (and Answers) From the First Kimpton Hotels Book Club and Lending Program
In a partnership with Kimpton Hotels & Restaurants Lit Hub is curating a book club and lending program for travelers based on seasonal themes. Our spring reading list, Women Write Now, featured three of our favorite writers, Patricia Lockwood, Imbolo Mbue, and Anna Weiner. In their own way, these brilliant contemporary writers confront topics like race and freedom, family obligations and crises, expectations for women, and the highs and lows of internet culture. The next Kimpton Book Club series will be announced on June 3.
*
Imbolo Mbue, How Beautiful We Were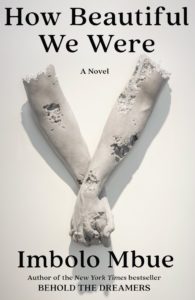 What time of day do you write?
I generally do my best writing in the morning, which is when my brain is often at its sharpest.
What's the best writing advice you've ever received?
Before I was published, my worked was rejected by dozens of literary agents. The ones who took the time to offer me advice alongside their rejection had pretty much the same advice: Keep writing. I did.
Where do you find you get the most writing done? Do you have any favorite writing locations?
I write at home—in the kitchen, living room, outdoor space, wherever works at the moment. I haven't done much writing outside of my home.
What are the challenges—and rewards—of writing a polyphonic novel, especially one that uses a collective voice?
It was a most rewarding experience since the plural voice allowed me to really get to the heart of the community and show all what was worth fighting for.
How relevant are the petro-politics of early 1990s Nigeria to present-day America?
The novel was inspired in part by stories of environmental degradation happening all over the world—oil-related or otherwise—and the sacrifices made by those who believe that every human has the right to live in a clean environment.
*
Patricia Lockwood, No One is Talking About This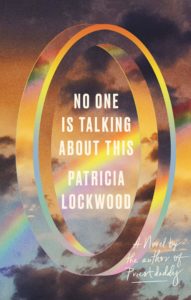 What time of day do you write?
I write early so that I can put the "caffeine explosion" that I subject my body to every morning, and which is probably killing me, to good use. I hop out of bed at 8am, chug an Ethan's Organic Energy in a single gulp, do the AHHHHHH sound and wipe my mouth, and then type like the dictionary is chasing me.
What was the first book you fell in love with?
The Tale of Benjamin Bunny. Benjamin was awful. He stole onions. He got whipped. In retrospect, he had bad ADD. He got trapped under a cat for five hours, which has also been my life. The illustrations were extraordinarily real to me—when I read the book now, I can still feel those drawings of carrots between my two front teeth.
Name a classic you feel guilty about never having read?
I gotta read Ulysses, man. I've made too many James Joyce fart jokes in my life not to have read Ulysses. It's disrespectful at this point. I do it in this book. Beyond that, I don't feel guilt about not reading the classics—I feel eagerness and a sense of comfort; they're still there waiting for me. I'm allowed a little more idiosyncrasy than other writers (and certainly critics) because I never went to college or grad school, and therefore never had that experience where I had to cry my way slowly through Silas Marner over the course of an entire semester. Stop marning, Silas. God and George Eliot wanted you to be unhappy.
Literature has been slow to meaningfully—or artfully—engage with the internet. Why do you think that is, and what do you think books can or cannot capture about the way we live (online) now?
I think it's because it seemed frivolous for a long time, like a hamburger phone. What kind of conversations were happening on that thing? Probably not important ones. It embarrassed us, and we kind of had the feeling that it was just going to fade out with no fanfare at some point, instead of gathering strength with every passing year and eventually bringing about the apocalypse, ha ha! I did become interested in this phenomenon while I was writing—novels were pretty quick to incorporate telephones, because they're so useful in delivering us to the next stage of the plot.
But the majority of what happens on the internet is ephemeral, belonging to the millisecond rather than the moment. It did not seem to further the plot of the world at all, until it did, and I do think that's why you're seeing it more as a primary subject now. And books about the internet will fail to capture the same thing all books fail to capture—not just the full dimensions of a moment as it happens, but all its possibilities, the different futures that branch out from it in every direction and somehow make up our sphere.
Given the Paris Review's silence on the issue, are there any cities you would like to review?
I still haven't been to Paris! So that would be my choice. In springtime, so things would be at their most beautiful when I marry the Eiffel Tower.
*
Anna Wiener, Uncanny Valley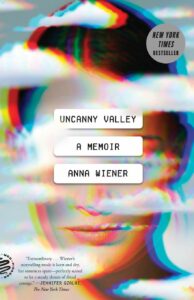 What time of day do you write?
Slight preference for late night/very early morning. It's a time with very few outside expectations.
How do you tackle writer's block?
I relocate my body and read someone else's work for a while.
What's the best writing advice you've ever received?
No "best" advice—advice, even of the writing variety, is usually so contextual—but an editor and friend once gently told me to "stop hedging." In other words: say what you mean; say it clearly; stop apologizing for saying it.
You've written that when you worked in tech in San Francisco, "people used a sort of nonlanguage, which was neither beautiful nor especially efficient: a mash-up of business-speak with athletic and wartime metaphors, inflated with self-importance." How do you relate to this kind of language as a writer, and does it present any challenges while reporting on the tech industry?
I have a grudging affection for jargon. Business jargon is often absurd and alienating and nonsensical, but I find it very interesting to watch people contort or manipulate language as a form of adaptation. It does not present challenges in my reporting, no; it's just another layer of detail to pay attention to and try to follow.
Toward the end of Uncanny Valley—which takes place as the Trump administration begins—you describe thinking that Silicon Valley would soon experience an end to "an unsustainable age of excess." Did this end come to pass? How has the mood of the tech industry changed since then, if at all?
No; that was a complete misdiagnosis on my part. (Forecasting: usually a losing game.) The mood of the industry is hard to capture, as I think there's a lot of variation among employees, contractors, executives, founders, venture capitalists, etc.—and the pandemic turned a lot of things upside-down. There has been a lot more criticism of the industry since the 2016 presidential election; I think some have grown defensive and aggrieved, and others have been emboldened to push for change.
To celebrate our partnership with Kimpton, enjoy 20% off their Best Available Rate. Cozy up in your hotel room with one of our seasonal book recommendations, or venture out on a book lovers' travel itinerary.
---