Will Smith Should've Been Our Rom-Com Hero
Scott Meslow on the Cost of Hollywood's Institutional Racism
To understand just how big a deal it was when Will Smith starred in a romantic comedy, you need to start with the poster. The poster for 2005's Hitch does not feature his love interest, Eva Mendes. It does not feature his costar, Kevin James. It's just Will Smith, grinning straight at the camera as he stands at the center of an off-white void. That is not a lot of information about the movie—but it was more than enough for moviegoers around the world, who drove Hitch to a whopping $371 million gross worldwide.
At the time Hitch hit theaters, Smith had been on a years-long run of action movies, from the sequels to Bad Boys and Men in Black to an extremely unfaithful adaptation of Isaac Asimov's I, Robot, which doubled as a feature-length commercial for Converse sneakers. It would not have been unreasonable for audiences at the time to assume Hitch was an action-comedy starring Smith as a wisecracking hero who saves the world from aliens and/or robots.
Instead, Hitch casts Smith as Alex "Hitch" Hitchens, a professional "date doctor" who coaches men on how they can successfully woo the women of their dreams. His opening monologue is about how women who reject men are just lying to themselves. The script wisely includes an entire subplot designed to reassure the audience that Hitch, a true believer in romance, is not just making money by helping sleazy guys manipulate women into one-night stands. But in the wrong hands, Hitch would not be that far removed from the story of a real-life pickup artist like Erik von Markovik, aka "Mystery," who earned money and fame by teaching men "dating tactics" like insulting women to break down their self-esteem and make them easier to manipulate into sex.
If the question that led to Hitch was "Why hasn't Will Smith starred in a rom-com before?" the question it left behind is: Why didn't he ever star in one again?
Hitch does not feel like a sleazy paean to pickup artists, and you can lay much of the credit for that on Will Smith. Movie stars like Smith are rarely given the chance to be vulnerable, let alone uncool. The fun of Hitch is watching someone with as much natural charisma as Smith become a clumsy, tongue-tied moron whenever Eva Mendes is around.
Audiences around the world loved this version of Smith, and the movie handily outgrossed both Bad Boys 2 and I, Robot. Even in an era where sequels to rom-coms were much less common, Hitch must have looked like a possible franchise starter to Sony. And the creative team behind the movie was certainly game for more. There have been no fewer than three failed attempts to adapt Hitch into a TV series. As recently as 2020, Eva Mendes was trying to drum up hype for a Hitch sequel in which the Date Doctor, put out of business by apps like Tinder and Hinge, has to find a new way to get his mojo back. And director Andy Tennant confirms that ideas for a sequel were kicked around, only for Smith himself to shoot them down: "For whatever reason, it just wasn't something Will needed or wanted to revisit."
So if the question that led to Hitch was "Why hasn't Will Smith starred in a rom-com before?" the question it left behind is: Why didn't he ever star in one again?
Studios wouldn't treat Smith the way they'd treated Mel Gibson with What Women Want, or Tom Cruise with Jerry Maguire.
One possible answer came in a promotional interview Smith did while promoting Hitch, in which he revealed that Sony had been opposed to casting a white woman as his love interest—a racist decision that was made, cynically, because the studio wanted to be sure that racism wouldn't dent the film at the box office. "There's sort of an accepted myth that if you have two black actors, a male and a female, in the lead of a romantic comedy, that people around the world don't want to see it," said Smith. "We spend $50-something million making this movie and the studio would think that was tough on their investment. So the idea of a black actor and a white actress comes up—that'll work around the world, but it's a problem in the US."
In a separate interview, Smith elaborated on the strange paradox of being a Black movie star in an industry and a genre that defaults to whiteness: Casting him opposite a white love interest might be acceptable, à la Sidney Poitier and Katharine Houghton in Stanley Kramer's Guess Who's Coming to Dinner—on the condition that the movie's plot was solely focused on the nature of interracial relationships. "Hollywood is happy to do it if the film is about racism," says Smith.
It's no knock on Eva Mendes's performance in Hitch to note that the studio's "compromise" on the movie's casting—that a Black man could date a Latina woman, but not a white one—is completely insane. It also erected a wall between Smith and the other crossover superstars of the era. Studios wouldn't treat Smith the way they'd treated Mel Gibson with What Women Want, or Tom Cruise with Jerry Maguire. Even one of the biggest and most bankable movie stars in the world found himself hemmed in by standards that persist, in part, because Hollywood itself won't release the movies that might change them.
If you're going to do the math on what institutional racism in Hollywood has cost us, you can't just factor in the movies that exist; you have to think about the movies we never got to see. It is maddening to imagine what Will Smith's career might have looked like in an industry that wasn't burdened with so much implicit and explicit racism, and it's not just the rom-com genre that has taken the hit. When it was suggested that Bridget Moynahan might play his love interest in I, Robot, that was "definitely an issue for the studio," Smith says. In another moment of unusual candor, Smith revealed that he was offered the chance to play Superman in 2006 and turned it down over fear of a backlash. "You can't be messing up white people's heroes in Hollywood!" he said. "You mess up white people's heroes in Hollywood, you'll never work in this town again!"
___________________________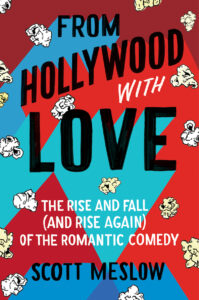 Excerpted from From Hollywood with Love: The Rise and Fall (and Rise Again) of the Romantic Comedy by Scott Mewslow. Reprinted with permission of the publisher, Dey Street Books. Copyright © 2022 by Scott Meslow.
---