Will China's Ever-Growing Digital Firewall Wreck the Internet?
Writing the Playbook for Online Authoritarianism
The calls to join the demonstration went out on WhatsApp and social media. But as thousands of Zimbabweans took to the streets to object to a sharp spike in fuel prices, defying tear gas and a heavy police presence, their accounts went dark.
The internet blackout lasted for over three days, potentially costing the southern African nation millions of dollars in lost economic activity. Asked by CNN why the government had ordered the blackout, the country's deputy information minister was straight to the point: "Protesters (were) organizing via the internet."
Governments across the world are becoming increasingly uneasy with how their citizens are behaving online, from spreading fake news, to organizing protests and encouraging dissent, and hacking and spying on each other.
Sometimes these concerns are highly justified. In India, multiple mob lynchings have been connected to misinformation spread widely on WhatsApp, prompting Facebook to limit the amount of people a message can be shared with as it faces intense pressure from Indian lawmakers.
Like many of their counterparts around the world however, Indian lawmakers appear to be using well-founded skepticism over the role of companies like Facebook to stage a power grab over the country's internet.
In February, ministers put forward new guidelines that would give them broad powers to censor and ban content online, including anything that "threatens the unity, integrity, defence, security or sovereignty of India, friendly relations with foreign states, or public order, or causes incitement to the commission of any cognisable offence or prevents investigation of any offence or is insulting any other nation."
Under the proposed rules, internet companies operating in India would have to automatically block "unlawful information or content" from appearing to users in the country.
A similar case unfolded in Fiji, where the government of the Pacific nation rammed through a law supposedly designed to clamp down on revenge porn which critics said was a thinly-disguised attempt to censor the internet.
In a submission to the Indian government on the new law, the Centre for Internet and Society warned that it was overly vague and open to abuse. It added that several provisions would appear to contravene constitutional free speech protections.
"The proposed changes have an authoritarian bent," Apar Gupta, executive director of the Internet Freedom Foundation, told the New York Times. "This is very similar to what China does to its citizens, where it polices their every move and tracks their every post on social media."
China was once something of a global pariah when it came to internet policy. The Great Firewall—the colossal censorship and surveillance apparatus—was seen as anathema to the values of the internet, if not even to the working of the technology itself, which one early evangelist promised would "route around censorship."
The Great Firewall has defied its critics, and the open internet has increasingly become a thing of the past, assailed on all sides by the walled gardens of Silicon Valley tech giants, and panics over fake news, influence campaigns and cybersecurity fueled by the media and opportunistic politicians.
For many years, the Great Firewall has served as a shining light to authoritarians everywhere, a proof of concept that the internet can be controlled. Recently, China's censors have taken this a step further, actively working with other countries to help them build up their own surveillance and censorship capabilities.
Governments across the world are becoming increasingly uneasy with how their citizens are behaving online.
We've seen this in Russia, where the Kremlin has reigned in the country's once free-wheeling and chaotic web and adopted China's doctrine of cyber sovereignty, the pro-censorious theoretical backbone of the Great Firewall. Across Africa, Beijing's allies have shut down their internets and introduced restrictions on how citizens behave online.
According to Freedom House, a US-government funded think tank, dozens of countries have bought telecoms infrastructure, AI surveillance tools, and attended or hosted trainings by Chinese censors and propaganda experts.
"These trends present an existential threat to the future of the open internet and prospects for greater democracy around the globe," the report said.
What makes this especially concerning is that the shift towards digital authoritarianism comes as the case for a free and open internet is at its weakest point in years, undermined by the repeated abuses of the tech giants who run our lives and revelations of government and private surveillance.
The risk is that, in attempting to address the very real problems with surveillance capitalism, governments do so in a way that empowers themselves rather than users.
Giving users a voice and power over platforms will not be easy, it will almost certainly require government intervention, which brings with it another set of risks. Facebook, Google, and other firms are unlikely to volunteer to undergo this type of disruption, which would fundamentally change how they operate.
As journalist Mark Scott has written, "tough calls will have to be made between free speech and online safety, and elected officials, not opaque tech companies, must be the ones to judge what content crosses the line. If you're going to censor the web, you better make sure those doing so are accountable to voters."
Most likely, a new, user focused, democratic, and transparent internet will have to be built from the ground up. As technologists Ben Tarnoff and Moira Weigel have argued, "this means developing publicly and co-operatively owned alternatives that empower workers, users and citizens to determine how they are run. These democratic digital structures can focus on serving personal and social needs rather than piling up profits for investors."
We are at a pivotal moment in internet history.
There are currently two major visions for how the technology should work: the libertarian, "information wants to be free" fantasy, which enabled the growth of huge tech monopolies which abuse our data, control our expression, and endanger our privacy; and the hyper controlled Chinese model, where the state acts as the ultimate arbiter of what can and should be said, for our own good and its perpetual power.
True change will only come when we develop an alternative vision, one of a user-controlled, transparent, and democratic internet built around the technology's original promises—of freedom, education, and international solidarity—not the pursuit of profit or top down control.
__________________________________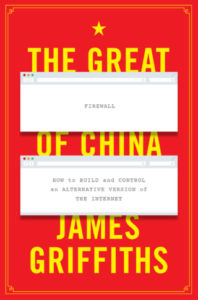 The following is an adapted excerpt from James Griffiths' book The Great Firewall of China: How to Build and Control an Alternative Version of the Internet. Used with the permission of Zed Books. Copyright © 2019. 
---