Wil Haygood on Beloved, The Power Broker, and To Kill a Mockingbird
Rapid-fire book recs from the author of Colorization

Welcome to the Book Marks Questionnaire, where we ask authors questions about the books that have shaped them.
This week, we spoke to the author of Colorization: One Hundred Years of Black Films in a White World, Wil Haygood.
*
Book Marks: First book you loved?
Will Haygood: Rockin' Steady: A Guide to Basketball & Cool by Walt Frazier.
BM: Favorite re-read?
WH: Arna Bontemps-Langston Hughes Letters, 1925-1967, Edited by Charles H. Nichols.
BM: What book do you think your book is most in conversation with?
WH: Caste: The Origins of Our Discontents by Isabel Wilkerson.
BM: A book that blew your mind?
WH: The Power Broker by Robert A. Caro.
BM: Last book you read?
WH: Razorback Tears by S. A. Cosby.
BM: What book from the past year would you like to give a shout out to?
WH: Begin Again: James Baldwin's America and Its Urgent Lessons for Our Own by Eddie S. Glaude Jr.
BM: A book that made you laugh out loud?
WH: Deacon King Kong by James McBride.
BM: A book that made you cry?
WH: I Know Why the Caged Bird Sings by Maya Angelou.
BM: Book you wish you'd read as a teenager?
WH: To Kill a Mockingbird by Harper Lee.
BM: Favorite book to give as a gift?
WH: Beloved by Toni Morrison.
BM: Book you wish would be adapted for a film/tv show?
WH: Winchell: Gossip, Power and the Culture of Celebrity by Neal Gabler.
*
Will Haygood is the author of Tigerland, which was a finalist for the Dayton Literary Peace Prize; Showdown, a finalist for an NAACP Image Award; In Black and White; and The Butler, which was made into a film directed by Lee Daniels. He has been a correspondent for The Washington Post and The Boston Globe, where he was a Pulitzer finalist. Haygood is a Guggenheim and National Endowment for the Humanities Fellow, and is currently Boadway Visiting Distinguished Scholar at Miami University in Oxford, Ohio.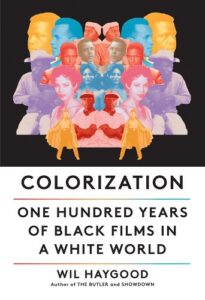 Wil Haygood's Colorization is out on October 19 from Knopf
*
---