I Rethink, Therefore I Am: On the Importance of Second Opinions
Adam Grant: "Outdated facts are mental fossils that are best abandoned."
With advances in access to information and technology, knowledge isn't just increasing. It's increasing at an increasing rate. In 2011, you consumed about five times as much information per day as you would have just a quarter-century earlier. As of 1950, it took about 50 years for knowledge in medicine to double. By 1980, medical knowledge was doubling every seven years, and by 2010, it was doubling in half that time. The accelerating pace of change means that we need to question our beliefs more readily than ever before.
This is not an easy task. As we sit with our beliefs, they tend to become more extreme and more entrenched. I'm still struggling to accept that Pluto may not be a planet. In education, after revelations in history and revolutions in science, it often takes years for a curriculum to be updated and textbooks to be revised. Researchers have recently discovered that we need to rethink widely accepted assumptions about such subjects as Cleopatra's roots (her father was Greek, not Egyptian, and her mother's identity is unknown); the appearance of dinosaurs (paleontologists now think some tyrannosaurs had colorful feathers on their backs); and what's required for sight (blind people have actually trained themselves to "see"—sound waves can activate the visual cortex and create representations in the mind's eye, much like how echolocation helps bats navigate in the dark). Vintage records, classic cars, and antique clocks might be valuable collectibles, but outdated facts are mental fossils that are best abandoned.
We're swift to recognize when other people need to think again. We question the judgment of experts whenever we seek out a second opinion on a medical diagnosis. Unfortunately, when it comes to our own knowledge and opinions, we often favor feeling right over being right. In everyday life, we make many diagnoses of our own, ranging from whom we hire to whom we marry. We need to develop the habit of forming our own second opinions.
Imagine you have a family friend who's a financial adviser, and he recommends investing in a retirement fund that isn't in your employer's plan. You have another friend who's fairly knowledgeable about investing, and he tells you that this fund is risky. What would you do?
Vintage records, classic cars, and antique clocks might be valuable collectibles, but outdated facts are mental fossils that are best abandoned.
When a man named Stephen Greenspan found himself in that situation, he decided to weigh his skeptical friend's warning against the data available. His sister had been investing in the fund for several years, and she was pleased with the results. A number of her friends had been, too; although the returns weren't extraordinary, they were consistently in the double digits. The financial adviser was enough of a believer that he had invested his own money in the fund. Armed with that information, Greenspan decided to go forward. He made a bold move, investing nearly a third of his retirement savings in the fund. Before long, he learned that his portfolio had grown by 25 percent.
Then he lost it all overnight when the fund collapsed. It was the Ponzi scheme managed by Bernie Madoff.
Two decades ago my colleague Phil Tetlock discovered something peculiar. As we think and talk, we often slip into the mindsets of three different professions: preachers, prosecutors, and politicians. In each of these modes, we take on a particular identity and use a distinct set of tools. We go into preacher mode when our sacred beliefs are in jeopardy: we deliver sermons to protect and promote our ideals. We enter prosecutor mode when we recognize flaws in other people's reasoning: we marshal arguments to prove them wrong and win our case. We shift into politician mode when we're seeking to win over an audience: we campaign and lobby for the approval of our constituents. The risk is that we become so wrapped up in preaching that we're right, prosecuting others who are wrong, and politicking for support that we don't bother to rethink our own views.
When Stephen Greenspan and his sister made the choice to invest with Bernie Madoff, it wasn't because they relied on just one of those mental tools. All three modes together contributed to their ill‑fated decision. When his sister told him about the money she and her friends had made, she was preaching about the merits of the fund. Her confidence led Greenspan to prosecute the friend who warned him against investing, deeming the friend guilty of "knee‑jerk cynicism." Greenspan was in politician mode when he let his desire for approval sway him toward a yes—the financial adviser was a family friend whom he liked and wanted to please.
Any of us could have fallen into those traps. Greenspan says that he should've known better, though, because he happens to be an expert on gullibility. When he decided to go ahead with the investment, he had almost finished writing a book on why we get duped. Looking back, he wishes he had approached the decision with a different set of tools. He might have analyzed the fund's strategy more systematically instead of simply trusting in the results. He could have sought out more perspectives from credible sources. He would have experimented with investing smaller amounts over a longer period of time before gambling so much of his life's savings.
That would have put him in the mode of a scientist.
If you're a scientist by trade, rethinking is fundamental to your profession. You're paid to be constantly aware of the limits of your understanding. You're expected to doubt what you know, be curious about what you don't know, and update your views based on new data. In the past century alone, the application of scientific principles has led to dramatic progress. Biological scientists discovered penicillin. Rocket scientists sent us to the moon. Computer scientists built the internet.
But being a scientist is not just a profession. It's a frame of mind—a mode of thinking that differs from preaching, prosecuting, and politicking. We move into scientist mode when we're searching for the truth: we run experiments to test hypotheses and discover knowledge. Scientific tools aren't reserved for people with white coats and beakers, and using them doesn't require toiling away for years with a microscope and a petri dish. Hypotheses have as much of a place in our lives as they do in the lab. Experiments can inform our daily decisions. That makes me wonder: is it possible to train people in other fields to think more like scientists, and if so, do they end up making smarter choices?
Recently, a quartet of European researchers decided to find out. They ran a bold experiment with more than a hundred founders of Italian startups in technology, retail, furniture, food, health care, leisure, and machinery. Most of the founders' businesses had yet to bring in any revenue, making it an ideal setting to investigate how teaching scientific thinking would influence the bottom line.
Is it possible to train people in other fields to think more like scientists, and if so, do they end up making smarter choices?
The entrepreneurs arrived in Milan for a training program in entrepreneurship. Over the course of four months, they learned to create a business strategy, interview customers, build a minimum viable product, and then refine a prototype. What they didn't know was that they'd been randomly assigned to either a "scientific thinking" group or a control group. The training for both groups was identical, except that one was encouraged to view startups through a scientist's goggles. From that perspective, their strategy is a theory, customer interviews help to develop hypotheses, and their minimum viable product and prototype are experiments to test those hypotheses. Their task is to rigorously measure the results and make decisions based on whether their hypotheses are supported or refuted.
Over the following year, the startups in the control group averaged under $300 in revenue. The startups in the scientific thinking group averaged over $12,000 in revenue. They brought in revenue more than twice as fast—and attracted customers sooner, too. Why? The entrepreneurs in the control group tended to stay wedded to their original strategies and products. It was too easy to preach the virtues of their past decisions, prosecute the vices of alternative options, and politick by catering to advisers who favored the existing direction. The entrepreneurs who had been taught to think like scientists, in contrast, pivoted more than twice as often. When their hypotheses weren't supported, they knew it was time to rethink their business models.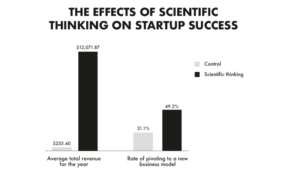 What's surprising about these results is that we typically celebrate great entrepreneurs and leaders for being strong‑minded and clear‑sighted. They're supposed to be paragons of conviction: decisive and certain. Yet evidence reveals that when business executives compete in tournaments to price products, the best strategists are actually slow and unsure. Like careful scientists, they take their time so they have the flexibility to change their minds. I'm beginning to think decisiveness is overrated… but I reserve the right to change my mind.
Just as you don't have to be a professional scientist to reason like one, being a professional scientist doesn't guarantee that someone will use the tools of their training. Scientists morph into preachers when they present their pet theories as gospel and treat thoughtful critiques as sacrilege. They veer into politician terrain when they allow their views to be swayed by popularity rather than accuracy. They enter prosecutor mode when they're hell‑bent on debunking and discrediting rather than discovering. After upending physics with his theories of relativity, Einstein opposed the quantum revolution: "To punish me for my contempt of authority, Fate has made me an authority myself." Sometimes even great scientists need to think more like scientists.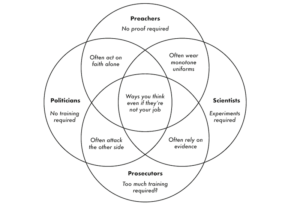 __________________________________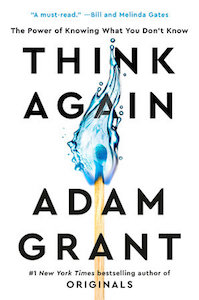 Excerpted from Think Again: The Power of Knowing What You Don't Know by Adam Grant. Used with the permission of the publisher, Viking, an imprint of Penguin Publishing Group, a division of Penguin Random House, LLC. Copyright 2021 by Adam Grant.
---