Why You Should Hate Football (But Will Watch It Anyway)
12 Books to Explain a Nation's Obsessions
On Sundays I enjoy watching football. Enjoy, probably, is the wrong word. If the Patriots are playing at 1pm, I wake up early, at around 7am, to check the latest injury reports, then steel myself with several cups of coffee for what I expect will be, at the very least, eight hours of pre-, in- and post-game coverage. It's a routine. My wife enjoys bits and pieces of it, too, though so far she's proven immune to Chris Collinsworth's charms and tends to withdraw just as the 8:30 game hits its stride.
All that said, I don't consider myself an especially cruel or bloodthirsty person.
I keep up with the news and am aware that football is an annihilating and gladiatorial pastime. I ought to quit it, not that it would matter much to the millionaires who play or the billionaires who own and operate the game, but then again my conscience would be clearer, and I could spend my Sundays supporting the millionaires and billionaires who put on the English Premier League game of the week, or else I could take up a purer hobby, like orienteering or maybe taxidermy.
Fortunately I was raised among Catholics and learned to accept the ongoing presence of sin in my actions and inclinations. The key is to feel sorry and perform acts of atonement, either before or after the sin, or both, depending on severity and schedule. I'm making light of serious things here. That, too, is wrong. Former players are dying. Wives are being beaten and killed. Women are being harassed. Brains are calcifying, lesions spreading. Dan Snyder is wealthy and without shame.
I really do feel sorry. But come Sunday, I'll watch.
Before each season starts, I try to inform myself as thoroughly as possible, following the Jesuitical approach, which holds that any decent penance requires first learning as much as you reasonably can about your particular brand of disgraceful conduct.
And so I've gotten acquainted with the recent literature. There are hard-hitting, researched accounts of brain damage, rape, financial abuse, and institutional racism. And then there are the books that help explain the game, which has become, in the past decade, almost impossibly sophisticated—the purpose of reading those volumes, or my purpose anyway, isn't to justify or excuse or sugarcoat anything. I only want to understand what it is I'm feeling guilty about. If the book is pleasant to read, and has something nice to say about Tom Brady, I don't see the harm in that. Finally, there's the fiction, which, like the tales of Dante or Blake or JK Rowling, is able to wade further and more intensely into private hells than nonfiction ever can.
For the start of the new football season: a dozen books to guide your penance.
With any luck, this time next year we'll all of us be free of this goddamn burden.
First, look evil in the eye…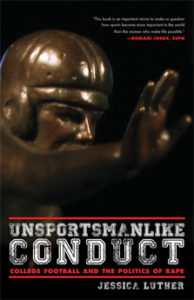 Jessica Luther, Unsportsmanlike Conduct
Jessica Luther's reporting on scandals at Baylor, Vanderbilt, and Tennessee is indispensable to understanding the most explosive, damning story in sports today: the propagation of rape culture in college football. The institutions have failed us all. Rather than teaching young men something about morals, decency and lawfulness, universities have circled the wagons to protect the assailants. Luther's new book, Unsportsmanlike Conduct, addresses the problem head on. It's the latest release from Dave Zirin's Edge of Sports imprint at Akashic, so you can rest assured no punches are pulled. With any luck we may even start to see substantive reform.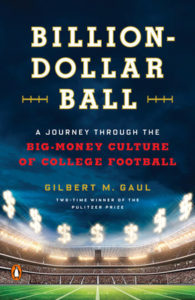 Gilbert Gaul, Billion Dollar Ball
Among the many sports ripe for critique, college football has to be the most deserving target. Its players are vulnerable to the same injuries as pros, but they don't get paid, and when they get injured, they can kiss that scholarship goodbye. Anyone looking to bolster their disdain can look to Gilbert Gaul's Billion Dollar Ball. The Pulitzer Prize winner dives deep into the financials of America's top sports programs and discovers, for example, that the University of Texas' athletic budget now tops $170 million, and the top ten college football outfits in the country bring in three quarters of a billion dollars in yearly revenue, absorbing massive profits, funneling them back into the programs, and paying little to no taxes on any of it. It is, without a doubt, a broken, crony-laden system. Gaul has the paper trail to prove it.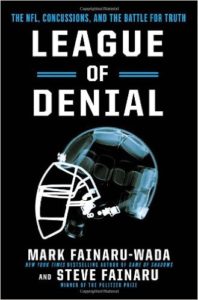 Mark Fainaru-Wada and Steve Fainaru, League of Denial
This is the groundbreaking book that's haunted NFL executives for years. ESPN investigative reporters Mark Fainaru-Wada and Steve Fainaru detail the league's efforts to discredit the science (and the scientists) indicating that football causes lethal brain damage. The comparisons to Big Tobacco are unavoidable. The NFL's response, rather than reform, has been strong-arm tactics. When PBS' Frontline and ESPN made a documentary based on League of Denial, ESPN (home of Monday Night Football) was persuaded to take its name off the project at the last-minute, once again proving just how fundamentally this story terrifies the commissioner's office.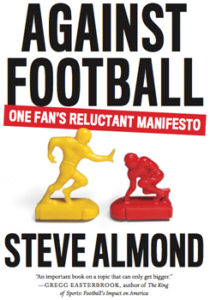 Steve Almond, Against Football
Steve Almond's 2014 book was a cri de coeur from the heart of football fandom. Almond, a lifelong Oakland Raiders fan, breaks down all the reasons why he can no longer abide by the sport, which he sees as a manifestation of "our lust for violence, our racial neuroses, our yearning for patriarchal dominion, our sexual hang-ups." Almond recognizes that most likely he's shouting into the wind. Football will go on as it always has. Fellow fans will write off his concerns as elitist or patronizing. Or more likely they'll never hear about his book in the first place. But that knowledge only adds another layer of pathos and power to Almond's manifesto.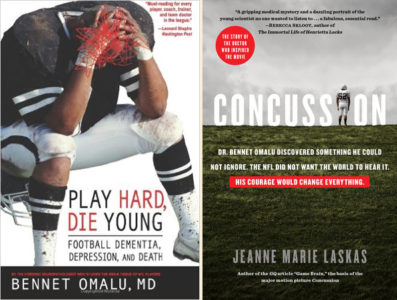 Dr. Bennet Omalu, Play Hard, Die Young
Jeanne Marie Laskas, Concussion
These companion reads tell the story and the science behind Dr. Bennet Omalu's discovery upon examining the brain of the deceased Steeler great, Mike Webster. (Don't let Will Smith's questionable accent work scare you off the source material.) Webster's brain showed indications of lesions caused by repeated trauma, and Omalu went on a crusade to bring his discoveries to the NFL and to the public. In the years since these books were first published, the science of CTE—chronic traumatic encephalopathy—has grown more and more certain. There's no longer any denying (unless you're an NFL exec) that America's most popular sport is corroding its players brains, causing early onset dementia and a spiral into depression and death.
Jesus, there's not really much more to say, is there? We're all of us fans guilty as sin.
Still, you can educate yourself…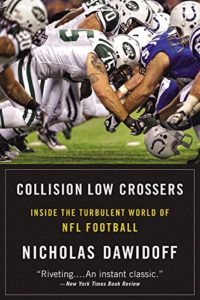 Nicholas Dawidoff, Collision Low Crossers
Far be it for me to praise anything connected to the Jets, that cesspool of the AFC East (New Yorkers, I'm kidding) (fellow New Englanders, you know I'm dead serious)… but Dawidoff's 2013 book breathed new life into an exhausted season-with-the-team genre, giving us the most entertaining, illuminating sports book since the days of George Plimpton. Dawidoff fleshes out the eccentric cast of characters that thrived under coach Rex Ryan. Even more impressively, he explains for the layman the intricacies of the modern game, which, from the outside, can sometimes seem as accessible as rocket science. Dawidoff is steeped in the game's lingo and its geometry, and he has an incredible knack for bringing the beauty of a perfectly executed play off the pages of the playbook and into the readers' imagination. Nobody writing today has had better access, or more wherewithal, than Dawidoff.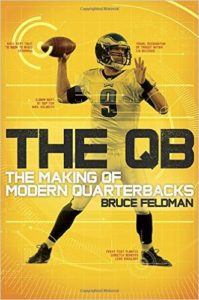 Bruce Feldman, The QB: The Making of Modern Quarterbacks
Quarterback is reputed to be the most difficult position in sports, and in case there's any doubt, Bruce Feldman lays out the complicated calculation and adjustments performed on the fly by modern quarterbacks and examines the system that breeds athletes capable of such dizzying feats. The book's celebration of Johnny Manziel will feel dated to anyone who follows the league, but Feldman's grasp of the position and the industry (the private QB coaches, variously known as "whisperers," "gurus," and a few less complimentary terms) is undeniable. If you've ever watched Russell Wilson scramble and wondered what, exactly, is going through his mind, and what makes his synapses fire differently than yours, this is the book with some answers.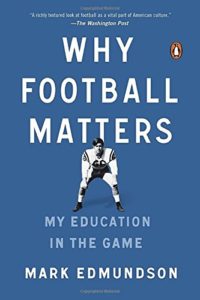 Mark Edmundson, Why Football Matters
Edmundson's 2015 book can be read as a rejoinder, of a kind, to all the negative press football has received in recent years. He hones in on the movements of the game—the discipline they require, the striving for physical perfection they instill in the young men (mostly) who execute them. The book is peppered with learned references to philosophy, but Edmundson is at his best when he's simply describing the action. The question, I suppose, is whether the merits he enumerates can possibly compete with the perfidy Luther, Gaul and others are bringing to light.
And finally, a bit of fiction to expand the scope of your complicity…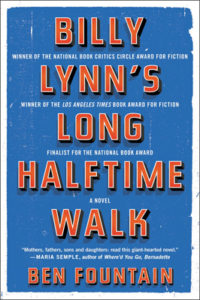 Ben Fountain, Billy Lynn's Long Halftime Walk
There isn't much football played in Billy Lynn's Long Halftime Walk, but the grotesque spectacle is there at every turn—the supercharged stadium, the cheerleaders, the overfed fans, and the martial extravaganza of Cowboy Stadium on a major national holiday. Football, in Fountain's novel, is a bedfellow to war, and this is full on Bush-era imperialism—America as a "a nightmare of superabundance." The members of the so-called "Bravo squad" are whisked through the States on a two-week propaganda tour, culminating in a halftime show at the Thanksgiving Day game, featuring soldiers, cheerleaders, and Destiny's Child. The novel is quintessentially football—brutal and exuberant and impossible to look away from. (Read it now, before it becomes a 'major motion picture' from director Ang Lee.)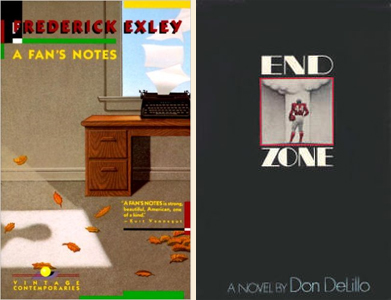 Frederick Exley, A Fan's Notes
Don DeLillo, End Zone
Another two that make interesting companions: one a look at the players, the other at the fan, both conjuring up a dark, hallucinatory vision of America in the second half of the 20th century. In DeLillo's novel, football at a recently integrated West Texas school is a vehicle for meditations on nuclear America and mutually assured destruction. In Exley's "fictional memoir," the game is a stand-in for the American dream, a measure of everything Exley—the lifelong fan, obsessed with Frank Gifford and the Giants—has fallen short of achieving. Read together, they reveal a chilling truth about a game that thrives on, and creates, a kind of oblivion.
---