Why the Left Needs Organized Labor
Raina Lipsitz on the Growing Coalition Between Progressive Americans and Unions
To fight and win, the new left needs more than moral outrage, passionate candidates, and record-breaking protests: it needs powerful, growing, and sustainable organizations. It also needs to help revitalize and forge stronger connections with organized labor—and not just because, as Shana Gallagher speculated, a robust labor movement might have been able to put Sanders in the White House. Marxist academic Adolph Reed Jr.'s 2014 Harper's essay "Nothing Left" is an elegy for the powerful labor movement and once "dynamic" left that existed in the US throughout the twentieth century.
It had since been replaced, Reed argued, with a desiccated and powerless left "infected with electoralitis" and "tethered… to a Democratic Party that has long since renounced its commitment to any sort of redistributive vision." The essay is a lacerating read for leftists, but the final paragraph hints at a path forward. Some on the left claim Obama's election demonstrated their side's appeal: he didn't govern like a leftist, but in some ways he ran as one. But to Reed, Obama's success in presenting himself as "the literal embodiment of an otherwise vaporous progressive politics" was "most fundamentally an expression of the limits of the [US] left."
It was therefore incumbent on the left "to admit that no politically effective force exists and to begin trying to create one." This was, he added, "a long-term effort, and one that requires grounding in a vibrant labor movement. Labor may be weak or in decline, but that means aiding in its rebuilding is the most serious task for the American left."
Rebuilding the US labor movement is a key part of what today's left, particularly DSA, is trying to do. In 2019, the New York Times published a story with a provocative headline: "In New York, the Far Left Is Targeting a Close Ally," which opened: "A group of far-left activists huddled in the basement of a labor union in Manhattan, aiming to upend a Democratic institution that they felt had grown stale." The activists' unlikely "target" was unions, including the Communications Workers of America, which was hosting the meeting. According to the Times: "The plan did not go over well. The union… kicked the activists out."
To fight and win, the new left needs more than moral outrage, passionate candidates, and record-breaking protests: it needs powerful, growing, and sustainable organizations.
In summarizing the conflict, the Times cast DSA in the role of outside agitator: "At its heart, the debate is one between pragmatism and idealism, working within the system versus burning it down." The actual strategy, according to those who pioneered it, is to encourage people to join unions and work from within to pressure leadership to take bolder positions, including standing up to Democratic and Republican officials alike. DSA's stated goal is to strengthen the labor movement, not blow it up.
The "pragmatism vs. idealism" framing was odd and misleading, but it's no surprise that the Times was able to elicit hostile quotes from longtime union leaders by characterizing young organizers' critique as a desire to burn it all down. ("It's the New York Times," DSA national director Maria Svart said of the story, practically rolling her eyes through the phone, "So you have to recognize the class interests that are reflected in that characterization.")
As Jeremy Saunders of VOCAL-NY explained, "This growing left sees labor as its natural allies, but is frustrated by some unions who too often side with those same politics and politicians who refuse to fight for justice." (Noting similar tensions within the Working Families Party, journalist Ross Barkan once wrote of the WFP, which was essentially an arranged "marriage" between organized labor and progressive activists, that the alliance, though deliberate, could at times be strained, since "labor leaders are more accommodating to political power brokers than party activists.")
Among other campaigns, NYC-DSA's labor branch is pursuing a "rank-and-file strategy" of encouraging members to seek union jobs, and work to transform unions from within. NYC-DSA outlined this strategy in detail in a Medium post which noted, "This project is by its nature a multi-year project." On a recent call, one organizer estimated that around 10 percent of DSA members also belong to unions, including but not limited to those in the Movement of Rank and File Educators (MORE), an opposition caucus within the United Federation of Teachers (UFT).
Many leading Democratic politicians initially or always opposed raising the minimum wage to $15 an hour, for example. Randi Weingarten, head of the American Federation of Teachers (AFT), has publicly undermined Medicare for All by suggesting that employer-sponsored private insurance plans can and should coexist alongside a broader public plan. She recently came under fire for working with New York Sen. Chuck Schumer to secure nearly $3 billion in pandemic relief funding for private schools, despite public school advocates' years of resistance to Republican efforts to funnel federal money to private schools. With friends like these, many leftists wonder, who needs enemies?
Michael Kinnucan, an antsy, soft-spoken former electoral organizer with NYC-DSA and popular Facebook political commentator who has since moved to Philadelphia to work as a research analyst for the Service Employees International Union (SEIU), described DSA as "very labor movement-oriented." We were sitting on a bench in Brooklyn's Prospect Park one sunny September afternoon, and he was smoking a cigarette. Since we weren't yet vaccinated against Covid, I asked if he'd be comfortable if I took off my mask. Gesturing at his cigarette, he waved the question away: "Well, I'm giving cancer to everyone around me, so who am I to say?"
Having worked with some of the notoriously conservative building trade unions, Kinnucan has insight into both the new left and the world of old-school, and sometimes reactionary, organized labor. In his view, DSA's stance toward unions "marks a pretty significant shift in the US progressive left." When I noted that the Working Families Party, an organization founded to multiply the power of both by uniting organized labor with leftist organizations, had had mixed results, Kinnucan said: "Union guys, especially in the trades and the Teamsters and so forth, love to say that progressives just don't get them. I've heard a lot more [of that] from that side. No one in DSA thinks, 'Oh, we can just wait for [old, white, conservative union members] to die.'"
Ten years ago, he added, "the attitude of, 'These are old white men' or 'We just don't need to think about or deal with unions' was more prevalent. And I think the changes come from both sides. Every year there are more unions who are sort of realizing, 'We're losing on our own; we have to be in coalition.'"
On the subject of the WFP, Kinnucan added, "There's never been a progressive organization as completely committed to the labor movement as the WFP, and there was a real structural thing there, whereas unions now—the surviving remnants of the great American labor movement are down to the level of private sector organization we had in 1900. [Unions] are surviving to a very large extent through political means rather than through direct action or strike power. So they're very political organizations. They're very, very, very vulnerable to political threats. And there's just not any way that they can pursue an adventurous, edgy electoral strategy. It's a structural fact about the modern labor movement. And that structural fact… leads progressives to be dismissive, and it leads people on the labor side to be even more conservative and transactional than they need to be, because that's the [model that they know]."
Kinnucan sees two versions of DSA's rank-and-file strategy: "The vision of the rank-and-file strategy in its bad, twenty-three-year-old Trotskyist form is, 'We just need to replace those union bureaucrats with socialists and that'll fix it,'" he said. "The vision of the strategy in its good form is, 'These unions are not going to change their political strategy because they get a better political director; unions need to have a stronger, more confident relationship with their base, and for that base to see its self-interest as identified with the self-interest of the broader working class. And that is, first of all and in part, an organizing problem… DSA members who are pursuing the [good] rank-and-file strategy… are not, first of all, about running for office in their union. They're first of all about making the union stronger at its grassroots, so that it can afford to be less transactional at the political director level."
*
Sara Nelson, international president of the Association of Flight Attendants–CWA, AFL-CIO, is, according to the New Republic, the "most powerful labor leader in the country." A compelling speaker and effective negotiator, she embodies precisely the kind of union leadership the new left hopes to foster more of in the coming years. She has become a rising star in the labor movement thanks to her evident passion, energy, and take-no-prisoners demeanor (it doesn't hurt that she's also a blonde with movie-star looks).
She has been outspoken in defense not only of the 50,000 workers she directly represents, but of workers everywhere. She shared her own story of sexual assault in solidarity with those who have experienced the sexual harassment that is rampant in her industry, and she frequently decries racism and xenophobia. She was widely credited with forcing Trump to end a government shutdown in early 2019 by threatening a general strike. She has a warm relationship with Sanders, whom she introduced at an event on the 2016 presidential campaign trail, and she spoke at DSA's 2019 national convention.
Many on the left adore Nelson because, unlike some in the labor movement, she does not see the interests of organized labor as separate and distinct from those of women and people of color. And like her leftist admirers, she is critical of the trade-offs she believes many unions have made in recent decades. "We spent too much time trying to cut deals with the boss or build favor with politicians and too little time organizing members to fight for what we deserve," she baldly declared of union heads at a Chicago DSA dinner.
Labor writer Sarah Jaffe wrote in the Nation that Nelson's "swagger" and "combative language" epitomize the "renewed fighting spirit" of today's labor movement, which has, in Jaffe's telling, "largely come from female workers" like teachers, retail and hotel workers, nurses, and flight attendants, as opposed to the "caricature" of the working class as "white men in hard hats" persistently peddled by Trump and much of the media. In public-sector unions, which gained 132,000 members from 2018 to 2019—despite the Supreme Court's Janus ruling, which was intended to cripple them by cutting off a critical source of revenue—women now outnumber men. The demographic and industrial shifts in organized labor to some extent map onto similar shifts in the Democratic Party.
Shifting demographics in the labor movement may correlate with, but did not cause the rise of an emboldened left in the Democratic Party and American politics at large. Yet it's no accident that women and people of color are leading both.
In media narratives, if not yet in actual power within the party, the Democratic Party's rising stars have gone from white male centrists like Bill Clinton, James Carville, and Rahm Emanuel to socialists and progressives of color like Ocasio-Cortez, Ayanna Pressley, Cori Bush, Ilhan Omar, Rashida Tlaib, and Jamaal Bowman. (Of course, white male centrists still attract fawning press; Secretary of Transportation Pete Buttigieg comes to mind. But despite being the youngest member of Biden's cabinet, Buttigieg is hardly the political rock star Bill Clinton once was, and he does not excite young people the way the Squad does.)
Shifting demographics in the labor movement may correlate with, but did not cause the rise of an emboldened left in the Democratic Party and American politics at large. Yet it's no accident that women and people of color are leading both. The decimation of unions has, by many measures, hit them the hardest. They have borne the brunt of rapidly deteriorating social and economic conditions, stagnant wages, student and medical loan debt, lack of health care, and—since March 2020—a horrifyingly mismanaged public health crisis that forced millions to combine full-time work with full-time child care and supervision of their children's educations.
Groups like Justice Democrats, Sunrise, Indivisible, and DSA are led or jointly led by women, and they operate campaigns—for example, to cancel rent and abolish student and medical debt—that would benefit women and people of color most of all. These groups also deliberately and primarily recruit and support candidates who are women and people of color.
This is partly ideological; many on the new left believe that, in the words of Ayanna Pressley, "The people closest to the pain should be the closest to the power." And it's partly a strategy to broaden the left. As evidenced by support for Sanders among young women and people of color, and Black activist support for Elizabeth Warren, many on the left care as much or more about a candidate's policy proposals and record as they do about their race and gender. But they also want to build a world where they don't have to choose: a society with justice for all, and one in which women and people of color have power, too.
________________________________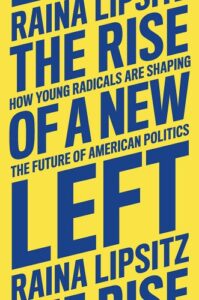 Excerpt from The Rise of a New Left: How Young Radicals Are Shaping the Future of American Politics by Raina Lipsitz, published by Verso Books. Copyright © Raina Lipsitz, 2022.
---