Why the Color Red Carries so Much Weight in Film and Literature
James Fox: "Red is the body made color, and at times color made body."
Not long into Act Two of Macbeth, husband and wife become obsessed with color. Lady Macbeth, who examines her hands with the tireless diligence of an obsessive-compulsive, is seen scrubbing away for up to 15 minutes at a time. Her husband is less convinced by the merits of washing. "No," he laments, "my hand will rather the multitudinous seas in incarnadine, making the green one red." This stubborn and potentially oceanic stain is, of course, blood, which originally belonged to the King of Fife and his two servants, whom Macbeth had murdered in a ruthless bid for power.
And yet it is not so much a literal mark of blood as a metaphor for the crime he has just committed and his spouse abetted. After all, the couple can easily wash away the hemoglobin with soap and water, but their souls—as Lady Macbeth begins to realize—will "ne'er be clean" again.
Red is an abiding marker of transgression. The metaphor dates back at least to the Old Testament and is still embedded in everyday language: to be caught "red-handed" is to be discovered committing a crime. But red is also a metaphor for all kinds of psychological states. It is commonly identified with lust, love, embarrassment, and anger—even emotion itself. There is a logic to the connection. We often think of emotion as a kind of heat: we speak of "burning resentments," "smoldering desires," and "fiery tempers"; and if they get the better of us, we are sometimes told to "cool down."
In most societies red is likewise believed to be hot, so corresponds neatly with the flaming passions of the soul. Both the hotness and redness of emotion are causally connected to blood. When we are enraged, aroused, or embarrassed, small capillaries around the face, neck, and thorax dilate, increasing oxygenated blood flow to those areas and making us warmer and redder.
Red, as the artist Anish Kapoor puts it, is an "inside-out color." Like our emotions, and like our blood, it wells up within us, speaking of and to the body. Macbeth's undulating name for the color—"incarnadine"—came from the Latin word caro, for meat, or flesh, and is related to "incarnation." Red is the body made color, and at times color made body. Over the centuries it has been ascribed a taste (usually fruity), a smell (normally floral), a sound (often trumpets), a texture (typically wet), and a temperature (invariably hot). In his novel My Name Is Red, published in 1998, Orhan Pamuk describes some of red's synaesthetic qualities:
If we touched it with the tip of a finger, it would feel like something between iron and copper. If we took it into our palm, it would burn. If we tasted it, it would be full-bodied, like salted meat. If we took it between our lips, it would fill our mouths. If we smelled it, it'd have the scent of a horse. If it were a flower, it would smell like a daisy, not a red rose.
In Pamuk's book, red actually becomes a flesh-and-blood character. It speaks for itself, recounts its autobiography, and even possesses a discernible personality: self-important, ostentatious, occasionally ticklish. "I'm so fortunate to be red!" it exclaims. "I'm fiery. I'm strong. I know men take notice of me and that I cannot be resisted."
Hans Christian Andersen's fairy tale "The Red Shoes," from 1845, is a parable about such power. It describes the fate of a young girl called Karen, who one day acquires a pair of red leather shoes. She falls instantly in love with her new possessions, but they soon exert a sinister hold over her. Karen's behavior begins to change. One evening, as her foster mother lies prone on her deathbed, the once dutiful girl straps on her shoes, sneaks out of the house, and attends a grand ball in town. Karen starts to dance, but then discovers that she can't stop. The red shoes dance her out of the ballroom, down the staircase, along the street, through the town gates, and into a dark forest. Karen tries to remove the shoes but fails. She is forced to dance on, through day and night, through thorny fields and meadows, until her face is covered in tears and her legs stained with blood. Eventually she arrives at the executioner's house and begs him to chop off her feet. He obliges, and the red shoes dance off into the forest.
Red is an abiding marker of transgression.
There was a germ of truth in Andersen's otherwise implausible fable. Over the last few decades we have begun to understand the extent of red's extraordinary psychophysical impact on us. It has been found to increase systolic blood pressure, skin conductance, eye-blink frequency, and electrical activity in the brain; and to make us stronger, improve sporting performance, and encourage us to take more risks. It even contributes to romantic and sexual arousal: studies show that men are more likely to approach women in bars, to contact them on dating websites, to ask them more intimate questions, and to tip waitresses more generously if they are wearing red clothes or lipstick. All of us, like Karen, live under the influence of red.
Some color meanings, as we are discovering, are stubbornly persistent. Like the ochre quarries mined by one generation after another, they are symbolic resources that never seem to run dry. Though hundreds of thousands of years have elapsed since our ancestors first started using hematite, red's oldest associations—with blood, love, life, danger, anger, sin, and death—are still intact. They have become so commonplace that they sound like the color psychology clichés turned out by brand consultants and tabloid astrologers. But this doesn't mean they've lost their cultural power. In the 20th century many great image-makers mined this rich seam of meaning and reinvented them in thrilling new ways—not least in the defining medium of our era.
Cinema was colorful from the beginning. From as early as the 1890s, monochrome films were hand-painted, tinted, toned, or stenciled. The application of color was a laborious exercise that required teams of workers, typically women, to paint each frame individually. If the colors were initially decorative, they soon became a storytelling tool. We must remember that at this stage cinema was a novel medium of sometimes vertiginous dynamism that left many viewers confused. Color helped audiences understand when and where scenes were taking place.
Blue tints (such as "nocturne") suggested night; yellow or orange ("afterglow") simulated sunrise or sunset; and green ("verdante") was often employed to depict forests. Hues were also used symbolically. Red, which American tint manufacturers called "Inferno," not only stood for burning buildings, furnaces, forest fires, and the flames of Hell, but—according to one industry insider in the 1920s—indicated "riot, panic, anarchy, mobs, turmoil, strife, war, battle, and unrestrained passion."
Over the last few decades we have begun to understand the extent of red's extraordinary psychophysical impact on us.
The growth of natural color cinematography in the 1930s provoked renewed debates about the value and meaning of color. The most influential voice belonged to Natalie Kalmus, who had come to the industry through her husband, Herbert, a cofounder of Technicolor. When the couple secretly divorced in the early 1920s (they continued cohabiting until the mid-1940s), Natalie was given control of Technicolor's Color Advisory Service as part of the settlement. Her unit instructed productions how best to exploit the company's technology, devising detailed color schemes that covered every aspect of a film's appearance, from sets and costumes to background props—and even plants in dummy gardens.
Kalmus worked on virtually every major Technicolor feature in the 1930s and 40s, including The Wizard of Oz (1939) and Gone with the Wind (1939), where she was typically credited as "color director." Her robust views (and, of course, her gender) made her enemies. While the press dubbed her the "Queen of Color," many filmmakers nicknamed her the "Wicked Witch of the West." And yet Kalmus did more than anyone to develop a theory of cinematic color.
She set out her stall in an essay called "Color Consciousness," published in 1935 and read by almost everyone in the industry. The essay opened in prehistory, discussing the use of red ochre and carbon black in Paleolithic cave paintings. Kalmus saw these early masterpieces as proof that the desire to "show motion in color" had existed in human culture for thousands of years. As early artists created imagery from a limited palette, so modern filmmakers had to demonstrate similar discipline.
Throughout her manifesto Kalmus argued for chromatic restraint, permitting bright colors only when they served the narrative. "Just as every scene has some definite dramatic mood—some definite emotional response which it seeks to arouse within the minds of the audience," she explained, "so too has each scene, each type of action, its definitely indicated color which harmonizes with that emotion." Kalmus went on to discuss all the major hues, but granted red a singular power.
Red recalls to mind a feeling of danger, a warning. It also suggests blood, life, and love. It is materialistic, stimulating. It suffuses the face of anger, it led the Roman soldiers into battle. Different shades of red can suggest various phases of life, such as love, happiness, physical strength, wine, passion, power, excitement, anger, turmoil, tragedy, cruelty, revenge, war, sin, and shame. These are all different, yet in certain respects they are the same. Red may be the color of the revolutionist's flag, and streets may run red with the blood of rioters, yet red may be used in a church ritual for Pentecost as a symbol of sacrifice.
Whether blood is spilled upon the battlefield in an approved cause or whether it drips from the assassin's dagger, blood still runs red… Love gently warms the blood. The delicacy or strength of a shade of red will suggest the type of love. By introducing the colors of licentiousness, deceit, selfish ambition, or passion, it will be possible to classify the type of love portrayed with considerable accuracy.
All of us live under the influence of red.
How many meanings can a color possess before it ceases to have meaning? If Kalmus' red seems suspiciously polyvalent, later filmmakers duly used it to denote all kinds of intense emotions. It is the color of fatal obsession in Powell and Pressburger's The Red Shoes (1948), on which Kalmus herself worked. It stands for leather-jacketed transgression in Rebel Without a Cause (1955), raincoated grief in Don't Look Now (1973), a moral epiphany in Schindler's List (1993), and repressed suburban passions in Pleasantville (1998) and American Beauty (1999).
If these meanings are diverse and contradictory, that is because red itself has diverse and contradictory connotations. Most of them, however, are grounded in the nexus of meaning that binds the color with its body fluid—a connection so strong that its two components are often indistinguishable. When Jean-Luc Godard was asked why there was so much blood in his 1965 film Pierrot le Fou, he responded: "Not blood, red."
Alfred Hitchcock's psychological thriller Marnie (1964), based on Winston Graham's novel of the same name, hinges on such a slippage. Red is in some respects the story's "MacGuffin": when its meaning is deciphered, the mystery is unlocked. Marnie Edgar (Tippi Hedren) is a beautiful but miserable loner who spends her life migrating from one identity to the next, stealing money as she goes. We learn that her behavior is motivated by a deep-rooted anxiety triggered by red objects. Marnie is sent into paroxysms of terror by a vase of gladioli, a blob of vermilion ink on her blouse, a jockey's crimson silks, and a foxhunter's scarlet blazer.
Each sighting is accompanied by an aggressive theme (composed by Hitchcock's longtime collaborator Bernard Herrmann) that builds as fast as panic before exploding with a violent snap. Hitchcock leaves us in no doubt that these episodes are psychological. They all conclude with a red suffusion that fills the screen and engulfs Marnie's face.
After learning of her crimes, an affluent widower called Mark Rutland (Sean Connery) blackmails Marnie into marrying him, and later identifies her erythrophobia with a word association game. He says "water," she says "bath"; he says "air," she says "stare"; he says "needles," she says "pins"; he says "black," she says "white." With his trap laid, Rutland leans forward, points at his new wife, and shouts "red!" Herrmann's spiky theme rattles back into life, and Marnie duly panics. "White! White! White! White!" she screams, before collapsing into a sobbing heap. Rutland grows determined to diagnose the etiology of Marnie's phobia. His subsequent investigation leads the couple back to Marnie's childhood home in Baltimore.
Here, at the end of the film, she finally relives a formative moment from her youth. It is a stormy night, and her mother, who works as a prostitute, evicts the six-year-old Marnie from her bed so she can use it with her latest client. When a struggle breaks out between the two adults, Marnie leaps to her mother's defense. She picks up a fireplace poker and beats the man to death. Blood runs down the side of his face and drenches his white clothes. The screen is once again suffused with scarlet, Herrmann's brasses shriek like police sirens, and Marnie screams us back into the present. In the end Marnie Edgar, like Lady Macbeth, has blood on her hands and red on her mind.
______________________________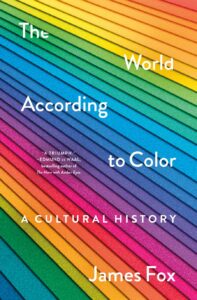 From THE WORLD ACCORDING TO COLOR: A Cultural History by James Fox. Copyright © 2022 by the author and reprinted with permission of St. Martin's Publishing Group.
---