The Annotated Nightstand: Melissa Chadburn on the Books She's Reading Now and Next
The First in a New (at Lit Hub) Series by Diana Arterian
For some time, I ran a series at Entropy in which I would post my own to-read pile along with a guest's. Entropy folded last year, and Lit Hub has graciously agreed to host this funky little project. Below, you'll find a writer's TBR stack, followed by my own commentary on the titles.
*
Since reading "The Throwaways" at The Rumpus, I have been grabby for more of voice and its self-assured, quick clip. The details she brings to the fore never cease to surprise. Her remarkable wealth of knowledge, both personal and journalistic, regarding the foster system in the United States has vitally informed her writing. Her new novel, A Tiny Upward Shove, is out from Farrar, Straus and Giroux today. In it, a young Filipina woman's body is entered by an aswang spirit, which helps recount her life of instability, assault, foster care, early emancipation, and the difficulty beyond.
I asked Melissa to share the books in her TBR pile. She says she's reading these for her doctoral dissertation and that her "ongoing obsession is hybrid works of enchantment and reporting, specifically thinking through the role of enchantment in narratives of maternal filicide and infanticide. What are the potentialities of an intersectional feminist praxis of true crime?"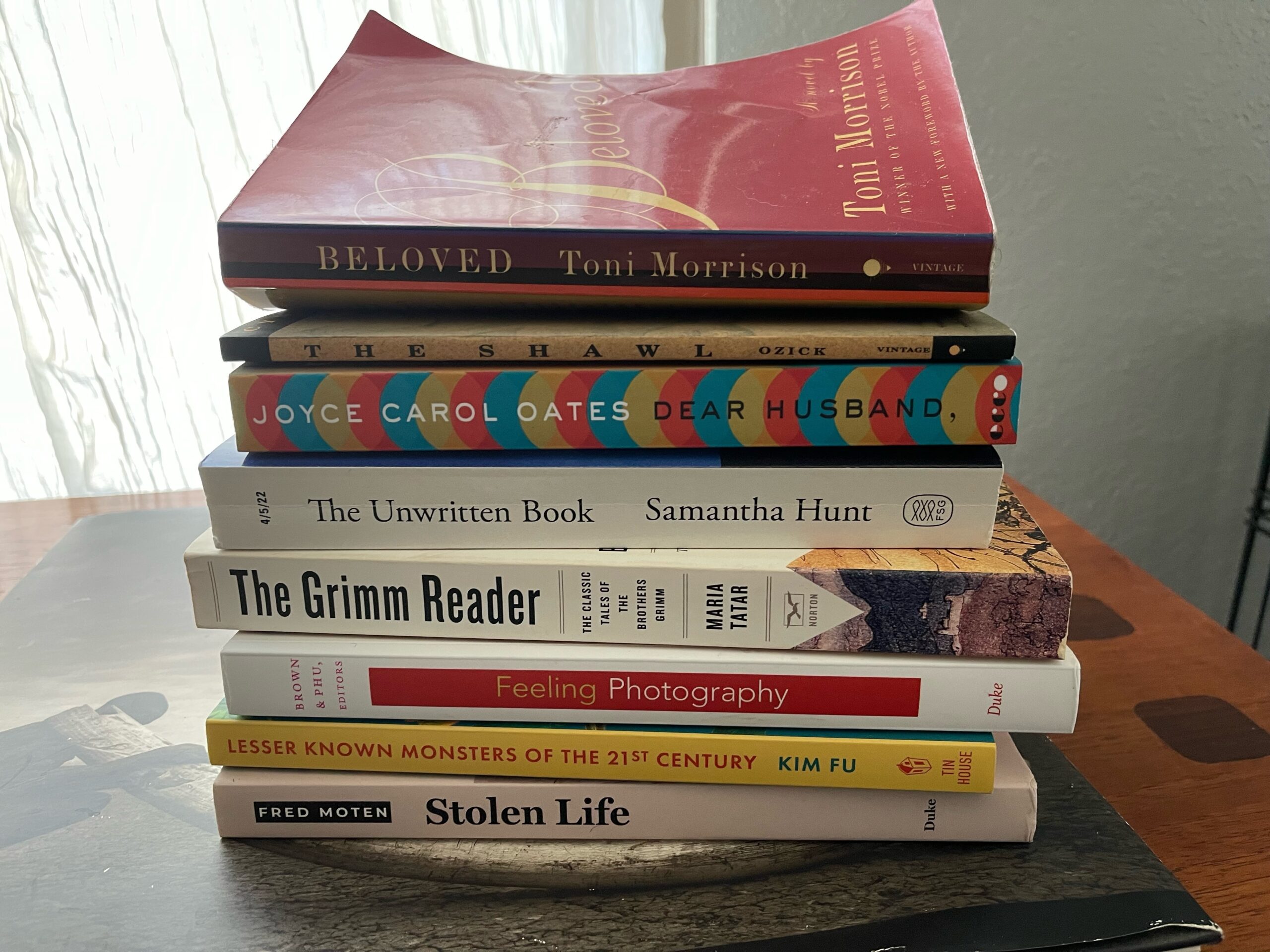 Toni Morrison, Beloved
I'm wrapping up teaching Beloved just this week. Somehow (see: Morrison's brilliance), this book continues to amaze me. The ways in which Morrison engages with haunting, the legacy of enslavement and its brutality, providing the figure of Margaret Garner dimension and subjectivity, all with remarkable dimension.
Cynthia Ozick, The Shawl
The initial short story of "The Shawl" tells of a woman traveling with her baby she wraps in a shawl during a march to a Nazi Concentration camp. The shawl miraculously seems to keep the baby safe (for a time). Ozick manages to capture the terrors of the Holocaust in fewer than 2,000 words.
Joyce Carol Oates, Dear Husband: Stories
Christopher Benfey at the New York Times Book Review synthesizes this collection best: "These 14 noirish narratives, gathered with a title story that might be summarized as 'Dear Husband, I'm afraid I've killed the kids,' imply that American family life, especially of the upscale white suburban variety, is no protection against the horrors that lurk a block, a click, a letter, a phone call away."
Samantha Hunt, The Unwritten Book: An Investigation
Between the endorsement from Maggie Nelson as "shot through with wildness and grace" and the jacket copy, I must get ahold of this book: "Through literary criticism, history, family history, and memoir, inspired by W. G. Sebald, James Joyce, Ali Smith, Toni Morrison, William Faulkner, and many others, Hunt explores motherhood, hoarding, legacies of addiction, grief, how we insulate ourselves from the past, how we misinterpret the world."
The Grimm Reader: The Classic Tales of the Brothers Grimm, Maria Tatar (editor and translator)
Cinderella, Hansel and Gretel, Snow White – these characters and their tales came from the same fraternal source (and with outcomes often far more bleak than Disney ever allowed). I tip my hat to Tatar for the remarkable amount of work this must have been.
Elspeth Brown, Thy Phu (eds.), Feeling Photography
The jacket copy pins Feeling Photography down: "This innovative collection demonstrates the profound effects of feeling on our experiences and understanding of photography." It's visual studies and affect theory in one space, and with contributors like Kimberly Juanita Brown, Ann Cvetkovich, and Dana Seitler, it's a powerhouse collection.
Kim Fu, Lesser Known Monsters of the 21st Century
Tin House describes the mood of Fu's short story collection as "the strange is made familiar and the familiar strange, such that a girl growing wings on her legs feels like an ordinary rite of passage, while a bug-infested house becomes an impossible, Kafkaesque nightmare." I can't stop looking at this cover, and it seems the book has the same capacity to mesmerize. NPR Books calls it "addictive reading."
Fred Moten, Stolen Life
The inimitable Moten attends to "an expansive exploration of blackness as it relates to black life and the collective refusal of social death" in this theoretical text. Whether reading his poetry or theory, listening to his lectures, Moten will change how you think about almost everything.
---