Why Stories Are Like Taking Drugs
Jonathan Gottschall on the Human Need To Silence Your Inner Voice
According to the English poet and philosopher Samuel Taylor Coleridge (1772-1834), enjoyment of fiction requires a "willing suspension of disbelief"—a conscious decision. We say to ourselves, "Well, I know this story about Beowulf battling Grendel is hooey, but I'm going to switch off my skepticism for a while so I can enjoy the ride."
But that's not how it works. We don't will our suspension of disbelief. If the story is strong, if the teller has style and craft, our suspension of disbelief just happens to us. Think of the metaphors we commonly use to describe what stories feel like. Narrative transportation is always something don't to us, not by us. It's a force we're subject to, not something we control.
We think of storytellers as metaphorical bruisers who overpower us and hold us down—they hook, grip, rivet, and transfix.
Or we think of them as metaphorical Svengalis—they hypnotize, engross, mesmerize, and entrance.
Or storytellers are lovers—they infatuate, besot, intoxicate, and seduce.
Or storytellers are forces of nature—they're rivers or winds that sweep us up and carry us away.
Or storytellers are powerful witches—they enchant, charm, bewitch, and spellbind.
We reach for metaphors when we lack language for direct description. We say not that story is X but that it's like X. But in the above collection of metaphors, we get a good sense for what story actually is: it's a drug. To see what I mean, consider one of my favorite studies encapsulating the tragicomic lovability of the human animal.
Researchers from Harvard and the University of Virginia brought subjects into a lab where they had to choose between two torture devices. The first option was to push a button that would deliver a safe, but still sharply unpleasant, electric shock to themselves. Two-thirds of the men in the study chose to shock themselves despite the fact that they'd 1.) all been shocked in an earlier phase of the study, and 2.) all professed that they would pay money to avoid the unpleasant experience in the future.
So why did these men, all of whom disliked the zap, nonetheless zap themselves again? It was because the alternative torture device, a simple chair, seemed even worse. Research subjects would have to sit in the chair for fully ten minutes and simply think. They were to do nothing else. The room was empty. They couldn't check their email, they couldn't swipe at their phones, they couldn't talk to anyone, and they couldn't even read the back of a cereal box. They just had to sit there thinking whatever they wanted to think.
The horror, the horror, the men must have thought, as they lunged for the button that would shock all thought from their brains. Women took part in the study, too. But just (just?) 25 percent of them preferred painful zaps to sitting still and thinking. (The researchers speculate that the gender split may reflect the fact that men, contrary to popular belief, have higher average thresholds not only for risk but also for pain.)
A little while back, I waved off the escapist theory of storytelling somewhat brusquely. But now I'll acknowledge that escapism, though not an adequate theory of the attractions of storytelling, is a big part of it. Psychological research demonstrates that our minds are constantly wandering—with a relentless voiceover narration. I call this inner voice "the Great Loquacity." We think of the Great Loquacity as synonymous with ourselves, with our own egos, even though we have little control over what it says.
Further, as the experiment with DIY electroshock therapy suggests, most of us aren't so fond of our own endlessly talkative company. The Great Loquacity may be our constant companion, but it's also our tormenter. Studies show that when the voice is maundering along in our heads, we aren't as happy as in those blessed moments when we can finally shut it up—even if it means short-circuiting the voice with little stabs of electricity.
Mind wandering, of course, is nothing like all bad. But when we chase our bliss, we're mainly chasing after experiences that will shut down the Great Loquacity. States of pleasure are, for us, virtually synonymous with the temporary muzzling of the inexhaustibly carping inner monologue. The things we pursue to decrease psychic pain and enhance pleasure—sex, movies, absorbing conversation, sports, recreational drugs, video games, mindfulness meditation, TikTok trances, and flow states of any kind (the feeling of being "in the zone")—are pursued in large part because they provide a temporary furlough from the prison cell of our own skulls, that feeling of being locked up for life with a cellmate who Just. Won't. Shut. Up.
So, stories do provide a kind of escape. But the escape they provide isn't only from our personal problems or the problems of the world. It's more profound than that. They provide an escape from ourselves. Narrative transportation is valued not just because of where it takes us to but also because of where it takes us from: our own tedious company. The gift storytellers give us, as Virginia Woolf observed, is "the complete elimination of the ego."
When absorbed in a good story—when we watch a favorite TV show or read a thriller we can't put down—our hyperactive minds go quiet and pay close attention, often for hours on end. It takes meditators years of dedicated training to even approach the level of mindful presence that we all naturally achieve by simply listening to Radiolab.
Of course, story doesn't count as a drug if you narrowly define drugs as chemical substances. But stories are still something we "take" to literally change our brain chemistry. Like other drugs, we use story to relieve our pain, loneliness, and drudgery. And just like other drugs, story lulls us into an altered state of consciousness that bears comparison to a hypnotic trance—or even a psilocybin trip. When transported into the hallucinatory realm of story, our minds empty, our endlessly burbling streams of consciousness go still, and time races by. When the "active ingredients" of a story—the plot, theme, character, style, and so on—are expertly compounded, we slide into highly receptive brain states that bring us under the storyteller's power.
This is lovely. All of the good things story does flow from the psychoactive properties of the drug—from the sway it generates.
This is scary. All the bad things story does also flow from the sway it generates.
___________________________________________________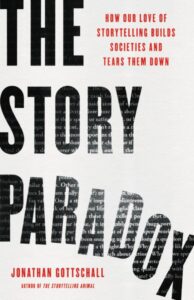 Excerpted from The Story Paradox: How Our Love of Storytelling Builds Societies and Tears them Down by Jonathan Gottschall. Copyright © 2021. Available from Basic Books, an imprint of Hachette Book Group, Inc.
---