Why Sofia Coppola Wanted to Make the (Admittedly Obnoxious) Bling Ring
"It was so repellent to me and it was repellent to her, too."
The following is excerpted from Hannah Strong's Sofia Coppola: Forever Young
The teenagers chose to rob Paris Hilton first because they thought she was the sort of person who wouldn't give much thought to home security. "Like, who would leave a door unlocked? Who would leave a lot of money lying around?" Nick Prugo told Nancy Jo Sales, who profiled the so-called "Bling Ring" for Vanity Fair in March 2010. One night in October 2008, they found the key to Hilton's mansion under the doormat, and proceeded to steal bras, dresses, vodka, and cash from her purse—planning to take just a few things so that she wouldn't notice and they could return in future.
Over the course of multiple burglaries, they pinched close to two million dollars in cash, jewelry, and clothes. "We found about, like, five grams of coke in Paris's house," Prugo told police after his arrest. They proceeded to "[drive] around Mulholland, having the best time of our lives."
From the fall of 2008 until the summer of 2009, a gang of teenagers from the affluent Los Angeles suburb of Calabasas ran riot in the Hollywood Hills. They targeted celebrities while they were out of town filming or at parties—as advertised on social media—and used internet searches to find their addresses. While Paris was their initial target, they later moved on to reality star Audrina Partridge, actor Orlando Bloom and his then-girlfriend, supermodel Miranda Kerr, actor couple Brian Austin Green and Megan Fox, and Lindsay Lohan.
Once inside their homes, they relieved their famous targets of cash, clothing, jewelry, handbags, shoes, drugs, and, in one instance, a gun, to the tune of three million dollars. Seven individuals would ultimately be indicted for the robberies and for handling stolen goods: Nick Prugo, Rachel Lee, Alexis Neiers, Diana Tamayo, Courtney Ames, Johnny Ajar, and Roy Lopez Jr. Of the seven, Ajar, Neiers, Lee, Lopez, and Prugo were sentenced to jail time. By the spring of 2013, they had served less than four years between them and were released into probation programs.
Sofia Coppola read Sales's article about the case, "The Suspects Wore Louboutins," on a flight in 2010, and immediately saw the story's cinematic potential. "I always love stories about teenagers getting into trouble, and this one seemed so absurd," she explained to controversial artist Richard Prince (who would later become embroiled in a scandal around celebrity culture and social media when he used strangers' Instagram posts without their permission in a 2014 art exhibition).
Having wrapped on Somewhere, which would go on to win the Golden Lion at the Venice Film Festival, Sofia was fascinated by the salacious nature of the teens' ten-month crime spree. "I was in the mood to do something obnoxious and faster, and something kind of in bad taste. And the story seemed to say so much about what's happening in our culture today."
That culture Coppola speaks of—the one that birthed reality television and saw the internet morph from a nerdy curio into an inescapable part of everyday life—was by turns fascinating and repugnant to her: "All the interest in reality stars and kids posting pictures on Facebook all the time. This idea of having an audience all the time. And the kids get busted because they were posting pictures of themselves with all of the stuff they stole."
Having come of age in the 1970s and 80s, long before the advent of social media, this brave new world didn't resemble the one Coppola knew (she was 35 when Facebook launched to the public in 2006, having previously existed as a college social network). But as a filmmaker preoccupied with adolescent ennui, it's easy to see why she would be attracted to a real-life story of teens gone wild.
"I was in the mood to do something obnoxious and faster, and something kind of in bad taste."
When it was announced in December 2011 that Coppola would be adapting Sales's article into a feature film, she had just finished shooting a campaign for Italian clothing brand Marni's collaboration with H&M. While the Swedish fast fashion giant had been working together on affordable capsule collections with big name designers since 2005, the mid-aughts saw the trend really take off; British designer Christopher Kane pronounced a range for Topshop in 2009 while Mulberry teamed up with budget retailer Target in 2010.
Diffusion lines offering designer names at discount prices were nothing new by the peak of the mass market fashion house boom, but these collabs placed the glamour of high fashion alongside $9.99 T-shirts and lycra-rich jeggings, becoming prime hangout spots for teenagers in the process. Even if younger shoppers couldn't afford these cut-price designer-endorsed pieces, there was no escaping the message that it doesn't matter what you wear, but who you wear. The bigger the price tag, the bigger the social cache.
The reality television and social media boom were instrumental in amplifying this message. By 2008, when the burglaries began, shows such as Laguna Beach and The Hills had made stars out of wealthy Los Angeles teens, and online tabloid TMZ was providing rolling coverage of the lifestyles of the rich and famous. At the click of a button fans could look up a celebrity's name, favorite designer brands, social schedule, and—thanks to sites like celebrityaddressaerial.com—even their address.
It's not like the blueprint for social climbing in SoCal didn't exist. Although Paris Hilton was the It Girl at the time, her enduring legacy is as the woman who first introduced the world to Kim Kardashian. The second daughter of OJ Simpson's famed attorney Robert Kardashian had risen to prominence after initially appearing as Hilton's stylist and friend on episodes of The Simple Life, but became more well-known after a sex tape she recorded with singer Ray J was leaked in 2007.
This was four years after Hilton's own scandal, involving the release of 1 Night in Paris which featured the heiress having sex with then-boyfriend, professional poker player Rick Salomon. Both had emerged from these incidents more in-demand than ever, though while Paris received no money for the leak of her tape, Kim allowed the distribution of hers after settling for a reported $5 million payday, and the release formed a central part of the narrative on the family's reality television series.
By 2008, the reality television bubble showed no signs of bursting. Laguna Beach, with its tagline "The Real Orange County," had promised viewers insight into the world romanticized by Fox's successful teen drama The OC (starring Bling Ring target Rachel Bilson) and spawned numerous spin-offs. Lindsay Lohan was becoming just as known for her criminal record as her film credits. Fame and notoriety were different names for the same thing.
As a filmmaker preoccupied with adolescent ennui, it's easy to see why she would be attracted to a real-life story of teens gone wild.
Like Sales's article, Coppola's film opens with the robbery at Orlando Bloom and Miranda Kerr's house. From the vantage point of a CCTV camera, the gang brazenly walk up to the security gate and hop the fence, one by one. Hoods obscuring their faces, they try various doors before one finally opens and they pile inside. Navigating the house as if it's their own, one of their number (Katie Chang as Rebecca Ahn, based on Lee) finally turns to the group with a grin and announces, "Let's go shopping."
The distorted electric guitars of Sleigh Bells's "Crown on the Ground" blare like an alarm while the teens rifle through drawers and closets, picking out whatever they want. The footage is intercut with real paparazzi shots of their celebrity victims and mocked-up social media posts from the group (using authentic captions from their real-life models). Scenes of their subsequent trial are included, too; Marc Hall (based on Prugo and played by Israel Broussard) leaves court, swarmed by reporters, dressed in a sharp suit and shades as though he's a celebrity himself.
Slow pans over designer shoes and jewelry—reminiscent of similar shots in The Virgin Suicides and Marie Antoinette—are followed by night-vision footage of the teens calmly leaving the property the way they came in, making off with their loot. One of them (Taissa Farmiga playing Sam Moore, based on Alexis Neiers's adopted sister Tess Taylor) is carrying a painting under her arm.
As far as opening sequences go, it's one of Coppola's longest. Clocking in at almost four minutes with a self-contained narrative, it could easily be a music video or—given the array of designer goods on show—a commercial. Coppola's interest in the aesthetics of short-22 form video is well-documented; she had directed five music videos (and starred in a further four) by the time she came to make The Bling Ring.
The one that has the most in common with this film is the 1992 Studio 54-inspired video for Madonna's "Deeper and Deeper," in which Coppola played a party guest. As Sydney Urbanek notes, "Forged by MTV culture, Coppola has clearly never been able to kick it." But in the case of a story about celebrity-obsessed adolescents running amok in Beverly Hills, it feels apt that the characters might want to feel like they're in a music video.
"I showed it to a friend's teenage daughter and she said, 'Oh, it doesn't look pretty like your other work.'"
Beyond its audacious opening, The Bling Ring marked a departure for Coppola in other ways. The film's nonlinear structure jumps between the robberies and scenes of the gang partying to their trials and the subsequent Vanity Fair profile, interspersed with celebrity interview footage and more social media screengrabs. It's an approach that mimics the one employed by reality television, creating a narrative out of hours of (scripted and unscripted) footage that best serves the producers' goals.
Coppola's approach, as detailed by her cast and crew in the film's making of documentary, seems to have much in common with the staged-unstaged nature of a reality television production. "I feel like she wants to capture something that's very real and very authentic," said Emma Watson, who plays Nicki Moore, based on the most famous member of the Bling Ring, Alexis Neiers. "So she tends to just let us improv things and she pulls out and captures those special moments."
Another notable difference is the look of the film. "I showed it to a friend's teenage daughter and she said, 'Oh, it doesn't look pretty like your other work,'" Coppola said in 2013. It's true that The Bling Ring feels like an outlier amid the gauzy, lingering shots and soft aesthetics that dominate Coppola's work. Where her four previous features exhibited a tenderness even in turmoil, The Bling Ring is—as Coppola herself put it—"obnoxious and faster."
Her long-time production designer Anne Ross was baffled by the project at first. "When Sofia told me about the idea I was completely uninterested and couldn't believe that she wanted to spend all this time living in this world [ . . . ] It was so repellent to me and it was repellent to her, too, so I was confused about it." But the two found a way to explore the banality of the SoCal bourgeoisie.
Drawing inspiration from a washed-out, peach-hued photograph of two neighboring Calabasas McMansions, Coppola and Ross achieved an aesthetic of blandness that extends to how the characters discuss their crimes. In one much-referenced scene, Nicki declares "I wanna rob" with the flat intonation any other young woman might declare she wants to go to the mall. The homes of the teenage thieves and their families, while superficially grandiose, all look the same (Coppola even noted the mansions they shot in had very similar layouts).
It's not dissimilar to the affluent Michigan neighborhood depicted in The Virgin Suicides, with middle-class cookie-cutter houses, manicured lawns, and teens yearning to escape lest they become their parents eventually. But the sunny, stifling sprawl of Grosse Pointe was viewed through the lens of tragedy, seeking to return to a rosier time when the Lisbon sisters were still alive (and subsequently interrogating the idea that the past was ever really that pretty to begin with). The Bling Ring's suburbs are Los Angeles on benzodiazepine—lethargic and spaced out. Compared to the maximalism we see in the homes of the celebrity targets, it's an imitation of life, in the same vein as the filtered fashion designs that end up on the rack at H&M.
_______________________________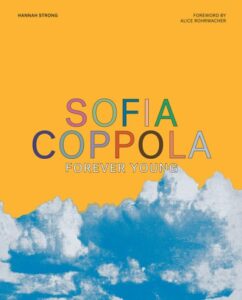 Excerpt from the new book Sofia Coppola: Forever Young by Hannah Strong published by Abrams. Text copyright © 2022 Hannah Strong and Little White Lies. 
---