Why So Many Novelists Write About Writers
David Laskin on an Unyielding Literary Paradox
Ever since Moses hurled his first draft at the unappreciative audience at the Ten Commandments launch party and then had to slink off to re-chisel the damn thing, writers have been putting their ink-splotched stand-ins at the center of their work. There is just something irresistible about seeing a writer exalted, mocked, punished, perplexed, thwarted, reviled and avenged on the page.
Still, irresistible or no, when I started writing my first novel, What Sammy Knew, I had no idea that its hero was going to be a writer. Young, yes—I knew, going in, that Sammy Stein had to be a high school senior. Clueless, ambitious, self-obsessed, a late bloomer, hopelessly romantic, laughably gullible, wildly insecure: Sammy shambled onto the page with all of these qualities. Too skinny to be a jock. Too goofy to be popular. A witness to tumultuous times yet blind to the plots and counterplots swirling around him in New York City in 1970.
A couple of chapters in, I saw where all this was going: What else could Sammy be but a budding author?
After that, Sammy started calling the shots. He never went anywhere without his black marble-covered notebook. He kept a diary—secret and hidden, of course. He was editor of his high school newspaper. He prowled the streets of his cushy over-stuffed suburb fantasizing about rave reviews of books that he hadn't written yet and probably never would. He only felt like he'd truly experienced something after he'd written it down. Writer with a vengeance!
Write what you know, workshop teachers and mentors are forever imploring us—but did they really mean we should write about writers? Spy, bullfighter, healer, saint, rebel, doomed heiress, gold-digger, disgraced demagogue: These are characters readers can sink their teeth into. But is there anything remotely engaging about a hero who earns (hah) a living (hah hah) by tapping at a keyboard and doom-scrolling for reviews?
There is just something irresistible about seeing a writer exalted, mocked, punished, perplexed, thwarted, reviled and avenged on the page.
Apparently, there is. Karl Ove Knausgaard devoted six volumes and Elena Ferrante four novels charting the vicissitudes of the literary life. Many of the protagonists in Henry James's short stories are writers of one stripe or another—including the unnamed "publishing scoundrel" of The Aspern Papers, a biographer who flirts with the idea of marriage and outright theft in order to get his hands on a cache of precious letters. Joyce's Stephen Dedalus. The protagonist of Sigrid Nunez's The Friend. Briony in Atonement. Sal Paradise in On the Road. Jo in Little Women. I could go on; it's practically a sub-genre.
Take Chip Lambert, the struggling writer in Jonathan Franzen's novel The Corrections. Having lost his teaching job at a liberal arts college after a wild weekend of sex and drugs with a student, Chip moves to New York, acquires a leather wardrobe, pierces his ears, and gets to work on a revenge screenplay. Endlessly "grooming the corpse of a dramatically dead monologue," even Chip knows the screenplay is a dog—but he nonetheless manages to convince himself that it's his ticket to fame and fortune. Fortune, first and foremost, because Chip is so deeply in debt that he is reduced to stealing a salmon filet from a ridiculously overpriced downtown market by stuffing it down the front of his pants: "Chip put his hand to his crotch. The dangling filet felt like a cool, loaded diaper."
Has any character been so gleefully, spitefully punished for the crime of believing he could write? A few more wrong turns, and Chip might have ended up like Jack Torrance, the writer-hero-alcoholic-possessed mad man who wreaks so much havoc in Stephen King's The Shining (portrayed onscreen, unforgettably, by Jack Nicholson).
It's hard not to read characters like Chip Lambert and Jack Torrance as projections of their creators' anxieties: the anguish of an overweening ego fused with devastating insecurity. They suffer from the delusion that one more tweak, one more mot juste, or in Chip's case, one more fiddle with the margins will be enough to turn a corpse into a masterpiece. Writers punish their authorial characters because they know their foibles too well.
An unyielding paradox lurks at the heart of the literary life: We write because we believe that we have something to say—but we can't shake the conviction that we are total frauds and hacks. Who better to shame than our scribbling alter egos? Think of Stephen Dedalus: wrapping up A Portrait of the Artist as Young Man determined "to forge in the smithy of my soul the uncreated conscience of my race" only to wind up in Ulysses pissing against a Dublin wall.
At the other end of the spectrum are writer-protagonists like Lenù in Elena Ferrante's My Brilliant Friend quartet. Born in a Naples slum, overshadowed from infancy by her more beautiful, more daring, more charismatic friend Lila, Lenù succeeds through diligence, watchfulness, caution, and envy. Lila lives—Lenù "only" writes, often thinly disguised stories about her brilliant friend and the neighborhood they share. But rather than punish her heroine, Ferrante piles her with recognition, prizes, large advances, and juicy assignments. Yes, Lenù is haunted by the nagging sense of being an impostor, but instead of spiraling down into crime or madness, Lenù sails from one literary triumph to the next. I wonder if I'm the only reader who felt a twinge of irritation when Lenù, unable to meet a looming deadline, dusts off an old manuscript, submits it as a new work, and scores a resounding critical and commercial bull's eye. How come that never happens to me?
Write what you know, workshop teachers and mentors are forever imploring us—but did they really mean we should write about writers?
I felt the same pang when I read Lily King's sprightly new novel Writers & Lovers. King's protagonist Casey Peabody is a mess—flattened by her mother's recent death, working unhappily as a waitress, running out of money and options, helplessly stuck halfway through her novel. So far, so good. But then, with a little help from a friend in her fiction workshop, Casey dramatically reverses course from writer as victim to writer as emerging star. Casey is an appealing character—she has paid her dues and then some, and she deserves to be successful and happy. So why couldn't I rejoice for her? Perhaps King lost me because she indulges in a bit too much self-dealing; it's as if Joyce ended Ulysses with Stephen Dedalus bashing out his masterpiece and winning the Booker Prize.
The recent novel that, to my mind, strikes the right balance between reviling and extoling a writer protagonist is Homeland Elegies by Ayad Akhtar. Akhtar's hero-narrator-stand-in suffers multiply: as a first-generation immigrant, as a Pakistani-American Muslim in post 9/11 America, as the son of an overbearing arch-conservative father (the book opens with a wild tale about how the father came to revere and model himself on Donald Trump), and perhaps most of all as a writer.
Like Chip Lambert, the fictional Akhtar fails to earn a living as a writer; his family gives him money but does not support his work; his every attempt to fit in or win recognition is thwarted. Hitting rock bottom, he has to face the ugly truth: "I was lost and broke and felt persistently humiliated and under attack in the only country I'd ever known, a place that the more I understood, the less I felt I belonged." A few pages later, he makes it big and shamelessly crows about it: "I sat next to Elon Musk at a donor dinner prepared by Alice Waters herself at Chez Panisse. I went backstage at Hamilton with a group that included Mos Def. I went fly-fishing in Idaho with Fareed Zakaria." Despite the shameless bragging and bold-faced name-checking, I still found myself rooting for him. It was thrilling to be inside this world with someone who nails it so exactly and so wickedly, someone who has reached the top but still knows he never truly belongs there or anywhere else.
Maybe that double vision—the exactness, the wickedness—is the real payoff for putting a writer at the center of your fictional world. Writer-protagonists worth their salt are, by definition, an exercise in irony: squirming on the checkout line with $80 of salmon chilling in their pants—but also, however lamely, bent on forging the uncreated conscience of their race. It's a noble goal, even if most of us make fools of ourselves while trying to achieve it.
An unyielding paradox lurks at the heart of the literary life: We write because we believe that we have something to say—but we can't shake the conviction that we are total frauds and hacks.
So that's why, almost despite myself, I made the hero of my first novel a writer. I wanted someone whose extravagant desire to see and record was matched and sometimes undermined by an equally extravagant desire to imagine—to make stuff up. Sammy is so busy penning reviews in his head that he can't see what's going on right under his nose. He's so bent on romantic agony that he's blind to the real agony he inflicts, especially on the Black nanny who raised him and whom he claims to love. He won't own up to his ambition—but he can't surrender to the indignity of being ordinary.
Without giving too much away, I can disclose that in the end Sammy opens his eyes and finds his honor. When the explosive political violence of the spring of 1970 is done with him, Sammy knows: He knows what the world, what people are capable of—and he knows what he's in for. Sammy may be choosing a dog's life—the best he can hope for is to end up another "publishing scoundrel." But it's worth—worth it!—because at the end of the day, for a writer, living on the page is the only life that counts.
__________________________________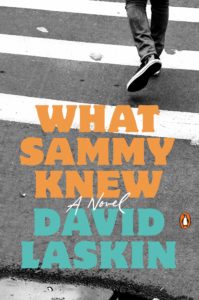 What Sammy Knew by David Laskin is available now via Penguin Books.
---