Why (Most) Critics Hated The Waste Land When It Was Published
"It is an erudite despair."
Poems, T. S. Eliot insisted, were not the expression of personality but an escape from personality. The mind that suffers and the mind that creates are two different species, and the authentic creative fount is impersonal. Eliot regarded poetry as an arduous exercise in depersonalization. Whatever emotional content is detected in poetry is there by way of an "objective correlative," which is the assemblage of resonances that translate or transpose a personal emotive stimulus into concrete equivalents. Freud (unmentioned by Eliot) called such strategies condensation and displacement in the psychic economy of the unconscious.
For those mindful of the theoretical nuances of Eliot's prose, The Waste Land could seem like the objective correlative run amok. Everything in it reeked of condensation and displacement, obscuring any big picture expected of a work steeped in the Grail legend and its Wagnerian associations. Nonetheless, despite much perplexity Eliot's poem succeeded not least because of its carefully coordinated debut, straddling the Atlantic with two periodical and two book publications.
In England, some reviewers addressed both the poem and the inaugural issue of The Criterion, while in America the Dial Award was commonly mentioned (sales of The Dial rose dramatically for the November 1922 issue in which "The Waste Land" appeared, to 4,500, increasing to 6,200 for the December issue—nearly double the monthly average).
Other reviews were based on the book, which was padded out with several pages of notes, adding talking points while exacerbating the general consternation about the poem. The distinction between the book and the periodical versions was reflected in basic orthography: "The Waste Land" or The Waste Land. An unfortunate preview of future bungling of the poem's title was in Boni and Liveright publicity announcements for "The Wasteland "—an error all too often perpetrated today. Even before it was published, Eliot felt it necessary to remind people it was not "Waste Land" but The Waste Land: three words, not two.
Reviews were often pitched at nonspecialist general interest readers, coasting along on a soft carpet of unexamined assumptions about the arts, culture at large, civil discourse, and acceptable behavior. To come to Eliot's poem with a few platitudes about decency, intelligibility, and ease of access to poetic chestnuts was to be brutally confronted with something not only unknown but perilously close to the unknowable. Eliot originally wanted to use, as epigraph to the poem, Kurtz's gasp "The horror, the horror!" from Conrad's Heart of Darkness, but Pound talked him out of it. Had it remained, some reviewers would surely have flung it back at the poem itself.
The most receptive readers of The Waste Land were those (to use a later idiom) who could go with the flow.
Two notable omissions color all the reviews of The Waste Land. First, there was no reference to (nor any suppositions concerning) the nervous breakdown suffered by its author. In fact, several of those who wrote the most probing reviews—including Aiken, Wilson, and Seldes—knew of Eliot's personal plight. The second omission concerns the role of Pound in editing and shaping the original heap of fragments shored against the author's ruins. The famous dedication to Pound was not added until the poem was reprinted in Poems 1909–1925. Lacking awareness of the role Pound had played in convening a certain intelligibility for a heterogeneous ensemble, reviewers were left to speculate about the poem's disorderly conduct.
So plentiful were reviews and notices that there were reviews of other reviews, as in Christopher Morley's "Apollo and Apollinaris," which appeared in the New York Evening Post of January 9, 1923. He capped off his report by observing,
Eliot is a mighty clever chap, and The Waste Land is unquestionably a highly sophisticated and cathartic bolus of cynical humor. But it has almost crazed some of the more advanced critics, who try with lamentable gravity to find Deep Meanings in some high-spirited spoofing.
For Morley, the poem was of negligible interest, and he may not have bothered to read it. The real news was the gossip, not the verse.
There was some derision in the reviews, understandable given that many metropolitan papers felt obliged to cover a newsworthy event. But even positive reviews tucked in a few throwaway barbs. In a sampling of characterizations meant to raise eyebrows, The Waste Land was charged with being an affront to literary values, as well as
a hodge-podge of grandeur and jargon
a parade of pompous erudition
deliberate mystification
a phantasmagoric fade-out of God
the altar of some fantastic Mumbo-Jumbo
one of the most insubordinate poems in the language
If some found the poem of negligible interest—one critic, punning on the title, called it "waste paper"—many found Eliot overly cerebral. He was thought flippant, pompous, and presumptuous by some, withdrawn and unresponsive by others. Some tried to have it both ways: Eliot was "a dandy of the choicest phrase"—a figure at once derogatory and laudatory.
Reviewers puzzled over what the poem was about. "It is an erudite despair," opined Burton Rascoe, and "the sardonic grin which suffuses it is a rictus which masks a hurt romantic with sentiments plagued by crass reality." For Edmund Wilson, Eliot depicted "the human soul as a mess." The poet Elinor Wylie came up with the most exceptional characterization. The author was "a cadaver, dissecting himself in our sight." "If this is a trick, it is an inspired one," she added.
Critics were either perplexed by or resentful of the multitude of references and quotations, especially if they were nagged by the notes, which some perceived as insolent. J. L. Lucas complained, "A poem that has to be explained in notes is not unlike a picture with 'This is a dog' inscribed beneath"; while Gorham Munson imagined a reader for whom the notes appeared to be an invitation to higher learning. Munson foresaw a reader's resentment when he "discovers that after all his research he has not penetrated into some strange uncharted region of experience but has only fathomed the cipher of a quite ordinary and easily understandable state of mind"—namely, despair.
Because The Waste Land was unorthodox, many were befuddled about the subject. It's remarkable how few realized that the title named the topic, and that the poem concluded with a reference to its method ("these fragments I have shored against my ruin"). Initial impressions were duly registered as a way of dipping a toe in purportedly turbulent waters. For the antimodernist J. C. Squire, it was little more than "a vagrant string of drab pictures which abruptly change, and these are interspersed with memories of literature, lines from old poets, and disconnected ejaculations." Others found the poem "a collection of flashes" "boiling in the nozzle of the whirlwind," amounting to "a cross-section of the human consciousness of a single specific human being."
Harriet Monroe, who had published "Prufrock" in Poetry, found The Waste Land "kaleidoscopic, profuse, a rattle and rain of colors that fall somehow into place." Reference to a kaleidoscope is telling, in that Baudelaire used the same figure when evoking the experience of urban crowds. The modern artist, he wrote, "enters the crowd as though it were an immense reservoir of electrical energy. Or we might liken him to a mirror as vast as the crowd itself; to a kaleidoscope gifted with consciousness."
Herbert O. Gorman also applied the kaleidoscopic analogy to Eliot's poem, suggesting that there were two approaches: one that doted on detail (which he compared to a viewer examining palette daubs and brushstrokes in Whistler and Monet) and a more holistic apprehension. "One may easily isolate a passage and call it chaff from a spinning mind, just as one may isolate a bit of colored glass in a kaleidoscope and note that it is nothing more than glass. But the ensemble becomes a thing of magic."
Louis Untermeyer criticized the poem's "kaleidoscopic movement in which the bright-colored pieces fail to atone for the absence of an integrated design." The presumption of a dialectic between part and whole was the interpretive reflex many readers brought to the poem. For some it was a casual assumption, and insofar as it remained casual, they could be unperturbed. But the lure of "hidden form" was too tempting for others. "I am compelled to reject the poem as a sustained harmoniously functioning structural unit," wrote Munson. "On the other hand, it is amazing how simple is the state of mind which these broken forms convey." The broken forms, he suggests, are the fruit of a method "which is to take ancient beauty by the neck and twist it into modern ugliness." Given such savagery, another critic sneered, "a grunt would serve equally well."
Forms and formalism persisted as terms of reference. American poet John Crowe Ransom found the poem "the apotheosis of modernity" because it "seems to bring to a head all the specifically modern errors." These included "an extremely free verse which we know as the medium of a half-hearted and disillusioned art"; but the worst offense was Eliot's conflation of form with "formula"—though Ransom refrained from specifying what the formula was. Conrad Aiken offered a more audacious take on the question of form or design: "If it is a plan, then its principle is oddly akin to planlessness."
The most receptive readers of The Waste Land were those (to use a later idiom) who could go with the flow. The issue of plan or underlying unity was moot, thought Harriet Monroe, when one sees that, for the poet, "it is a condition, not a theory, which confronts him." The condition was manifestly chaotic—an unfamiliar sensation in poetry—but self-identified moderns among Eliot's readership recognized that the poem approximated a contemporary bedlam. Mood and emotion precipitate an atmosphere in which the wasteland shimmers like a mirage.
There was a medley of details, evocations of discrepant moments and events, but as a poem it had a sequence. The five numbered parts prompted some to conclude it was not one but several poems. Aiken speculated that it "originally consisted of a number of separate poems which have been telescoped—given a kind of forced unity." (Although he was Eliot's friend, he had not been privy to its composition.) Clive Bell identified in Eliot an engine "in perpetual want of grist." Unable to gush, he could only scavenge for material: "Birdlike he must pile up wisps and straws" to fill out the poem. An insistent concern was how such a hodgepodge could make an impact. There was a "rhythm of alteration," Gilbert Seldes observed, "between the spoken and the unspoken thought" in the poem. This touched on psychological matters most reviewers shied clear of.
"It is rumored that The Waste Land was written as a hoax."
Rhythm was key, suggesting a receptivity below conscious awareness. Helen McAfee, like Seldes, detected it through the lens of psychology and the way consciousness can serve "the bidding of the subconscious." In Eliot's poem, she discerned, "the parts move with a certain rhythm—the rhythm of daydreams—and, dream-fashion, resolve one into another and so achieve a whole. It is mood more than idea that gives the poem its unity.
And that mood is black." Harold Monro likewise appealed to the model of the dream, going so far as to suggest that "this poem actually is a dream presented without any poetic boast, bluff or padding; and it lingers in the mind more like a dream than a poem, which is one of the reasons why it is both obscure and amusing." He also compared it to a cloud "which, though remaining the same cloud, changes its form repeatedly as one looks."
Music was also commonly used to explain the poem's unusual aura. One reviewer found that it lingered in the mind as "a sound of high and desolate music." Aiken, himself a seasoned recipient of the lingering provocations of Wagnerism, thought it merited description as program music. "We 'accept' the poem as we would accept a powerful, melancholy tone-poem." To accept is not the same as to understand.
Musical references could be used to suggest a more sinister turn. A reviewer for The Double Dealer found the poem an "agonized outcry of a sensitive romanticist drowning in a sea of jazz." "Sometimes it turns suddenly and shockingly into the jazz of the music-halls," noted Edmund Wilson. Untermeyer, incensed by the lack of any apparent governing pattern, derisively itemized "Eliot's jumble of narratives, nursery-rhymes, criticism, jazz rhythms, 'Dictionary of Favorite Phrases' and a few lyrical moments." Jazz was a largely disreputable reference at the time, redeemed only slightly by Clive Bell's use of the term to characterize what was most distinctive in modern art, literature, and music.
An infamous allegation concerning Eliot's poem was in the very first issue of Time magazine in a column provocatively titled "Shantih, Shantih, Shantih: Has the Reader Any Rights before the Bar of Literature?" In the final paragraph, "It is rumored that The Waste Land was written as a hoax." This incendiary statement was compounded by the erroneous assertion that the Dial Award was "for the best poem of 1922." No other print source refers to a hoax, but this suggestion does attest to the notoriety surrounding the poem's publication.
A concern raised in several reviews was the suspicion that, if not a hoax, The Waste Land was the result of some unsavory cabal, foisting undercooked fare on a gullible public. In his regular column for the New York Herald Tribune, Burton Rascoe reported a rumor that "a group of us are conspiring to mislead the public." His was a literary gossip column, which he stoked by recounting a meeting with Edmund Wilson and Elinor Wylie, who shared his excitement about The Waste Land. Wilson wrote two of the first reviews of the poem, Wylie wrote one, and Rascoe penned numerous salutes. But he insisted there was no group effort involved.
The source of the rumor of a cabal, Rascoe surmised, was Untermeyer, whose damning review of Eliot's poem had appeared a week earlier. The poem's "mingling of willful obscurity and weak vaudeville," Untermeyer wrote, "compels us to believe that the pleasure which many admirers derive from 'The Waste Land' is the same sort of gratification attained through having solved a puzzle, a form of self-congratulation." Wilson in his earlier review may have provided grist for the reference, when he suggested that some would suspect that "Eliot has written a puzzle rather than a poem."
__________________________________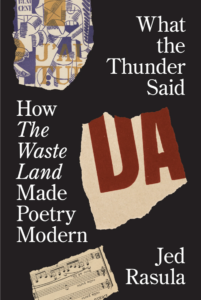 Excerpted from WHAT THE THUNDER SAID: How The Waste Land Made Poetry Modern by Jed Rasula. Copyright © 2022 by Jed Rasula. Reprinted by permission of Princeton University Press.
---