Why Literature Loves Lists
From Rabelais to Didion, an Incomplete List of Listmakers
Here is a list, if you can bear the rhythm of one damn thing after another, for which the technical term is parataxis: a mode of structuring or storytelling that will be familiar alike to readers of the Bible and parents or teachers of small children. Parataxis says: this happened, and then that happened, followed by this other. And so on, on, on. It's a structure that does not admit of qualification or reserve, narrative switchback or second thoughts, dependent clauses or sinuous trains of thought. It starts, it tells, it stops. But it's not exactly a frieze of unrelated cells; something or someone must link the discrete elements, make a tick-tock of their tick-tick. In the classic formulation, which arrives in the tenth book of Saint Augustine's Confessions, the name for this organizing or guaranteeing principle is, as you might guess, God.
List, catalogue, enumeration, inventory, schedule, register, tripos, tally, syllabus, almanac, table, atlas, index, calendar, rota, ledger, scroll, manifest, invoice, prospectus, program, menu, census, directory, gazetteer, dictionary, lexicon, gradus. This list derives from my late father's thesaurus, published in 1953; the full entry, of course, includes the word thesaurus. These are not all examples of the same thing, the same type. They are not equally apt to appear in an essay, though I can think of many essays—stories, novels and poems too—that partake of these forms. (You can marry the most luxurious narrative or argument to the driest, most laconic structures—why not?) It seems the essay has a peculiar affinity with the list, its rigors and its pleasures.
Here is William Gass, incomparable practitioner of the art of enumeration, in an essay called "I've Got a Little List": "Listing is a fundamental literary strategy. It occurs constantly, and only occasionally draws attention to itself." I am not so sure about the last claim, but maybe I'm too alert to the presence of lists in literary works. As the novelist and critic Michel Butor put it in a 1964 essay on "The Book as Object," the appearance of a list in an otherwise narrative or polemic piece of prose introduces—more or less violently—a sudden verticality into the horizontal flow of text: "An enumeration, a vertical structure, can be introduced anywhere in a sentence; the words which compose it can have any function, as long as it is the same one." (Note that Butor says "function" and not "meaning": the thesaurus entry is a good example of this repetition with difference.)
"It seems the essay has a peculiar affinity with the list, its rigors and its pleasures."
Its elements may possess a certain uniformity, but when the list appears suddenly in a novel, it feels as though a verbal midden has been dumped on the page: whatever else they may contain, lists are usually also lists of words. Which is why some novelists take such pleasure in the oddity of terms in a list, or the curious sounds of its recitation. Butor gives us an example from Rabelais, who has the giant Gargantua play at numerous games: "at Flushes / at Primero / at Grand Slam / at Little Slam / at Trumps / at Prick and Spare Not." We might also think of the epic lists in the "Cyclops" chapter of Ulysses, where Joyce parodies the enumerative methods of ancient Irish literature with a list of wedding guests recast as trees:
The fashionable international world attended en masse this afternoon at the wedding of the chevalier Jean Wyse de Neaulan, grand high chief ranger of the Irish National Foresters, with Miss Fir Conifer of Pine Valley, Lady Sylvester Elmshade, Mrs Barbara Lovebirch, Mrs Poll Ash, Mrs Holly Hazeleyes, and so on.
As Gass reminds us, the list is an excellent way to convey luxury, profusion and corruption. Consider also the list of jewels acquired by the doomed hero of Oscar Wilde's The Pic­ture of Dorian Gray:
He would often spend a whole day settling and resettling in their cases the various stones that he had collected, such as the olive-green chrysoberyl that turns red by lamplight, the cymophane with its wire-like line of silver, the pistachio-colored peridot, rose-pink and wine-yellow topazes, carbuncles of fiery scarlet with tremulous four-rayed stars, flame-red cinnamon-stones, orange and violet spinels, and amethysts with their alternate layers of ruby and sapphire. He loved the red gold of the sunstone, and the moonstone's pearly whiteness, and the broken rainbow of the milky opal. He procured from Amsterdam three emeralds of extraordinary size and richness of color, and had a turquoise de la vieille roche that was the envy of all the connoisseurs.
Is there such a thing as a happy list in literature? The blithe verbal sum of possessions, achievements or experiences? Isn't the very act of setting such things down evidence of some vexation, a clue that something is missing? The collector's catalogue, the merchant's tally, the seducer's black book: they are all examples of compensating control. Compensation for what? For a scouring anxiety, or cumbrous melancholy? For sure, but there are heavy lists and lighter lists, and they both belong to the essayist, perhaps more than any other writer.
(In an essay about Andy Warhol's business manager Fred Hughes, Lynne Tillman goes to Hughes's large house on Lexington Avenue in New York. She does not, cannot, meet him, because Hughes is upstairs, bedridden and unable to speak. A doleful and splendid litany of belongings stands in for the absent interviewee: "Wedgwood vases, Audubon prints, 18th-century costumes (which he once wore), black painted wooden screen, nineteenth-century petit point Aubusson pillows, photograph of his father as a young man, 20th-century African funerary marker, Venetian glass. . . .")
Joan Didion's The White Album, her fretful retrospective drift through the floating anxieties of west-coast America—really, LA—at the end of the 1960s, contains one of the most affecting and effective lists I know. It is actually two lists. The first is an inventory of items to pack or to wear when Didion travels to research and report a story:
2 skirts
2 jerseys or leotards 1 pullover sweater
2 pair shoes stockings bra
nightgown, robe, slippers cigarettes
bourbon
bag with: shampoo, toothbrush and paste. Basis soap razor, deodorant, aspirin, prescriptions, Tampax, face cream, powder, baby oil
I said there were two lists, but in fact there are three, because there is a list within this list: "bag with," etc. It is followed in turn by a supplement: "TO CARRY: / mohair throw / typewriter / 2 legal pads and pens / files / house key." The list—the list of two or three lists—was taped, Didion tells us, inside her closet door during the period in question. "The list enabled me to pack, without thinking, for any piece I was likely to do." The clothes allowed her to pass on both sides of an American culture that was violently sundered, and she carried her office with her so that on a bench at the airport on the way home she might at once begin typing up what she had witnessed of that division.
"The list, if it's doing its job, always leaves something to be invented or recalled, something forgotten in the moment of its making."
Didion soon admits that the list is evidence of abiding anxieties: "It should be clear that this was a list made by someone who prized control, yearned after momentum, someone determined to play her role as if she had the script, heard her cues, knew the narrative." There is one object missing from the list, she tells us: she needed, but did not own, a watch. So that in spite of all her efforts at caring for and controlling body and mind—at this point, curiously, Didion repeats most of the list she has already given us—she frequently has no idea what time it is. One has the sense, or I've always had the sense, that the omission of the watch, though not deliberate, appears to have been an advantage, and not only, as she puts it, "a parable, either of my life as a reporter during this period or of the period itself." The bonus of a partial list, I suppose, would be that it leaves something to be desired.
As a writer, as an essayist, I make lists all the time. Make, not write: because there is a difference, most of the time, between enumeration and writing proper. As if I were packing my suitcase like Didion, I list all the things I want to put in an essay. I treat the essay as a container, because I want to smother the anxiety that comes with writing, because if I have a plan (and my plans are always lists, not diagrams) then I will not have to face the blank page or screen without a word or thought in my head. I can simply follow the entries in the list in their turn—A to Z, one to infinity. Except: the list, if it's doing its job, always leaves something to be invented or recalled, something forgotten in the moment of its making.
Which means, whatever William Gass says on the subject, that lists in essays always seem to me self-conscious in the extreme. They sound as if they're explicitly about writerly ambition and its discontents, frustrations, disappointments. I love the lists in the work of Georges Perec: they are many and various and always poised, it seems, between pure pleasure in the descriptive act of noting in series, and a darker sense that the list will never be done with, and may well at any rate lead us astray. Here is Perec in 1976, in his beautiful essay "Notes on the Objects to Be Found on My Desk":
A lamp, a cigarette-case, a bud-vase, a stone for striking matches, a cardboard box containing small filing cards of different colors, a large papier-mâché penholder with seashell inlays, a glass pencil-holder, several stones, three turned-wood boxes, an alarm clock, a push-button calendar, a lump of lead, a big cigar-box full of knick-knacks (no cigars), a steel spiral device in which you can put pending mail, a polished stone dagger handle, ledgers, exercise books, loose leaves, various writing instruments and accessories, a big blotting stamp, several books, a glass full of pencils, a little gilded-wood box.
Nothing seems easier, says Perec, than making (or is it writing?) a list; but it is really a complex undertaking. You are bound to forget something, and you will be tempted to give up, or let the thing tail off, and write "etc."—"but the whole point of an inventory is not to write etc."
__________________________________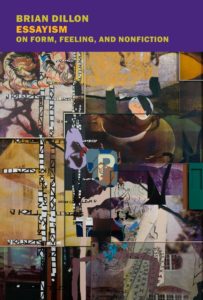 From Essayism: On Form, Feeling, and Nonfiction. Used with permission of New York Review Books. Copyright © 2017 by Brian Dillon.
---