Why Kendrick Lamar is the Most Political Rapper in Modern-Day Pop Culture
Miles Marshall Lewis Considers the Compton-Born Rapper's Musical Prowess and Unapologetic Activism
Kendrick Lamar is in chains, shackled and shuffling. A four-man chain gang shuffles directly behind him, dressed in drab blue prisoner uniforms. Only blue jeans set Kendrick's uniform apart as he shambles his way to a microphone stand, center stage at the Staples Center arena in downtown Los Angeles. He lifts his chained wrists over the microphone mount, sweating, concentrated. Most of the audience at the 58th annual Grammy Awards waited all night for this moment. Kendrick leads the night's nominations, one nomination shy of the most (12) any artist has ever received in one year: the late king of pop Michael Jackson, in 1984. All eyes on him. Then he opens his mouth and lets loose.
"I'm the biggest hypocrite of 2015," he says, invoking his most controversial line that year. Terrace Martin cries through a saxophone to Kendrick's left, imprisoned onstage in cell block 29. He repeats the line, which slowly, dramatically unfolds into "The Blacker the Berry," the second single from his celebrated major label sophomore album, To Pimp a Butterfly. Trump hasn't yet been elected; still Kendrick seems to speak directly to the basest of his constituency among the nearly 25 million people glued to their televisions, tablets, and smartphones. He's under no illusions about the fake niceties of micro-aggressive racists and he lets it be known. He runs down all the hated features of his hair, his nose, his penis. He's aware of white supremacist plans for his community, their hatred for his culture. On the world's biggest stage for celebrating music, Kendrick indicts everyone with ill intentions toward his people in prime time, unapologetically.
The song ultimately trades in the same theme of racialized self-hatred as Harlem Renaissance author Wallace Thurman's 1929 novel, The Blacker the Berry. Where Thurman's book grapples with intracultural colorism, Kendrick charges whites revulsed by African Americans with hating the men in the mirror: "I know you hate me just as much as you hate yourself." But Kendrick doesn't make it to that verse onstage. Those who know the song know the indictment.
Instead, he stumbles off (unchained now) to another Grammy set—a blazing bonfire flanked by tribal dancers and drummers—and another song. As Kendrick relocates himself from the penitentiary to a place evocative of the Motherland, the music shifts to a single that wins both Best Rap Performance and Best Rap Song before the night is through. But Grammy-winning singles are far more common than anthems. Kendrick's millions of viewers that night necessarily include activists who spent their 2015 protesting against the wrongful deaths of Sandra Bland, Freddie Gray, and other victims of police brutality. The Black Lives Matter movement was new to the world, and "Alright" became as much a rallying cry for them at nationwide demonstrations as "We Shall Overcome" in the 1960s was for freedom fighters of the civil rights movement. Liberating himself to a free space in the mise en scène of the Staples Center stage, Kendrick appropriately launched into his widely adopted mantra of hope and perseverance.
The crowd of 21,000 peers, celebs, and record industry insiders, all summarily impressed, rest in the palm of his hand. With the same affected limping gait, he shuffles away from his eight backing dancers to one last microphone stand. This song no one knows. Parts of this "untitled 05" version appear three weeks later on untitled unmastered, a new album of studio outtakes, with a subtitle suggesting he first created the track on September 21, 2014. "On February 26th, I lost my life too," he mentions early, jumping off from the death date of Trayvon Martin to unpack a song devoted to institutional racism as a modern-day slavery. Again, no one yet knows "untitled 05." And so the audience, now much more hushed, pays especially close attention. He suggests meeting violence with violence. He makes organized religion sound ineffectual and impotent, embodying a character who finds more solace in a firearm and the bottom of a bottle. He wraps up the song with three mentions of HiiiPower, his self-created fledgling movement meant to encourage honor and respect in black communities.
The beat drops out and a new backdrop illuminates the stage: a continental outline of Africa, with COMPTON written dead center in Gothic lettering. Everyone leaps to their feet in a standing ovation, cameras capturing seasoned MCs like Common and Run of Run-DMC applauding. Grammy host and veteran rapper LL Cool J, visibly impressed, cuts to a commercial.
In the space of six minutes, Kendrick Lamar invoked the prison industrial complex, black activism, Pan- Africanism, systemic racism, and the legacy of socially conscious hiphop. By contrast, rap trio Three 6 Mafia used their moment before an even larger audience at the 2006 Academy Awards to perform "It's Hard Out Here for a Pimp," yet signified nothing outside the literal confines of the song. The comparison is perhaps unfair. But Kendrick's performance is a prime example of why he wears the mantle of Tupac Shakur, why he's widely considered the most political rapper in the modern-day pop culture cosmos.
Just as Kendrick can be said to exist in a post-gangster rap era, he also came to power in a hiphop era of post-political consciousness. He was in diapers when Public Enemy considered themselves the Black Panthers of rap, and KRS-One shot an album cover inspired by the legendary photo of Malcolm X guarding his window with an assault rifle. In the late 1980s, Rakim had only just raised lyricism in rap to new levels of complexity before P.E. politicized hiphop with their classic, paradigm shifting It Takes a Nation of Millions to Hold Us Back. Full of references to black liberation icons like Louis Farrakhan, Assata Shakur, and Malcolm X over samples collaged with a Romare Bearden–level attention to detail, the album kick-started a Black Power renaissance in the culture. Kendrick missed that wave of cultural nationalist rap that included P.E., KRS-One, X Clan, Poor Righteous Teachers, and Brand Nubian. But its legacy impacted his idol.
Tupac Shakur, raised by members of the Black Panther Party, brought their ideology to bear on record and in life. Fusing black consciousness with the gangster trope popularized by the likes of Ice Cube, Tupac embodied the enlightened outlaw. He shot at wayward police. He invented a nebulous Thug Life ethos to rally his listeners against white supremacy, the direct inspiration behind Kendrick's HiiiPower philosophy. He rhymed about police brutality, poverty, racism, female empowerment, drug addiction, and mass incarceration. And most importantly, to paraphrase Kendrick Lamar, he charismatically made it look sexy. Hiphop has been political as a culture since the heyday of one of its founders, Afrika Bambaataa. His Universal Zulu Nation organization helped squelch gang violence in the South Bronx back in the early 70s. Tupac wasn't going to be rap's last militant; the culture's activist roots run too deep.
Kendrick also grew up under the social justice of rap duo dead prez, the positivist rhymes of Common, the consciousness of Lauryn Hill, Talib Kweli, and Mos Def. But save for Lauryn, none of those MCs ever turned their political savvy into the type of commercial success Kendrick currently enjoys. His politics aren't perfect. His political education has been public, awkward, and thrust upon him to a large degree. But making the effort matters to him. What's most important to bear in mind is that he's a child of lower-income Compton, California, whose main focus starting from puberty has been to climb hiphop's highest heights, to fight his way out of poverty to stand beside his childhood rap heroes as a peer. Kendrick's varied viewpoints in the years since he's been elevated into a generational voice reflect the mercurial fluctuations of a heated debate in a black barbershop.
On the world's biggest stage for celebrating music, Kendrick indicts everyone with ill intentions toward his people in prime time, unapologetically.
Dissecting Kendrick's performance at the 2016 Grammy Awards properly means presuming that he chose "The Blacker the Berry," "Alright," and "untitled 05" as songs that represented where he stood as an artist at that point in his career and delving deeper into why. Opening with "The Blacker the Berry," Kendrick presented himself onstage shackled to a chain gang, restrained with handcuffs. His band stood behind bars. Later that same year, director Ava DuVernay released the Netflix documentary 13th, about the intersection of race, justice, and the prison system. Through his lyrics ("you made me a killer") and his appearance as a prisoner, he uses the Grammy platform to cause viewers to consider the institutional roots behind American imprisonment patterns. He'd long since recorded "Uncle Bobby & Jason Keaton" on The Kendrick Lamar EP, telling the stories of an uncle and a close friend from Compton who were both serving time. Bringing attention to the prison industrial complex isn't an agitprop pose for Kendrick; the issue hits way too close to home.
Seven months earlier in Cleveland, Ohio, a coalition of black community activist groups across the nation called the Movement for Black Lives convened their first official conference at Cleveland State University. The city became a flash point in November 2014 when police officers shot and killed a 12-year-old boy, Tamir Rice, for playing in a playground with a toy pistol. The conference concluded without incident until its final day, when police stopped a 14-year-old for boarding a bus back to his hometown with an open container of alcohol.
Soon officers were pepper-spraying the crowd, which had right away advocated for the rights of the teenage boy. An activist phoned the boy's mother, and she shortly rescued him from police custody. It was an exhilarating moment, like the dramatization in director Spike Lee's Malcolm X when the Nation of Islam refuse to vacate the streets outside a police station until they assure the safety of an arrested black Muslim. The thwarted police harassment prompted over 200 protestors to spontaneously erupt in song: "We gon' be alright! We gon' be alright!" The whole scene recalls another Spike Lee production, the music video for Public Enemy's "Fight the Power," where a political youth rally in Brooklyn transmogrifies into a block party. Black Lives Matter had found its anthem, common knowledge by the time Kendrick Lamar chose to perform "Alright" at the Grammy Awards.
Africa loomed as the final image of Kendrick's set that night, a superimposed COMPTON in the heart of the continent. Superhero movie fanboys already knew that Marvel Studios slated Black Panther for 2018 but couldn't have predicted its future as the highest grossing film of that year, much less that director Ryan Coogler would invite Kendrick to curate its Grammy-nominated soundtrack. Black Panther: The Album features Babes Wodumo, queen of the African electronic dance music subgenre known as gqom. Johannesburg rapper Yugen Blakrok and his Jo'burg brother Sjava rhymed alongside Kendrick on the album as well, the sound of Afrofuturist hiphop from Black Panther's fictional African nation of Wakanda made real. All that came later. When Kendrick connected his ancestral homeland with his childhood neighborhood, the motivation likely came straight from the same inspiration behind To Pimp a Butterfly: his 2014 trip to South Africa.
The good kid, m.A.A.d city world tour took Kendrick and his Top Dawg Entertainment labelmates Jay Rock, ScHoolboy Q, and Ab-Soul through 60 shows in 15 different countries. On February 7, 8, and 9, the TDE team played Durban, Johannesburg, and Cape Town night after night. They tapped local South African MCs like Khuli Chana and Reason to open the sold-out dates on Kendrick's first trip to the continent. He stayed for a full week, visiting Nelson Mandela's cell on Robben Island. Inspiration from the trip poured into later songs on To Pimp a Butterfly like "Momma" (symbolic of the Motherland) and "Mortal Man" (which name-checks Mandela on its hook: "The ghost of Mandela, hope my flow stay propellin' "). Rap fanatics in the politically conscious era of the late 80s replaced gold rope chains for leather medallions inscribed with the African continent swinging around their necks. Kendrick missed out on that, but still found his own way to the idea of diasporic solidarity between Africans and blacks in America.
Connecting those dots may seem like a minor gesture, but what's ultimately in question here is the attention of his younger hiphop fans, who might suddenly take Pan-Africanism into consideration for the first time because Kendrick said so. Black Panther didn't coin the famous phrase "with great power comes great responsibility"; that was Spider-Man. But it's a maxim Kendrick takes seriously to heart. To Pimp a Butterfly comments several times on the conflict of misusing influence, the resentment over abusing power. As an avid Christian who's infused religious references into his music for years, Kendrick has never gone on record about how often he flips through the Bible. Still, the late Stan Lee (cocreator of Spider-Man, Black Panther and so many other Marvel characters) likely cribbed the idea behind that signature saying from the book of Luke: "From everyone who has been given much, much will be demanded; and from the one who has been entrusted with much, much more will be asked." Whether Kendrick has read the verse or not, he arguably lives by it. Planting seeds in the minds of impressionable viewers at the 2016 Grammy Awards is only one example.
__________________________________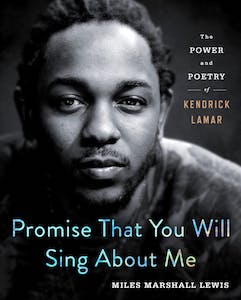 From Promise That You Will Sing About Me: The Power and Poetry of Kendrick Lamar by Miles Marshall Lews. Copyright © 2021 by the author and reprinted by permission of St. Martin's Publishing Group.
---