Why is 18th-Century Bath Considered the Model for Modern Day Spas?
Ian Bradley on Health Tourism, Illness, and Therapy
It was in the 18th century that Europe's spas came into their own as elegant resorts for the well-heeled upper and middle classes, drawn initially by the therapeutic benefits of taking the waters and increasingly also by the diversions offered and the chance to mix with the rich and titled. Spas became the pre-eminent places in which to be seen and to socialize. They developed a distinct architectural landscape in which the bath house was joined by a pump room, for taking the waters and promenading, and assembly rooms, for socializing, gambling, dancing and concerts.
Typically constructed in neoclassical style, these buildings were situated in attractive parks with lawns, rare trees and lakes, adding to the atmosphere of elegance and relaxation. A complex set of rules and strict etiquette governed the social life of spas during the "season," which could extend from March to November but was more usually confined to the months from May to September. During this period "the Company," as the patrons were known, forsook the noise and the stench of cities for the clean air and healing waters of these semi-rural oases, which were promoted as Utopian paradises.
The English were in the van of these developments, taking to the waters more enthusiastically and in greater numbers than their Continental neighbors. Bath established itself in the first half of the 18th century as both the most elegant and the most popular European spa, with John Wood laying out its crescents, circles and squares in Palladian style and Richard "Beau" Nash establishing the complex etiquette that governed the social and recreational life of the Company. It became the model for Continental spas, notably Spa, Baden bei Wien and Baden bei Zürich, which developed in a similar way in the latter half of the century. They followed Bath's lead in establishing a daily regime for guests, which began with the serious business of drinking and bathing in the waters, continued with morning and afternoon promenades and social gatherings to exchange gossip, and concluded with balls, gambling, concerts and theatrical performances in the evening.
Initially, it was the health-giving properties of their waters that gave these places their raison d'être and attracted visitors. "Mineral water has never been so much of an issue as in this century" wrote Théophile de Bordeu, official superintendent of the mineral waters of France, in 1775. Spa cures involving precisely prescribed drinking and bathing regimes became increasingly popular throughout the 18th century. They were enthusiastically promoted by doctors who took up residence at the spas and established flourishing practices there. The emphasis shifted from the earlier detailed chemical analyses carried out by the pioneer spa physicians to a more general and less scientific focus on detoxing and wellness, not dissimilar to that found in spas today. This approach was well calculated to appeal to a growing leisured and moneyed class suffering the effects of over-indulgence, obesity and an increasingly sedentary lifestyle. Many physicians saw spa practice as a lucrative and undemanding career and the greedy quack, attached to a fashionable watering place and attracting credulous patients through shameless puffing and self-promotion, became a familiar figure in 18th-century poetry and fiction.
The growing popularity of spas was a direct consequence of the emergence during this period of what would now be called health tourism. The Enlightenment brought a new emphasis across Europe, and especially in Britain, on environment and on the benefits of travel for healing the body as well as cultivating the mind. Increasing pollution, noise and stench in cities fostered a search among those who could afford it for places to escape to, if only temporarily, where the air was fresher, the water cleaner and the atmosphere calmer. Health tourism was a key aspect of the Grand Tour on which so many aristocratic and well-off men and women embarked in the 18th century. Indeed, for many, a curative stay in one or more spas became an almost obligatory part of it. It was the English spas, and especially Bath, that picked up the benefit, becoming the first resorts to which people travelled as much for a change of scene as for other purposes.
Bath established itself in the first half of the 18th century as both the most elegant and the most popular European spa.
Underlying this spa craze was a widespread preoccupation with ill health. As the social and medical historian Roy Porter observed, "as the 18th century wore on all manner of men, great and small, rich and less rich, calibrated their lives according to their pains." Several factors combined to bring this about, among them a decline of religious belief with its attitude of acceptance of suffering, the influence of Enlightenment ideas encouraging an introspective focus on the self, and the hype promulgated by a medical profession that was at its most entrepreneurial and unscrupulous before the tighter regulations that were to govern it in the 19th century.
Illness came to be regarded as a state of mind as much as a process of nature and, indeed, almost as the normal human condition, as expressed by Alexander Pope when he referred to "this long Disease, my life." Once again, the English were in the forefront of this trend, producing an impressive number of prominent hypochondriacs who devoted much of their literary talent to worrying obsessively about their ailments, real and imagined, and chronicling their symptoms in precise detail. They included Samuel Johnson, William Cowper, Horace Walpole, Henry Fielding, Tobias Smollett, Jeremy Bentham, Sydney Smith and Samuel Taylor Coleridge.
One illness dominated this national narrative and drove many of its sufferers to seek spa cures. As used in the 18th-century, when it was perhaps applied more frequently than any other medical term, the word gout covered a multitude of conditions, including what would now be diagnosed as rheumatism, arthritis, irritable bowel syndrome, diverticular disease, chronic gastroenteritis and myalgic encephalomyelitis/chronic fatigue syndrome. In its classic and simplest form, it was brought on by a high concentration of uric acid in the blood and manifested itself in painful swelling of joints in the extremities of the body, especially the big toe. This was quite often accompanied by kidney stones, the development of a more widespread arthritic condition and other more general and unspecific symptoms of malaise.
Gout was caused by over-indulgence, especially in alcohol and rich and fatty foods, and its prevalence in this period can be directly related to several specific triggers. A treaty with Portugal in 1703 led to a huge rise in the English consumption of port (of which it was not unusual for people to be drinking a bottle a day), Madeira and other fortified wines. The ill effects of these beverages were exacerbated by the use of lead in the casks in which they were stored and the widespread adulteration of alcohol with lead-based additives. The agricultural revolution in the early decades of the 18th century led to a rise in meat consumption, especially of beef and mutton. The increasing adoption of carriages meant that the upper classes were walking less and leading more sedentary lifestyles. A vicious circle of over-consumption and lack of exercise produced a similar epidemic to the rise of Type 2 diabetes and other obesity-related diseases today. 
Gout was regarded as a disease of the affluent, "the patrician malady" as Porter dubbed it. It became highly fashionable, especially among literary figures, to the extent that you could hardly make it as an essayist, poet or novelist if you did not suffer from it or some other similar malady that took on obsessive proportions and became a main theme in your writings. Closely related to gout were intestinal disturbances and bowel movements, which similarly became something of a national obsession. In Porter's words, "popular physiology" in the 18th century "attended to evacuations no less than to appetites." Flatulence and farting are favorite topics in the era's novels and poems. Leading doctors were agreed that spas were the perfect places to cure the mixture of digestive and nervous symptoms displayed by those suffering from gout and the closely related condition of hypochondria. When Erasmus Darwin was consulted in 1787 by a woman suffering from a burning sensation in her stomach, vomiting, indigestion and nervous weakness, he had no hesitation in recommending that "a journey to Bath might be of service to you."
Bath established itself as Britain's premier health resort first and foremost on the basis of its claim to be able to diagnose and treat these conditions. Its appeal to the gout-ridden and hypochondriacal, preoccupied by the state of their bowels, is well illustrated in Christopher Anstey's satirical and hugely popular poem, The New Bath Guide, first published in 1766. Anstey himself was a classic example of the 18th-century spa enthusiast. Following a period of depression aggravated by ill health after the death of a beloved sister in 1760, he was advised to take the waters at Bath. He was so impressed by their therapeutic effects that he returned annually and eventually decided to settle there permanently, taking a house in the newly built Royal Crescent. The hero of his poem, Thomas B-r-d, troubled by loose bowels and almost constant flatulence, comes to Bath with his sister, his cousin and their maid seeking a cure for their various distempers and graphically describes the doctor's verdict after their first consultation:
He determin'd our cases, at length, (G-d preserve us!)
I'm bilious, I find, and the women are nervous;
Their systems relax'd, and all turn'd topsy-turvy,
With hypochondriacs, obstructions, and scurvy;
And these are distempers he must know the whole on,
For he talked of the peritoneum and colon,
Of phlegmatic humors oppressing the women,
From foeculent matter that swells the abdomen;
But the noise I have heard in my bowels, like thunder,
Is aflatus, I find, in my left hypochonder.
Like other spas, Bath benefited from having a royal imprimatur. Having forsaken Tunbridge Wells, Queen Anne, who like so many of her subjects suffered from a range of complaints in the region of her abdomen, stomach and bowels, made several visits there in 1702 and 1703, increasing its appeal as a fashionable resort. By 1715, more than 8,000 visitors were arriving annually for the main autumn season which lasted from late October until Christmas. A slightly less fashionable spring season ran from late January until early June. Later on in the 18th century, the two became merged and Bath was "on heat" for much of the year with the season effectively lasting from autumn to early summer. In this respect, it was very different from most Continental spas, which had their main season in the summer. Guests stayed for anything from two weeks to two months, drinking and bathing in the thermal mineral waters daily under the direction of one of the many doctors who set up practices in the town.
Underlying this spa craze was a widespread preoccupation with ill health.
Bath established a particular reputation for its "gout doctors." The best known, George Cheyne, made a lucrative career out of treating his affluent patients while also seeking to cure himself of the ravages brought on by a lifetime of gluttony, obesity and anxiety. He authored a trio of bestselling medical manuals which directly addressed the main illnesses, and imagined illnesses, that brought people to Bath. Observations Concerning the Nature and Due Method of Treating the Gout (1720) distinguished three types of gout: the most usually diagnosed form, with swellings of the joints at the extremities; "nervous or flying gout," characterized by a biliousness which he observed in many of his Bath patients; and "windy gout … which is nothing but a hypochondriacal or hysterical symptom."
Alongside drinking and bathing in the Bath waters, the treatments he recommended for these conditions included blistering and bleeding and, in cases of gouty stomachs, purgatives and laxatives which "may bring on the piles … but will discharge the gout of the guts." He also had a word of encouragement for sufferers from the patrician malady: "Gouty persons," he observed, "are people of good natural parts, large feeders and long-lived." An Essay of Health and Long Life (1724) dispensed advice on plain living, avoiding excess, reducing meat intake, forswearing alcohol in favor of milk, and advocated a "diet drink" made up of juniper berries, Seville oranges and honey. Cheyne's third bestseller, The English Malady: A Treatise on Nervous Diseases of all Kinds (1733), was a hypochondriac's handbook, mixing social snobbishness with medical mumbo-jumbo and arguing that it was only the elite who were "privileged" to suffer from nervous ailments.
Among the well-known figures who came to Bath primarily to seek a cure for gout were William Pitt the Elder, who took a house in the newly built Circus in 1768, the year he retired as prime minister, and Horace Walpole, who dubbed it "the Great National Hospital for Incurables." Although most of the spa doctors shamelessly talked up the water's curative powers, some of the more honest acknowledged that often the main benefits to patients came from other aspects of their stay. For William Stevenson, a physician who wrote extensively on gout and practiced briefly in Bath in the late 1770s,
The merit of the Bath waters consists all in negatives. To drink them, you must leave the noise, hurry, and complexity of business; you must leave your crapulary debauch, your bottles, your women; nay more, you must leave your affected, hypocritical self, for your best resemblance, the childhood of Nature, and then drink the waters of life at Bath! 
John Penrose, an Anglican clergyman who took a cure in Bath in 1766, came to a similar view, noting that "many other causes may possibly concur towards it, though here the waters run away with the credit." The New Bath Guide also struck a skeptical note about the miracle-cure claims about the water, with Thomas B-r-d's cousin Jenny declaring:
She was shock'd that so many should come
To be Doctor'd to Death, such a Distance from Home,
At a Place where they tell you that Water alone
Can cure all Distempers that ever were known.
Bath established itself as Britain's premier health resort first and foremost on the basis of its claim to be able to diagnose and treat these conditions.
There were other serious conditions which do seem to have responded to treatment with the Bath waters. Patients with skin diseases accounted for around 15 percent of admissions to the Bath General Hospital, which opened as a charitable institution in 1742 and later became known as the Royal Mineral Water Hospital. One of the most badly affected was a 15-year-old girl, Mary Tompkins, who had been sent to St. Bartholomew's Hospital in London with suspected leprosy but discharged as incurable. She came for in-patient treatment at Bath in 1763 under the care of Dr. Thomas Oliver (best known as the inventor of the Bath Oliver biscuit) who wrote:
I never saw so bad a leprous case. The girl's skin was almost universally covered with large, thick, hard, dry scabs of a dark brown color. These brown scabs were specked with white shining silver scales which gave her countenance a very shocking appearance. The clefts between the scabs were wide and deep so that her skin resembled the bark of a tree.
Oliver prescribed a treatment of drinking a pint of mineral water daily and bathing twice weekly, together with the application of ointment made from a mixture of tar and oil extracted from the hooves of oxen, and a medicine containing mercury, antimony and sarsaparilla. Mary Tompkins' condition steadily improved and she was able to leave hospital after seven months "perfectly cleansed." A hospital exclusively designed for those suffering from leprosy was established in the 1750s alongside the Lepers' Bath which had existed since the 12th century.
__________________________________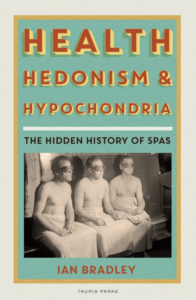 From Health, Hedonism and Hypochondria: The Hidden History of Spas by Ian Bradley. Used with the permission of Bloomsbury. Copyright © 2021 by Ian Bradley.
---