Why Indie Presses Are Opening Bookstores
New Ventures from Milkweed Editions, Curbside Splendor, and More
A few weeks ago, Milkweed Editions, long established as a literary press, announced it would open an independent bookstore in Minneapolis. Not long after, Curbside Splendor, a relatively young small press in Chicago, revealed its plans to open a bookshop in Chicago's South Loop.
Suddenly, an increasing number of independent presses are going into the retail book business, morphing into full-service community hubs for book browsing and expanded literary programming. Some see retail floor space as an opportunity to bring more customers and supporters to their front doors. Others see it as an important source of income to support the publishing. All say it fulfills their missions as the literary hearts of their communities.
In 2008, Melville House Publishing moved to Brooklyn and opened a bookstore to sell its own books and to serve as an event space for other local small presses. Two years later, Hub City Press (which published my first novel) opened a bookshop and event space in Spartanburg, S.C., selling not only the books it publishes but general interest books as well.
Deep Vellum Publishing experimented this year with a bookstore in Dallas, with Anne Hollander joining Will Evans as co-founder, and business is booming thanks to a curated selection of indie publishers, daily events, and extensive community partnerships, with plans in the works for expanded offerings and a second location in early 2017.
Other literary non-profits are jumping into the act as well. Bookmarks, which hosts the largest book festival in the Carolinas, announced this spring was raising funds to open a downtown independent bookstore in Winston-Salem, N.C. The Tulsa Literary Coalition is opening Magic City Books in Oklahoma later this year. Both cities now will have hybrids not unlike the ones that publishers are creating.
Just a few years ago, in the throes of the Great Recession, the traditional publishing industry was in trouble. Independent bookstores already had been written off, and then Borders went under, proving even the big box bookstores were struggling. Amazon, Barnes and Noble, and Apple were all competing (and filing lawsuits) over the growing ebook market. Meanwhile, self-publishing was the Next Big Thing. In other words: print was dead, bookstores were passé, and self-published ebooks were the way to connect writers to readers without a middleman. The mainstream media agreed: this was the new reality.
But if this was the new reality, what is going on with all these non-profits and independent presses opening local bookstores? Why would anyone decide to open a bookstore in our allegedly post-retail, post-print world?
In the case of Milkweed Editions, much of the decision for opening a bookstore had to do with space. In 2000, the press joined the Loft Literary Center and the Minnesota Center for Book Arts. The three organizations were tired of rising rents and living office-to-office in downtown Minneapolis, so they raised several million dollars in grants and donations and bought a building on an under-developed stretch of land near the Mississippi River.
"It's become one of the fastest growing neighborhoods in Minneapolis," said Daniel Slager, publisher and CEO for Milkweed Editions.
The neighborhood has revitalized and grown up around their building, so when 750 square feet of street-level space became available in the building, Slager and the rest of the Milkweed team felt a bookstore could thrive.
"We do live in communities, and we want to be part of a coming-together in this place," Slager said. "We're trying to bring together readers and writers, and we're committed to being here in Minneapolis."
A bookstore is a way to get people into contact with books. Slager said the Milkweed store—which will have a soft launch in July and a grand opening in the fall—will feel more like a gallery than a traditional library-style bookstore. He foresees rotating exhibits related to the publishing process, such as cover designs and manuscript pages to offer insight into what they do as a publisher, as well as a space for literary events.
The store will feature an abundance of titles from independent presses, he said. "We want to create a physical space to showcase some of the amazing books coming out of excellent smallish publishers." He likened the store to the taproom for a local craft brewery, explaining, "We want to be a taproom for all these great indie press publishers so we can say to readers, 'Hey, do you know about Wave Books? Do you know about Tupelo Press?' I can't wait to see the shelves covered with indie press books from all over North America."
This notion of curating small literary presses is also driving Curbside Splendor with its new book and record shop, set to open this summer in Chicago's South Loop. Editor-in-chief Naomi Huffman said she anticipates the store will be highly curated and will focus solely in books from independent presses.
"Indie publishing is about discovery," she said. "We are going to have an educational component, because people don't necessarily know about indie literature. Our focus is on delivering literature to people who don't know what they're looking for, and maybe don't even know it exists. Indies are publishing the best literature today, so the opportunity to tell more people about it is very exciting."
Founded in 2009, Curbside Splendor has been publishing books "to rewrite the tradition of Midwestern publishing." The press has published numerous books about Chicago or by Chicago authors, providing a uniquely local flavor.
In many ways, the bookstore continues what Curbside Splendor is already doing with the press. "We've built a reputation in Chicago for being out and about," Huffman said. "We hold a reading series in Logan Square. We do popup book fairs across the city. We're trying to establish a connection with readers, and we view the bookstore as an extension of that."
The bookshop will be housed in the Revival Food Hall inside the National building downtown, amid numerous restaurants and other shops. Huffman said that each neighborhood in Chicago has its own beloved bookstore, and that Curbside's bookshop, with its programming and educational focus, should fit nicely in the South Loop.
"What we've been discovering over the past few years is that publishing is no longer just about publishing books. It's about delivering literature to people. The best way to do that is not just selling a book—which a bookstore will do—but creating a community that people want to be involved in. We're very excited by the opportunity."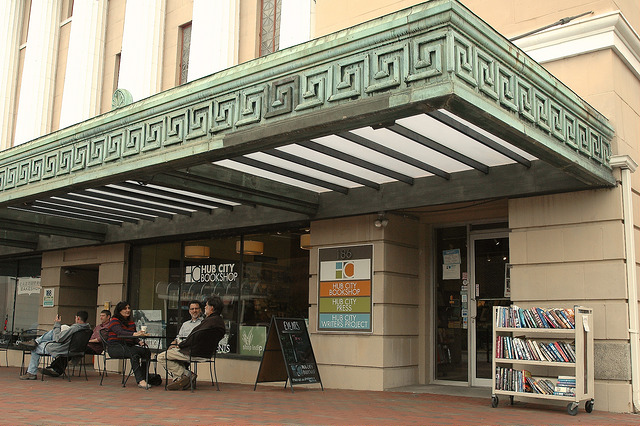 The Hub City Bookshop in the upstate of South Carolina now has six years of operation under its belt as an offshoot of the non-profit Hub City Writers Project and its Hub City Press. Southern Living magazine recently named it as one of the best bookstores in the South.
For more than 20 years, the Hub City Writers Project has served as an important literary hub, not just in Spartanburg but in the South at large. The press has been quietly publishing some of the South's best new literature—fiction, poetry, history, memoir, and more. They also run a national writers residency, a summer writers conference, multiple writing contests and now—thanks to the bookshop space—nearly 100 readings, workshops, and other literary events annually.
Betsy Teter, founder and executive director, said establishing a retail store was both a brainstorm and a necessity. In 2008, Spartanburg's sole independent bookstore (and Hub City Press' largest customer) went out of business. "It was a survival thing for us," Teter explained. "Without a place for people in Spartanburg to buy our books, we were going to have trouble."
At the time, Hub City was crowded into an office with another arts organization. The board and staff believed downtown Spartanburg needed a bookstore, so they raised $300,000 in less than three months as the community got on board with the idea. "In the beginning it was a much smaller idea than it ended up being," said Teter. "We sell Hub City Press titles in the front of the store, but we also have thousands of other titles as well."
Opening a bookstore in 2010, when the media seemed to be taking an almost pornographic interest in the demise of traditional publishing and independent bookstores, was perhaps a counterintuitive idea, but the great news for organizations like Milkweed, Curbside Splendor, and other presses forming bookstores today is that the risk paid off big-time for Hub City.
"We have more than doubled the number of people making charitable contributions to our organization since opening the bookshop," said Teter, adding that sales at the bookstore help bring in revenue for Hub City's press and programming. The bookshop, located in an old Masonic Temple, now serves as a kind of Grand Central Station for downtown.
"Our mission is to 'nurture writers and cultivate readers,' so we're providing a place in our downtown for people to peruse books, interact with writers, and to talk about books with people who are knowledgeable," said Teter. "I like to think of our bookstore as a literary center."
Perhaps this is the new reality for publishing. As New York publishers and tech companies continue to vie for market share and boost quarterly returns, local literary communities are taking matters into their own hands, building unique book cultures across the United States and continuing the old-fashioned task of bringing together writers and readers.
---